Skyshelter.zip just won 2018 Skyscraper Competition hosted by eVolo magazine. It's a portable skyscraper designed to provide shelter when natural disasters strike. Most often than not, when dealing with forces so powerful, our standard crisis-management system often proves to be inefficient. Skyshelter.zip concept project aims to address this problem by providing easy-to-transport structure, it is highly functional since it can be deployed in no time with minimum manpower requirements. This origami-style structure can serve as multi-purpose hub for any relief operation.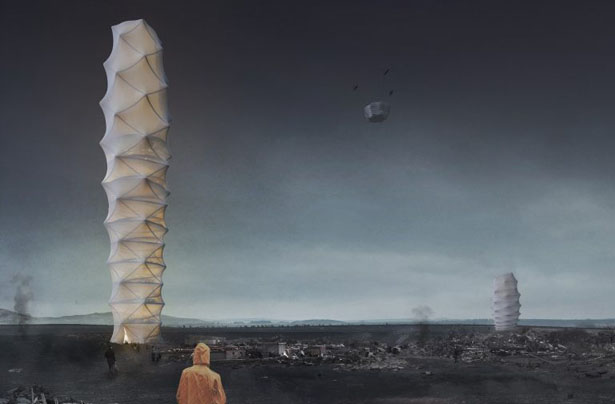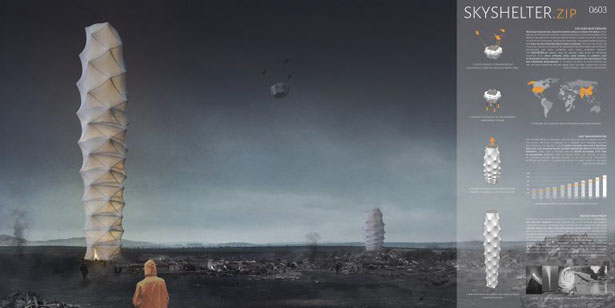 Click above image for bigger view
Designed by Damian Granosik, Jakub Kulisa, and Piotr Pańczyk, Skyshelter.zip is easy to move due to its special features. The entire structure is designed in a way that resembles accordion or origami. This means that user can neatly pack it into a single small box with minimum height and base dimensions are reduced to building's footprint. This package can be easily transported in helicopters for fast rescue in the event of natural disasters.
There's only little groundwork required because once the rescue team anchoring basic supports onto the ground, Skyshelter.zip unfolds easily with the help of load-bearing helium balloon placed within. The process is also reversible. There are light-weight 3D printed slabs attached directly to the balloon in succeeding manner and pulled upwards by its load-bearing force. The structural steel wires that are strained capable of resisting horizontal wind forces, basically the internal and external walls are pieces of fabric attached to the slabs that unfold when this structure is deployed. Based on the amount of gas poured in the balloon, the operator can control number of floors which are unfolding.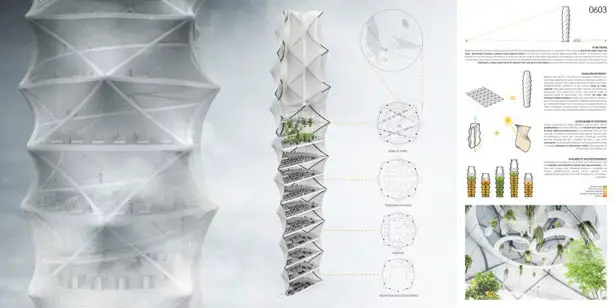 Click above image for bigger view
*Some of our stories include affiliate links. If you buy something through one of these links, we may earn an affiliate commission.