Mantra is an automated life saving system concept aiming to tackle the beach safety issues that usually causes drowning casualties such as slow response time, inadequate surveillance, lack of lifeguard safety, and limitation of lifeguards as human. The Mantra concept contains small hairs with embedded electro sensors that detect distress and drowning people and swims up automatically to the spot. The victim them picked up carefully onto the built-in stretcher and it carries him or her on top of the water by using impellers and hydrofoils. There is always constant communication between the Mantra and beach lifeguards through which it carries the victim to a specified beach location where ambulance and medical team remains stand-by.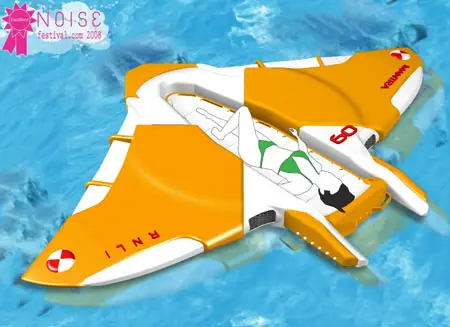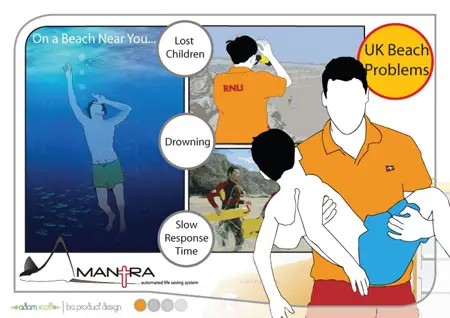 Text from Adam :
There are over 400,000 reported drownings and 8 – 10 times as much near drowning experiences worldwide every year. In the UK there are 500 annual drownings. These figures have remained the same for nearly 20 years which tells us that any current equipment and practice is not having the required impact to reduce these numbers.
I have been a beach lifeguard for a number of years and further primary and secondary research has shown that there are a number of key problems that reduce the survival rate of beach users.
These problems are:
Slow response time
Surveillance
Lifeguard safety
Human limitation of lifeguards
From this research it was decided to look to the future to see what could potentially be new directions for beach safety equipment, this design is therefore based for the year 2020.
The design process was in close collaboration with the BSA (British Surfing Association) headquarters in Newquay (UK). Starting with brainstorming where no idea was a bad idea, followed by concept generation and a wide variety of modeling and system/ scenario testing, the design took innovation from nature, new and existing technologies and user testing.
Explanation of final design
The 'Mantra' lives on the sea bed during peak seasons just off the coast of beaches; it uses small hairs on its surface to collect and store energy from tides and waves (called 'Super Cillia Skin'). It detects distress and drowning using electro sensors coupled with sonar which even today are highly sensitive, for example heartbeats and movements can easily be monitored. When a casualty is detected it swims up to 15mph using SMAs in the wings. The victim is carefully picked up onto an inbuilt stretcher where they are carried on top the water using hydrofoils and impellers. The 'Mantra' is always in constant communication with lifeguards and so is met at a specific beach location by lifeguards and ambulances where an EAP is in place and the stretcher is removed without disturbing the patient, who in the worst case scenario may have neck injuries.
Stretchers are replaced and the 'Mantra' can assume its position at sea once more. The whole process is estimated to take under 2 minutes.
The final design as can be seen from images, uses biomimicry from a manta ray for many reasons –
Large flat surface area for all weather stability
Excellent turning circle and manouverability
Excellent strength to weight ratio
Low energy travel
Considered as a non aggressive creature/ form
Advantages of 'Mantra':
Removal of contact with bodily fluid
Safety of lifeguards
Immediate response time
Completely automated
Better for spinal and other injuries
Aesthetics
Function
Sustainable
Designer : Adam Scott
*Some of our stories include affiliate links. If you buy something through one of these links, we may earn an affiliate commission.