Tesla Pod is Fábio Miguel Martins Design Master's Thesis that consists of a Modular Autonomous Electric Platform for urban transport of people and goods. This futuristic transportation platform allows you to transform from private car, public vehicle, to commercial transportation.
The Platform Description:
Equipped with LIDAR, RADAR, Ultrasonic and Optical Sensors in order to achieve level 5 autonomous driving, the main platform can be attached to different modules. This mechanism is designed and developed to meet the needs of different tasks related to transportation, for people and for goods in urban environments.
The symmetric platform means symmetry of components. This platform helps to reduce cost of production for each platform by allowing integration of autonomous systems in the vehicle while maintaining a low price to consumer. The platform is equipped with four wheel steering and able to move forward and backwards thanks to four in-wheel motor based on the Elaphe in-wheel motor. All these motors move at the same speed level with stability and control. Making the vehicle very agile even in tight urban areas.
The central retention system is located in the middle of the Platform, it secures the modules to the platform and allows to be transported by small valet vehicles that park those modules in the stations that are spread around the city. This smart system would help reduce numbers of vehicles in urban roads through this sharing-platform that can be used for both private or collective transport of people and goods.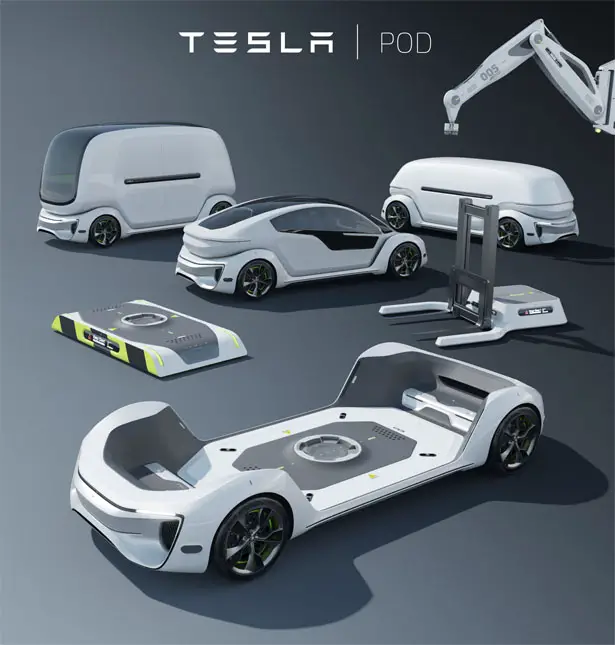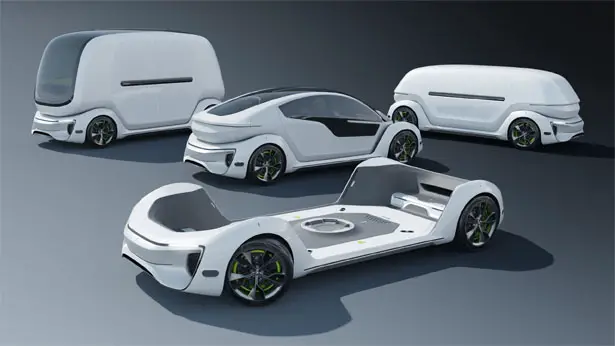 Private Module Description:
This Private Module features four rotating seats that allow for various interior setups. The cabin is designed for maximum leg room to lounge space for passengers. The body is made of carbon fiber with electro chromatic windows. The sliding Pantograph doors allow for minimum amplitude of motion, optimal especially for close urban spaces. There's a female connector in the middle of the roof, it can be used to lift it up from the platform through a Drone Arm. The male connector is located at the bottom to attach securely to the base platform.
This private module features smooth, continuous lines that travel throughout the whole body, it is integrated with the system and has sporty appearance.
Just like its name suggests, this cabin is specially designed as a private module where user only needs to buy the module and pay a fee to use the moving platform. When needed, this type of module can also be used for a sharing service where all passengers can communicate and share the journey through integrated mobile application.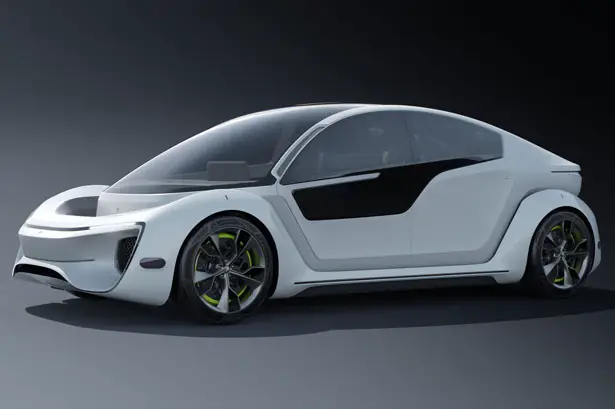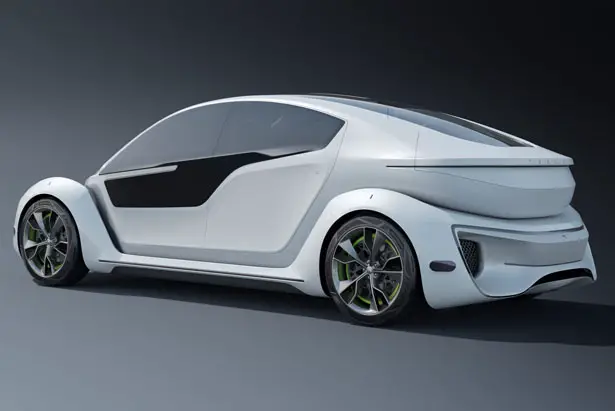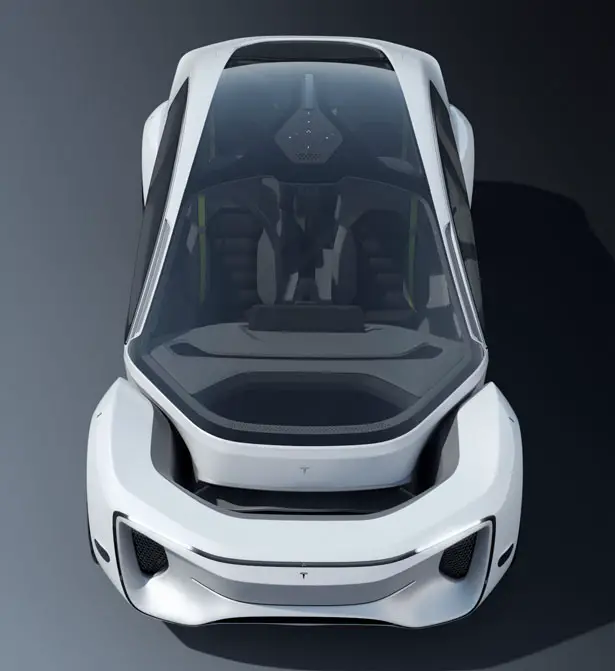 Public Module Description:
The Public Module is designed for 12 people: 6 standing and 6 seated. It has the same sliding pantograph door opening mechanism, it helps to reduce cost production of complex parts. This cabin is made of carbon fiber with polycarbonate door panels covered with micro-perforated vinyl. The overall design creates an integrated and modern look, together with its platform, it provides great exterior visibility for the passengers. This module is also equipped with front, back, and side screen to alert pedestrians and users about its destination and imminent actions. It has the same Drone Arm connector and bottom platform retention connector just like other modules.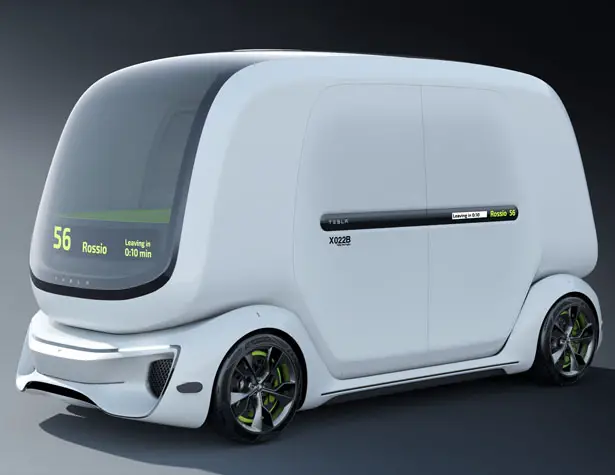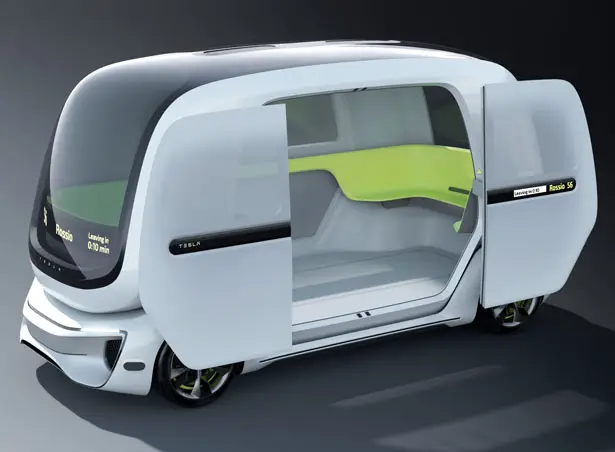 Commercial Module Description:
The Commercial Module is designed as autonomous transport for goods. It's an autonomous system that doesn't require any human on board, that spacious cabin can carry cargo big or small inside this 4m3 interior while maintaining small outer dimensions. A perfect delivery van for urban environment. It has the same opening mechanism, Drone Arm connector, and lower platform connector.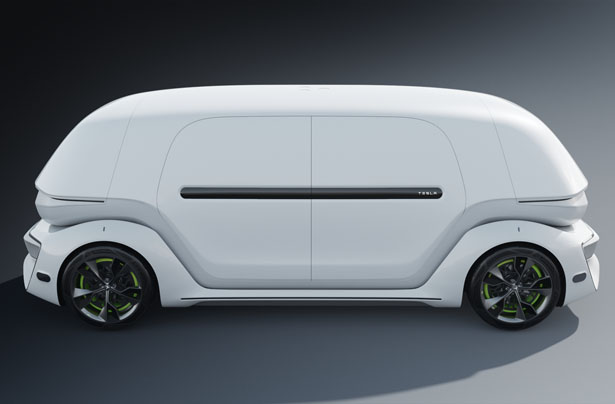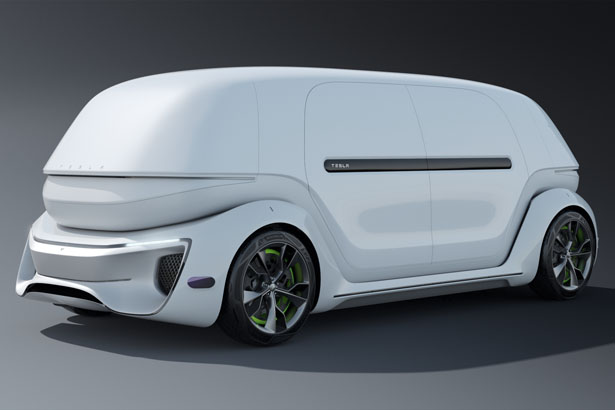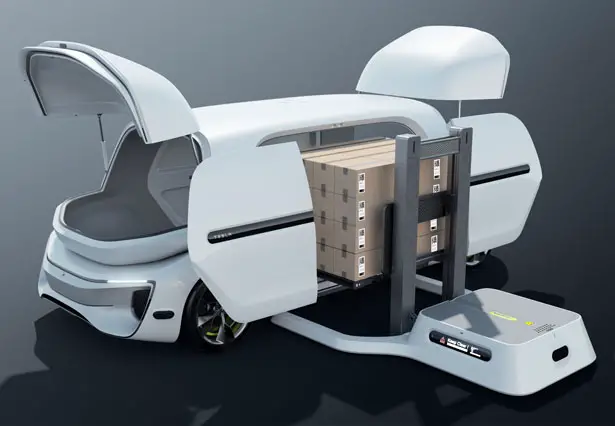 *Some of our stories include affiliate links. If you buy something through one of these links, we may earn an affiliate commission.