When we talk about sails, most people usually think about white sails which are made from sail cloth. Florida 525-foot Sailing Yacht is the latest superyacht concept from Kurt Strand, a sailing yacht with space-age technology wing masts made from carbon fiber. It features three 80-meter-tall wing sails, which are electro-hydraulic telescopic retractable. If that's not futuristic enough, you should know those wing sails are also covered with latest state of the art of solar panels. So, just in case there's no wind, this superyacht can still transform into "solar sail" mode. The smart system will adjust the angle those sails automatically to absorb solar energy as much as they can. When it's windy, this yacht gets into sail mode while producing electric power from those solar panels.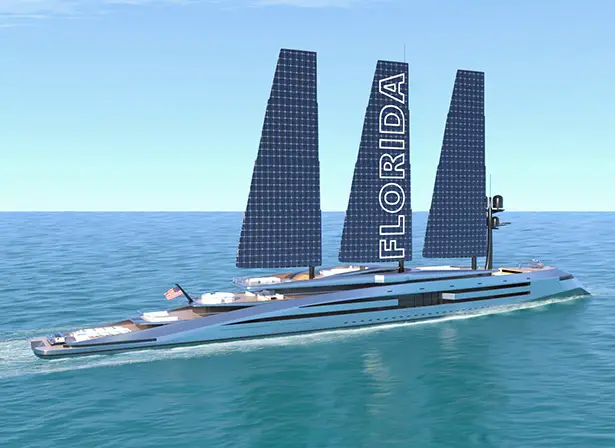 In order to keep that sun-absorbing surface clean and glossy, there's a built-in system that will wash and polish the wing mast every time it retracts. Kurt Strand explains that those solar sails can even be raised when the yachts is laying in a harbour. Any electricity generated will be stored in battery bank and can be used for onboard Hydrogen production as well.
Hydro generators are fitted at the bottom of this Florida Sailing Yacht, they also produce electric power while the yacht moves under sail. All electric power produced will be stored in a 5MW battery bank which then used to create Hydrogen directly on-board of the yacht. Even with no wind or sunshine, this yacht can still move on hydrogen fuel power cells. Even though the backup genset system runs on fossil fuel, it will be rarely used, depending in the world this yacht is situated.
So, compared to traditional yachts in the same size and category, the fuel reduction is about 90%. Under ideal weather conditions, this yacht produces more power than it will be using. Engineered with two, side-by-side retractable keels with stabilizer, the keels can be lifted individually to balance the yacht. These retractable keels also make it possible for this yacht to enter swallow waterways close to the coastline. Florida Yacht can accommodate up to 24 guests in 12 luxury suites with 40 crew members.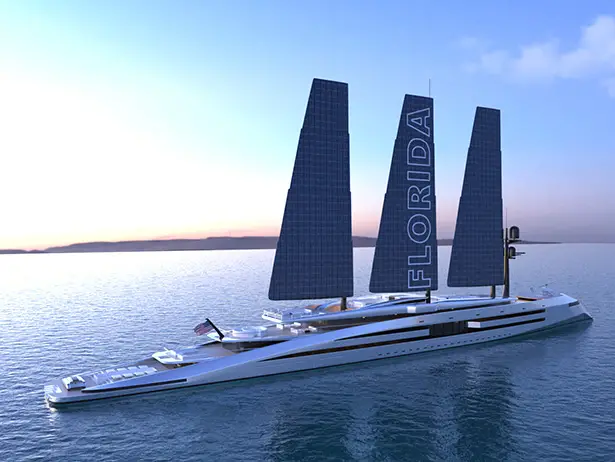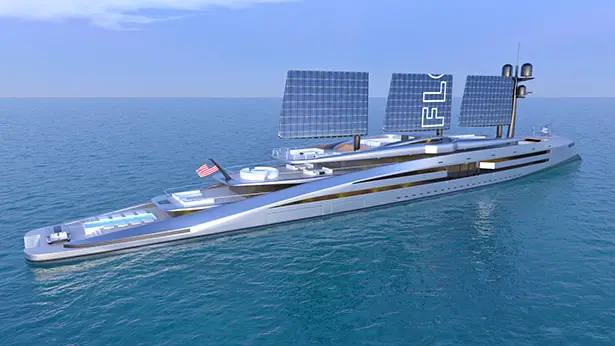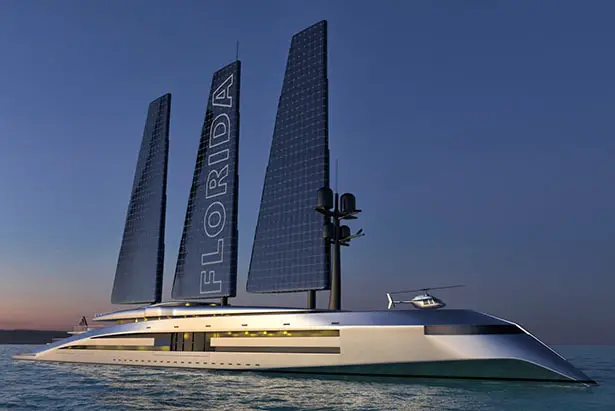 More images of Florida Sailing Yacht: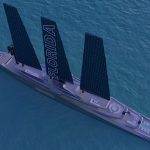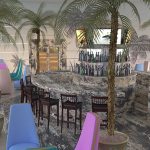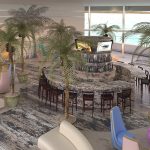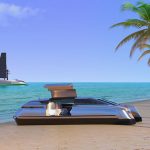 *Some of our stories include affiliate links. If you buy something through one of these links, we may earn an affiliate commission.