Ever dream about a drainer that prevent your hair from clogging up a sink's trap and pipes ? Take a look at C&C designed by Yao Hanjiang that can help you cleaning your sinks and pipes easier. C&C reconfiguring drainer to better keep sink traps and pipes free from hair-clogging. The principle of C&C is the use of two cones ? one being inverted so that the vertices almost meet ? placed within the drainer. The C&C conical surface of the cone above is perforated with fine gaps, which trap the hair at the bottom, without reducing the speed of water discharge. The filters are replaceable and individual parts can be cleaned.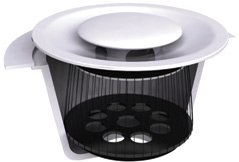 Designer : Yao Hanjiang
*Some of our stories include affiliate links. If you buy something through one of these links, we may earn an affiliate commission.