Enjoy unique shower or spa experience with Air-curtain Shower Cabin. It is actually a ring shaped shower unit which can also act as a curtain. Instead of using traditional glass walls, this unit covers you with flowing air from a single overhead ring. This large ring device blows air from its underside and releases water from its inner wall surface. The unique air flow system forms an invisible air curtain that prevents water from splashing outside the shower.
Designers : Liu Yi, Luo Jing, Jiang Yuning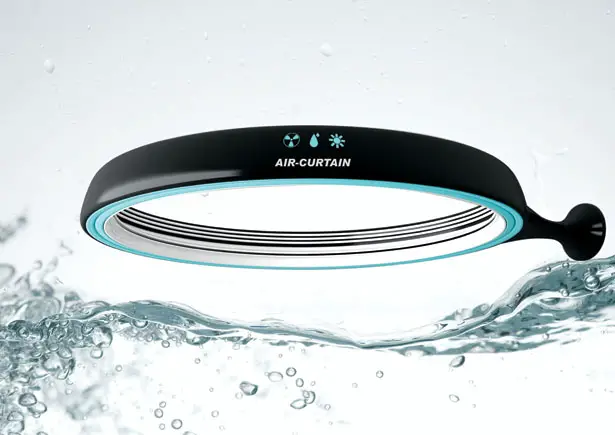 Compared to typical shower cubicle, using Air-curtain Shower Cabin, the bathroom will feel bigger and more spacious. This is because when the shower is not in use, the floor space beneath it is freed up. This device provides awesome showering experience beneath a 360-degree spout of water. The main objective of this design is to offer open showering space so that user can enjoy the feeling of freedom since you are not restricted by any cubicle.
Air-curtain Shower Cabin can also be said a smart shower since it can automatically adjust its water temperature to suit the room temperature. User can also use this device as sauna due to its built-in heating system.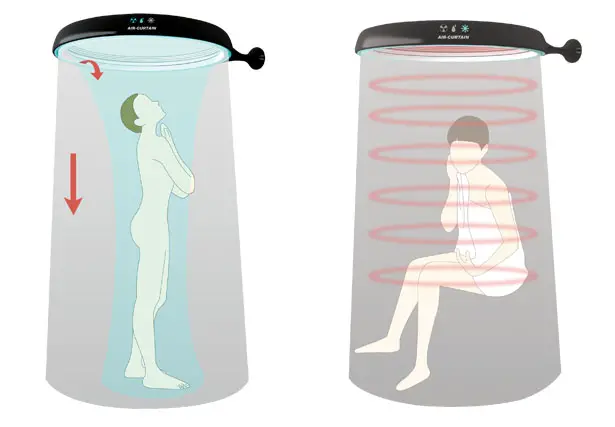 *Some of our stories include affiliate links. If you buy something through one of these links, we may earn an affiliate commission.