Today with lot of environmental developments happening world over like global warming, energy crisis, lifestyle changes, it's become even more difficult to design houses meeting all these requirements. More and more architectural designs are using digital technologies with respect to modeling, simulation, evaluation and fabrication resulting in complex shaped buildings which incorporates the above challenges. One such project is coming up in Tel Aviv whose primary resources are sun, wind, and land and these are fairly distributed amongst these complex structures thus making an optimum utilization of all. It's of course high quality housing complete with latest gadgets but run on the natural resources. Architect Yiftach Ben Meir, the designer, is a recent graduate from The Faculty Of Architecture and Town Planning at Technion, Israel Institute of Technology (IIT). His final project SeaO2 was conceived under the framework of Tecnion Computer Oriented Design Studio, T_Code with the instruction of dr. Yasha j. Grobman.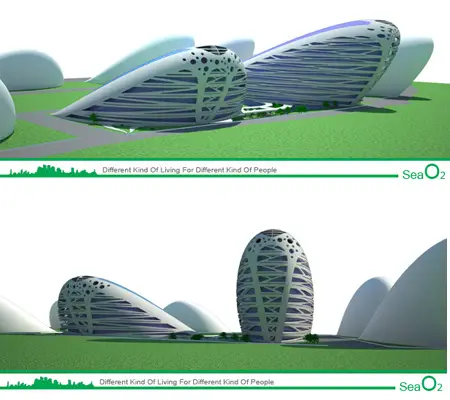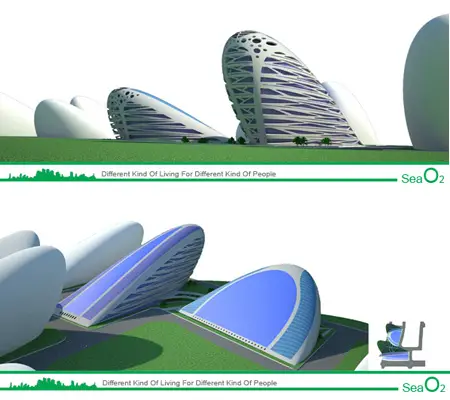 Text from Yiftach :
SeaO2 is an experimental ecological housing project. The project poses an alternative to current plans for Tel Aviv North West coastal district. SeaO2 demonstrates vast use of cutting edge computer software, some being used in the aerospace industry, in order to improve building performance and to ensure the existence of a sustainable urban environment with a minimal ecological footprint. The project final form is a consequence of a scientific approach that calculates numerous of elements: the sun orbit, wind conditions, maximum open scenic views, very high density and more, all in a free-form organic manner.

Advanced Computer Simulations ensure the project's credibility. The project's unique morphology enables: optimized solar reception for heating at winter time, self-shadowing and solar reception for electricity generation at summer time, natural lighting, optimized natural ventilation, open looks to the natural coastal environment, public green spaces, rain collection and more. Various passive mechanical systems complement the basic morphology, enable better performance and create an energy efficient, environmentally friendly housing project
Designer : Yiftach Ben Meir
*Some of our stories include affiliate links. If you buy something through one of these links, we may earn an affiliate commission.