Rolls-Royce Motor Cars is a luxurious car brand known worldwide, it seems that the company wants to provide you not only with luxury vehicle but also a cocktail hamper. This luxury limited edition cocktail hamper has been designed to meet the needs of consumers who wish to relax and enjoy a little beyond of traditional glass of champagne. This hamper is the result of Rolls-Royce attention to detail and remarkable craftsmanship. Sina Maria Eggl is the designer behind this creation, a Rolls-Royce accessories designer, she also consulted with experts from Dorchester Collection's London Hotels, The Dorchester and 45 Park Lane, to make sure that this hamper would be perfect to cater for a variety of classic and contemporary cocktails.
Beautifully hand crafted over a period of 8 weeks from American Walnut Wood, it is finished with finest natural grain leather just like the interior from some Rolls-Royce motor cars. This hamper presents you with every necessary required to create a perfect cocktail. Each part is a bespoke, hand-made creation designed to combine beautiful aesthetics with practicality, making sure you can have effortless use from knife integrated light, mirrored surfaces, a total luxury of a cocktail bar in a basket.
From : Rolls-Royce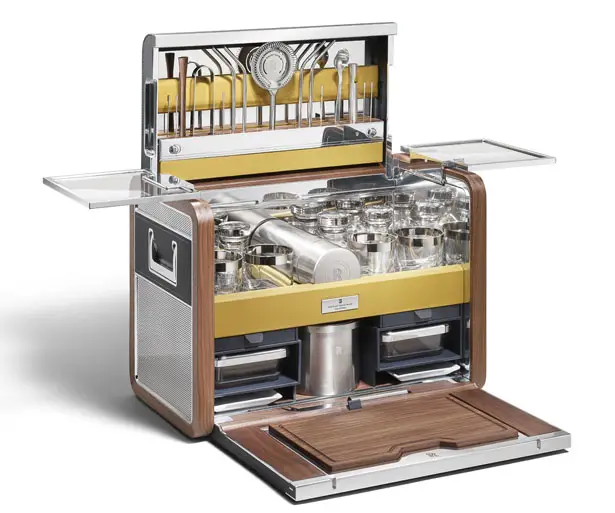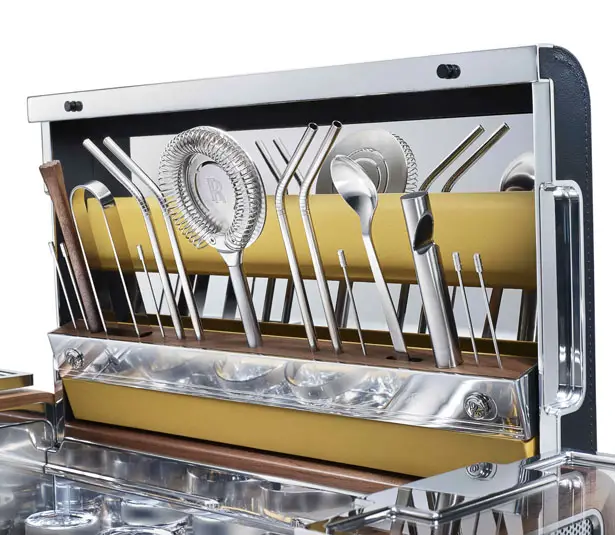 Every possible application is considered and beautifully executed. You can present your guests with canapés, find 2 dishes in the lower portion of the hamper, either side of an ice bucket, while the hidden drawers hold recipe cards, and fine cotton napkins. The upper part contains tumblers, a shaker, and decanters, while smaller utensils and a strainer engraved with "RR" monogram are securely stored on a moveable rack that can be locked when not in use. Even the glasses took a month to complete, they demonstrate amazing technique where glass blown into beech wood moulds for smooth surface. Since each glass is hand-made at every stage, you can be sure no two glasses are the same. Limited in only 15 hampers, within each purchase, it comes with a book containing a series of cocktail recipes.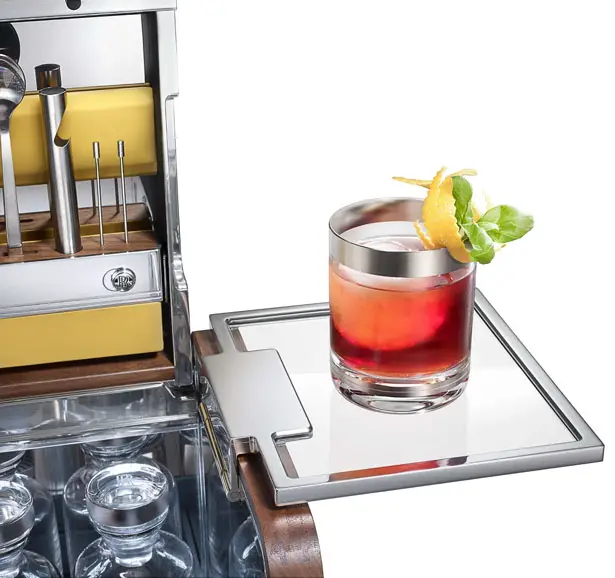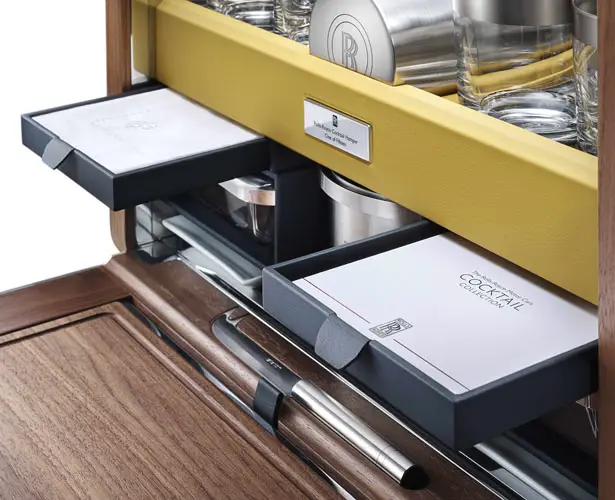 *Some of our stories include affiliate links. If you buy something through one of these links, we may earn an affiliate commission.