Hyundai has showcased its latest high performance sub-brand N during 2015 Frankfurt International Motor Show. Hyundai N 2025 Vision Gran Turismo represents Hyundai's ability to enhance its high performance DNA, even though it's designed for virtual game, the team paid attention to the very details. This ultimate concept car offers unique perspective on future performance characteristics, it'll be available exclusively to PlayStation Gran Turismo video game series.
The powertrain of this futuristic racing car is based on world's first mass-produced hydrogen fuel cell system. It features a total output of 650kW (871 HP) while its super capacitor system can generate additional 150 kW (201 HP) thanks to energy regeneration when braking. All this power is delivered through 4 high-powered independent in-wheel motors, giving rider uncompromised traction.
Designer : Hyundai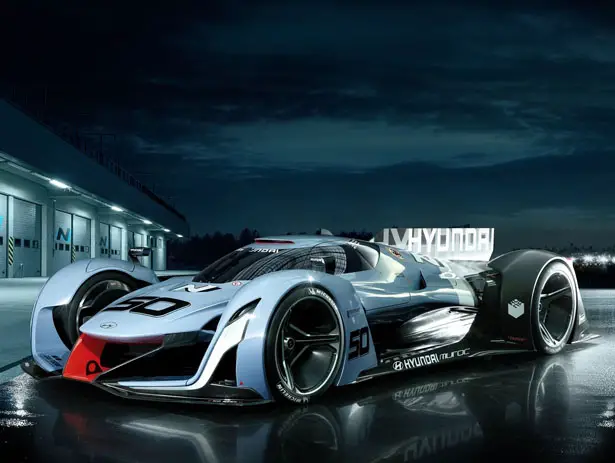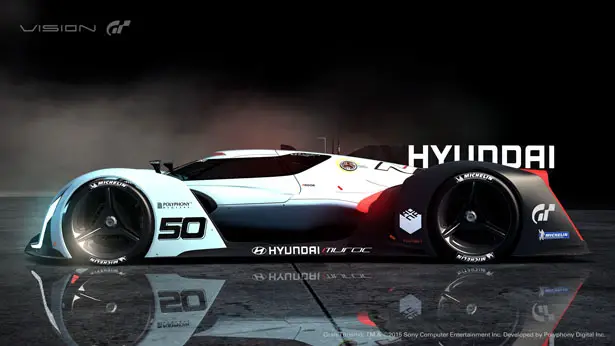 The compact, lightweight fuel cell stacks and CFRP monocoque structure make this vehicle weight down to 972kg, it offers power-to-weight ratio that competes to most exotic supercars in the world. The body features low center of gravity, in this way, the power and performance set the car up to the most challenging of race tracks, encapsulating the thrilling premise of N cars.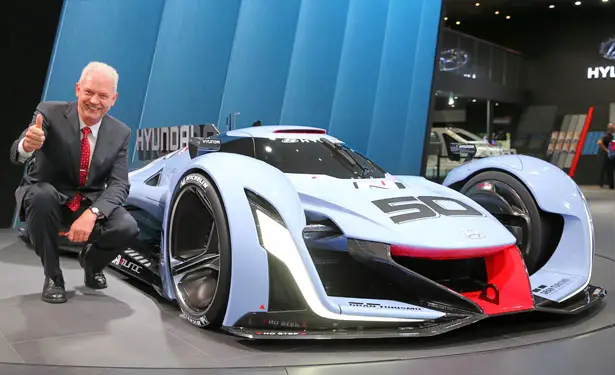 When the air flows through hexagonal grille to the boat-shaped underbody structure, the tube-type underflow air supply duct that is connected to the rear minimizes any pressure to the underbody, giving driver maximum downforce. The air brakes activate based on speed and brake usage as well as reduce drag.
Hyundai N 2025 Vision Gran Turismo concept was inspired by aeronautics and speed, just like a jet fighter on wheels that blurs the line between air and asphalt. The car has been designed to appear as if it's floating. The N logo represents the corners of a race track when cars are pushed beyond its limit.
*Some of our stories include affiliate links. If you buy something through one of these links, we may earn an affiliate commission.