Busan Camellian Opera House received honourable mention at Busan Opera House competition for its attractive and serene opera house design. This project represents the city and its cultural background through camellia flower that is luxurious, large and conspicuous. Since this project is meant to become a cultural link, it's been designed to be very attractive to host a variety of social groups of different ages.
Designer : Matteo Cainer Architects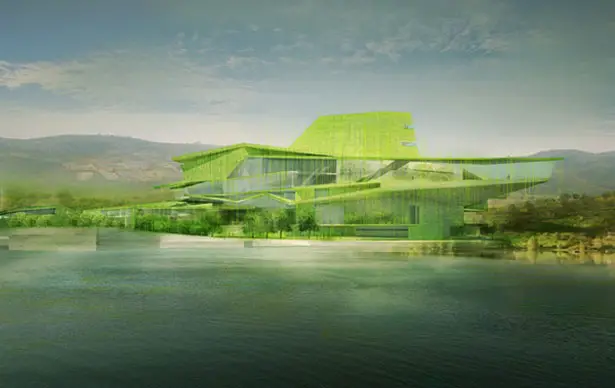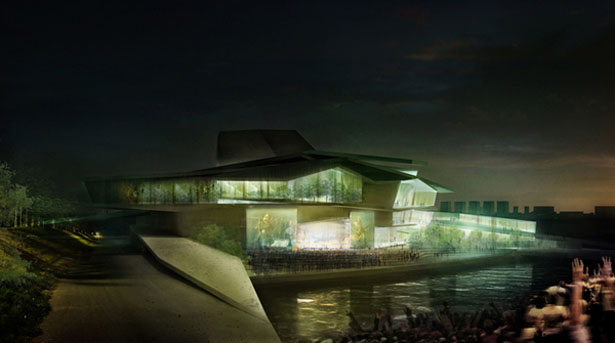 The Busan Camellian Opera House provides a harmonious connection between the existing dense urban fabric of the city and the port with its myriad of waterfront activities. Camouflaged beneath its contoured envelope, it erupts from the landscape in the form of densely planted tectonic petals that connect city and sea, urbanity and landscape, providing a major cultural hub, not only extending Busan's influence as the gateway to Eurasia, but establishing it as an international maritime city of culture.
Conceived as a cultural link, the Busan Camellian Opera House project has been carefully designed as an attractive and serene venue for opera and other performing arts. As a hub it will foster and attract a variety of social groups of differing ages, encouraging contact between art forms and the world of music. The project reflects on how music, nature and architecture can coexist and interact, with often unexpected results and insights.
The project itself responds to the city and its cultural background through the camellia flower and its lush, deep green leaves, symbolising the citizens of Busan. It reinterprets the qualities of the camellia through a series of transformations, an evolving floral plan where the densely planted fragmented petals will result in a lush green landscape. This interpretation was developed for its symbolic meaning and its versatility as an urban and cultural form.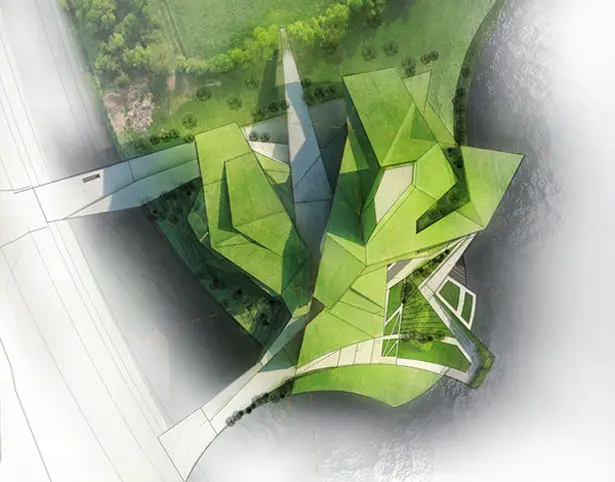 The Busan Camellian Opera House project comes to life as an island bloom nourished by the city that engages in a dialogue with the site. It connects with the sea through the lush green landscape that reaches the water, and the dramatic cantilevered high level restaurants with their spectacular vistas.
It has a dialogue with the maritime park nearby through the magnificent north facing rehearsal halls that overlook the island, and reinforced by the high level promenade that presents an integrated landscape that traverses at a variety of levels, with commanding views along its length. Connections with the city instead are established in two ways: through a number of strategically located large digital screens that display current and future events, and live open air concerts, where the multi-functional theatre opens up to face the city.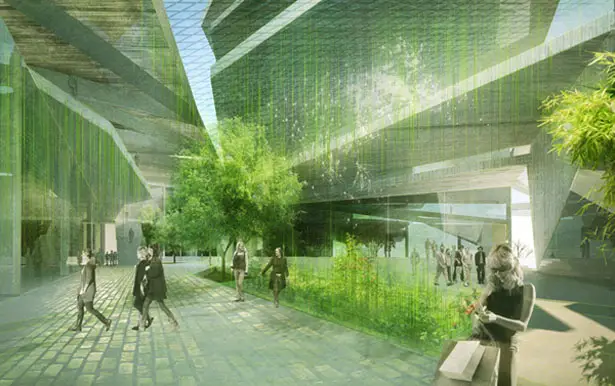 The centre expresses a human scale with an extensive number of accessible roofs at varying levels, creating shaded outdoor spaces for impromptu gatherings and events. The use of glass illuminates external surfaces and dapples light through the lush green landscape. This sensation will be particularly effective in the Grand Foyer where lush internal planting and a huge interactive light installation is inspired by flock behaviour. This flexible space allows for multiple functions and is linked to both the lyric and the multiform theatres, and as a large open space, becomes an event space where audiences pour from the halls into a densely vegetated space. To reinforce accessibility and monumentality, the roof-scape is openly accessible to the general public, with planted landscapes laid out on horizontal and sloping roofs. The Busan Camellian Opera House proposal will achieve a low-carbon impact using green technologies which will enhance eco-efficiency, minimizing any adverse environmental impacts.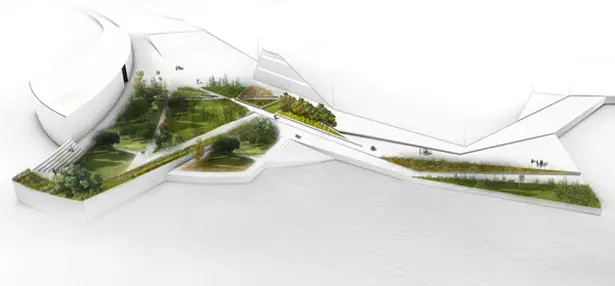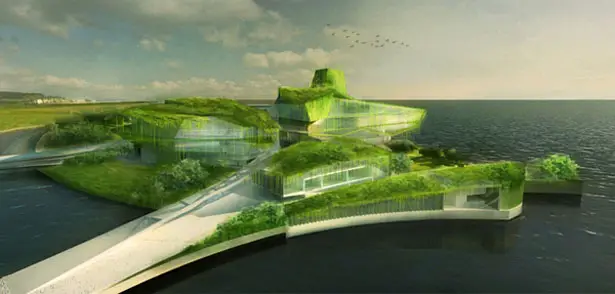 The highly visible fly tower of the main opera will define the entire complex as a point of arrival. As a beacon overlooking the city and the ocean, glazed elements within the tower walls expose to view the mechanical workings of its interior, displaying the hidden secrets of the theatre. The resulting architectural solution is a seamless ensemble of architecture and landscape, with open air activities immersed between the sea and greenery and that of music opera and recreational activities like open air theatre and event spaces. The Busan Camellian Opera House project through light sinuous architectural forms, expresses both balance and vitality, reflecting the strength and character of Busan.
Architect : Matteo Cainer Architects Ltd
Principal: Matteo Cainer
Location: Busan, Korea
Use: Opera House and Multiform theatre
Seats: Opera: 2180seats, MT: 1360- 2220 seats
Site: Marine cultural region, North Port, Jung─gu, Busan, S. Korea.
Site Area: 34,928m2
Total floor area: 56,600 m2
*Some of our stories include affiliate links. If you buy something through one of these links, we may earn an affiliate commission.