Submitted by Marko Petrovic, Yugo Ampera is concept supercar that pays homage to the classic Zastava Yugo launched in 1977, it's a vision of how this car would look like in the future. Let's read what Marko say about this project.
It is a project that follows a car brand that existed in 80. Sadly, it ended in 2008. This design study project on the possible way this brand may look if it never ended and if the world crisis and country inflations haven't affected the car industry in this area. It is a Yugoslavian (Serbian) car manufacturer called Zastava. They introduced Yugo (Zastava Koral) back in 1977 as a prototype. Designed in Italy as a shortened variant of the Fiat 128 it was an idea of a modern compact city car.
Although there have been many criticisms of the model, local people fell in love with the design and attitude. They created a cult out of this model as the years went by. Car suffers modifications in custom shops and reshape from city to race car. Many car owners recognize Yugo's Italian design, passion, and racing DNA.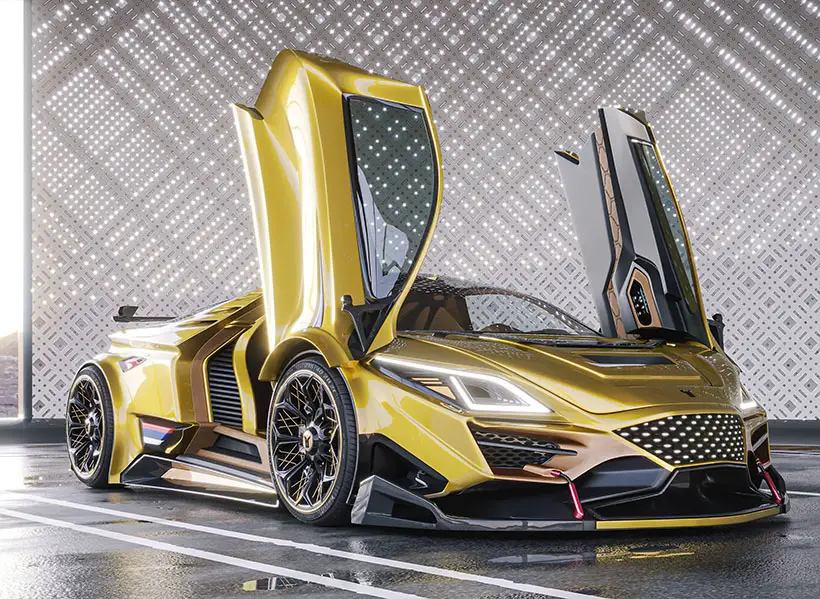 Unfortunately, the brand and the car company failed to maintain successful sales and growth on a bigger scale, so the new upgraded models were just pale interpretations of the initial design. No fresh designs and no novelties were shown, in a lack of finance and poor management led to the Zastava automobiles termination and closing of a production line.
My design study focuses on how this brand could look if things were another way around and if Zastava had success like other European car brands. It is not some homage to an old model with obvious resemblance and a retro look. It is my vision of what it might look like if the car industry in Serbia developed the same way as others in Europe and wide.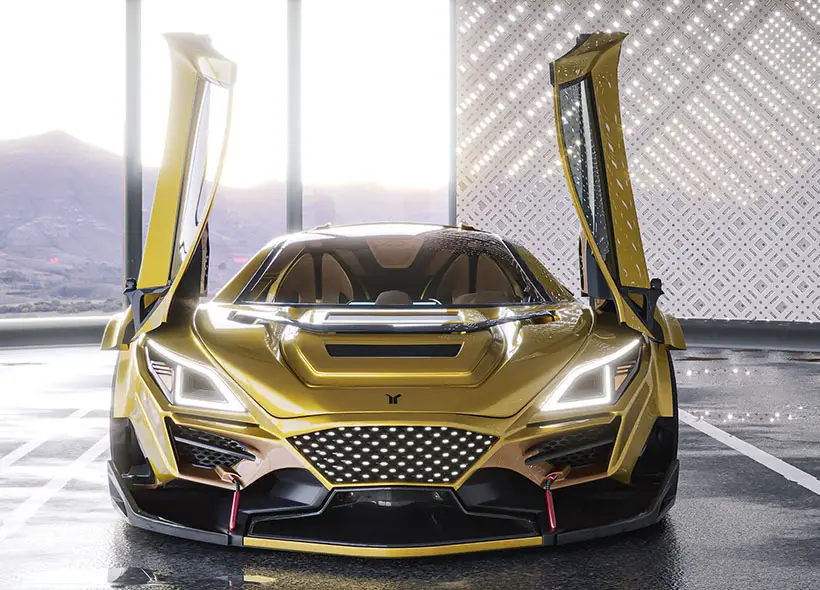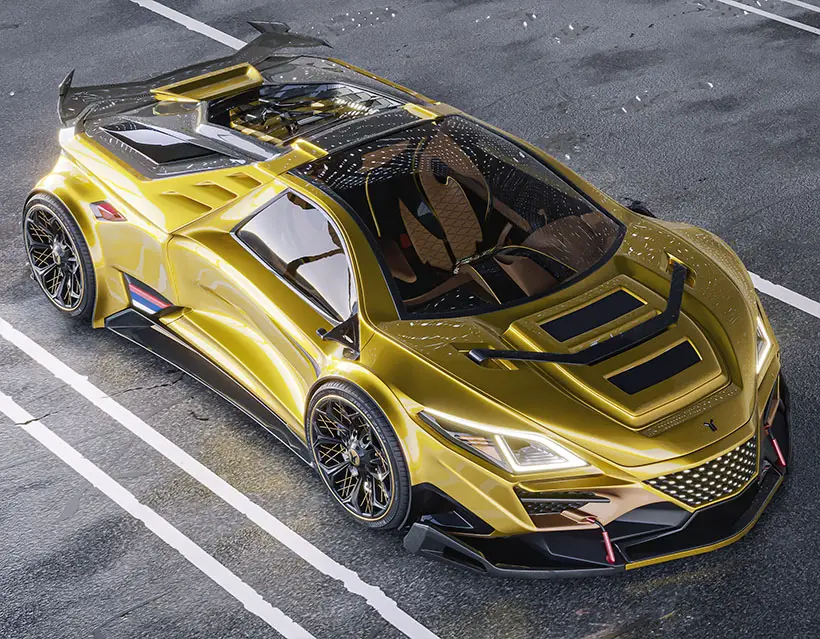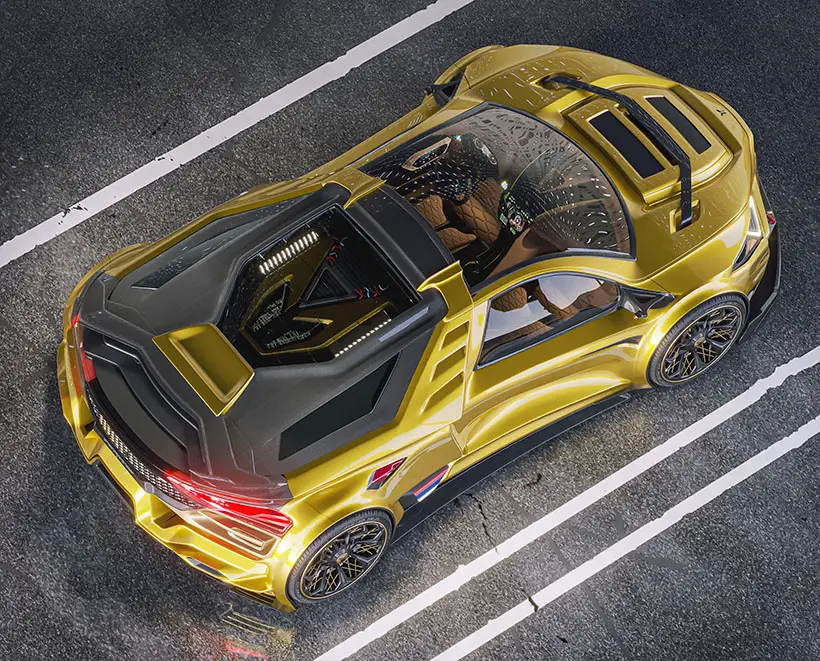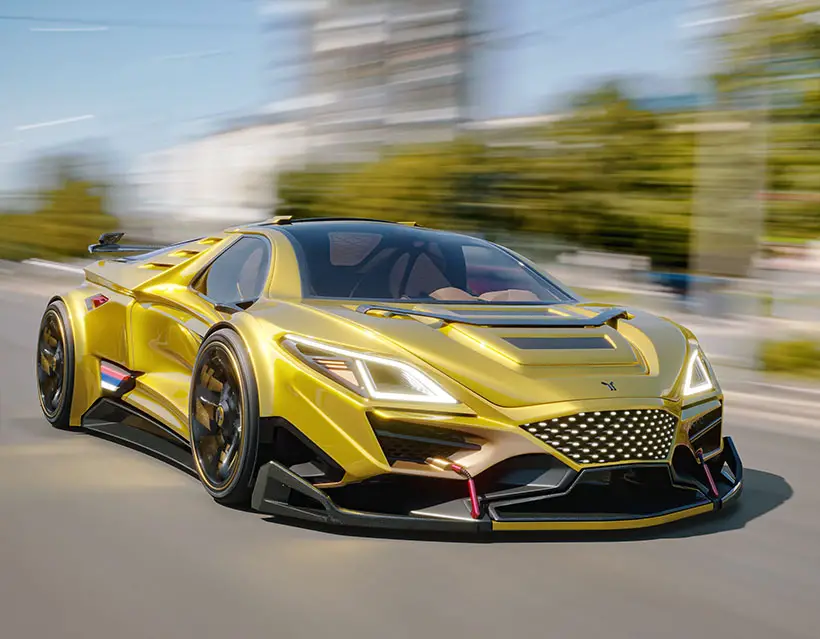 Being an era of electric mobility, naturally, this model is meant to be pure electric, supercharge race two-seat model. Dimensions-wise, I was aiming to resemble Lotus, and as for the tech, something like Rimac, our neighbors in Croatia.
So, 4 engine motors, an independent suspension system, and a unique charging system patent I have designed. The car uses a battery only for the city drive, and for the open road, there is an AEC (accumulation energy storage). AEC collects energy that is created on the open road. It works with the tunnel system that stretches underneath the car.
The place where the traditional mid-engine sits is a Yugo mobile electric station. The complex unit consists of a computer configuration system together with the propeller cage that sits in the lower position connected with the tunnel and a turbine generator. All air intakes are fully functional, not fake decorations like most e-cars. When you're on the open road, the air that goes into the air intakes travel through the tunnel moves the propeller, and goes out on the back air vents. Propeller produces the power in the generator that is stored than to the AEC, and AEC is directly connected to the wheel engines, so they get instant power. Car harvest energy by fast movement, and there are no charging stops or limited mileage. As for the design language, as I mentioned earlier, the idea is not to interpret old designs or do homage, but to create something that would be the future if the brand didn't fail.
There are some stages of the design that followed the initial configuration:
Detailing on the hood, exploration, and evolution of headlight.
Rim design with the DNA logo implemented. The grill design, the front back, and side lips, and the wings.
Sidelines, very edgy design language
Gold-Yellow paint color for the exterior.
Brown/khaki for the interior.
Molded single-piece Recaro cage seat concept.
All digital display interior with multiple screens all over the inside
And super fun gear multi-device on the central console that actually acts as an electric gear shifter – set to 9 levels – you can turn on or off this control if you want a feel of a more traditional car.
More images of Yugo Ampera Electric Supercar: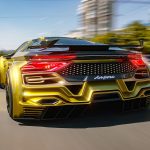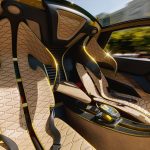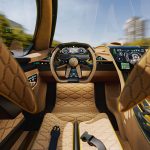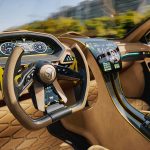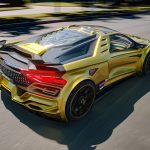 Love and passion for transportation design combined with love toward my country and its heritage has always pushed me to think about Yugo and Zastava, and to dream, what if? Who knows, maybe the brand will resurrect from its grave after this.
Designer : Marko Petrovic
Tuvie has received "Yugo Ampera Electric Supercar" project from our 'Submit A Design' feature, where we welcome our readers to submit their design/concept for publication.
*Some of our stories include affiliate links. If you buy something through one of these links, we may earn an affiliate commission.