The WHY yacht is a concept yacht dedicatedly focused on bringing luxury living lifestyle on the sea through offering maximum durability, space and cutting-edge technologies at every single turn. The yacht is contained in a triangle shaped hull measuring 58 x 38 meter and the interior is furnished with water resistant buffalo leather with calpinage technique. Aside from the 25 meter long seawater pool on the bow, the boat creates a completely flat water surface behind it, similar to an Olympic-size pool where boarders can swim in peace. The boat is powered by a diesel electric engine and a central computer manages the different sources of energy. Moreover, about 900 square meters of photovoltaic surface panel generates a part of the energy that is required to subsist the boat.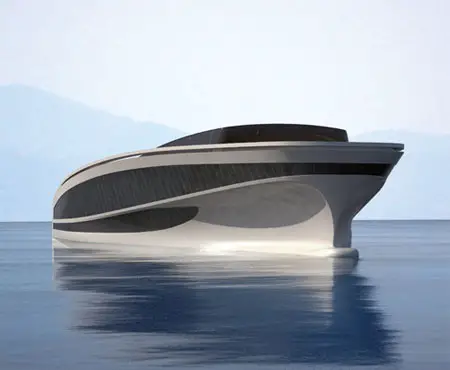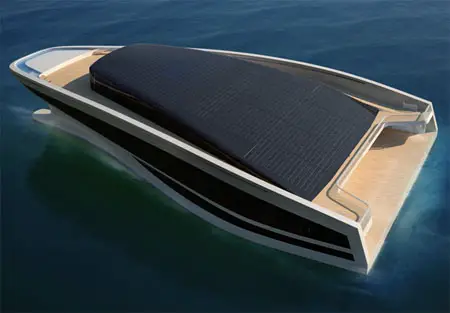 [Press Release]
Ancona, Italy. September 22, 2009. WHY, Wally Hermès Yachts, today unveils a revolutionary
approach to cruising in motor yachts with the presentation of a full size model of its first born, an
innovative 58 metre-long 38 metre-wide yacht, in Ancona's shipyard.
Wally Hermès Yachts: a joint-venture.
WHY is the result of the joint-venture signed in June 2008 between Hermès and Wally, to develop a new type of motor yacht redefining the art of living on the sea. The iconic Parisian house and the iconic Monaco yacht brand formed an equal partnership whereby each company is fully involved in all aspects of the conception and design of each project. Pierre-Alexis Dumas, Artistic Director of Hermès says : "When we met, in autumn 2007, Luca Bassani Antivari, President of Wally had thought about asking Hermès to accessorise the interior of one of his boats. I was impressed by the daring of his projects. My instinct was to get on board with him and go and seek out new territories in yacht design, but I had no interest in speed."
Luca Bassani Antivari explains: "What I've always liked about Hermès, aside from its intrinsic quality, is its audacity and radicalism; its desire to go beyond trends, to make no compromises and to maintain the authenticity of the house. Wally shares the same values, 'Hermès-on-Land', 'Wally-on-Sea': inevitably our paths had to cross."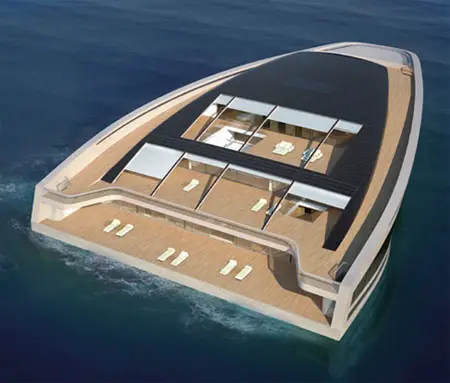 WHY 58×38
The common values of the two brands have led to a first yacht that offers an unparalleled living space at sea. WHY was developed to give life to this concept assembling a team of dedicated talents in design, engineering, and naval architecture.
Then the tried and tested Norwegian Ramform hull characterised by exceptional and unprecedented stability and volume and spotted by Luca Bassani Antivari, revealed itself as the ideal choice to be adapted to the WHY 58×38 project.
Following this unique adaptation, the decks and the interiors were developed in accordance with the fundamental credo of WHY, 'form-equals-function'. Thus were born other innovations in the world of mega yachts: patios generously flooding the interior with natural light, photovoltaic panels on the glass hull sides, as well as on the roof opening, like Venetian blinds, a 25 metre-long forward end swimming pool, and a 36-metre aft deck beach.
WHY 58×38 offers comfort, privacy, stability, space, independence and sustainability.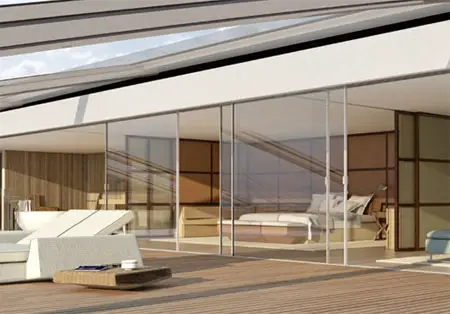 Sustainability
"We are very interested in creating a yacht that will have a low environmental impact", says Pierre-Alexis Dumas. "Its relationship with the sea must be respectful and easy. WHY intends to offer a new way of moving over water by creating an innovative way of managing and recycling its sources and uses of energy."
"If you want to go totally ecological, it's only sailing yacht. The reality is that today, 90 % of the market is powerboats, echoes Luca Bassani Antivari. Our aim is to reduce diesel consumption per year and per yacht: 20 to 30 % for propulsion and 40 to 50 % for generation."
Thanks to its specific hull, WHY 58×38 requires less power at cruising speed than a boat of equal size. Its diesel-electric propulsion is the most efficient motorisation today, and the surface of the photovoltaic panels, almost 900 square metres, covers most of the boat's auxiliary system needs.
WHY Research and Development plan to optimize this project's energy consumption by improving the isolation of the yacht and the heat recovery of its engines, and is also investigating the latest wind energy production and wind propulsion system technologies.
In comparison to a yacht of the same size, WHY 58×38 has been conceived to reduce drastically its energy consumption, saving up to 200 tons of diesel per year.
The WHY R & D program includes tank testing for hull stability in the SSPA facilities in Sweden, and the construction of a full-scale mock-up in order to allow the design team to fine tune the living areas correctly in accordance with the hull's unique shape.
"The WHY 58X38 yacht looks very unfamiliar but it remains on a human scale. Space is the greatest luxury on the sea, but I believe the new luxury will be the time to enjoy it", concludes Pierre-Alexis Dumas.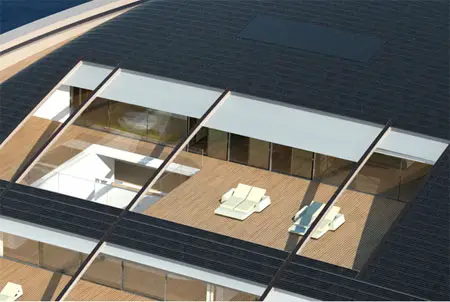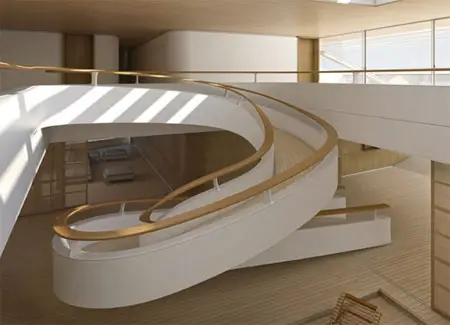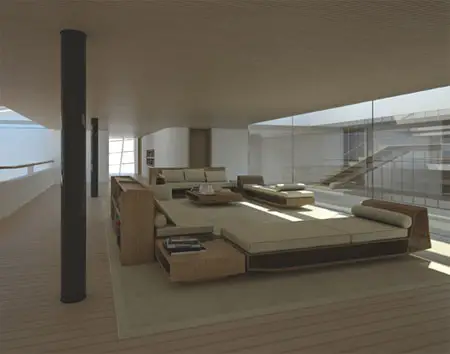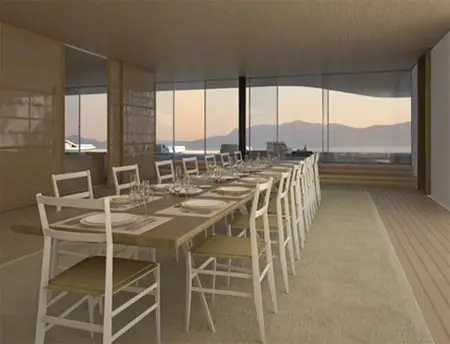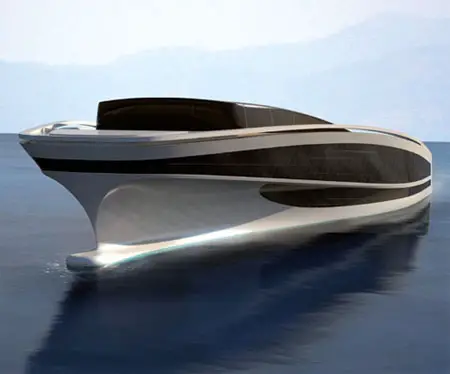 Designer : Pierre-Alexis Dumas, Luca Bassani Antivari, Gabriele Pezzini, and MauroSculli
*Some of our stories include affiliate links. If you buy something through one of these links, we may earn an affiliate commission.