The new DN01 motorcycle design by Honda surely can be termed as outlandish. The stunningly beautiful design combines the exhaust of Hornet 600 while providing rear end storage in maxi scooter. It will boast of 680cc v-twin engine with fat header pipes on display as in cruiser style, even cruiser-style foot boards and shift drive with ABS. The ride seems comfortable as it is a laid back version of the maxi scooter and on a long open road it definitely is a comfort ride. Also it comes in manual 6-speed sports mode and in full automatic drive mode thus giving the feel of a car in a bike. With no gear changer, is this really a motorcycle? Or is it some strange kind of scooter? Honda definitely brings a beginning of revolution in motorcycles.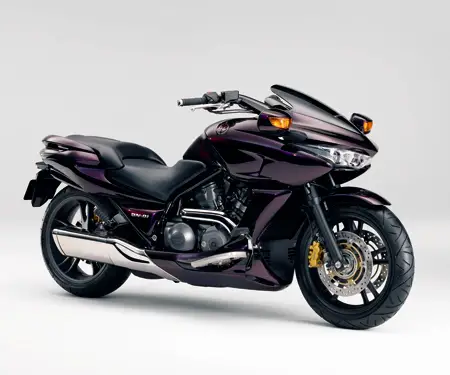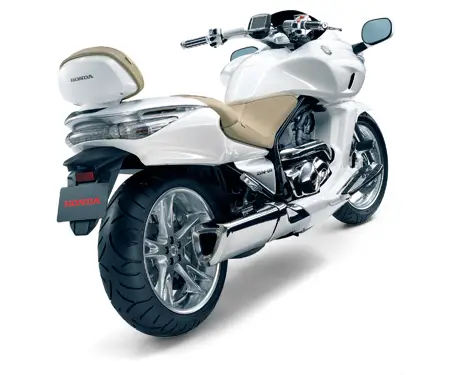 Press Release :Honda's Unique and Futuristic DN-01 On Sale From 1 August
Honda's unique DN-01 motorcycle goes on sale on Friday 1 August from Honda Motorcycle dealers across the UK .
Available in two sleek colours of graphite black and pearl amethyst purple and priced at £9200*, the DN-01 – dream concept turned production reality motorcycle – with fully automatic transmission, is a truly unique machine in the world of motorcycling and defies being categorised.
Honda's team of engineers set out to create an entirely new category of motorcycle and sought to combine elements of swift superbike performance, relaxed custom cruiser riding comfort, operating ease of a big scooter, attention grabbing and futuristic styling with unparalleled technological advancements.
It's not a sportsbike, a cruiser, a scooter, a naked bike, adventure bike or a sports-tourer: it's a new-breed of machine which couples performance, poise, comfort and practicality, all wrapped up in futuristic and radical styling whilst boasting some of the latest Honda technology.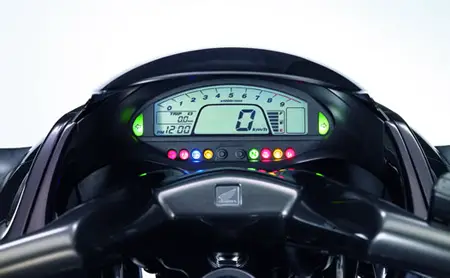 The DN-01 introduces to motorcycling the most advanced fully automatic transmission ever developed for any two-wheeled vehicle – with HFT 'human-friendly transmission'. Power comes from the proven and punchy Transalp 680cc V-twin, feeding through the HFT system, which offers auto, sports-auto or thumb-operated six-speed manual transmission modes, all providing smooth drive to the rear tyre without the lag of some traditional automatic transmission systems.The low-slung chassis keeps the rider in total comfort and control, while Honda's superb Combined ABS Braking System keeps braking distances to a minimum in all conditions as well as enhancing safety. And to minimise environmental impact, the oxygen-sensing catalyser system manages the air/fuel mixture to reduce emissions to well below EURO-3 regulations.
Like most of Honda's larger displacement motorcycles, the new DN-01 also comes fully equipped with the highly capable Honda Ignition Security System (HISS) to protect against ride-away theft.
Whilst the DN-01 looks stunning as standard, it can be further enhanced with a range of Honda Genuine Accessories designed specifically for this model, to include: a custom styled backrest for extra pillion comfort, heated grips with adjustable temperature, Honda Motorcycle Navigation Kit, speakers for a rider's MP3 player, Bluetooth connection for a mobile phone, a motion and vibration sensitive anti-theft AVERTO alarm system, sturdy U-lock and a rugged, full bike cover.
This new breed of machine made its debut in the UK at the International Scooter and Motorcycle Show at Birmingham 's NEC in December last year, before its world media launch at Lake Como in April. Having inspired a 'wow' factor for many, coupled with limited availability in the UK this year, orders have already been received for the DN-01 as many motorcyclists have stared in awe at the machine's futuristic looks and the user-friendly nature of the new HFT system.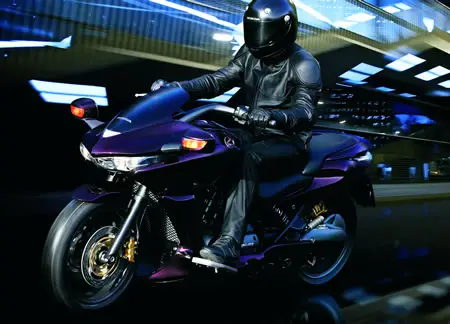 Honda Motorcycle dealers across the country will be unveiling the DN-01 on Friday 1 August so to see this unique machine in the flesh, or to book at test ride, contact your local dealer.Honda Motorcycle dealers can be located by calling Honda on 0845 200 8000, or by using the 'Dealer Search' facility within the Motorcycles area of www.honda.co.uk, where you can also find all the latest news and information about the full Honda motorcycle range, offers, genuine parts, accessories and forthcoming events.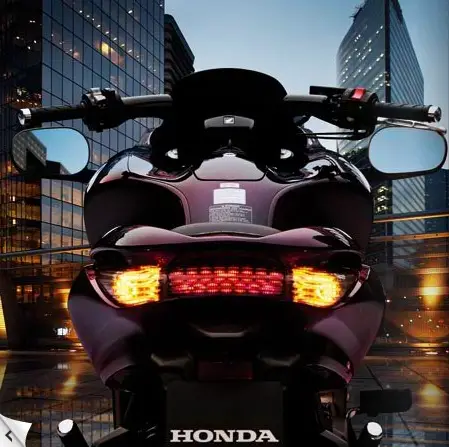 *Some of our stories include affiliate links. If you buy something through one of these links, we may earn an affiliate commission.