If Zeus Concept is the hot rod God, then Hera is the hot rot Goddess. Coming in 2020, Hera All-Electric Concept Motorcycle offers a luxurious vehicle that features world's first V8 battery architecture. It is equipped with ultra-powerful yet refined E-Twin motor. Inspired by Glenn Curtiss' land speed record-setting 1907 V8 motorcycle, Hera is based on that iconic machine that earned Glenn Curtiss the title "Fastest Man on Earth" when he reached 136.3mph on January 23, 1907.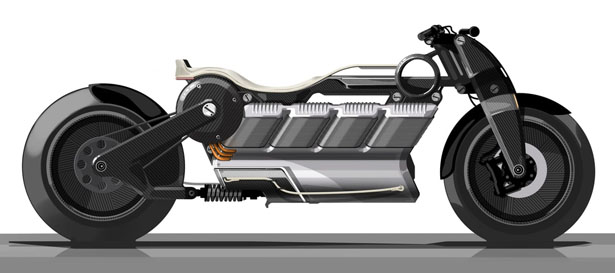 Hera Electric Hot Rod Motorcycle from Curtiss Motorcycles pays homage to that iconic 1907 Curtiss V8, it is the all-electric version of that badass machine, complete with eight "cylinders" of high-density lithium-ion batteries. Hera is here to deliver greater speed than its predecessor in far more luxurious package. That long wheelbase and low stance give her a sensual proportion. There are no details and pricing just yet, but hopefully, this futuristic motorcycle concept can take us to the next generation of best electric motorcycle era.
*Some of our stories include affiliate links. If you buy something through one of these links, we may earn an affiliate commission.