Mazda has come up with another brilliant concept of futuristic city car named "Kiyora". In Japanese, Kiyora means 'clean and pure' and this concept car truly delivers what it means. It is a next generation four cylinder direct-injection engine which offers amazing fuel economy and low CO2 emissions. Previous concept cars of Mazda were based on shapes like wind and sand whereas Kiyora is inspired by water design. Shape of water gives a totally unique and attractive look to this car. Even when the car is still, it gives the effect of flow and movement. The transparent doors catch one's attention as they emerge as a flow of water with clean roof.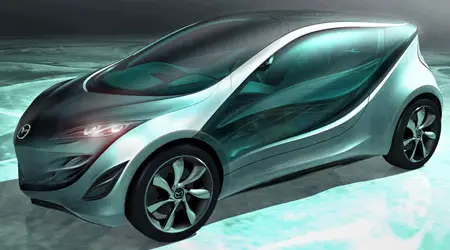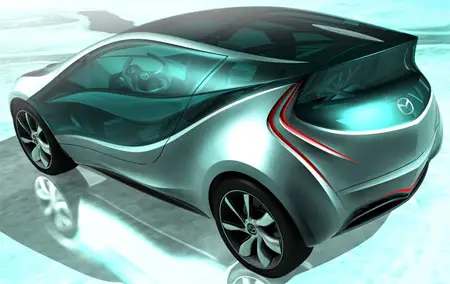 [Press Release]
HIROSHIMA, Japan – Mazda Kiyora, a lightweight, next generation, urban compact concept car, will be revealed at the 2008 Paris International Motor Show to be held from Thursday, October 2 through Sunday, October 19, 2008.
Mazda Kiyora (meaning "clean and pure" in Japanese) represents the harmony between driving pleasure and environmental and safety features aspired to in Mazda's long-term technology development vision, "Sustainable Zoom-Zoom."
The concept of Kiyora helped the designers to imagine a city car cutting cleanly through an urban landscape, with water as the design theme. Kiyora's aerodynamic Nagare design and next-generation four-cylinder direct-injection engine contribute to excellent fuel economy and low CO2 emissions.
The new Mazda Kiyora concept car is based on an all-new platform designed to minimise weight and maximise safety and driving pleasure. It also features an interior design and new functions that support a youthful lifestyle.
Joining the Mazda Kiyora concept car on Mazda's stand at the Paris show, the Mazda MX-5 facelift will make its world debut together with the Mazda6 equipped with Mazda's newly developed MZR-CD 2.2-litre turbo diesel engine, and the Mazda2 powered by a MZ-CD 1.6-liter diesel.
Officially titled the Mondial de l'Automobile, the Paris motor show press days are October 2 and 3, and the public days are October 4 to 19. Mazda will hold its press conference on Thursday, October 2, at 12:15 p.m. (local time).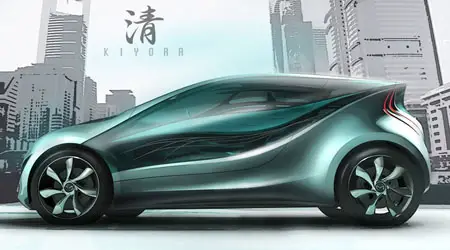 Designer : Mazda
*Some of our stories include affiliate links. If you buy something through one of these links, we may earn an affiliate commission.