The quotation regarding Superyacht Adastra "One of the world's most amazing super yachts, that could spell the future for efficient long range cruising" by Boat International may seem inspirational for yacht enthusiasts, yet considering the unique and contemporary design aspects of the yacht concept, it may come out even more alluring and interesting.
The outcome of 5 years of extensive design by John Shuttleworth Yacht Designs and discussion with the owner Anto and Elaine Marden, positively has all it takes to strike the minds of luxury cruise seekers that can offer unique and quality ocean voyage with comfort and style.
Designer: John Shuttleworth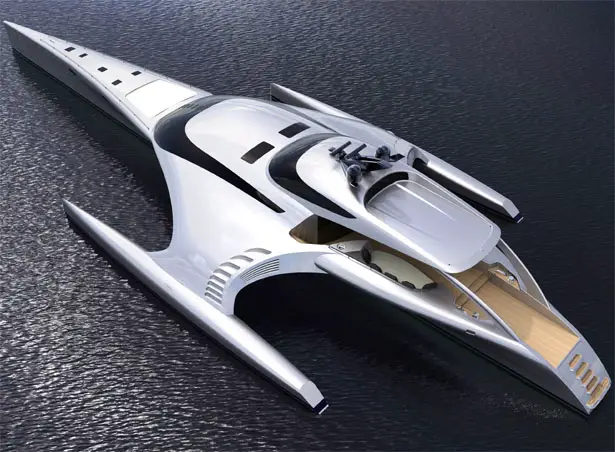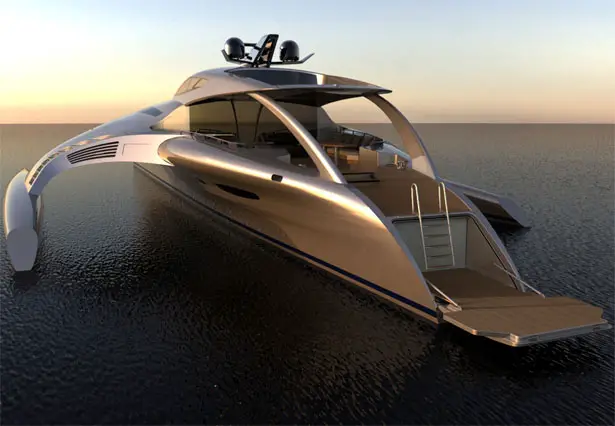 This superstructure is backed by Nomex honeycomb core and carbon fiber, making it lightweight and durable, while the hull is made of glass foam in a form of sandwich for ensuring added stability in strong tides. It features optimized outrigger height for convenient motion in the sea and an innovative outrigger shape that gives superior control.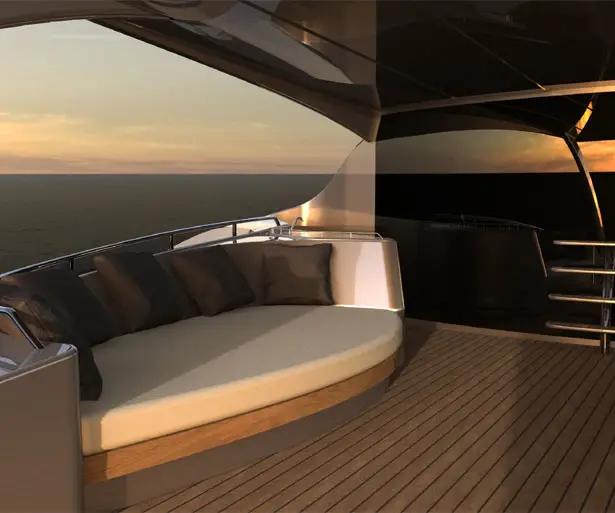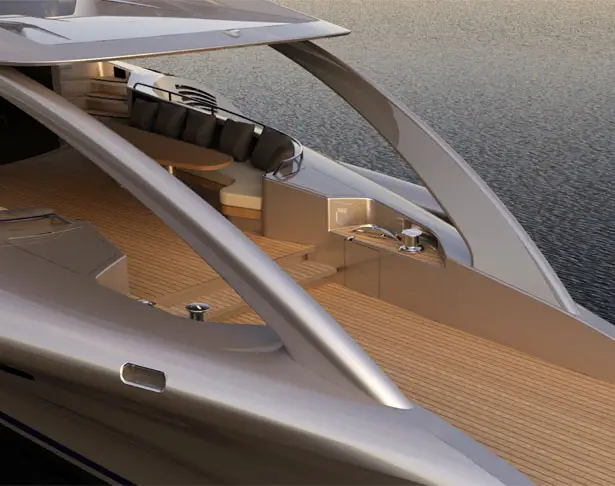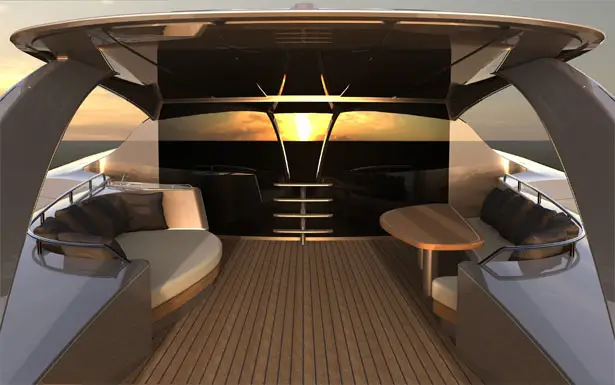 The specious saloon area on the main deck contains a panoramic window where the passengers can sit and enjoy the great view of the ocean. The master cabin as well as the other two guest cabins is decorated with world class fittings and furniture with state of art interior design.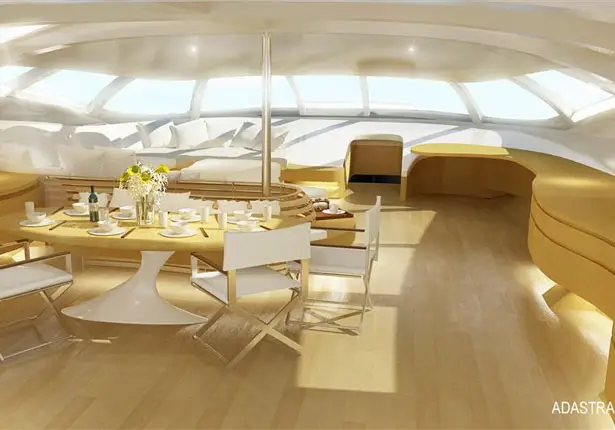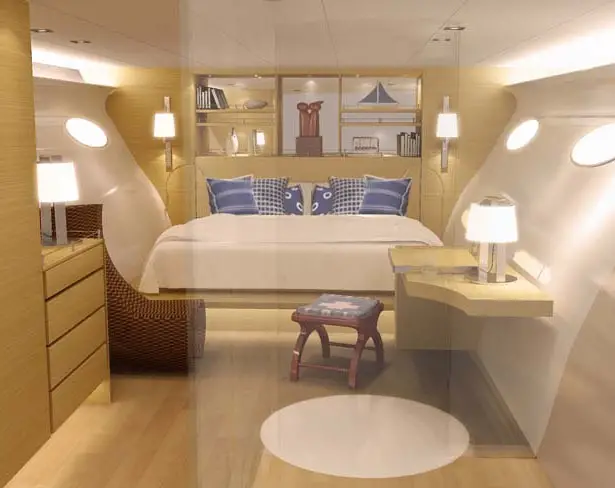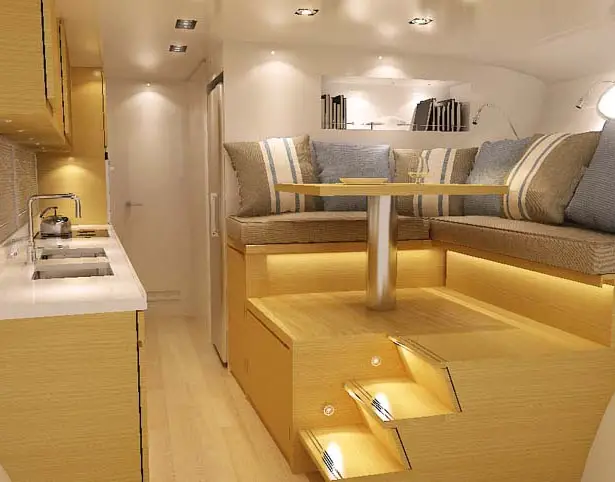 This stunning superyacht Adastra is powered with a Caterpillar C18 main engine with 1150 hp and two outrigger Yanmar engines with 110hp. This concept is under construction in McConaghy yard Zhuhai China and is soon to be seen gliding on the sea with all its magnificence and supremacy.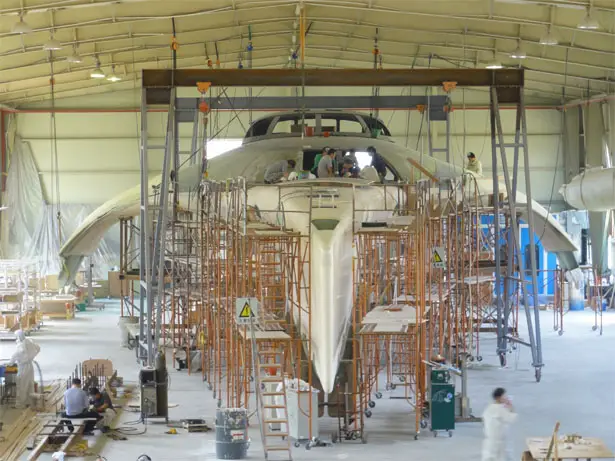 More specifications of Superyacht Adastra below from the designer:
• LOA – 42.5 m
• Beam – 16 m
• Hull Draft – 1.12 m (1.6m to tip of rudder)
• Main engine – 1x Caterpillar C18 -1150 hp @ 2300 rpm
• Outrigger engines – 2x Yanmar 110hp @ 3200 rpm
• Generators – 2 x 36 kw custom in the outriggers linked to 110 Hp Yanmar engines, and 1x 26 kw Northern lights in Main engine room
• Owner and Guests – 9
• Crew – 5-6
• Tenders – 4.9m stored on the aft deck and a 3.1m stored in the garage
• Freshwater Capacity – 2x 800 gph fresh water makers – 2700 litres water
• Displacement light – Fully equipped and full stores and crew, no fuel and no water – 49 tonnes
• Displacement cruising max – (normal operational load) 15000 litres fuel – 64.8 tonnes
• Displacement ocean passage max – (only for occasional long ocean passages) 32000 litres fuel – 77 tonnes
• Speed max – 22.5 knots
• Range at 17 knots – 4000 miles
• Fuel consumption at 13 knots – 90 litres per hour.
• Fuel consumption at 17 knots – 120 litres per hour
• Exterior Styling – John Shuttleworth Yacht Designs Ltd
• Naval Architecture – John Shuttleworth Yacht Designs Ltd.
• Structural Design – John Shuttleworth Yacht Designs Ltd. & Applied Structural Analysis Ltd.
• Interior Design – Jepsen Designs, Hong Kong
• Builder – McConaghy Boats, Zhuhai, China
*Some of our stories include affiliate links. If you buy something through one of these links, we may earn an affiliate commission.