The Tomahawk is a Viper V-10 based motorcycle, a 500 horsepower engine with four wheels beneath it. The engine breathes through twin throttle bodies mounted right up front. The Tomahawk concept is an awesome-sounding machine. Clouds of blue smoke vied for attention with the throaty rumble of the mighty V-10, and hitting the gas visibly opened the twin throttle body blades up front where the headlight would normally be. Though deeper and more rumbling than most motorcycles, it did not seem to be louder overall – just deeper and less shrill.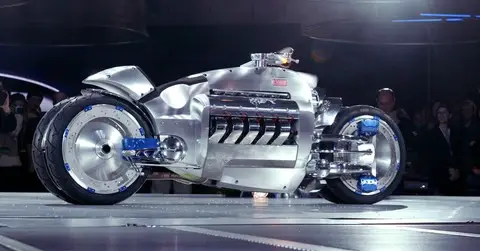 The Dodge Tomahawk can reach 60 miles an hour in about 2.5 seconds, and has a theoretical top speed of nearly 400 mph. Each pair of wheels is separated by a few inches and each wheel has an independent suspension. Bernhard said four wheels were necessary to handle the power from the engine.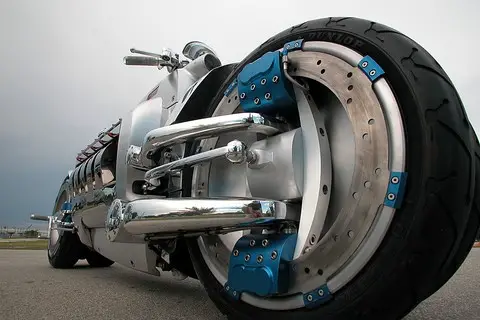 Engine
1. 500 bhp (372 kW) @ 5600 rpm ( 60.4 bhp/liter); 525 lb.-ft. (712 Nm) @ 4200 rpm
2. 10-cylinder 90-degree V-type, liquid-cooled, 505 cubic inches (8277 cc)
3. 356-T6 aluminum alloy block with cast-iron liners, aluminum alloy cylinder heads
4. Bore x Stroke: 4.03 inches x 3.96 inches (102.4 x 100.6)
5. Two pushrod-actuated overhead valves per cylinder with roller-type hydraulic lifters
6. Sequential, multi-port electronic fuel injection with individual runners
7. Compression Ratio: 9.6:1
8. Max Engine Speed: 6000 rpm
9. Fuel Requirement: Unleaded premium, 93 octane (R+M/2)
10. Oil System: Dry Sump; takes 8 quarts Mobil1 10W30 Synthetic
11. Cooling System: Twin aluminum radiators mounted atop engine intake manifolds, force-fed from front-mounted, belt-driven turbine fan.
12. Takes 11 quarts of antifreeze.
13. Exhaust System: Equal-length tubular stainless steel headers with dual collectors and central rear outlets.
Suspension
Front:
Outboard, single-sided parallel upper and lower control arms made from polished billet aluminum. Mounted via ball join t to aluminum steering uprights and hubs. Five degrees caster. Single, fully adjustable centrally located coil-over damper (2.25-inch coil with adjustable spring perch); pullrod and rocker-actuated mono linkage. Center-lock racing-style hubs.
Rear:
Hand-fabricated box-section steel inboard swing arms, incorporating "hydral-link" lockable recirculating hydraulic circuit parking stand. Single fully adjustable centrally located Koni coil-over damper (2.25-inch coil with adjustable spring perch); pushrod and rocker-actuated mono linkage. Center-lock racing-style hubs
Performance
0-60 mph: 2.5 seconds (est.)
(Some estimate 1.9)
Top Speed: 300+ mph (est.)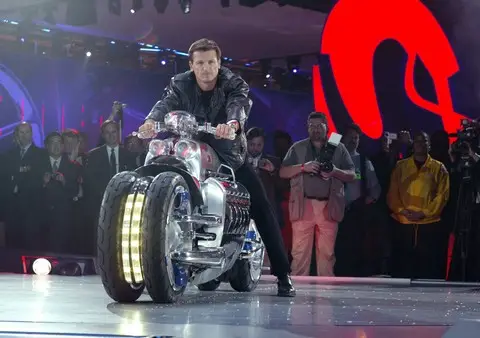 Dimensions
Length: 102 inches
Width: 27.7 inches
Height: 36.9 inches
Wheelbase: 76 inches
Seat Height: 29 inches
Weight: 1,500 lbs.
Track, Front: 8.75 in
Track, Rear: 10 in
Weight Dist: 49F/51R
Ground Clearance: 3 in
Fuel: 3.25 gallons
Transmission
Manual, foot-shifted two-speed
Aluminum-cased two-speed, sequential racing-style with dog ring, straight-cut gears
Gear Ratios: 1st 18:38; 2nd 23:25
Clutch: Double-disc, dry-plate with organic friction materials, hand lever actuated with assist
Final drive: Dual 110-link motorcycle-style chains
Front Sprockets: 14 teeth
Rear Sprockets: 35 teeth
Longitudinal, centrally mounted engine, rear-wheel drive layout; monocoque construction, engine is central, stressed member. Body of billet aluminum.
Price
$555,000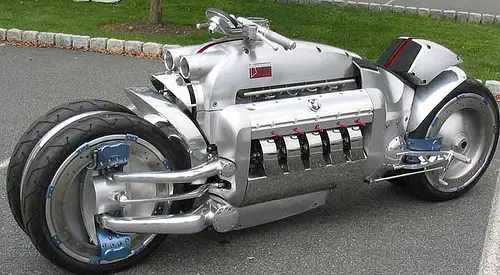 *Some of our stories include affiliate links. If you buy something through one of these links, we may earn an affiliate commission.