The total number of sound enthusiasts is increasing everyday all over the world and speaker manufacturers are always trying to offer something unique and powerful to attain their customer base. Professional Sound Reproduction is a 2.1 sound system featuring two wireless 360º speakers and a sub-woofer that can be positioned anywhere to enhance the surround sound perception. CUBE 2.1 includes a powerful dock where MP3 players, TV or a computer can be connected with a USB interface. Easy transportation of this speaker is a remarkable feature which allows a user to carry it with its simple four step foldable handles.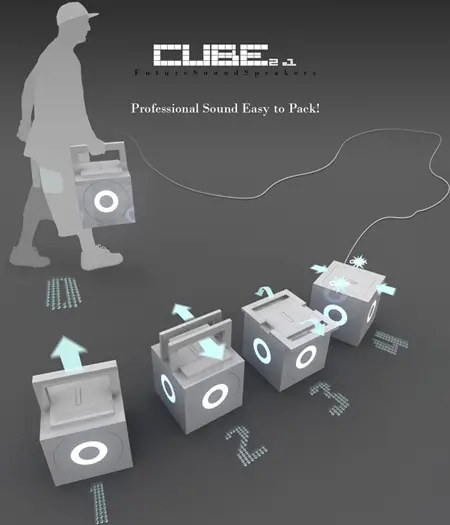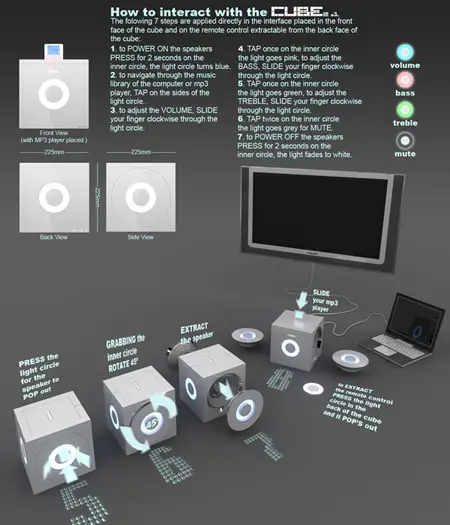 Text from Joao about Cube 2.1:
With portability, professional sound reproduction and intuitive usability in mind, the CUBE 2.1 speakers where projected:
PORTABILITY-Thought for people that are constantly changing from place to place or just changing from the country house to city house without leaving their sound entertainment, the CUBE 2.1 speakers can be carried easy, first because they can be packed in one 25 cm cube with no strings attached, featuring a rechargeable Battery, wireless speakers and a remote control.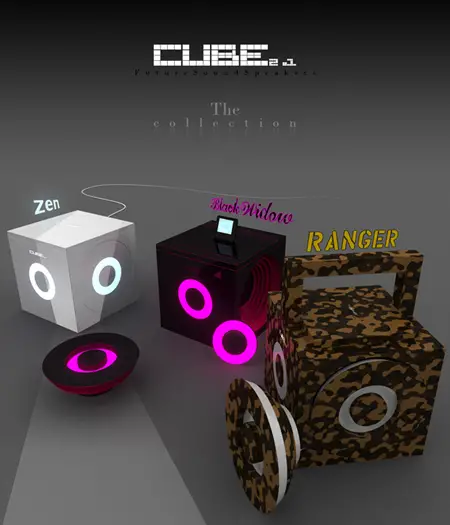 PROFESSIONAL SOUND REPRODUCTION-Featuring a 2.1 system (two wireless 360º sound speakers that can be placed anywhere that enhances the surround perception, plus a sub-woofer), the CUBE 2.1 is a powerful Mp3 player dock that also allows to connect the TV, Computer or a additional Mp3 player due to it's USB plug-and-play feature.
INTUITIVE USABILITY-With a clean appearance objective and having trough all the design process the conscience that I was designing speakers and not some multifunctional gadget, the result was a simple interface that controls the necessary features and enhances the "Pro" look of this product, allowing this way it's user to absorb it very fast.
Designer : Joao Carneiro
*Some of our stories include affiliate links. If you buy something through one of these links, we may earn an affiliate commission.