Crown Dream International Kindergarten is a renovation project located in the Xiangmihu area of Futian District, Shenzhen. VMDPE Design was brought on as architect, with the school aiming to build the project into a high-end educational institution with EYFS as its teaching philosophy.
The children's activity space, as a place for them to move about and learn, is designed to be adaptable, depending on evolving teaching content. For the teachers, it is important to have a space which is flexible enough to accommodate a variety of learning activities in the future. Thus the space as a multi-use area for teaching is an important focus of the design.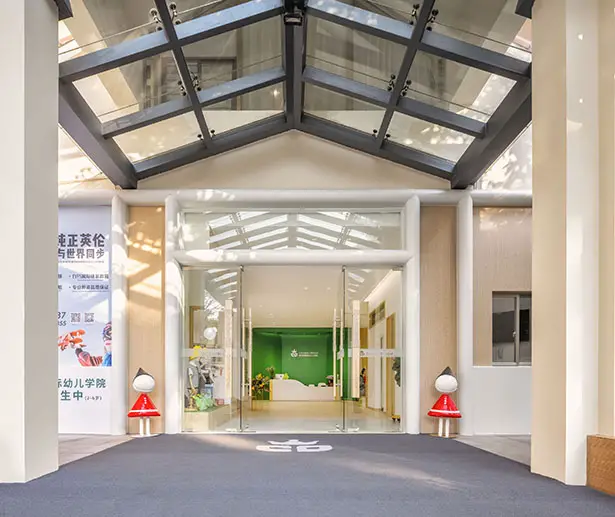 VMDPE Design has allocated reception, security, meeting rooms, logistics, and medical services to the first floor. The central storage area for changing shoes isolates outdoor dust and dirt, and prevents their spreading to the rest of the building. Additionally, there is another hall in the lobby with sufficient area to facilitate children's morning health check in to the kindergarten, as well as large-scale events and gatherings.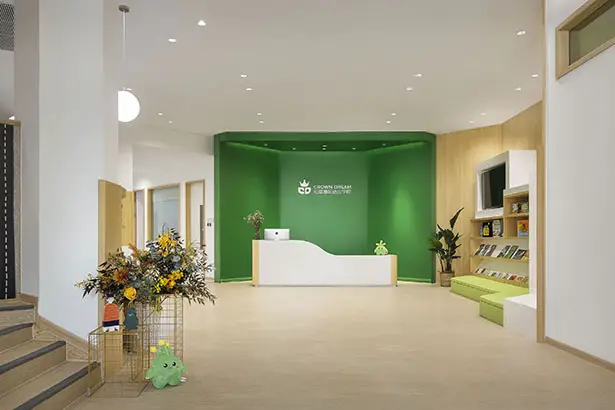 The main spaces of the project are on the second and third floors, with an abundance of natural light within a square-shaped overall plan. The first floor of the project is where the main entrance is located, as well as offices for administration and external consultation.
A circular open reading area greets visitors upon entering the main space on the second floor. The ceiling has a dimmable overall light source to meet the soft and moderate ambience required for children's indoor reading. In addition, there are classrooms for exploration courses arranged around the reading area.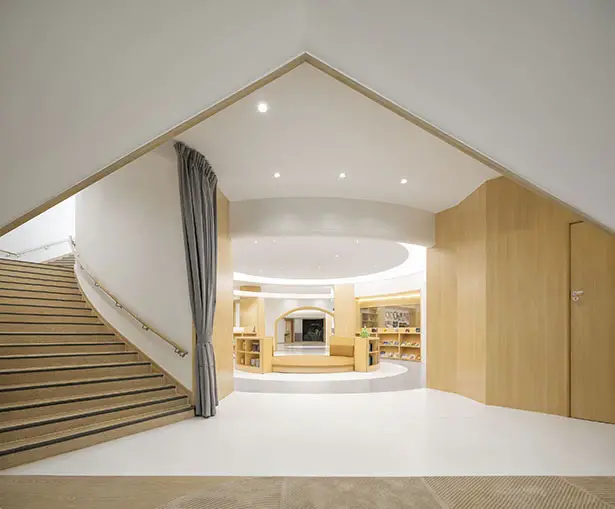 The main space of the second floor is composed of two interconnected areas. After passing through the public reading space, a more circular space is entered, which is the children's indoor public activity space. Overall, eight main teaching classrooms are distributed around this main space.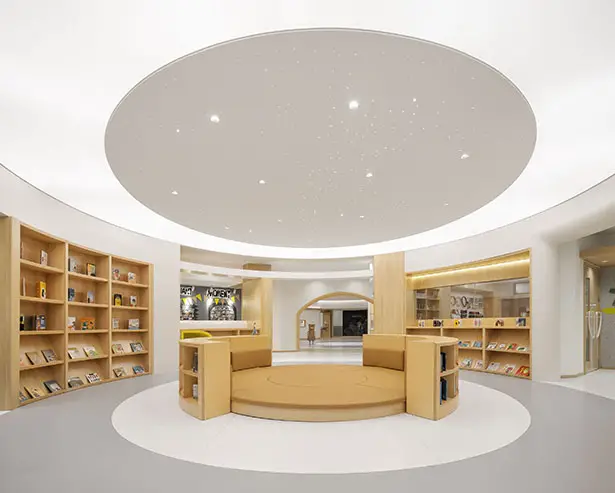 VMDPE Design has been exploring various methods to eliminate corridors in their projects. The thinking behind this is that the designer believes corridors serve simply as secondary space linking other programmed spaces, with their main function being to manage rather than freely explore. Therefore, in this project, the designer organized and distributed the lines of circulation linking all the classrooms through the integration of all the corridor areas into a large activity space.
By incorporating this spatial layout design, VMDPE Design has gathered all the corridor areas together, reduced the connection cost of each space, and created a welcoming open public space. The intention is that the increased functional diversity of the design will inspire the children to explore different areas.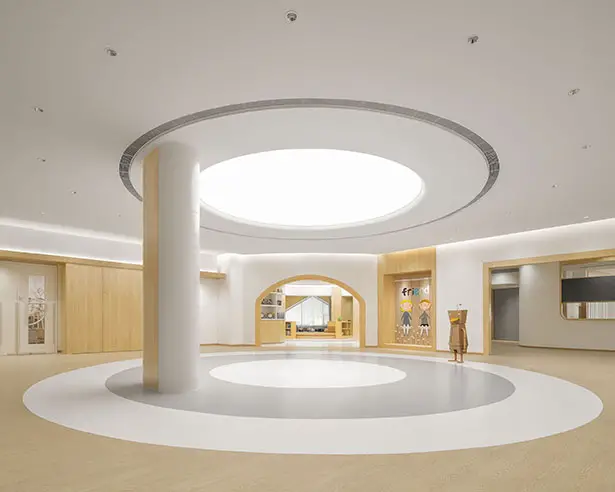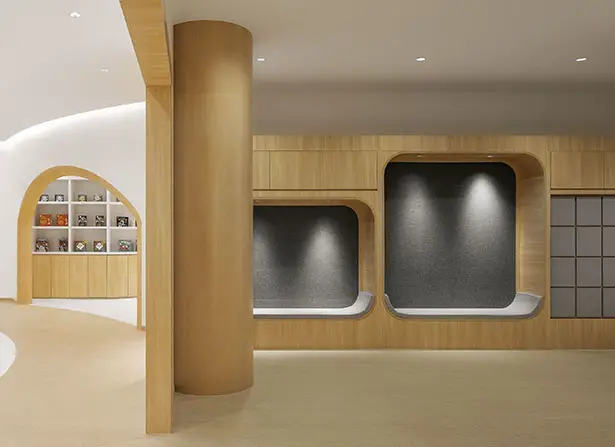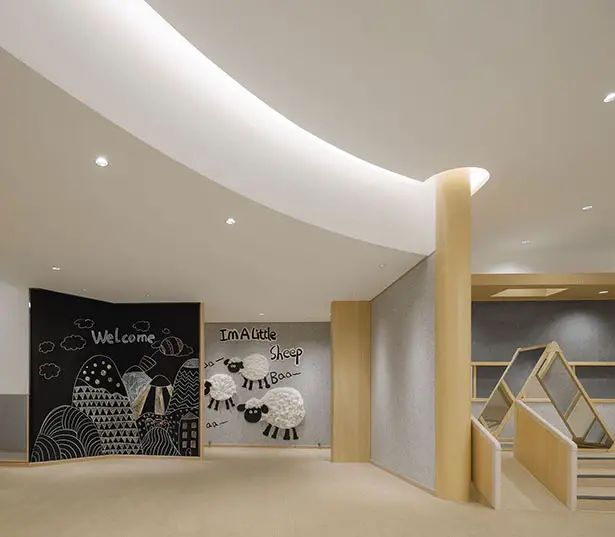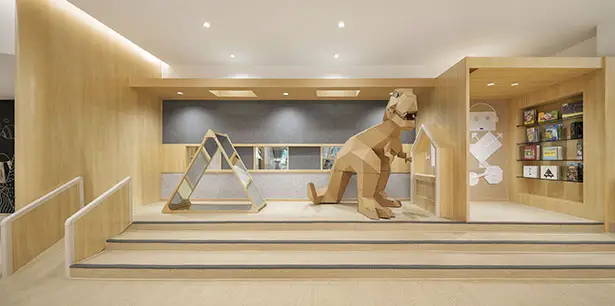 The main classrooms have external information displayed around the public space for children's activities in various locations, to visually communicate the teaching content of each class to both parents and children. There is also a platform area where amusement and drama performances can be held in the public space, which anticipates for the diversified teaching content to come in the future.
Natural light and good air circulation in each space, in accordance with the varying orientations of the different classrooms. Everything has been done to also provide complete supporting facilities, in order to ensure the children have spaces of the highest comfort and quality.
More images of Crown Dream International Kindergarten: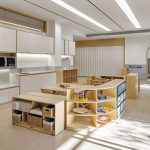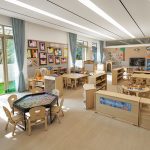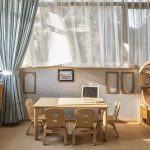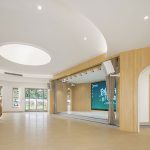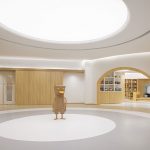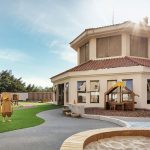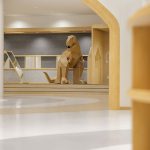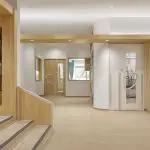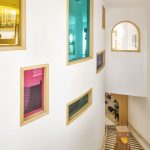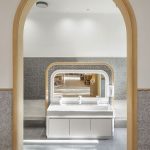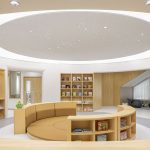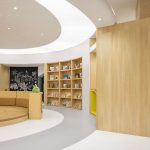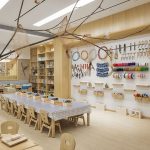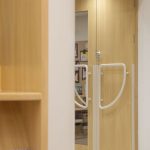 In accordance with the project's program, the outdoor area occupies the third floor/roof of the building, with a generous outdoor activity space complete with supporting facilities such as a steam learning zone, small farm, sand pit, and water play area. Also on the third floor, there are gathering areas and stages, plus a multifunctional hall for performances, dance rehearsals and other functions.
This project is a return to original design principles for VMDPE Design. We hoped to think about the design of the kindergarten space from a more essential point of view – putting aside adult aesthetic concepts, in favor of a perspective which emphasizes warmth, sunshine, and exploration, and above all, tolerance. By also bearing in mind the teaching activities that will occur in the space in the future, we strove to create a project that was simple and coherent, but full of possibilities for children's space design.
Project Name: Crown Dream International Kindergarten
Project location: Xiyuan, No. 3012 Xiangmihu Road, Futian District, Shenzhen, China
Design Period: 2020.4 -2020.7
Construction Period: 2020.7 -2020.11
Site area: Interior space 1630 m² plus out door space 700 m²
Project Status: Completed
Design company: VMDPE Design
Project Directors: Vinci Chan, Dio Zhang
Design team: Sean Ve,Edith Deng,Nancy Lu,Zoro rong
Project Category: Facade renovation and interior design, landscape design, lighting design, prop design
Photography: Bruce Zheng
Tuvie has received "Crown Dream International Kindergarten" project from our 'Submit A Design' feature, where we welcome our readers to submit their design/concept for publication.
*Some of our stories include affiliate links. If you buy something through one of these links, we may earn an affiliate commission.