You will certainly agree with me that electric toothbrushes have dethroned manual toothbrushes in recent years on supermarket shelves. I believe more and more people have trusted on it, just like me to help us eliminate our dental plaque more effectively.
I have tested both traditional and electric toothbrushes and got to know that the later is much more efficient than traditional toothbrushes, safer for your teeth and gums. The electric toothbrush also has the favors of dentists who recommend it without hesitation to their patients. Given the increasing success in this type of product, the range is very wide and therefore the choice of the best model is complicated. Thanks to Brüush, we have a chance to review an extra modern electric Toothbrush to help you in your quests to find an effective e-toothbrush.
There are many models of electric brushes today with their specificities, durability, price, ease of use and efficiency. But if you are a lover of an electric toothbrush, you probably have tested many expensive products such as that $200 to $300 e-toothbrush from famous brands. Read our review about Brüush Electric Toothbrush, it might change your mind.
Brüush offers 3 color options: pink, white, and black, and I got the black version for this hands-on review. I really love the packaging box that comes in all-black in matt finish that embraces subtle logo print in the middle which also comes in black.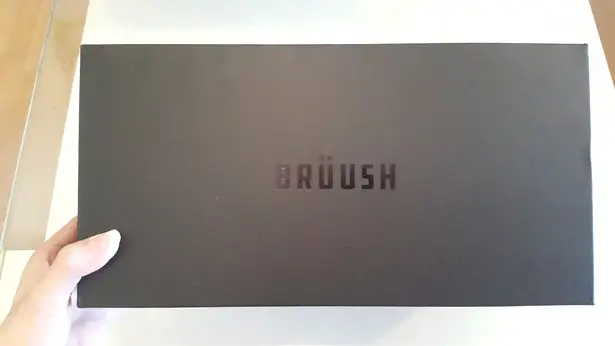 Opening the box, I can see a cool all-black electric toothbrush, professionally designed with 6 cleaning modes to effectively clean your teeth and tongue for healthier mouth. Holding it in my hand, I can feel the soft matt rubber coated surface, so smooth…it also weighs just enough, not too light and not too heavy. The thing with matt rubber coated surface is that it tends to become sticky after sometimes when you live in an area with tropical climate, so, don't say I didn't warn you. Brüush toothbrush actually comes in fully charged, therefore, you can try it as soon as you open the box.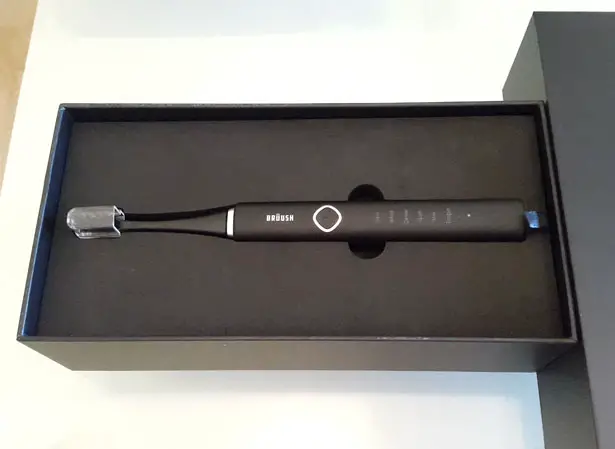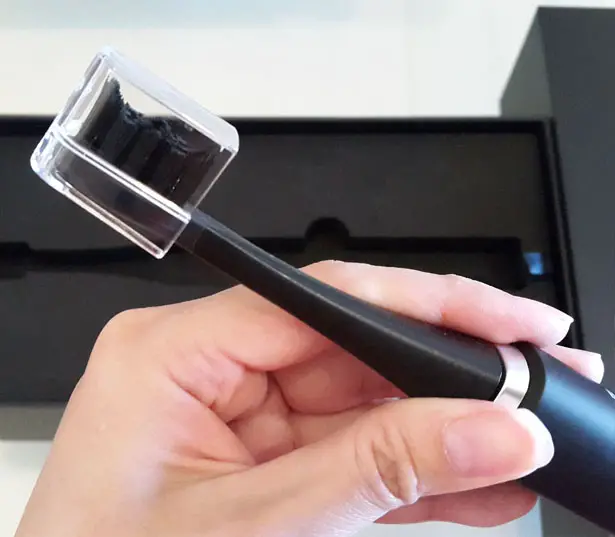 It has six powerful cleaning modes: daily, white, gentle, gum, max, and tongue, each one delivers enough pressure that you need to clean your teeth effectively. You can read the details of each mode in the user manual included in the box.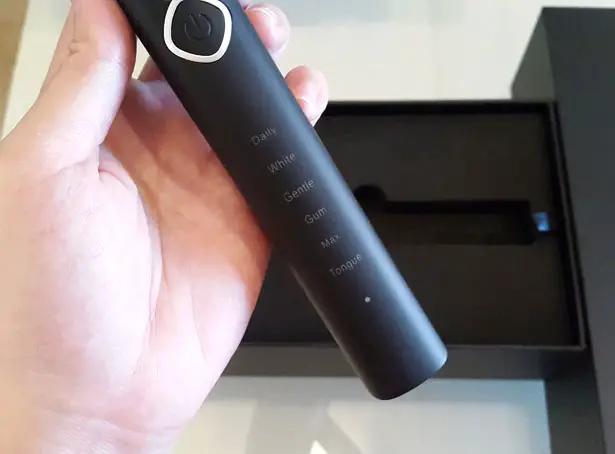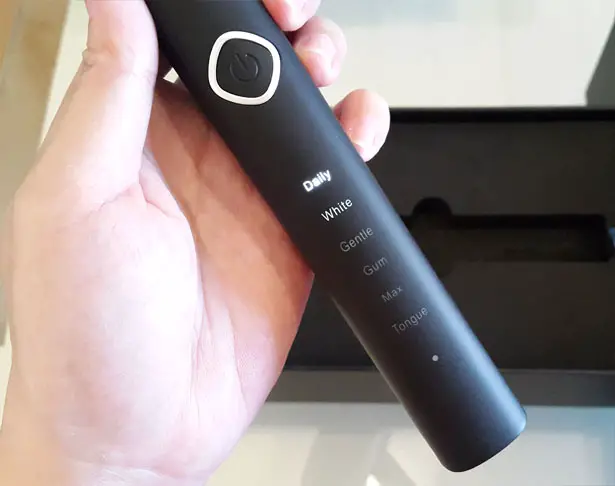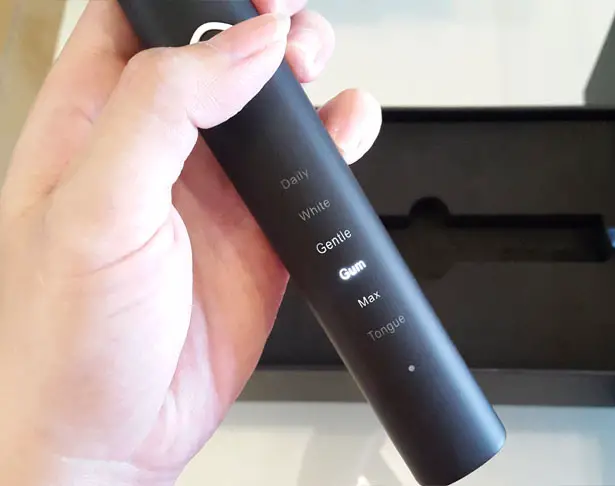 The second part of the box reveals an extra brush head, a USB charger, a USB wall charger, and a travel case (inside there's another extra brush head). It seems that this set is enough for your brushing need for a year. The USB charger is a wireless, magnetic charging stand, making it super easy to keep the toothbrush on the pad. The travel case makes it easy to carry Brüush anywhere with you, it's a safe way to keep the brush hygienic and clean.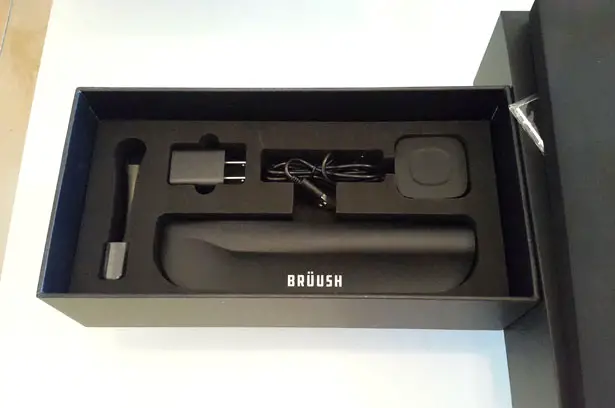 For this review, I have tested Brüush for about two weeks and I realized that it has the power to perform magic. I saw it as a high-quality electric toothbrush that will have you smiling freely everywhere you go. Just within the first week and I could already feel my teeth were cleaner. I haven't tried every cleaning mode, I've only tested "daily" and "tongue" mode, but if your teeth are sensitive, you might want to use "gentle" mode. The daily mode operates at 31,000 strokes per minute to remove plaque and thorough cleaning, it's perfect for my everyday brushing, then using the back of the brush head, I continue to clean my tongue using "tongue" mode to fight bad breath. Just in case you have food stuck in your teeth, you might want to try the "Max" mode, it delivers a unique pattern of sonic vibrations to dig deep for about three-minute power clean.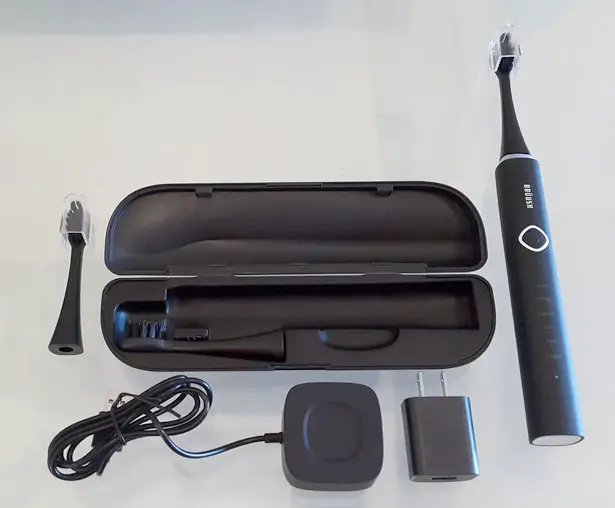 The battery life is so amazing; it says it would last for 3 weeks when you use it just like I did, two to five minutes twice daily (I'll update the article when it lasts shorter than that). This is quite ideal for any kind of outdoor activities or traveling, all you need is to charge the toothbrush with its wireless charger and you can enjoy soft brushing all through your stay away from home. The charging pad is quite ultramodern; flat and slightly magnetic – it is super simple. Recharging Brüush is easy, just place it upright on the magnetic charging stand, little red light will appear on the handle, but once Brüush is fully charged, that light will turn off. The company explains that the lithium-ion battery has no memory effect, therefore, I can charge this toothbrush at any point during its battery life without damage. Simply said, I can just leave Brüush on its charging stand whenever I'm not brushing.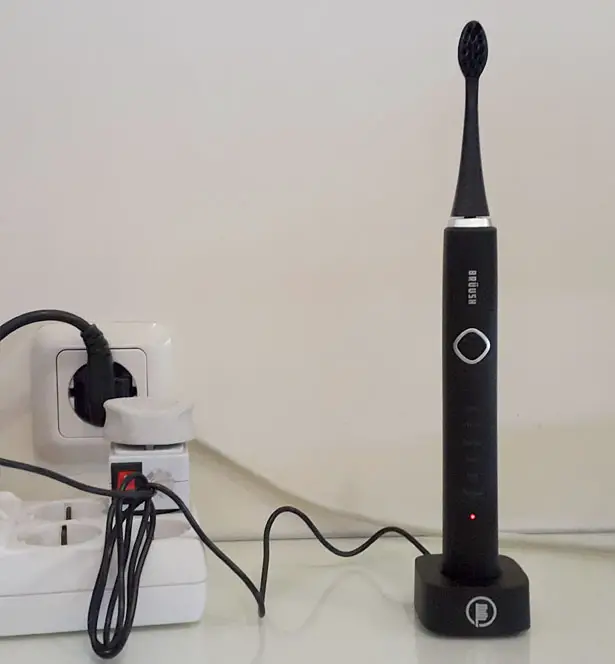 The most interesting part of the product is that for $89 USD, it is so cheap compared to other products of its category. You can even go by the subscription package (Brüush offers free shipping to US and Canada), which is quite awesome too, order yours here: https://bruush.com/products/bruush.
Electric Toothbrushes like Brüush are almost mandatory if you want to take care of your teeth and gums properly. The difference with a manual toothbrush is really obvious in terms of brushing efficiency. Brüush will help you achieve effective tooth brushing to avoid any teeth problems and therefore reduce any dental expenses.
Tuvie has received "Brüush Electric Toothbrush" from our 'Ask for A Review' feature, where we receive test unit/product sample for a review.
*Some of our stories include affiliate links. If you buy something through one of these links, we may earn an affiliate commission.