Reinventing backpack for working travelers, The Moose brings you a stylish, versatile, and rugged bag to allow you to easily work wherever you are. After spending 18 months, reading comments, reviews, and feedback from customers, the design team finally has designed and developed a private workstation mode in form of a compact backpack. It's perfect for commuters, adventurers, photographers, students, and also professionals.
This backpack is designed with back area that can be transformed into a private workstation, the sturdy and strong flaps fold out to create on-the-go laptop station. It also includes elastic straps in and out, touch screen phone pocket, 15 dedicated pockets, built-in USB port, extendable and protected laptop sleeve, water-resistant zippers, and cut-resistant fabrics. [Pre-Order]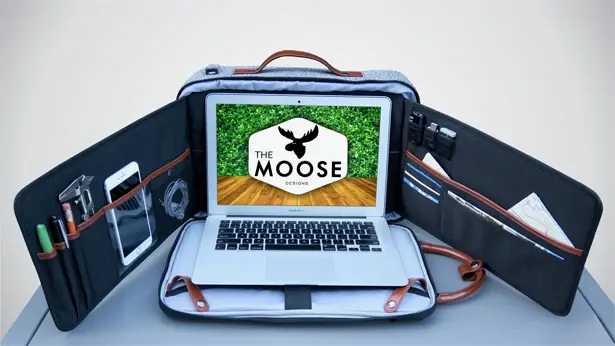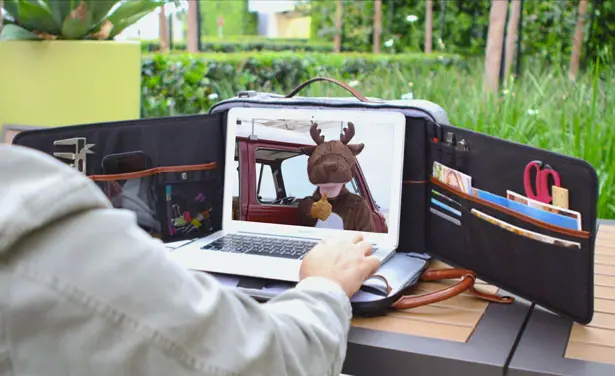 The Moose Workstation Backpack has laptop compartment that fits laptop up to 15.6-inch. Use your laptop without unfolding the side walls, when you need the side walls in a limited space, simply unfold and snap them. In this way, the bag would still be in position to create your own workspace anywhere. There's a retraceable key fob attached to the bag, no more hunting for your keys.
One of most practical features of this backpack is a large front pocket, allowing you to carry your precious books or clothes for weekend trips. There are also special pocket for RFID documents and passports with super easy access, basically each pocket has been designed and positioned in away that allows user to easily access them while keeping your bag clutter-free. [Pre-Order]