From the outside, you wouldn't guess how visually amazing inside nhow hotel in Berlin. Designed by Karim Rashid, this hotel reflects German's modern culture connecting with the rest of the world through its artistic and sensual design. The vision of Karim Rashid is to engage technology, visuals, textures, colors, as well as the needs to live in a simple and less cluttered, yet sensual environment.
"Design touches us on every level, and design can continue to define and shape our dimensional interior environments and create new progressive human behaviors and new languages. I always question whether the physical world is as experiential, as seductive, as connective, as inspiring, as personalizable, and customizable as the digital world. That is what I tried to achieve with nhow hotel Berlin by making a space that coexists with the data-driven digital infostethic world." – Karim Rashid
Inside the guestrooms, you'll find soothing and relaxing environment. Each section of these towers has different décor themes. Rooms in east tower feature beautiful sunrise and sunset color scheme, such as warm gold and pink. Rooms in west tower feature blue, pink, and grey color schemes. If guests choose to have the room with the best view of the spree river, they can choose to stay in the upper tower room.
Designer : Karim Rashid via [DesignBoom]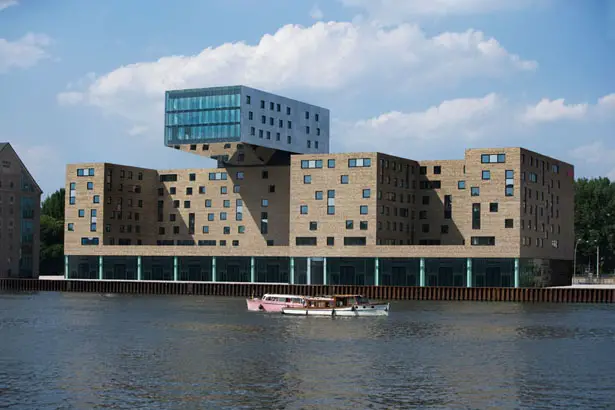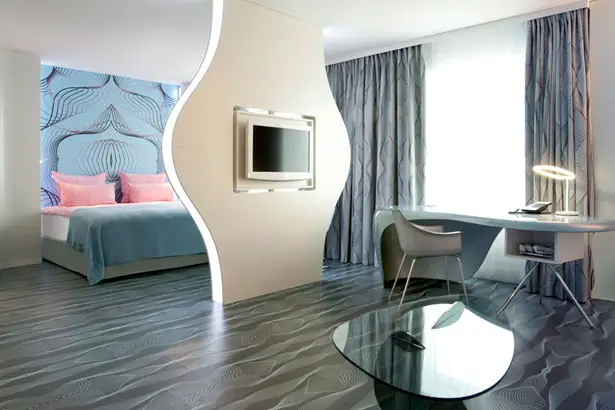 The bed headboard in each room offers a digipop artwork. The custom patterned flooring is made of printed recyclable wood laminate.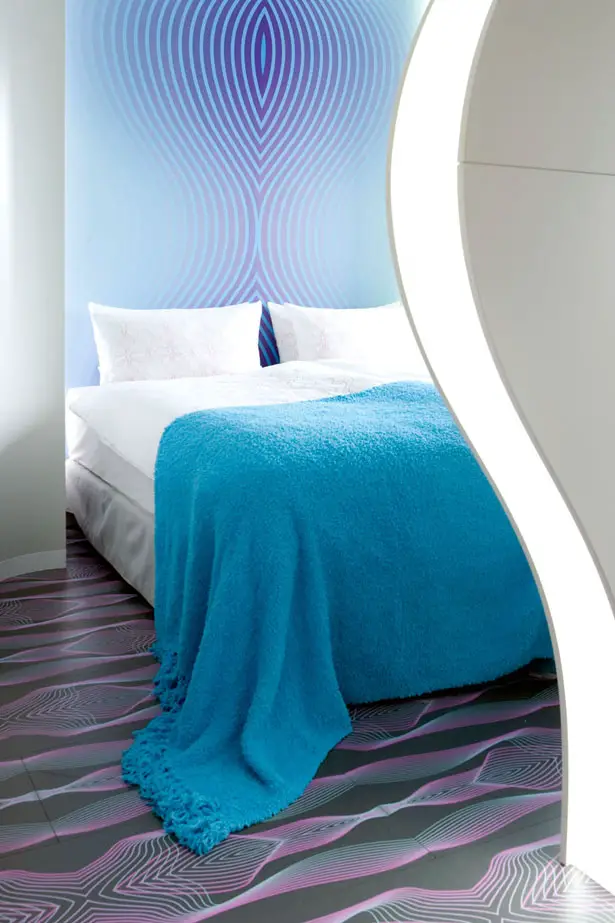 An innovative curved wall divider can be found in premium rooms. It separates the bedroom from the living area. The guest can rotate the television within the wall for viewing in bed or while relaxing on the couch in the living area.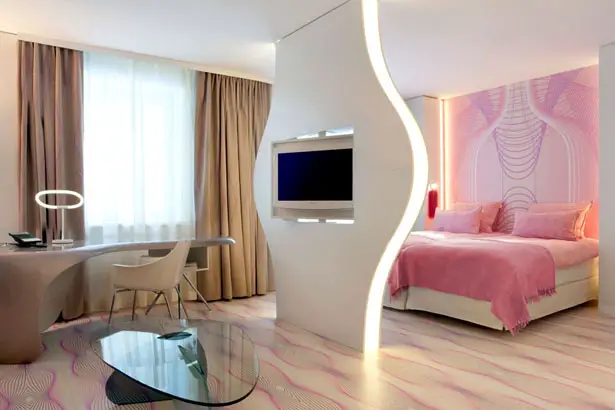 The bathroom has been designed with large glass showers, mosaic tile floors and double sinks. To create different atmospheres, guest can personalize the lighting to get the effect of working, playing and relaxing.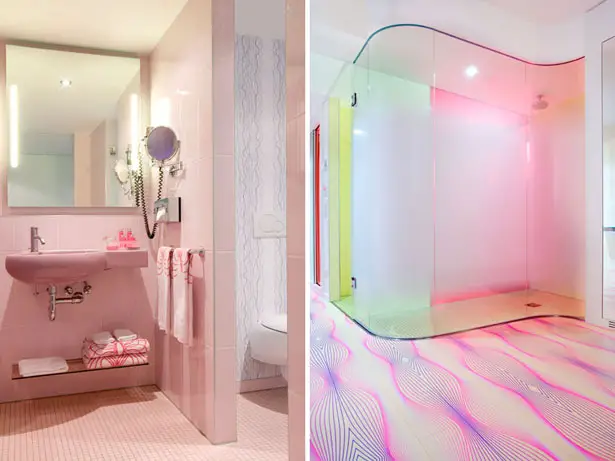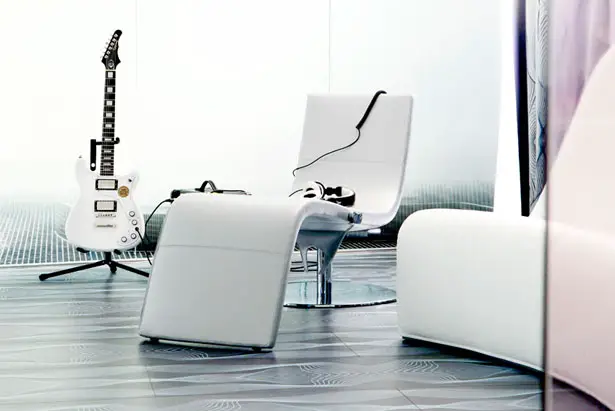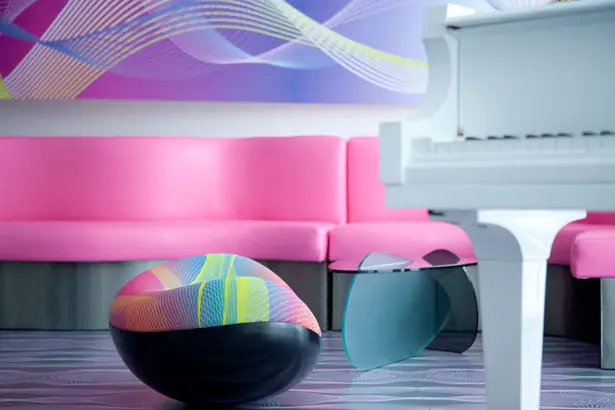 The lobby itself offers a visually engaging reception desk. The huge pink sculpture is made of a high gloss fiberglass with inset lighting. The pattern on the ceramic floor tiles represents the transference of digital data that exists around us.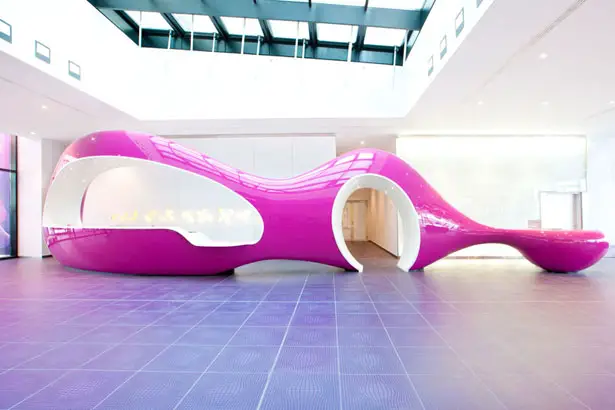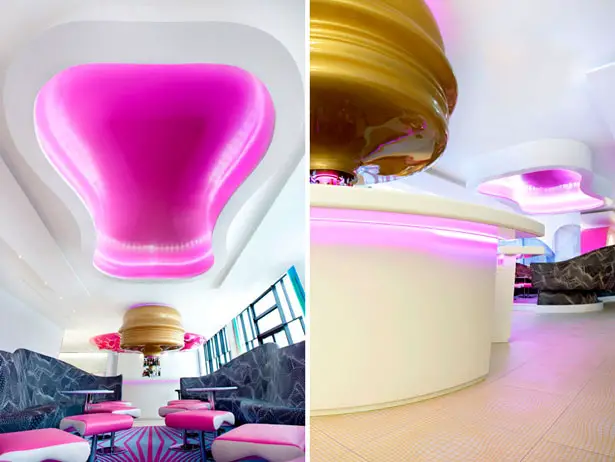 The green pastel color of the hotel's restaurant is meant to aid in digestion. The organic shaped lights are installed on the ceiling to illuminate the dining space.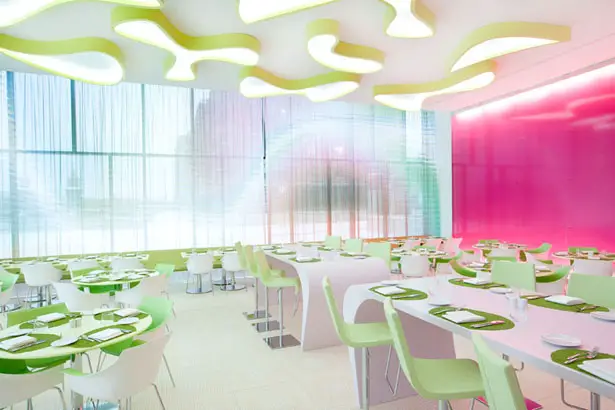 The striking sculptures in the middle of the room serve both as art & object as well as form & function. When not in use, this sculpture stands simply as artistic elements in the room.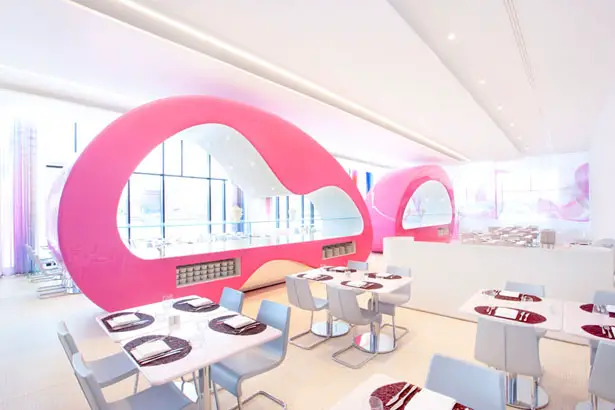 The lobby and music lounge has been designed with twilight colors to present a sensual mood. The lobby lounge is separated from the main lobby by glass walls and projected artwork. Look at the ceiling, it houses a sculptural installation of molten plastic with recessed lighting embedded within, giving of a dynamic glow. nhow hotel offers 303-room hotel plus nhow suite (304 total) & recording studio, conference facilities, bar, restaurant and wellness center (spa & gym).