The new hotel, conference, and exhibition complex is coming up in the emirate of Ras Al-Khaimah, United Arab Emirates can be nominated for the designer masterpiece. Designed by Nowergian architects Snøhetta, this 150km construction is expected to begin later this year. Right in the middle of the complex is the proposed 200 m tower which is a setting for a 5 star hotel which will offer panoramic view of the emirates. The space shall be utilized for various purposes as it can be developed for conference center, hotel and other commercial activities. One thing is for sure that this will be one of the most advanced centers in Dubai.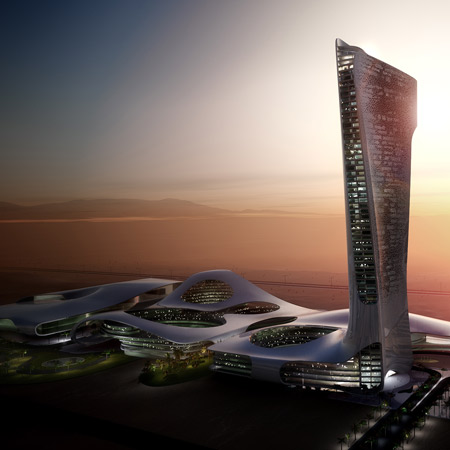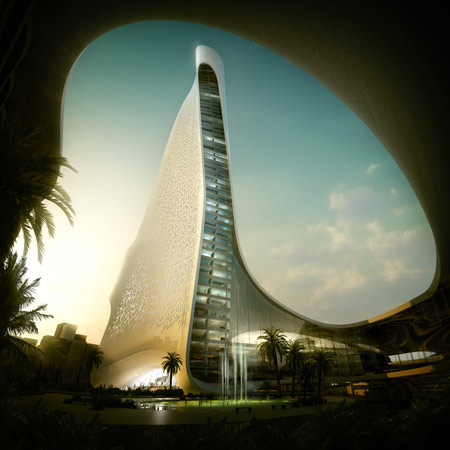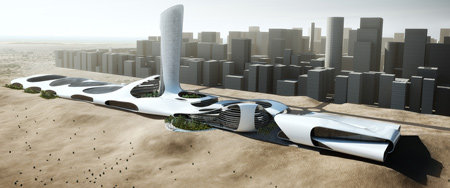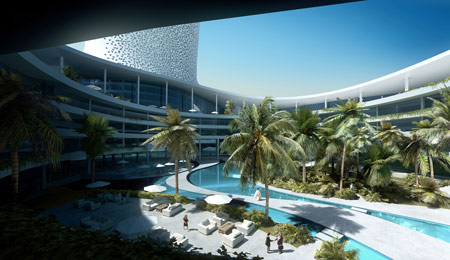 Official words from Snøhetta :
Snøhetta has been commissioned by the Ras Al Khaimah investment Authority and RAKEEN to undertake the architectural design for the Gateway project in the emirate of Ras Al Khaimah. Situated in the desert 150 km to the east of Dubai this landmark project will mark the gateway to the emirate and form the entrance to the new planned capital city of Ras Al Khaimah.
The urban master plan for the city is currently being under taken by the Netherlands based architectural practice OMA. The Gateway project is situated at the entrance to the city and will form a landmark for the city entrance.
The architectural expression for our proposal is inspired by the surrounding desert and mountain landscape. This concept provides for an infinite variety of naturally shaded, intimate and protected spaces, around which the multiple uses associated with the development are woven. The undulating architectural landscape is resolved in a dramatic landmark tower marking the main gateway plaza. This 200 m high tower will be the setting for a 5 star plus hotel affording panoramic views across the emirate, to the gulf and mountains beyond.
The programme calls for a mixed-use development comprising a conference centre, exhibition centre, hotels and retail space. In total it is expected to be 270 000m2 of build area. In addition there will be substantial areas of associated garden and landscape. Externally the building will be clad in ceramic panels, this will be developed together with Ras Al Khaimah ceramics, one of the world leading producers of ceramic products.
Designer : Snøhetta via Dezeen
*Some of our stories include affiliate links. If you buy something through one of these links, we may earn an affiliate commission.