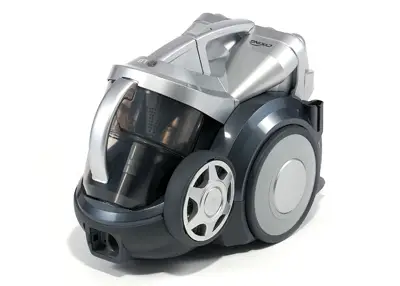 Thanks to its dust-suction and dust-compressing functions the New Cyking vacuum cleaner prevents dust from spilling out when the container is emptied. It features a multilevel filtering system and a cable-reel button that is easily operated by foot. The vacuum cleaner is lightweight and its secure grip is enhanced by a vertical handle on the main body. The dust container is located at the front so that the user can easily see how full it is. The efficient nozzle has a particularly slim design. A touch of the foot is all it takes to switch between the carpet and floor functions. The control panel is conveniently arranged and easy to reach. The soft wheels not only prevent scratches on the floor but also reduce the noise level, while a soft bumper protects the furniture. The internal structure of the appliance is visible to show the robustness of the product and to help the user to understand how the vacuum cleaner works.
Designer : Hyon Seon Shin and Kyu Kwan Choi
*Some of our stories include affiliate links. If you buy something through one of these links, we may earn an affiliate commission.