The Fox Factory speaker was designed to address the potential hazards of mountain biking with music. Most of the bikers interviewed said that they loved to listen to music while riding and that they use ear buds. Ear buds hinder the users hearing which becomes dangerous if they cannot hear a downed rider on the trail ahead, someone trying to pass them, or someone merging trails at the same time.
This concept speaker can be mounted to the handlebars in the same way grips are, which prevents movement in excessive vibration situations. By eliminating the ear bud the rider can now hear potential dangers on the trail as well as the users bike and adjust their speed accordingly. Flat tires are also a common occurrence in mountain biking and it is important to be able to hear a leak especially with tubeless tires so he/she can seal the leak. Durability of the speaker itself was a large initial concern and required placement and feature consideration.
Designer : Berkley Wilcox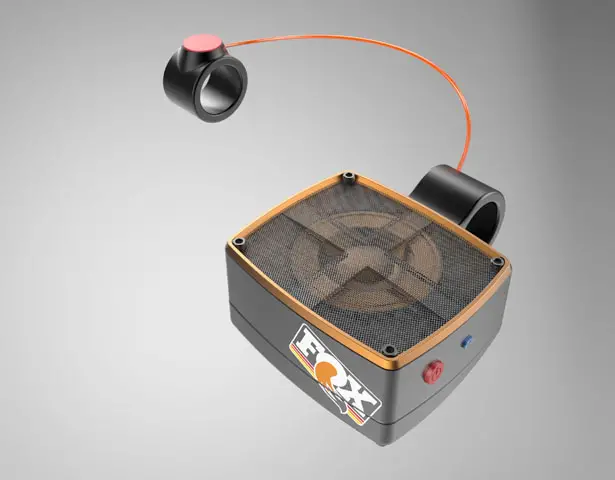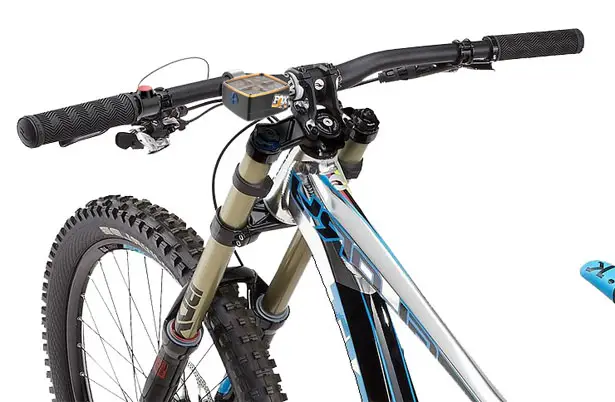 The Fox Factory speaker is waterproof, shockproof, and dustproof to protect it from the elements and includes a secured charging port to eliminate charging issues found in other outdoor speakers. The speaker is also placed on the rider side of the handlebars so that it cannot be struck on a tree or the bike frame while riding. For quick stops to talk to friends and other riders the speaker is equipped with a pause button that is located beside the grip.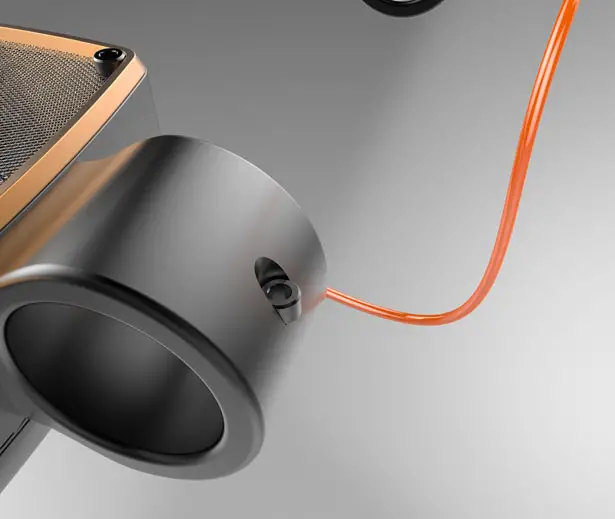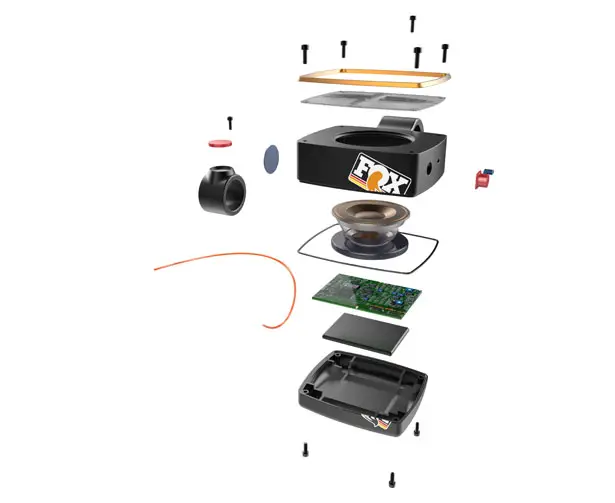 Tuvie has received "Fox Factory Speaker Concept" project from our 'Submit A Design' feature, where we welcome our readers to submit their design/concept for publication.
---
Mobile Food Garden targets people who live in urban area (limited space) or in small high-rise buildings who don't have a chance to experience the joys and benefits of gardening. The main objective of this project is to connect people with nature by designing a system that allows apartment gardening experience.
Designer : Nancy Wang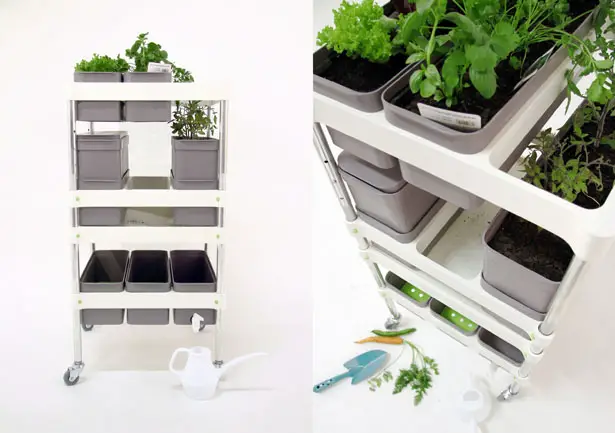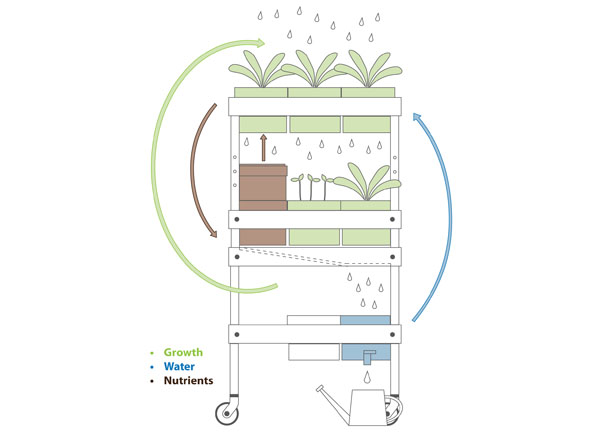 Text from Nancy :
We are becoming increasingly aware of our current unsustainable practices. Many people currently live in compact high-rise dwellings, and as populations increase, and residential spaces becomes more limited, these are likely to rise dramatically. Apartment homes do not have the luxury of a backyard and there is limited opportunity to experience gardening and its associated benefits. This mobile food garden project aims to reconnect apartment dwellers with nature, through the design of a product/system that improves the urban living gardening experience, while communicating urban dwellers the potential benefits of a more self-sufficient way of living.
Analysis of initial research and subsequent observations concluded that gardening activity in apartment is very limited, and usually restricted to growing low-maintenance plants in confined areas. In addition, soil and water were viewed as difficult to maintain and keep tidy, especially in confined spaces without outdoor cleaning aids. Furthermore, people who live in apartments are often transient. This was regarded as a significant barrier towards establishing an apartment garden.
In response to the project mission and insights gained, a self-assem­bled mobile food garden was designed, which allows apartment dwellers to create their own balcony vegetable patch. The garden is designed as an ecological system based around three dominant cy­cles found in nature: growth, water and nutrient. Most plant growth occurs in the top two levels. These are adjustable in height to maxi­mize sunlight. Seeds may be germinated in the lower levels and rotated to the top trays to allow further growth. Rainwater feeds garden from the top, it then flows through the lower planting trays and collects in the bottom water tray. A worm farm is incorporated to utilize food scraps so that soil may be continually nourished.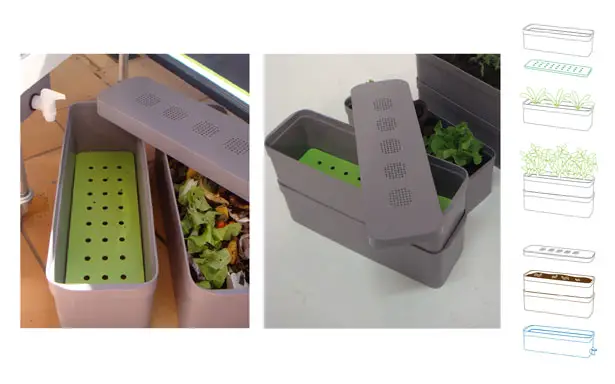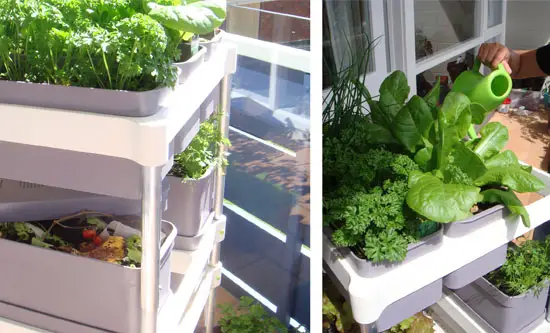 The Mobile Food Garden system aims to improve apartment gardening experience by providing an optimal growing sys­tem with enhanced versatility specifically for apart­ment living. It can be arranged in a variety of ways to provide the best growing conditions for a diversity of crops, while allowing the personalization of the gardening process. Each planter has a removable base and can be stacked to provide deeper soil as required by some crops (i.e. root vegetables). The containers also function as tool storage spaces, and may also be arranged to form a double level worm farm, so nutrient rich worm juice may be collected along with any excess water. The Mobile Food Garden system has been designed with maximum space utilization as well as mobility for better use in confined areas.
---
Say hello to the world 1st universal key fob. James Downes, the designer, wants to integrate all the items on your personal keychain into one universal access device. Futuristic look on the keyport slide makes this keyport help your personal style, plus the light weight makes this as the object you can't live without. Just copy your keys and attach it to the internal slider of the keyport, as simple as a push in the button to slide and use your key.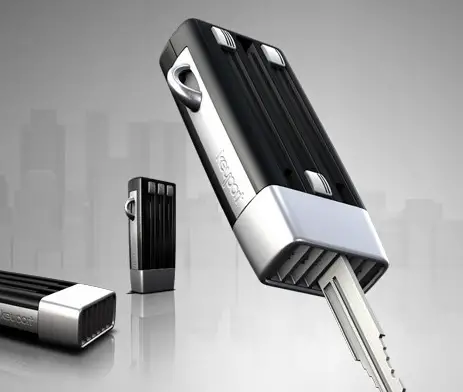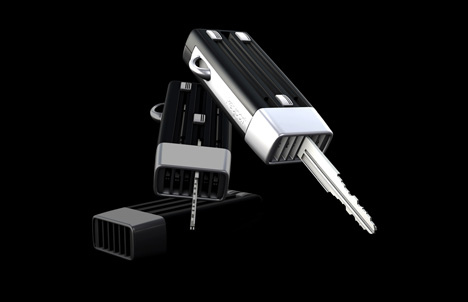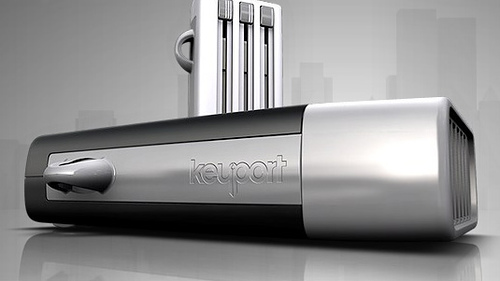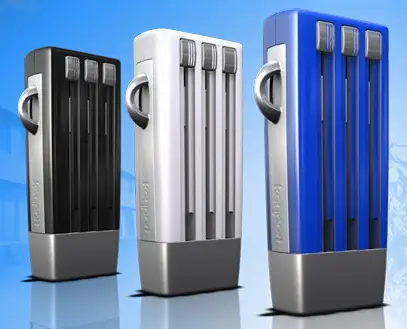 ---