As medical technology advances, it improves our health care treatment as well. Take a look at Gluco diabetes management device concept, it's a wirelessly connected gadget which takes advantage of smartphone connectivity to provide you with better features. Especially designed for young generation (under 25), Gluco helps people with Type 1 Diabetes by understanding and managing their lifestyles to improve their future habits.
Gluco diabetes management device is compact and easy to use, it's a self sufficient device for an extended period of time. It's highly portable to allow you to test your blood glucose levels anytime, anywhere in only seconds. For added convenience, you can perform the test using only one hand without interrupting your daily routine. An upward sliding motion prepares both the lancet and dispenses a test strip and within 5 seconds a reading is displayed on the LCD screen.
Designer : Sam Whipp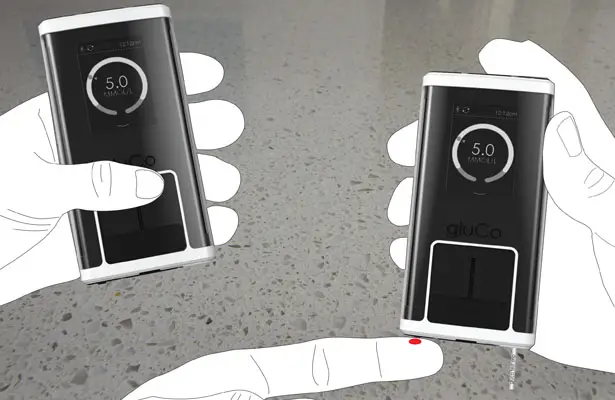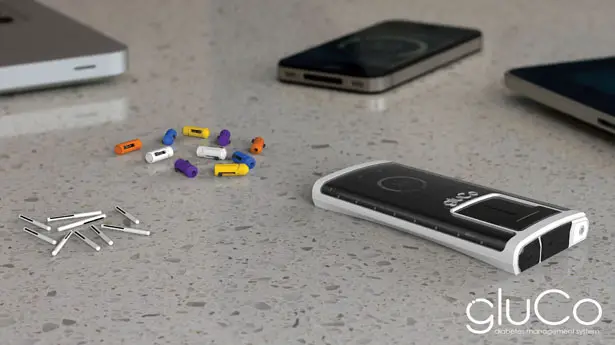 For anyone who is suffering from diabetes, they know this disease doesn't just affect them, it affects families and doctors. The result produced by Gluco diabetes management device is wirelessly transmitted via Bluetooth to user's smartphone for later be viewed and shared. The custom app of this unit can also be used to calculate carbohydrate and medication dosages to plan more personalized medical attention.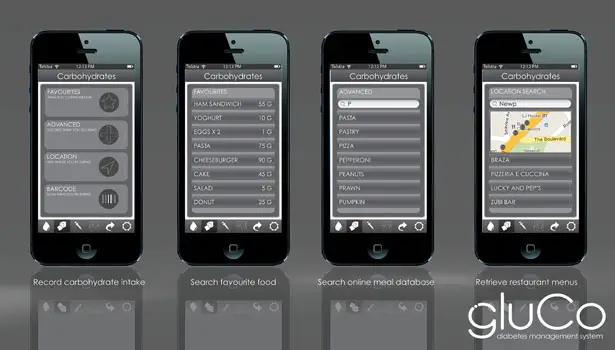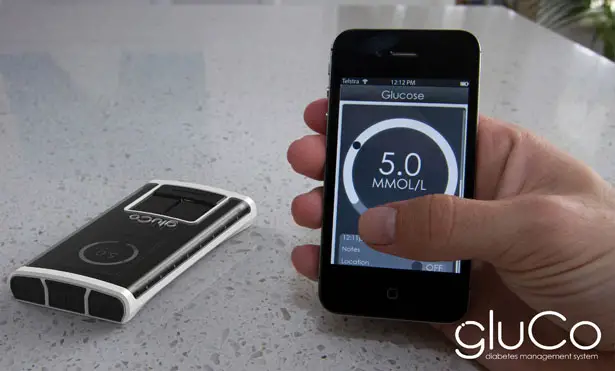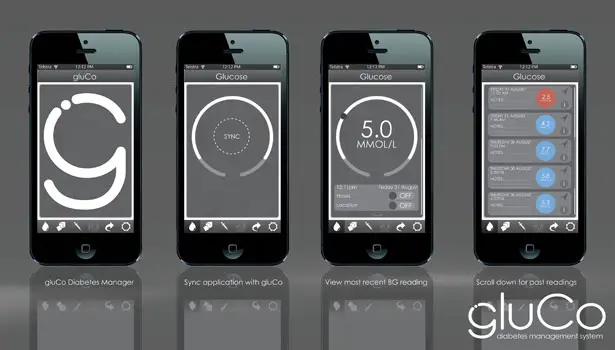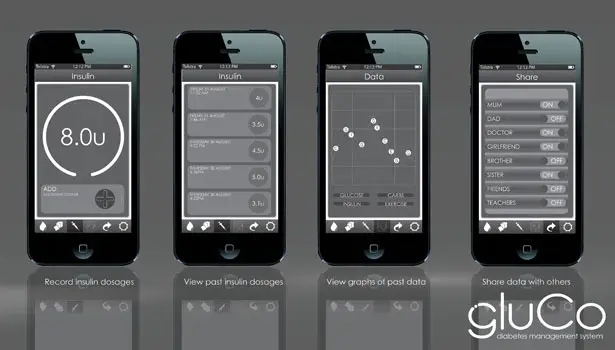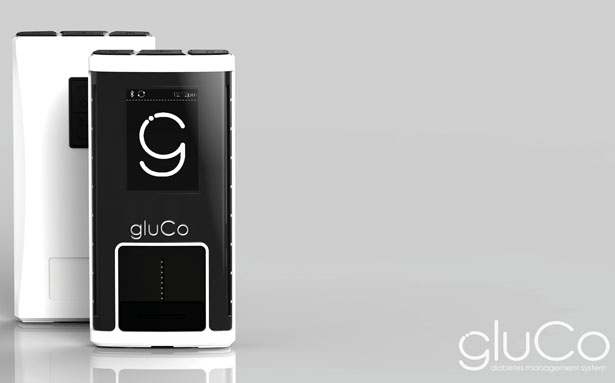 Tuvie has received this "Gluco Diabetes Management Device" from our 'Submit A Design' feature, where we welcome our readers to submit their design/concept for publication.
---
The G2 Greencycle 2nd generation is a project that draws from a two-year research study, to challenge current design practice to transform human-power transportation design. A culture-centric approach is used to shift design thinking and practices away from the ongoing unsustainable production of goods and services that are unfit for the human conditions in poor countries. Poor countries need and depend on this mode of transportation for a wide range of uses.
Designer : Paulus Maringka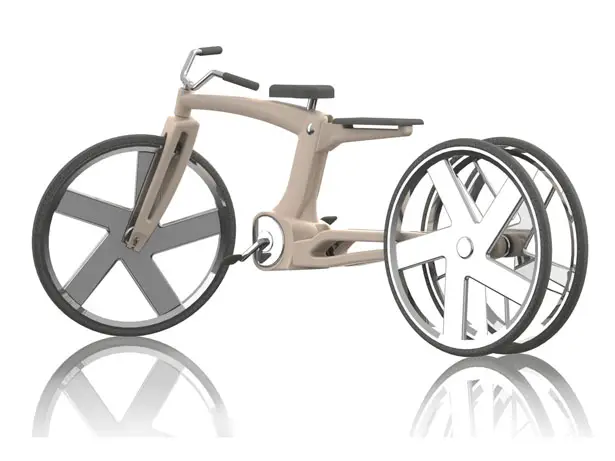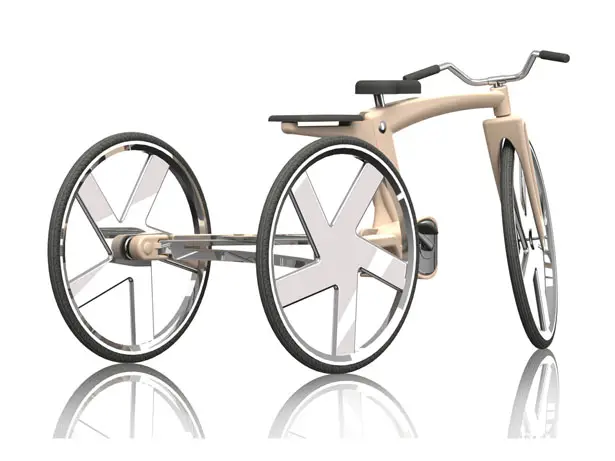 Pre-design information gathered from observation, interviews and participatory design approach of target users and bicycle manufacturers in Indonesia provided a good understanding of bicycle use in relation to the user's needs and wants in their natural environment. This information provided insights on how low income users modify their bicycles to maximize their personal needs.
This knowledge was later used to explore a series of new bicycle concepts and bicycle accessories to increase the bicycle's FUNCTIONALITY AND load capability aimed at improving the user's way of life. G2 is currently in the top 20 finalist of the 2011 International Design Bicycle Competition (IBDC).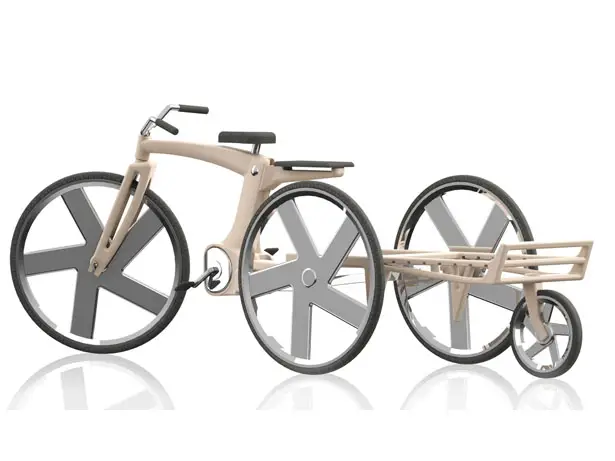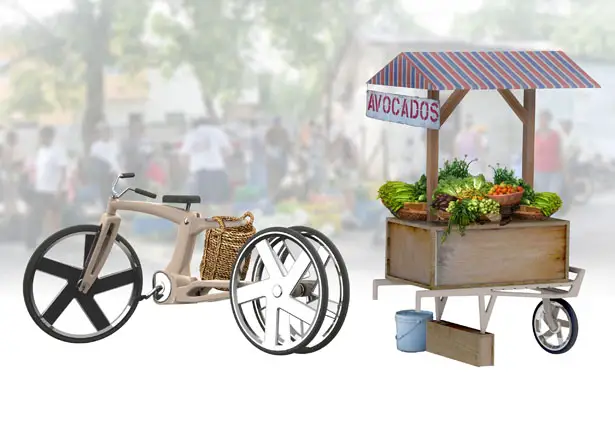 The G2 Greencycle 2nd generation incorporate the following optimum features:
1. A splayed rear wheel base to provide a stable surface for heavy load storage/ carrying which conventional bicycles don't have.
2. The ability to convert back to a two wheel configuration style when the terrain requires tight negotiation – like a narrow pathway through a padi field or poor road conditions as commonly found in Third World countries.
3. Provision for a basic frame for further customization depending on the user's needs and wants, such as a hawker's stand.
4. A splayed rear design has given an opportunity for a further fixing point for additional attachments.
5. An attachment that has a dual purpose as a wheel barrow for loading goods and as a trailer for carrying goods.
6. An S-frame shape instead of a diamond frame shape to free up and create as much space for loading.
7. A strong central core acting as an anchor for other attachments, such as a people carrier.
8. A stronger wheel design.
9. The main frame components made from environmentally friendly composite bamboo based materials which can be molded to produce the desired form.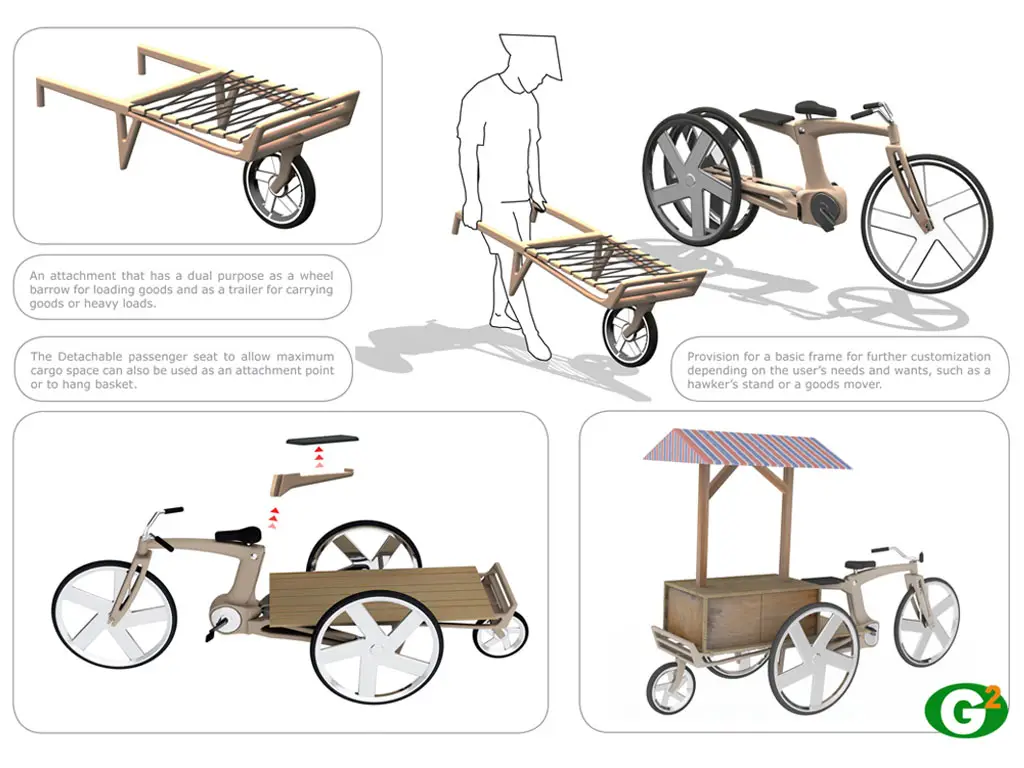 Click above image for bigger view
Tuvie has received "G2 Greencycle 2nd Generation" concept from our 'Submit A Design' feature, where we welcome our readers to submit their design/concept for publication.
---
DEZ Watch features large S letter (or backward Z) as the main display. It is based on old design that Peter Fletcher co-ops with his friend Sam, a concept watch that features folded strip material for the body and strap. This time, Fletcher re-use the same principle to come up with futuristic watch yet it has the characteristic of classic Tokyoflash watches.
The strip material creates structure for the case and 3 zones as the watch face. This arrangement lends itself nicely to a 12/5/9 layout in LEDs. The center area informs you about the hours while the top area is used to inform you about 5 x 10 minutes groups, the bottom area is used to display single minute.
Designer : Peter Fletcher for [Tokyoflash]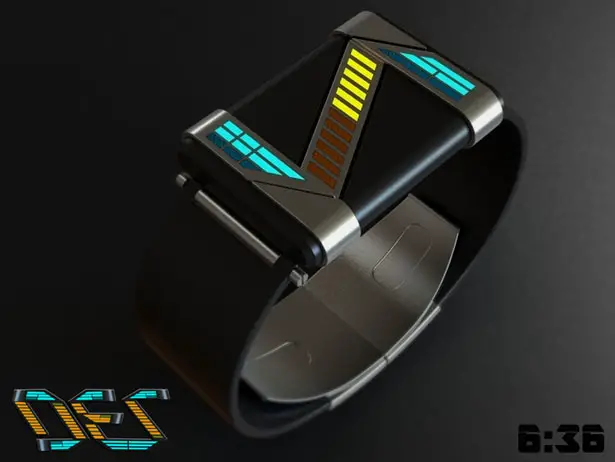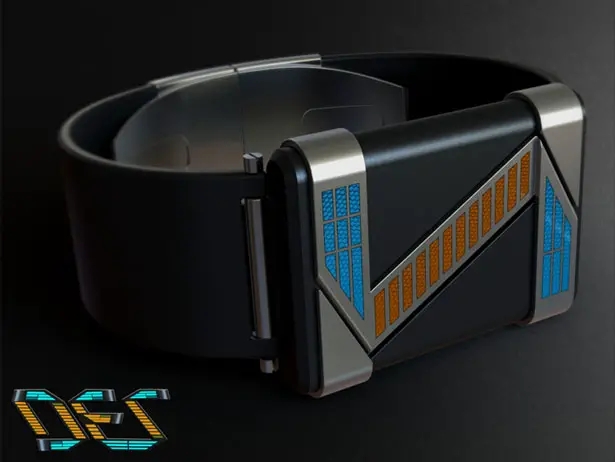 The LED lenses feature a mesh like appearance to keep things attractive even the lights are off. You'll get a retro futuristic watch that looks like coming from the set of the original Star-trek series. The simple geometry and metal strip structure makes this watch pretty attractive.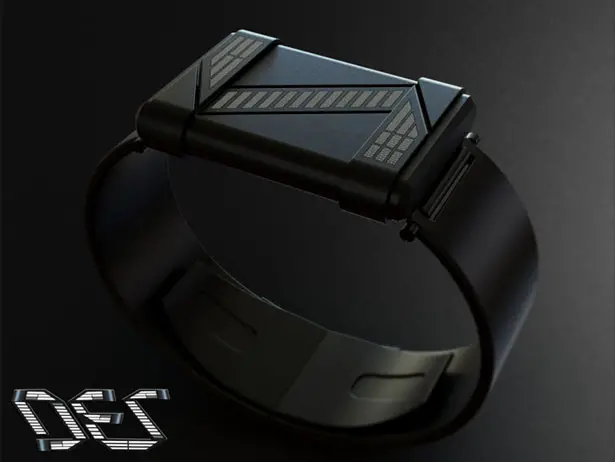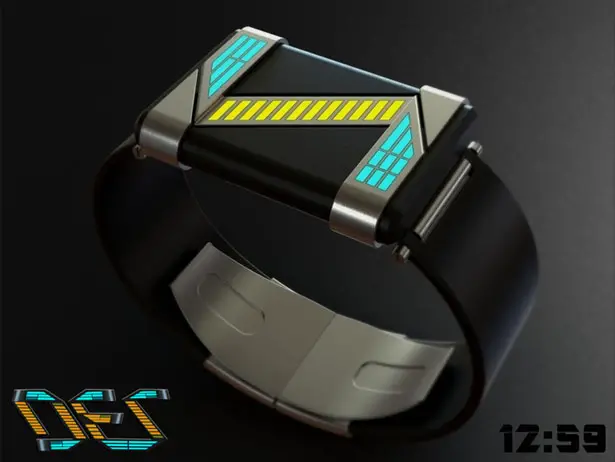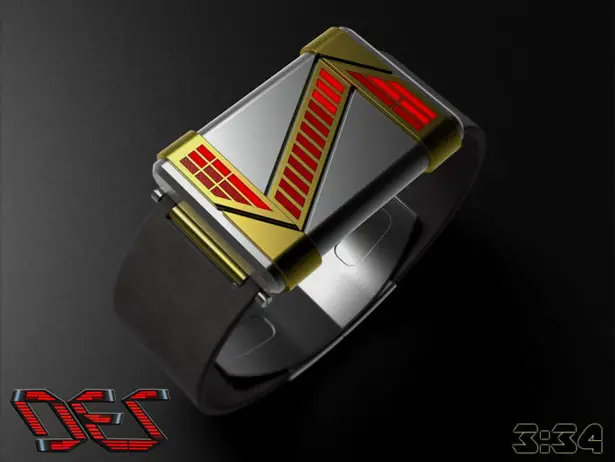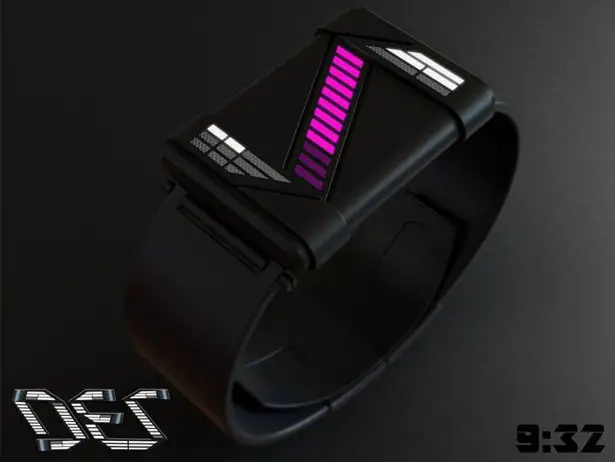 ---