Can u believe that your credit card is capable of diagnosing HIV at a cost of just $1? It's true, a portable blood test can be performed and the presence of HIV can be instantly indicated by mChip device designed by the scientists of the University of Columbia in New York. mChip is the device on the size of a credit card specially designed for this purpose. Various tests conducted among various majorities of people revels that the test has a perfect 95 % accuracy on an average. The cost is cheaper hence a large set of diagnostic tests is possible and is accessible even for common people. It makes a large difference in the mentality of people who hesitate to go to clinics or hospitals for testing their blood. A pin-prick of blood is taken and optics is used to read the fluid.
The blood passes through ten detection zones for analysis and returns a positive or negative outcome for HIV or syphilis. The time duration taken is about 15 minutes. A simple color-code similar to pregnancy test is used to display the result. mChip extremely cheap and efficient and serves as a major breakthrough in fighting against HIV throughout the world.
Designer : Prof. Samuel Sia via [DailyMail]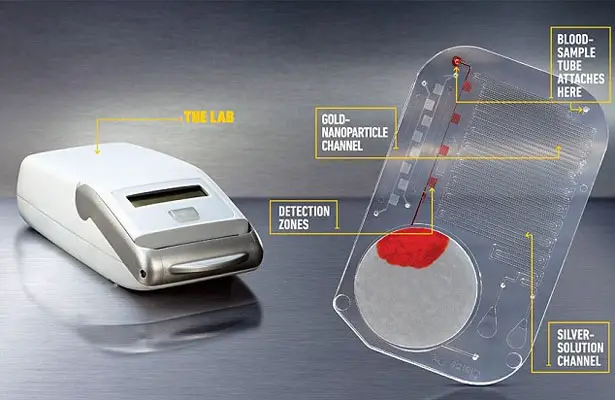 ---
What is your first impression of iTit? Don't say it, I know what you're thinking. iTit is inspired by the softness and sexy form of a breast. This optical wireless mouse design tries to follow apple's characteristics: minimal, sexy, and user friendly. The outer layer is made of delicate rubber to provide comfort and wrist safety. iTit offers emotional pleasure, fun, minimal appearance, and well-known tactile interaction. What do you think guys? Does these designers succeed in designing a sexy wireless mouse?
Designer : Mostafa Tohidifar and David Abbasi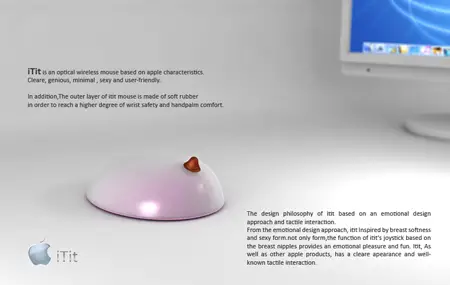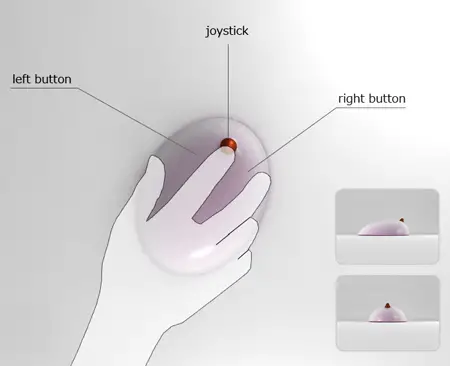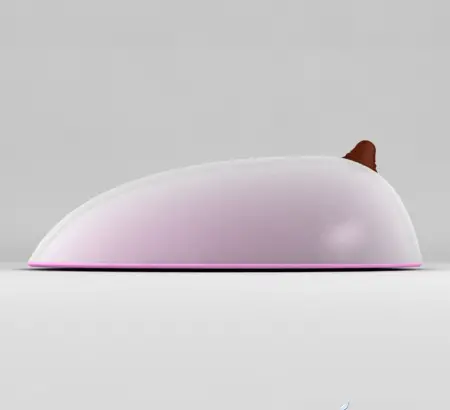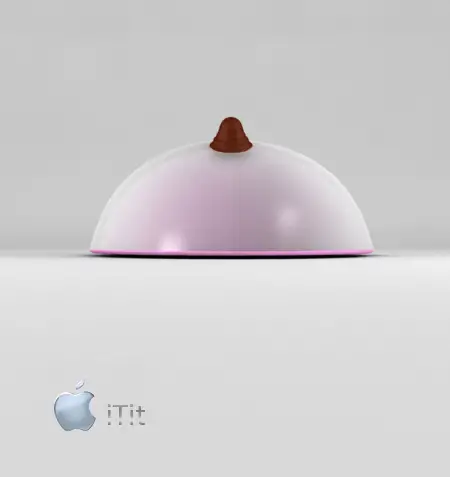 ---
Exostrusion LED watch concept was inspired by the rear diffusers of modern sports cars. It's pretty simple actually, these diffusers are usually looking like extruded forms with various fins and facets, so, taking these forms in mind, Peter Fletcher has come up with unique and futuristic display frame for his latest watch design.
The time is displayed by those LEDs arranged in 4 quadrants, the top 2 quadrants display the hours while the others display the minutes. These quadrants are divided with appropriate number of segments by a unique extruded form, forget flat smooth surface. Since the time can be displayed in both 12hr or 24hr formats, the center area becomes the AM/PM indicator. The display layout also allows for a phased digital time telling mode where it is all controlled by subtle soft touch controls mounted in the strap, you can see those 2 highlight indents.
Designer : Peter Fletcher for [Tokyoflash]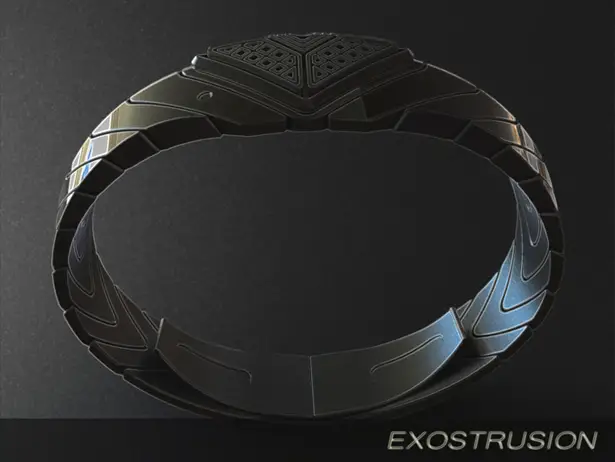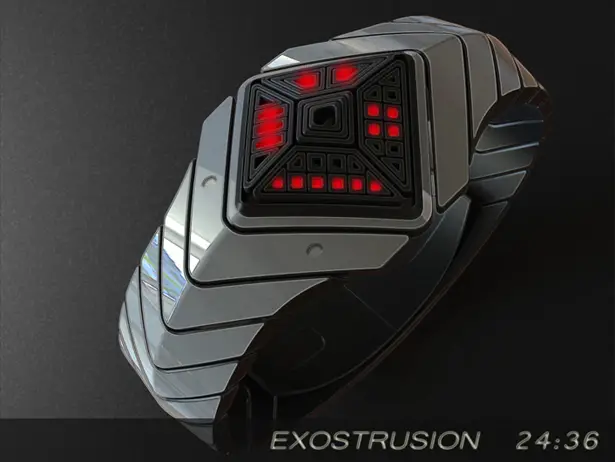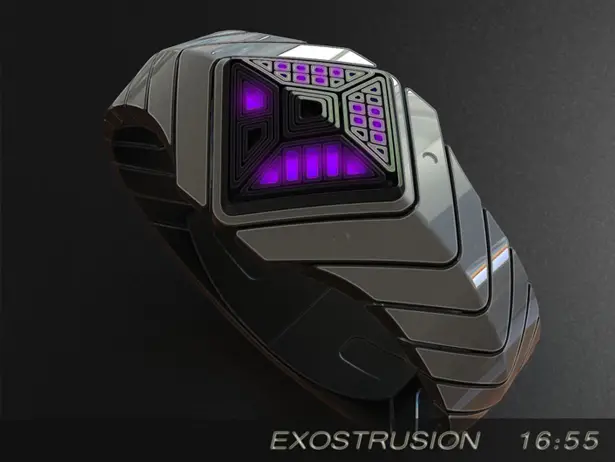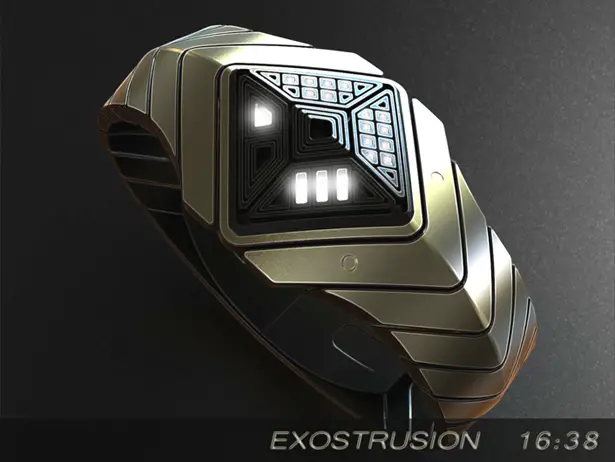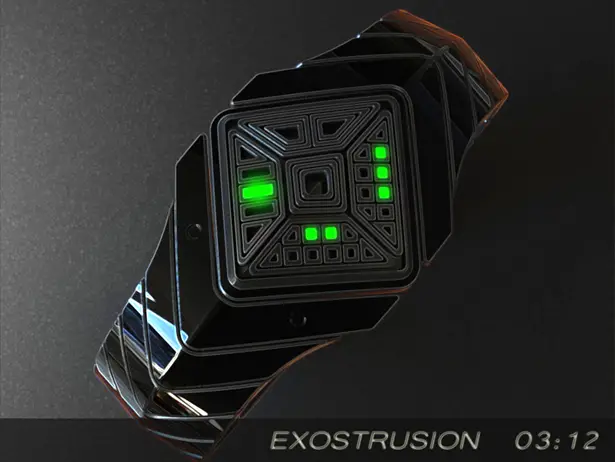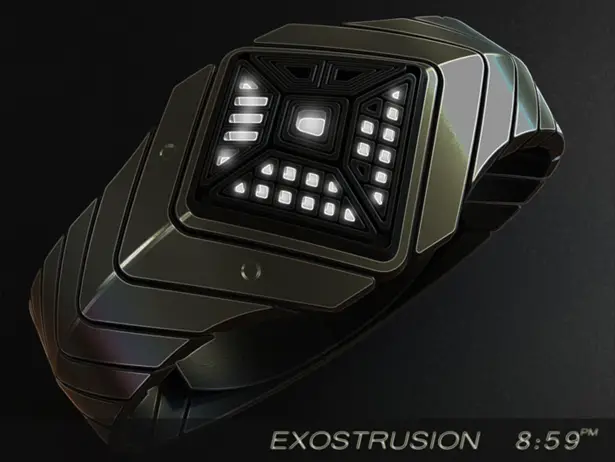 ---