A product design and manufacture consultancy based in Yorkshre, UK, HJC Design has developed a new range of kitchenware for Peel UK. One of to be released kitchenware is this visually attractive coffee machine. The main artistic design of this coffee machine is the elegantly crafted surface that resembles a beautiful eye-catching waterfall of rich coffee. As you can guess, the design was inspired by the drop of a flowing coffee. Coffee lover can place their coffee mug for brewing on top of the rippled stainless steel base plate. The soft soothing blue light that surrounds the base adds elegant and futuristic touch to this coffee machine design. This glowing LED light also indicates when the machine is brewing your coffee. I guess on dark mornings, you'll light up your kitchen when brewing your coffee using this machine.
Designer : HJC Design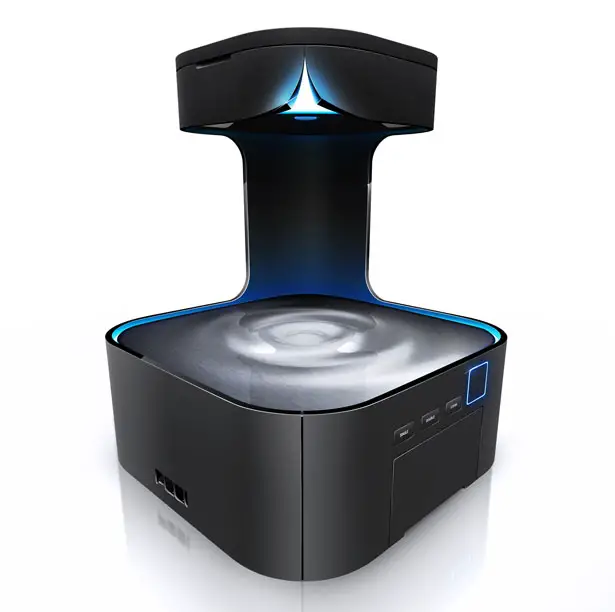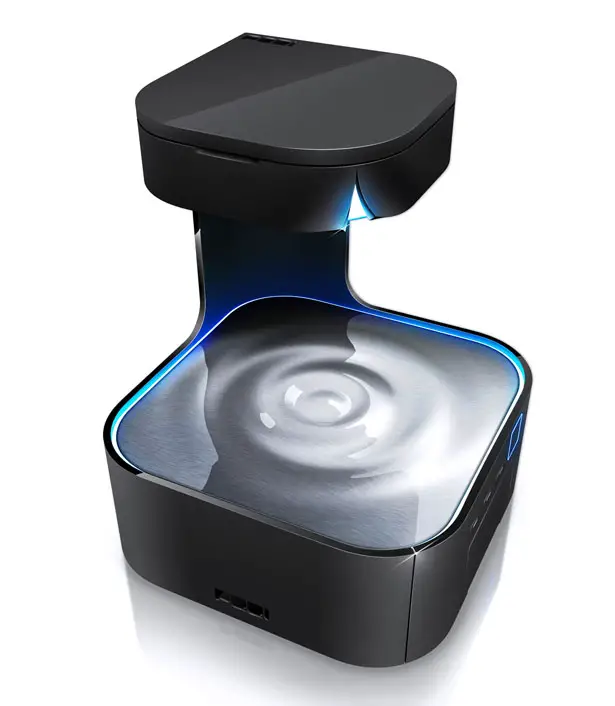 Sophisticated 3D lines connect the upper and low halves of the machine through an unbroken jet black polished band that creates attractive contrast color with the satin matte body construction. The perpendicular surfaces and sharp rear corner sit impeccably within the kitchen environment, disguising the internal piping structure which transports the boiled water from the base.
This coffee machine boasts a 1.5L removable water reservoir, a steamer and settings to adjust the strength of your coffee (single or double).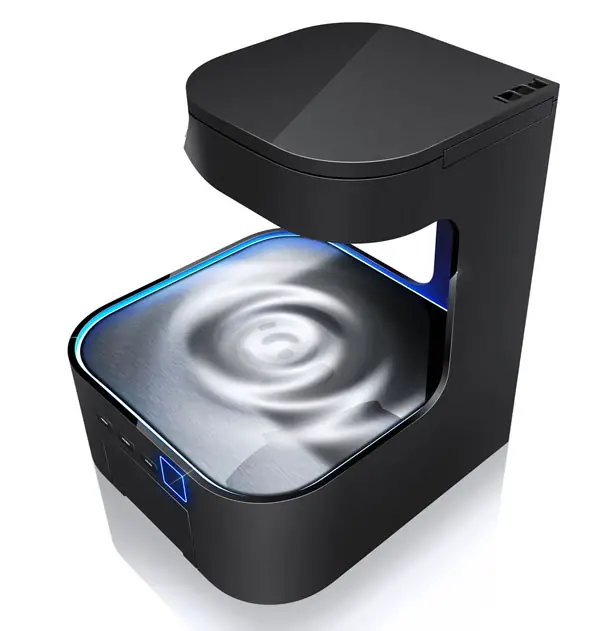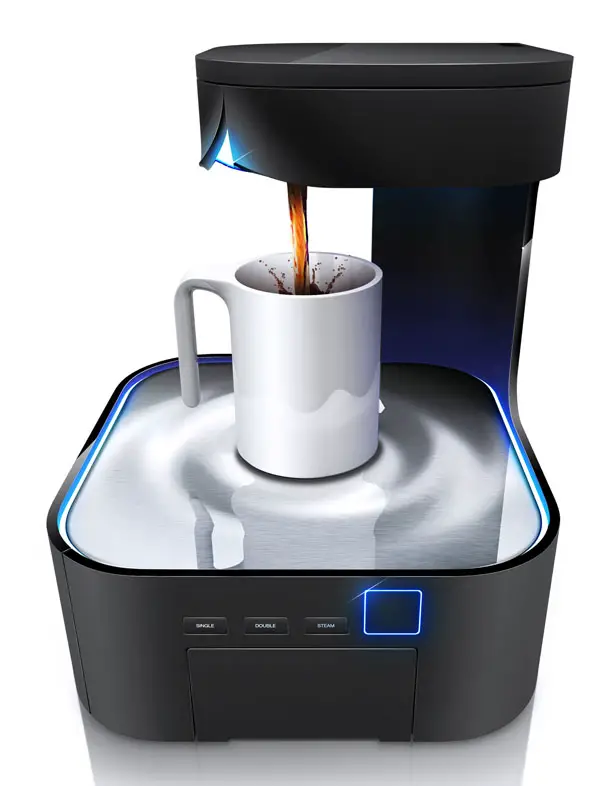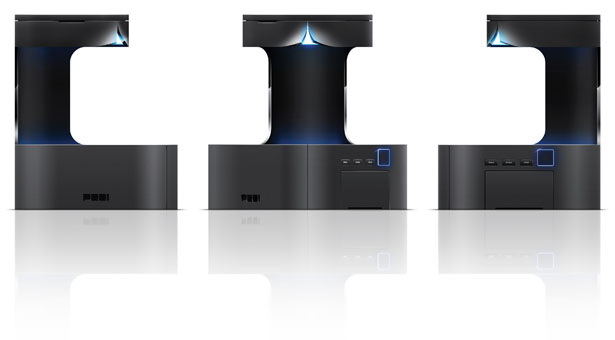 Tuvie has received "Coffee Machine" concept from our 'Submit A Design' feature, where we welcome our readers to submit their design/concept for publication.
---
Neuma Hybrid Tattoo Machine is the result of cooperation between RKS Design and Neuma. This latest evolution of Neuma tattoo machine was born because of Carson Hill's (the creator of neuma) desire to constantly push for improvement. With the help of RKS, Neuma has revolutionized the tattoo industry and usher in a new age of artistry, comfort, and safety. Neuma hybrid tattoo machine comes in small package and weighs less than half as much as traditional coil machines, yet this machine is very powerful.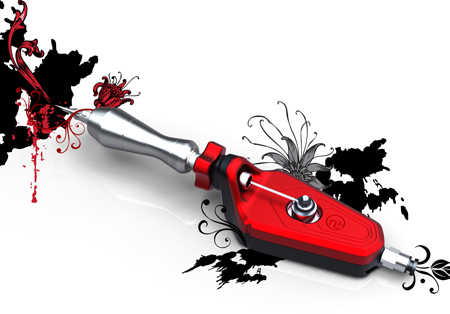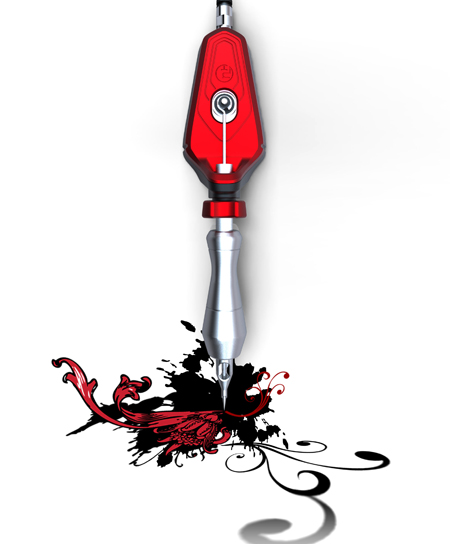 [Press Release]
Thousand Oaks, California, April 7, 2009 – World-recognized strategy, innovation, and design consultancy RKS is proud to announce the introduction of the Neuma Hybrid Tattoo Machine, as RKS helps Neuma revolutionize the tattoo industry and usher in a new age of artistry, comfort, and safety. The superior technology of Neuma tattoo machines benefits tattoo collectors and artists alike – with the lighter-weight, fully-autoclavable tattoo machine delivering a less painful tattoo experience and drastically reduced healing times.
Dissatisfied with traditional coil machines, award-winning tattoo artist and inventor Carson Hill set out to create a completely new kind of tattoo technology – the first air-powered tattoo machine. Carved out of solid aluminum years before the MacBook made it cool, the original pneumatic tattoo machine, known as the Neuma2, was light-weight and fully-autoclavable.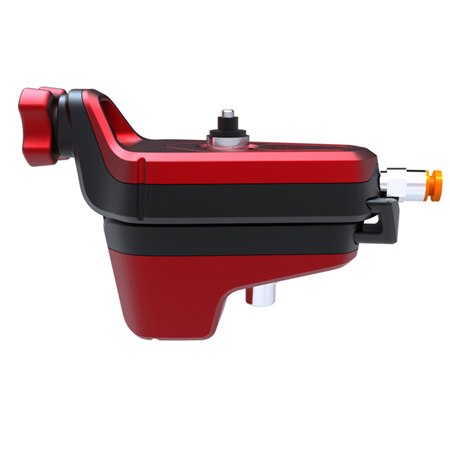 The latest evolution of the Neuma, the Neuma Hybrid, is the result of Hill's desire to constantly push for improvements. Hill listened carefully to suggestions from artists and engaged RKS to re-engineer and re-design the Neuma2. The result is the Neuma Hybrid. At only 3.7 ounces in its pneumatic configuration, the Hybrid still weigh less than half as much as traditional coil machines. Packed inside this small but powerful package is an improved pneumatic design for greater efficiency and less air consumption, a larger impeller for more torque, a cushioned armature for compliance, a variable stroke-length, an improved collet, and optimized cycle timing for less drag on the skin when lining.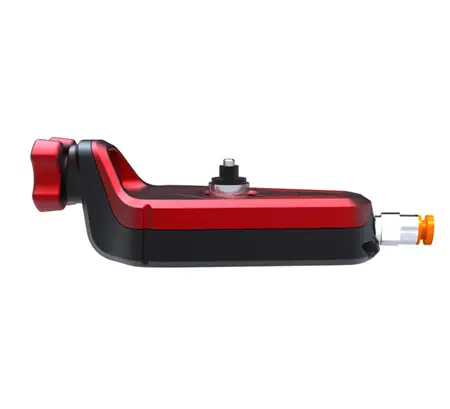 The "hybrid" part comes in when Neuma tattoo artists want to take the show on the road. Year-round and world-wide, tattoo artists travel to expos to create their art right before their fans' eyes. With the baggage restrictions now in force by airlines, it's becoming more of a challenge to travel with an air compressor. The Neuma and RKS teams brainstormed an ideal solution… a motorized module that magnetically-couples with the Neuma to transform it into an electric-powered tattoo machine. This means that Neuma artists can have the Neuma performance they love in an electric configuration that still weighs a full third less than traditional coil machines. And, most importantly, the pneumatic machine is still fully-autoclavable.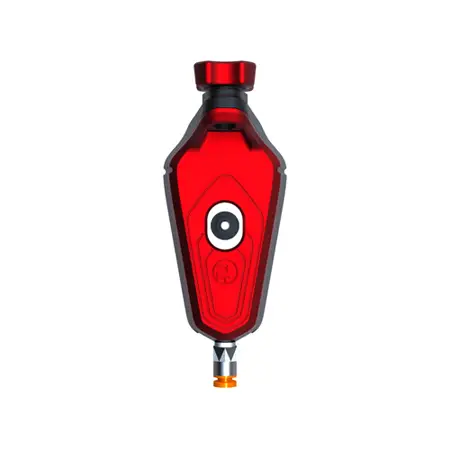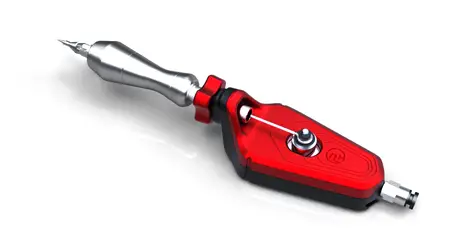 Whether you're an artist, a long-time collector, or someone who's been tempted but afraid to get a tattoo, the Neuma Hybrid represents a breakthrough in delivering a safer, less-painful, tattoo experience. And as for Carson Hill, perhaps Rosenau said it best, "He's developed something that's changing the way tattoos are done and the look of tattoos. He has his own little place in tattoo history." Hearing that makes Hill squirm a little.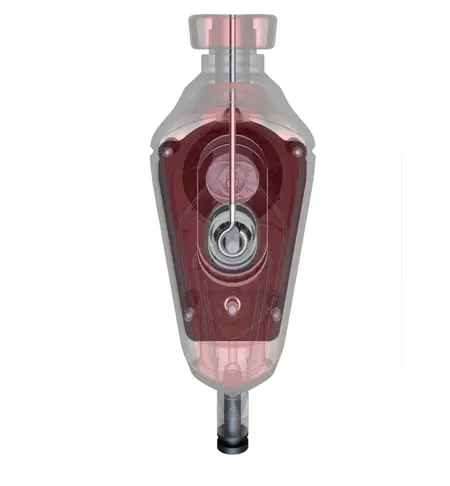 Designer : RKS Design for Neuma
---
It can do any kind of terrain. It's built to help doctors and rescue teams save lives. It's there for you in case disaster strikes. It's small and has unique features that make it different than other similar products and it's called the Bull Frog. The design team composed of James Thompson, Jeff Pinard, Isabelle Tremblay and Rob Vandenhoek, gathered around the drawing board to try and find a better solution for transporting medical supplies to remote locations across difficult terrain. They came up with the Bull Frog. A simple exterior shape, but a cleverly designed interior, make the "little helper" stand tall amongst its competitors. The main selling point of the Bull Frog is the fold out work station it provides. This allows rescuers to efficiently treat the victims on site, while there utensils are carried by their "assistant".
Designers:  James Thompson, Jeff Pinard, Isabelle Tremblay and Rob Vandenhoek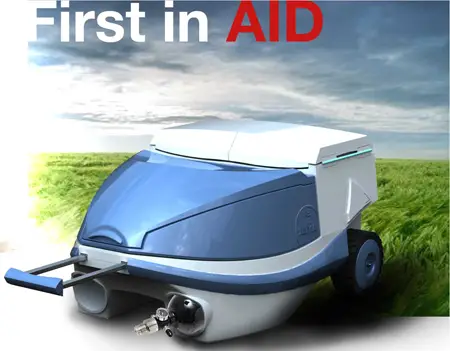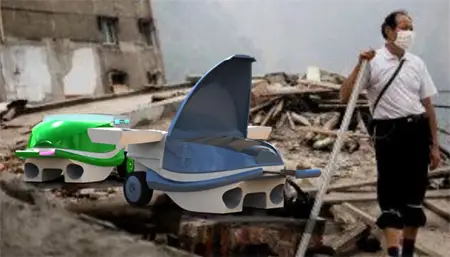 The Bull Frog has a color coded cartridge system for storing. The brilliant designed storage system allows the relief pod to carry a wide range of medical equipment, including: gaws, needles, pills and other supplies that might be required. Underneath the pod, the designers have fitted two compartments, which house either water or oxygen bottles for the patients. The pod has been equipped with all terrain tires to cope with the extreme scenarios, and thanks to the great ground clearance, it turns out to be the perfect tool in a disaster scenario. The relief pod has a retractable dolly-like handle, which allows the doctors and rescuers to carry it around. Being small and well organized is most of the times, the perfect combination for a product destined for natural disasters scenarios, as it can fit anywhere and it has everything a doctor needs to save his/her patient.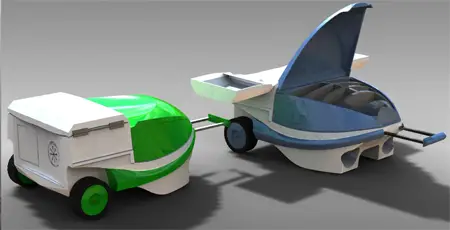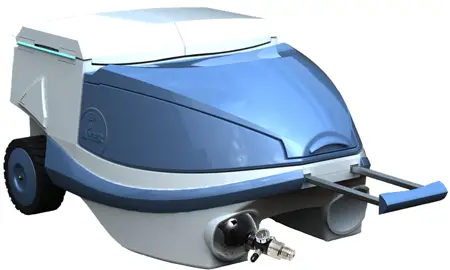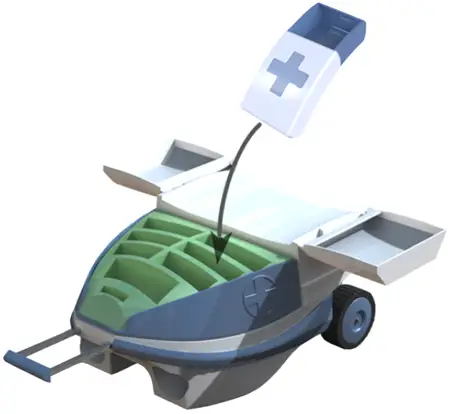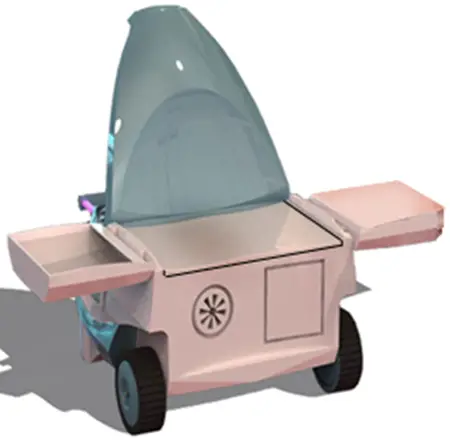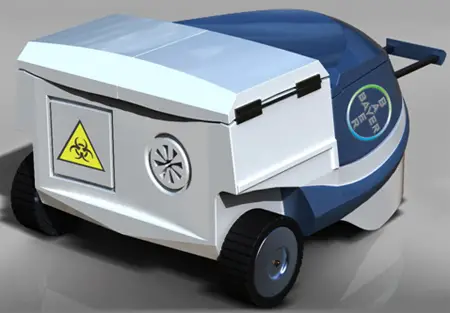 ---