Virtuo Digital Art Tool Set gives you the freedom to express your feeling without having to worry about the skills or materials wasted. Virtuo combines elements of traditional art and the latest technology to promote creative development in novice or amateur artists. This digital art tool set consists of a digital palette, charger, and five digital art tools that work on the principle of electromagnetism and therefore do not require batteries. Virtuo works by taking advantage of the latest sensor technology to communicate with an interactive pen display and a computer and translate the user's gestures into visual output. So, why don't you start digging deeper into yourself to find that creative artist hidden inside you with this cool art technology?
Designer : Yana Klimava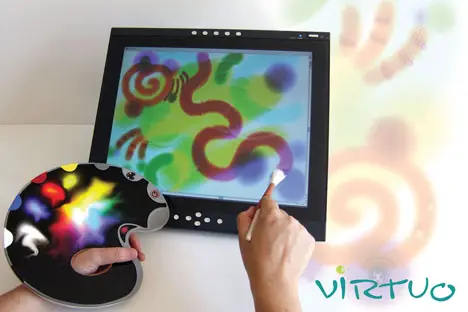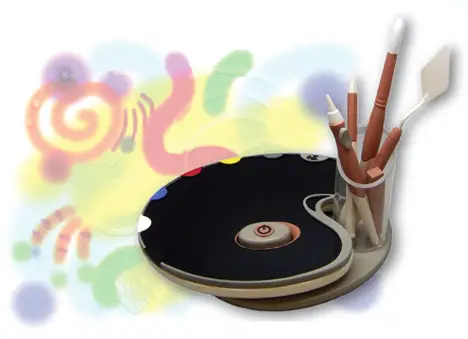 Some explanation from Yana :
The palette uses Bluetooth technology for communicating with the computer. It mimics real paint mixture techniques with LED lights. The user can also mix dark colours due to the special coating on the palette's surface. The colour mixing is such that it simulates the subtractive "CMYK" colour mixing. The amount of paint "picked up" by the tool is determined by the amount of time the tool spends on the mixed colour.
The tools, consisting of a pencil, paintbrush, palette knife, airbrush and pastel, use sensors to translate the user's gestures into visual information. Taking a palette knife as an example, it would use pressure and accelerometer sensors to translate its position and pressure on the screen into an appropriate stroke. Virtuo comes with software that is based on the real painting process: minimal, leaving the user free to experiment. Most of the time it would look like a blank piece of canvas, with a simple drop down menu showing only when the user wants to start a new digital painting, save, close it or open a previously started one. The really cool thing about this software is that it would treat all the digital materials used on the canvas as real ones. Ex. You would not be able to erase paint, only paint over it. It would also have only a limited number of "undo" steps to encourage the insecure user to practice by correcting rather than erasing.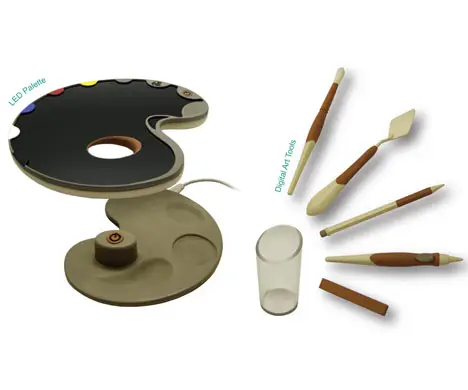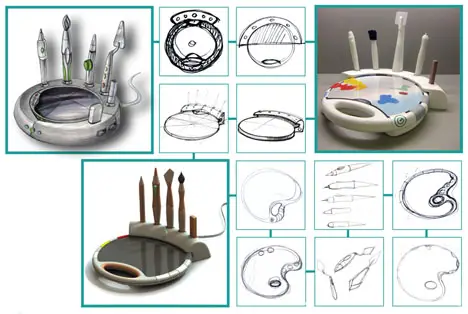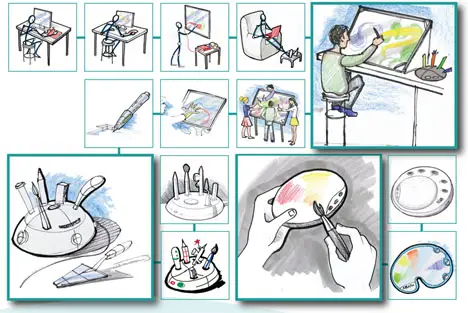 ---
Available in limited edition of only 10 units, The Vicious Cycle amazing craftsmanship as the result of collaboration between Duncan MacIntyre, retired frame builder, and Anton Dekker, a composite specialist. You probably know that MacIntyre is South Afriaca's most accomplished bicycle frame builder, he has worked under wide range of local brands while Dekker has a specialist composite workshop that produces bespoke components for auto companies such as Lamborghini, Ferrari, and Porsche. This bike is hand built using original MacIntyre frames along with Dekker's Tri-spoke wheels and contemporary components. If you are interested to get this bike, prepare for $4,800.
From : Dutchmann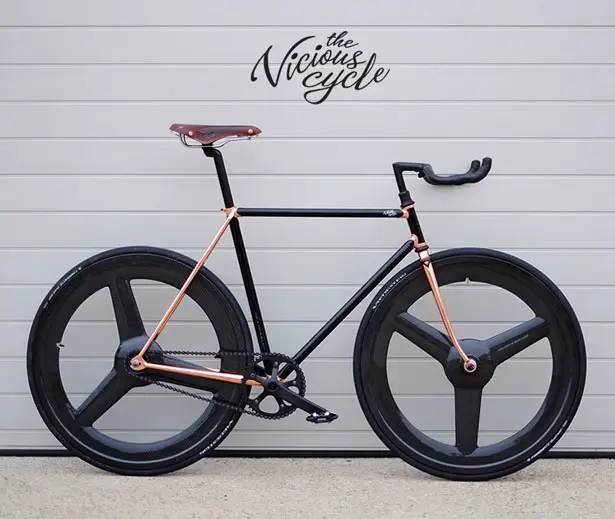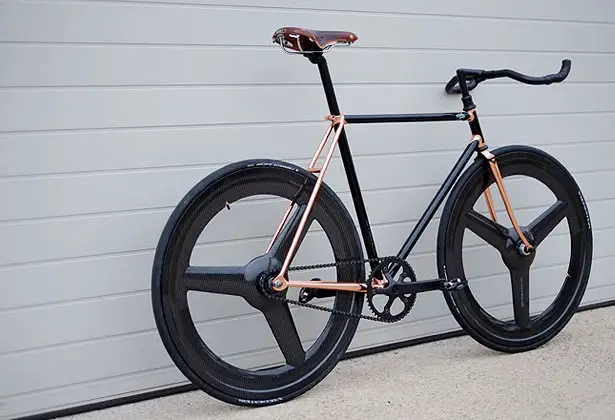 The frame of this bike was built by MacIntyre for SA Track Cyclist Malcom Cochrane for Track World Championship in mid 1980's, and later used by SA Olympic contender Timothy Abbot. The beautiful hand brazed frame is constructed from Reynolds 653 and Columbus steel tubing to provide rider with impressive strength-to-weight ratio, suitable for track racing. The frame was stripped and coppered by Gavin Oliver then given with black lacquer detailing thanks to Malcolm Sampson. Timothy Abbot rebuilt the frame using classic and contemporary components such as Vredenstein, Cinelli and Brooks, 3T, and Campagnolo.
The Tri-Spoke wheels were custom crafted using art carbon fiber composites. The process to produce these wheels include development of a custom mould and hand layering of 4 layers of composites and honey comb, giving rider safety and performance.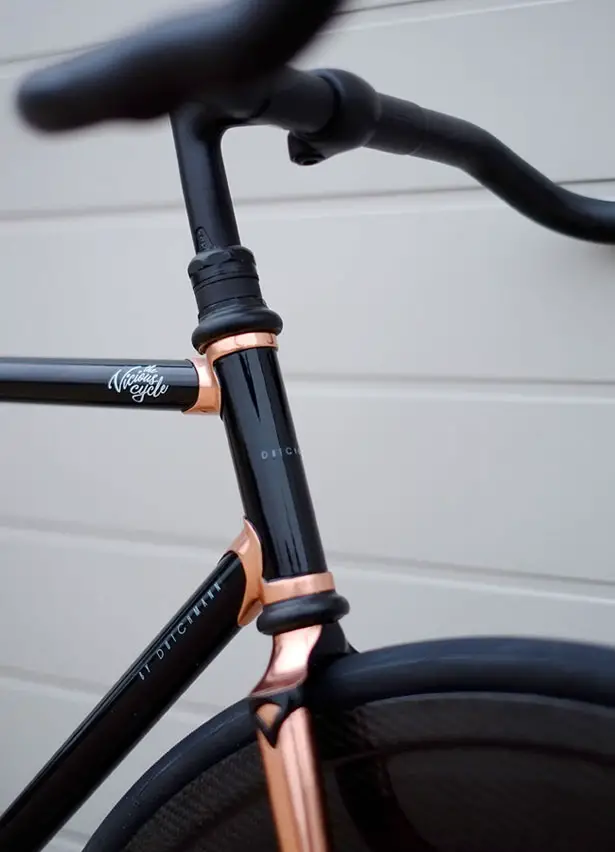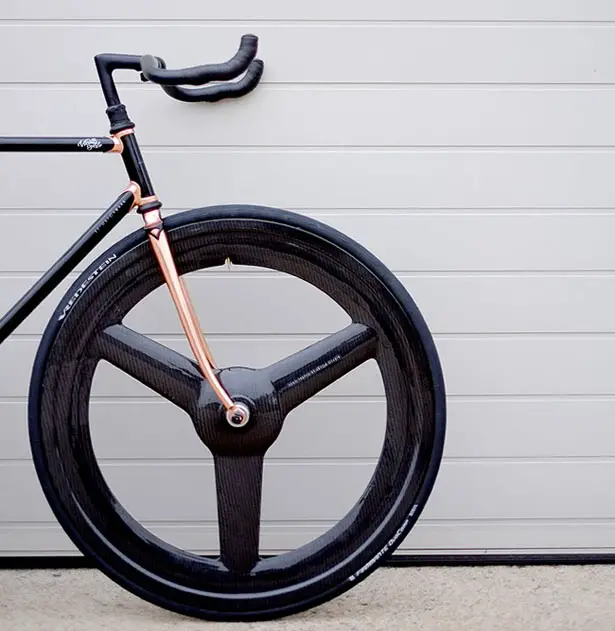 ---
You must have heard about eco-friendly fireplaces which are generally known for their unique designs. Unlike other eco-friendly fireplaces, Digifire is a high-tech clean burning fireplace created to run on a highly refined ethanol which is nonstop fed into the fire. The continuous fed ethanol allows it to burn for 13-25 hours. If you have Digifire at your home, it is no less than a science fiction movie. The amount of steam and carbon dioxide that is released by the Digifire is almost of same proportion as air exhaled by humans. All of Digifire models are managed or control by a remote control that means you can turn them off or on from a distance just like your TV as well as you can adjust the flames coming out of this Digifire.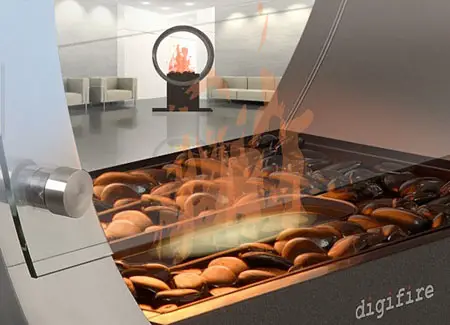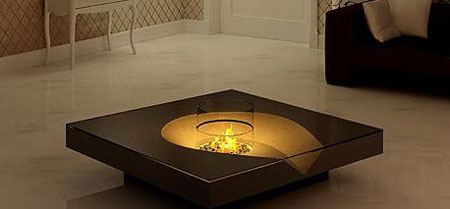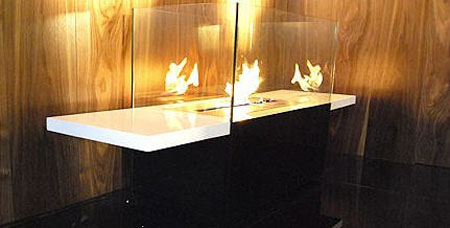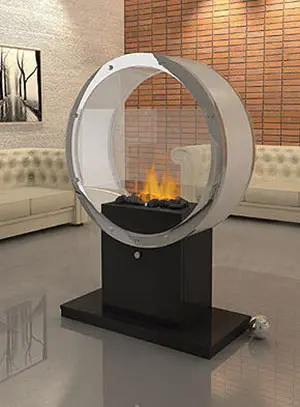 ---