Triathletes usually place their water bottle as aerodynamic as possible in order to reduce the need to reach it that could interrupt pedaling and slow the racer down. Tridration water bottle has been especially designed to solve this issue, it is mounted on the aero bars of a bike for use during a triathlon or time trial. A pop up straw stays out of the way until the rider is ready to use it. There are two separate chambers in the body that allow the rider to have a sports drink and/or water, which can be picked by the selector fin. Nutrition gels are an important part of endurance racing, therefore this water bottle also completed with two easy-tear lock downs for nutrition gels with easy opening.
Designer : Brendan Joyce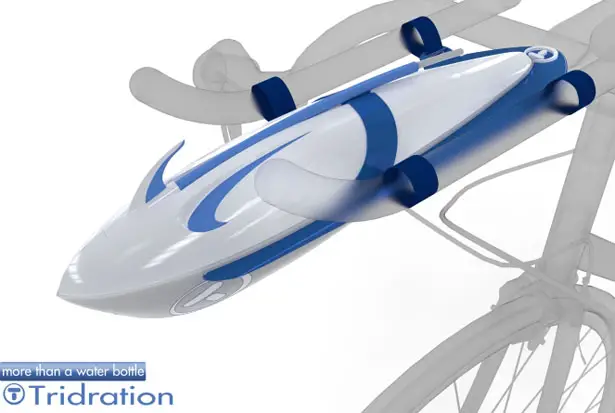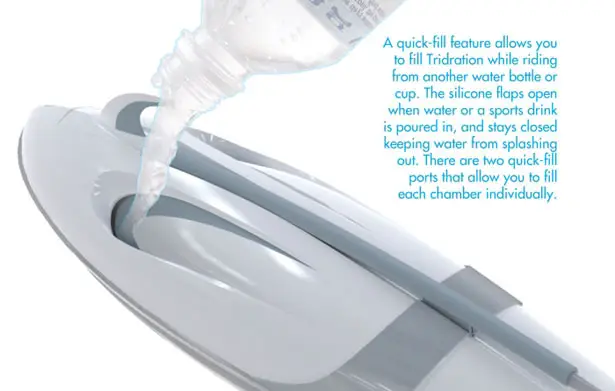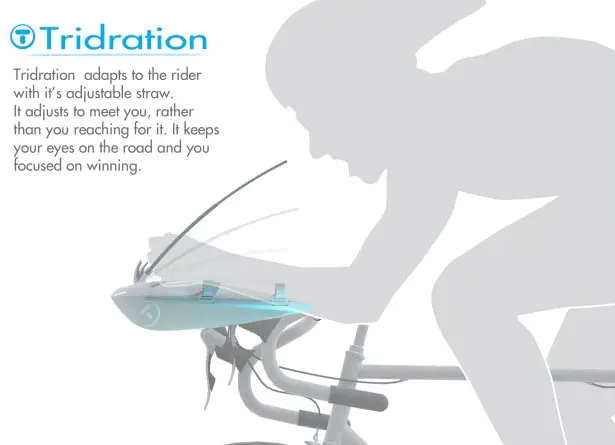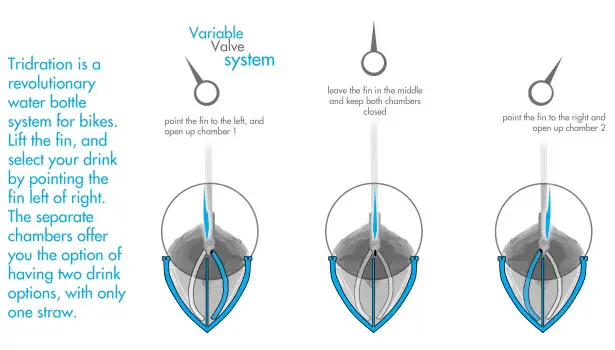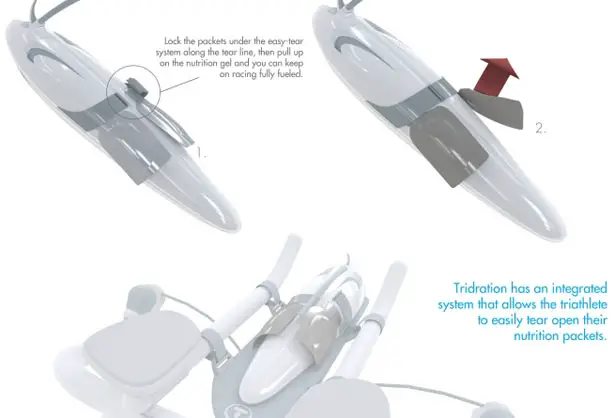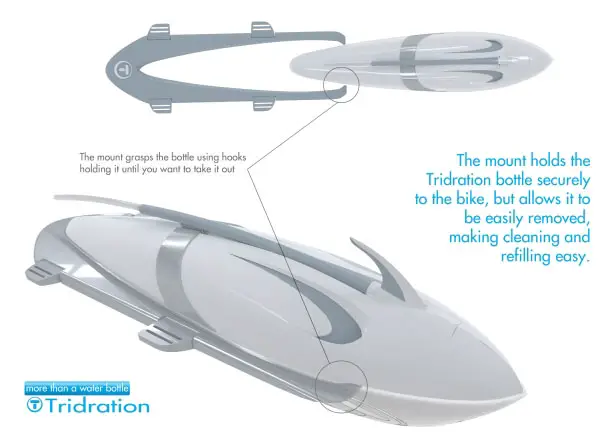 ---
Transferring patient with minimum mobility to a bathtub or a wheelchair can be really difficult and uncomfortable. Lucy Lift has been designed to answer this problem; it's an ideal patient transfer lift that provides easy transport as well as essential hygiene services, like we mentioned previously going to the toilet or taking a bath. Based on in-depth researches and interviews, this industrial designer identifies some major issues with current bath lifts, therefore it needs new bath lift design that addresses all those problems.
The main objective of this project is to provide the most comfortable, easy to use and logical transfer lift while at the same time encouraging an emotional bond between the user and lift. Emotional connection can be formed based on the anamorphic design, it gives the lift a personality that makes user feels comfortable when using it. Lucy Lift protects patient's dignity, especially during patient's journey from and to the bathroom.
Designer : Elman Lewis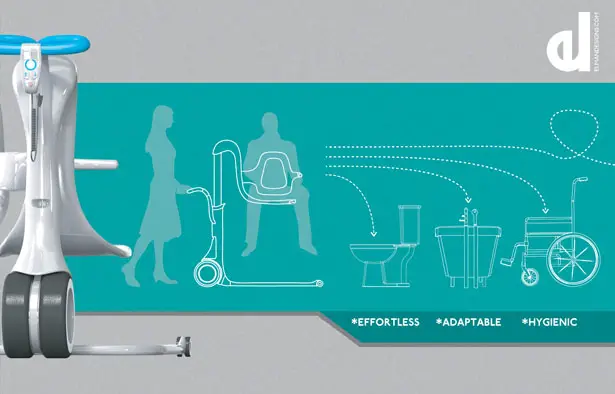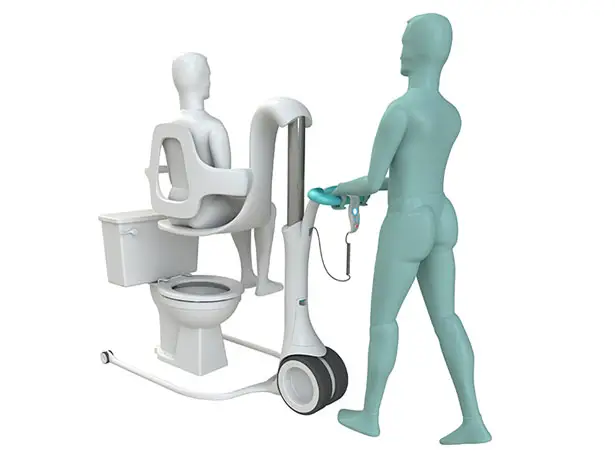 "The use of prototyping has helped me to understand the process of the transfer lift and allowed me to begin to generate concept ideas that can benefit the design. Computer aided design enabled the lift to be put into virtual hygiene scenarios allowing me to analyze how the lift interacts with other objects within the bathroom environment. With this end product I have accomplished all of my aims; the product will provide patients with their essential hygiene services and fits comfortably into the market that it is aimed at due to its unique multipurpose functionality. Overall the design will seamlessly transport a patient to the bathroom, with relative ease and comfort, whilst being much less intimidating than previous lift designs."
Lucy Lift doesn't only provide benefits for patients but also care takers. By understanding social semiotics, the user friendly interface has been developed which can be easily interpreted by all care takers.
The overall Lucy Lift design features:
Horizontal Handle (provides more force for pushing)
Clear Interface (easy to interpret battery level)
Lift and Pull Battery Compartment
Silent Motor Reduces Noise (noises in a hard surface surrounding such as the bathroom can make sounds echo making bathing experience distressing)
Polyurethane Body (provides excellent hygiene control and provides incredible tensile strength)
Max Load 160KG
Highly Adaptable (lift can be used to maneuver patients in and out of bathtubs, toilets, showers etc…)
Max Stroke High of 2 Meters
Ergonomic Seating (incorporating pressure distribution and anthropometric data provides for excellent buttocks and lumbar support)
Genitalia Clearance (ideal clearance making sure that genitalia is not trapped when maneuvering the patient)
Fat Free Organic Design Suited In Any Care Environment
Final half scale model hand carved out of jelutong wood with in-house spray pain. The model is currently featured at the National Waterfront Museum (Swansea).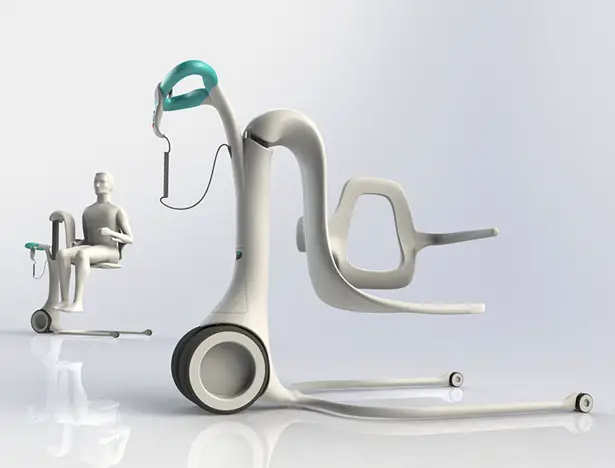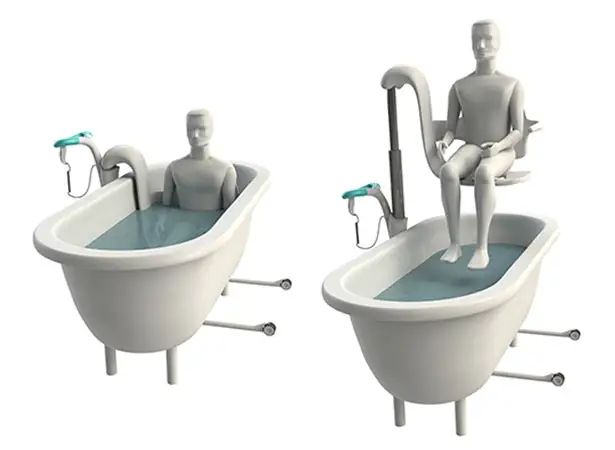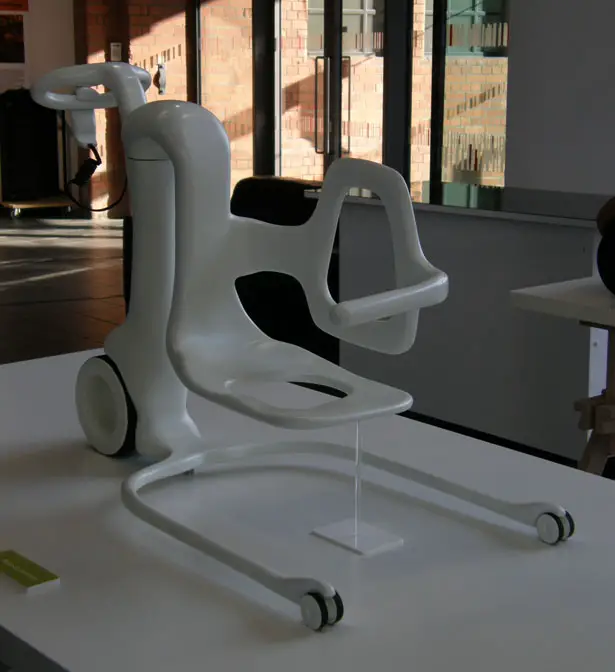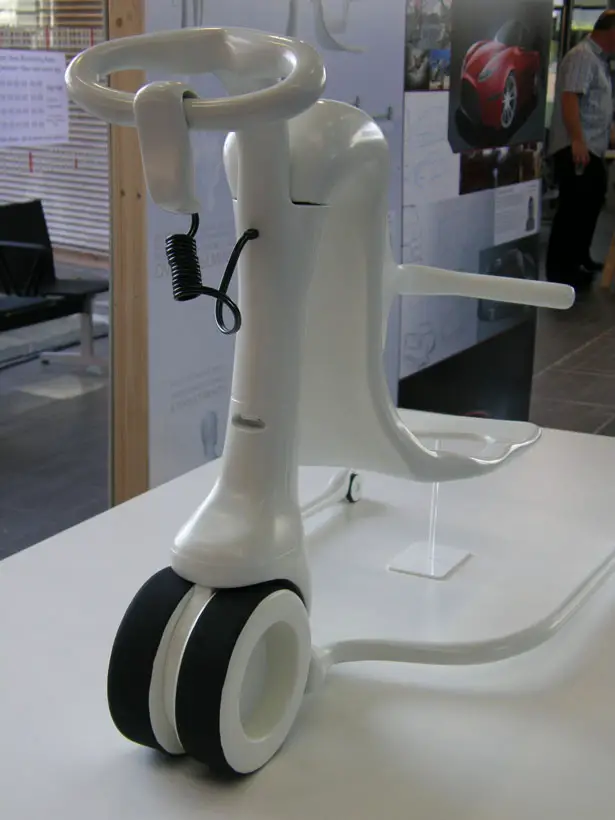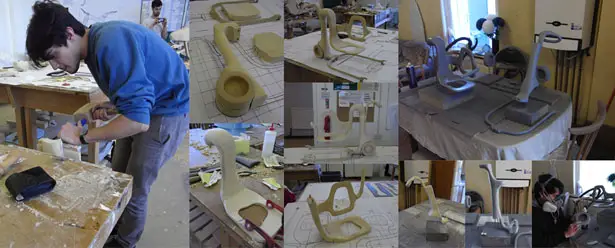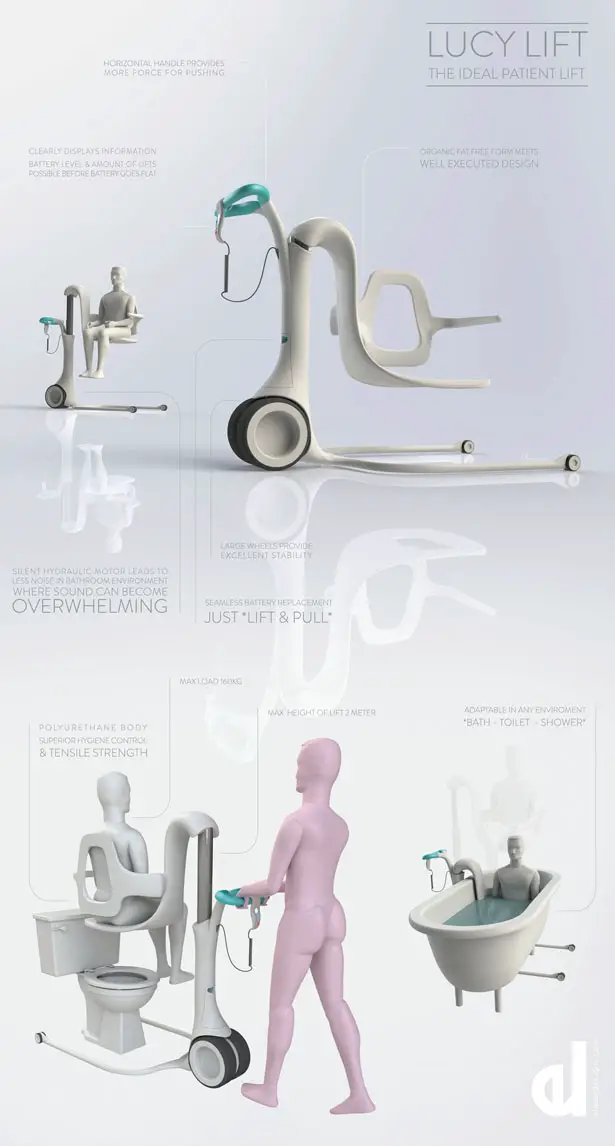 Click above image to get bigger view
Tuvie has received "Lucy Lift" project from our 'Submit A Design' feature, where we welcome our readers to submit their design/concept for publication.
---
Having meal outdoor can be difficult to do in windy conditions, but this Garden Unique Bye Bye Wind table set helps you fight the action of wind. This set of table and chair can solve the main issue while having outdoor meal, you can use plastic plates or glasses without having to worry that they will be blown away by the wind when they are empty.
How? Well, those simple grooves in the table block paper or plastic plates and glasses when they are empty, even the center of the table features a container to hide crushing bottles.
Designers : Marco Marotto and Paola Oliva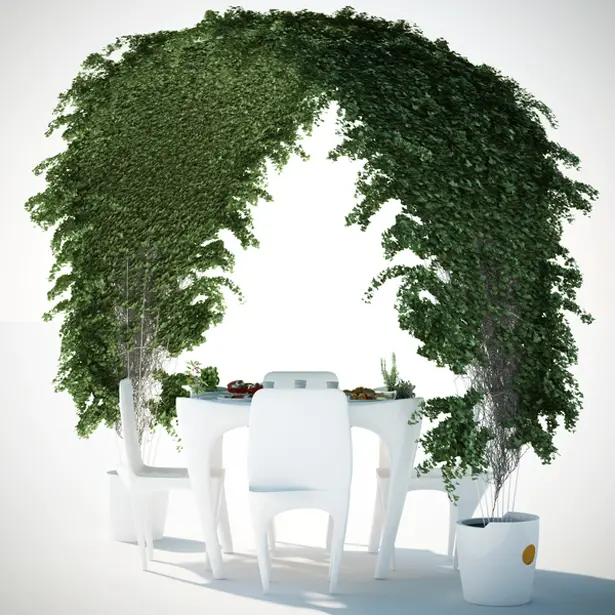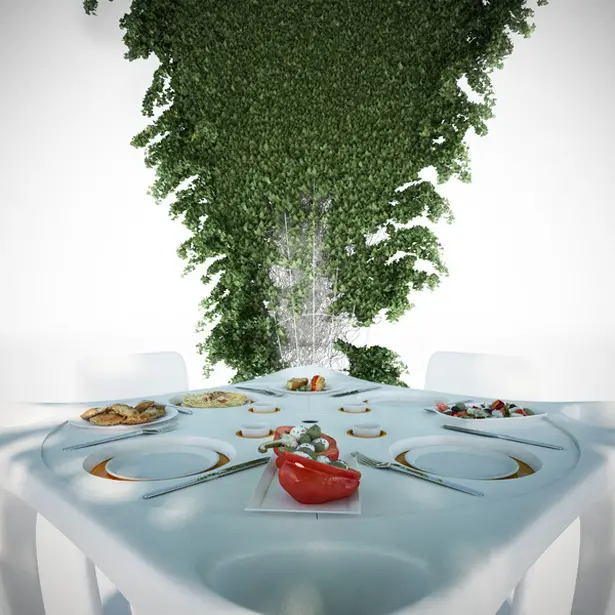 The back of the chair features extra space that you can use to keep your gadgets away during a meal. At the 4 corners of the Garden Unique Bye Bye Wind table, there are four recessed areas where you can place foods, tools or spices.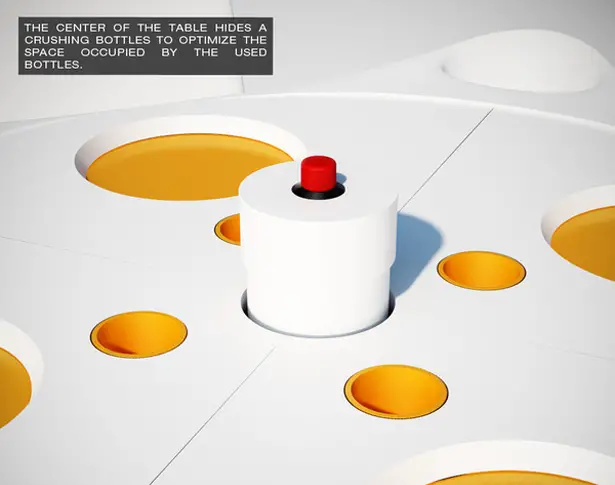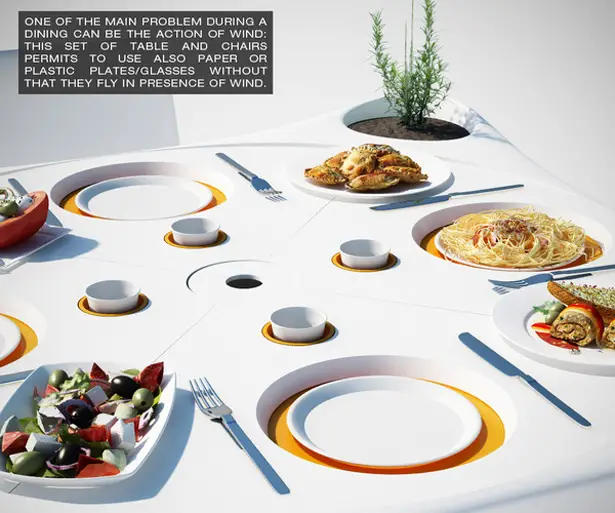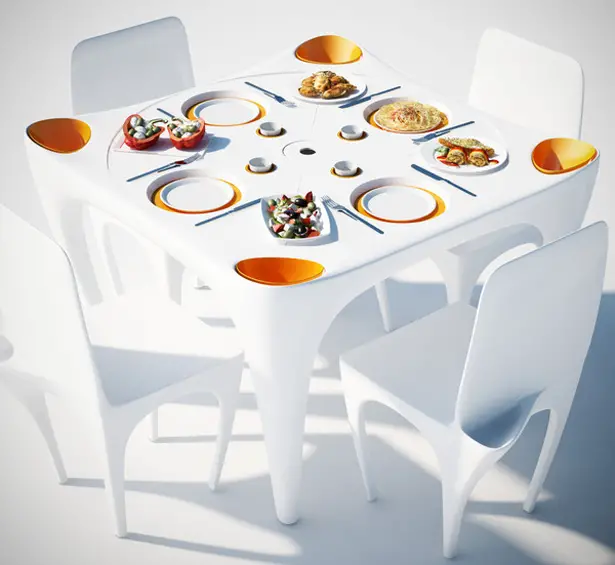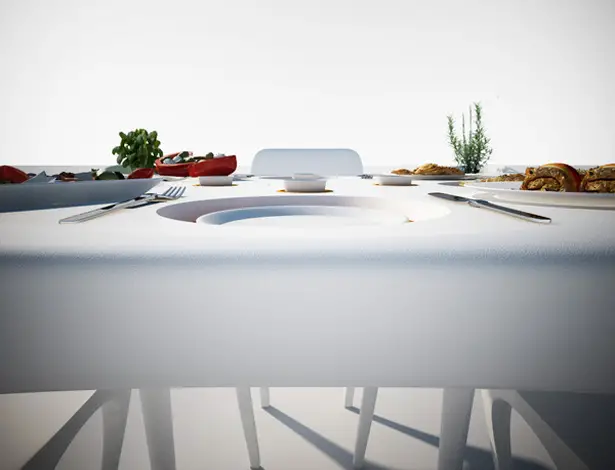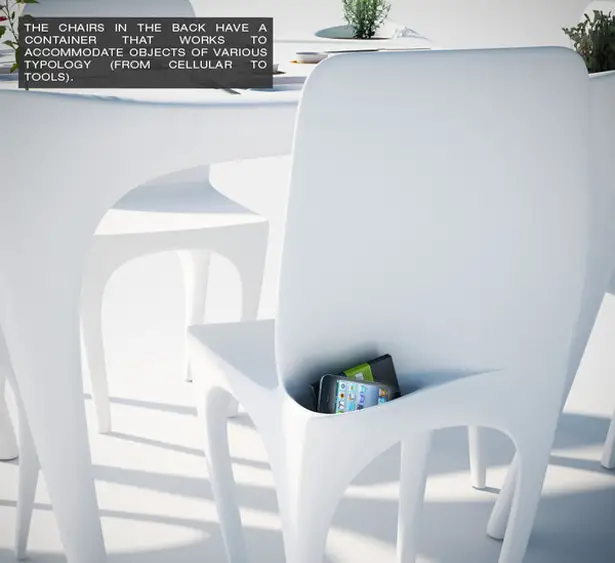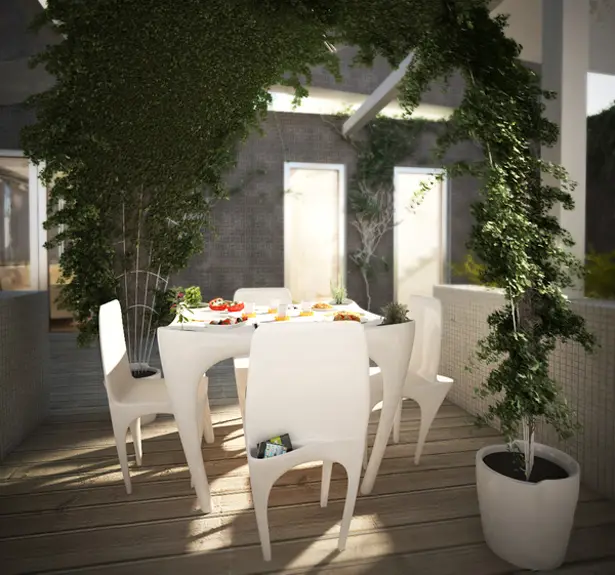 ---