The motto today is Go Green! So what abut computers? Say hello to the EVO PC. The concept of EVO PC is made of a sustainable personal computing service. The basic function model that EVO PC works on is that EVO Server gets connects to the base terminal or EVO client through the a broadband internet connection.. At the remote server the actual computing process takes place, with the receiving of the video signal and transmitting information by the EVO Client back to the server.
A monthly fee is charged to the customer so that they can access to the EVO computing service. There is no significant change in the computing experience, other than the replacement of their current PC with the sleek, compact EVO Client.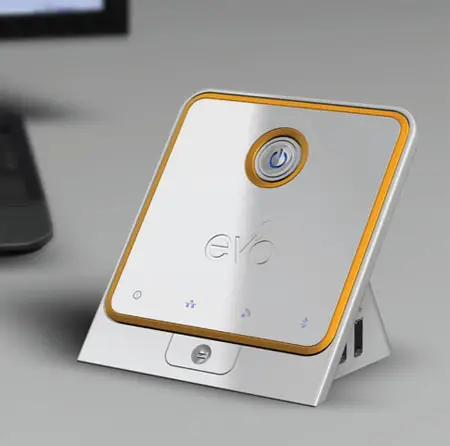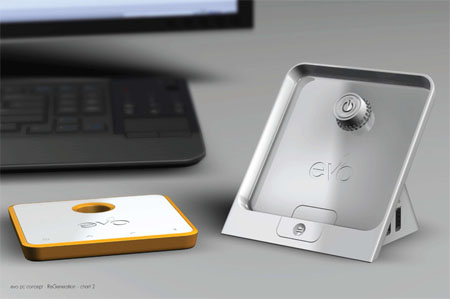 Basically it consists of 2 main parts: the EVO Client module and EVO Base unit. A PC board with a low power processor, wireless card, RAM, flash memory, and a unique circular EVO docking connector is what constitutes the Client. To function, the client must be docked to a Base unit which supplies power and connectivity to the EVO Server. With primary goal of the EVO PC concept is to address all the key environmental issues associated with today's PC, EVO PC is PC in Power Saver mode!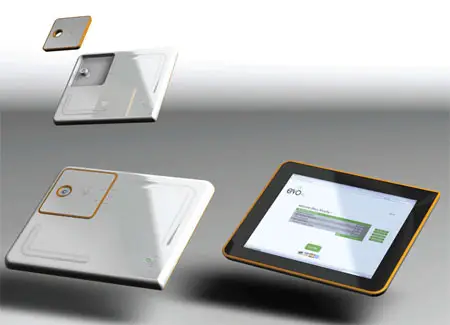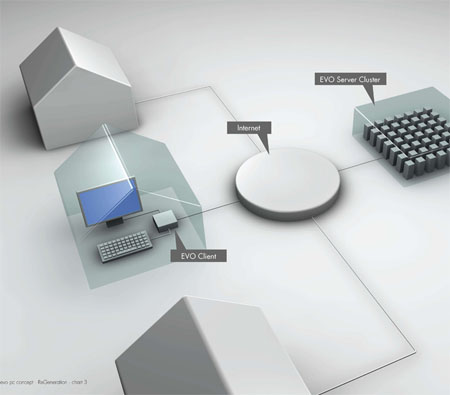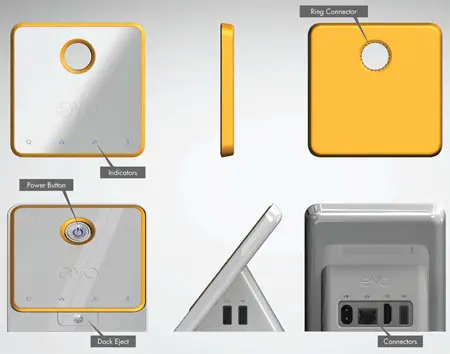 Source : IGreenSpot
---
FPS Gaming Controller has been designed based on extensive research done by HJC Design team. Based on that research, they've found out that there are six types of gamer profiles from professionals down to novice gamers, they've also mapped existing game controllers relating to gamer needs based on aesthetic and functional scale. From many interviews and online forum comments, it's pretty clear that there are many gamer enthusiasts demand a higher performing solution of gaming controller than the standard XBox offering.
Designer : HJC Design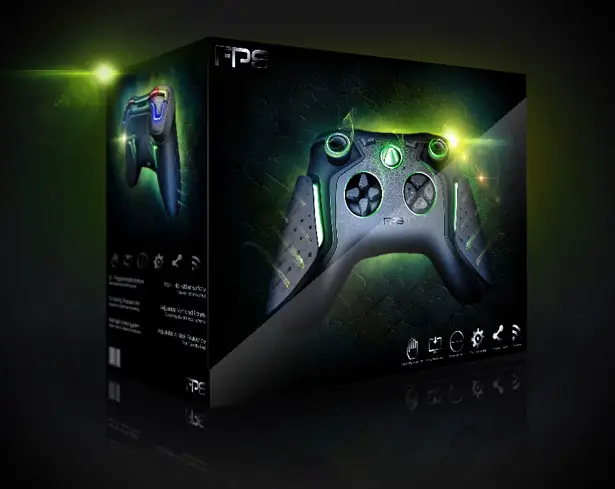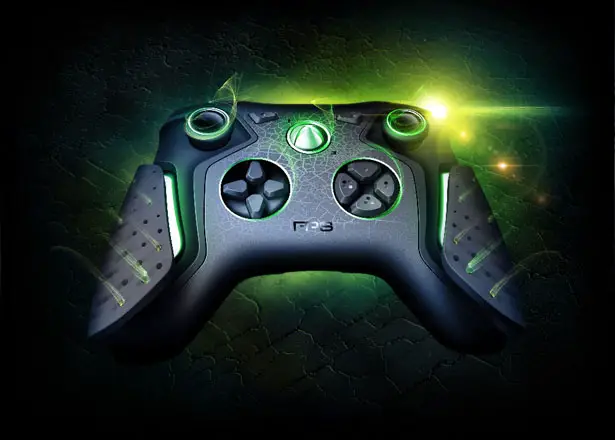 The most essential controllers when playing games are the analog sticks. Based on Video analysis of gamers' hand positions, we can tell that gamers keep on moving the thumbs from the analog sticks to activate other control buttons. You might say that it was only micro second delays, but to professional gamers, it means holding back their performance. FPS Gaming Controller aims to resolve that issue as well as increasing a button reaction time and better ergonomic grip design.
Using FPS Gaming Controller, gamers can access every control without having to release the stick, no more micro-second delays, thus increasing gamer performance by allowing simultaneous activation of any button combination. Each of these sticks features adjustable physical resistance to meet the gamers preferences. Button mapping feature allows gamers to customize the location and function of the key controls. It saves any different configurations based on its user.
The usual unresponsive D-pad now comes with individual directional buttons, a unique visual balance is created by the position of the analog sticks and control pads. User can customize trigger sensitivity and short-throw buttons while the backlights can be set to show the current layout.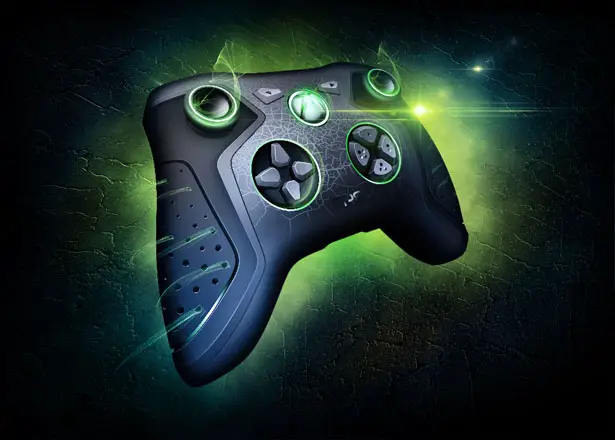 The high grip surfaces of FPS Gaming Controller have been designed with ventilation holes to reduce perspiration. We really love the full color spectrum of LEDs, this allows the button and body lighting to match gamers team colors or existing gaming set up, clever.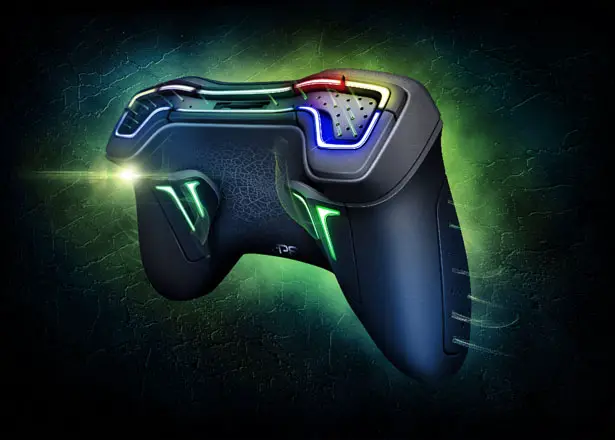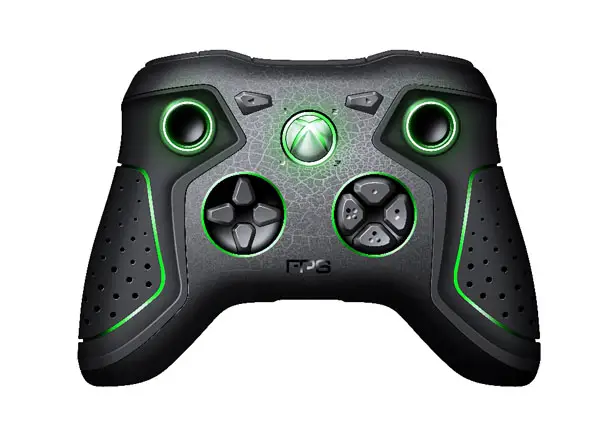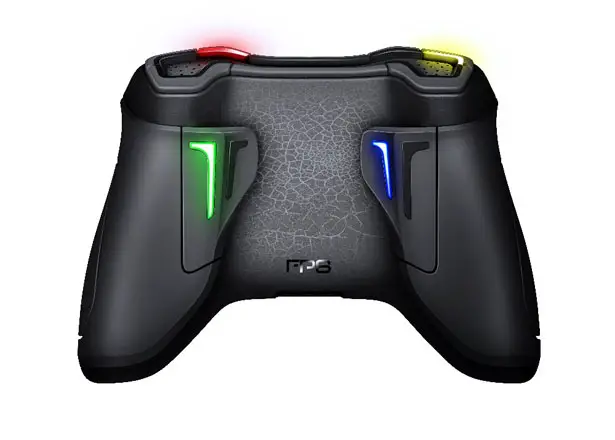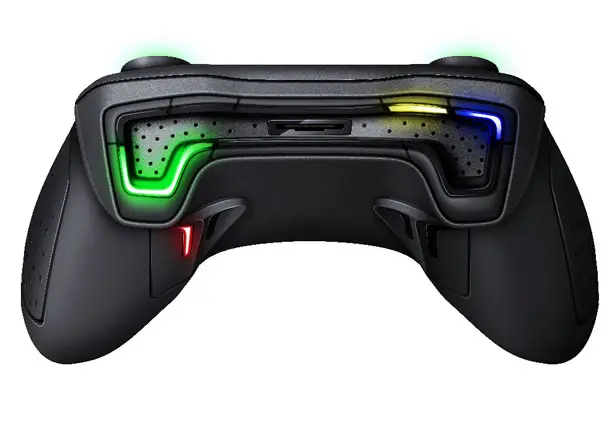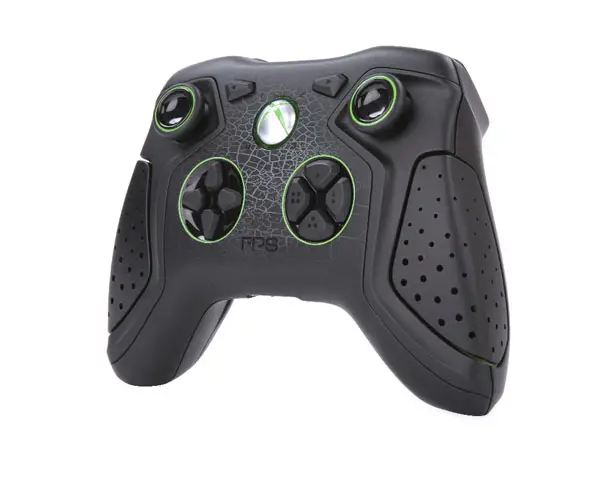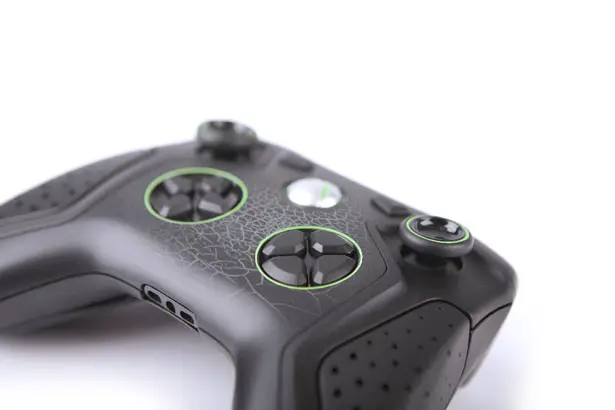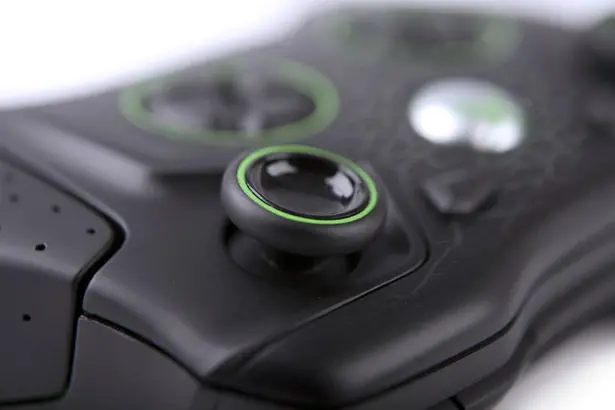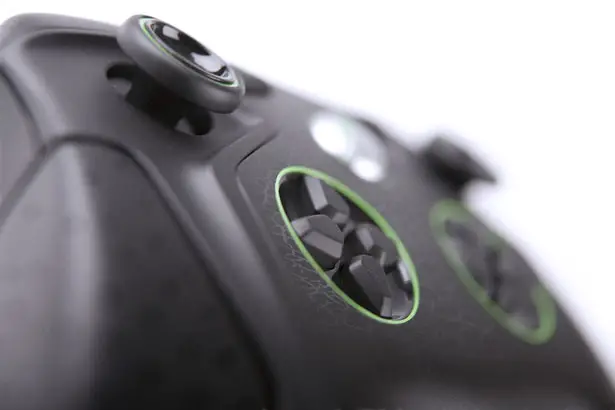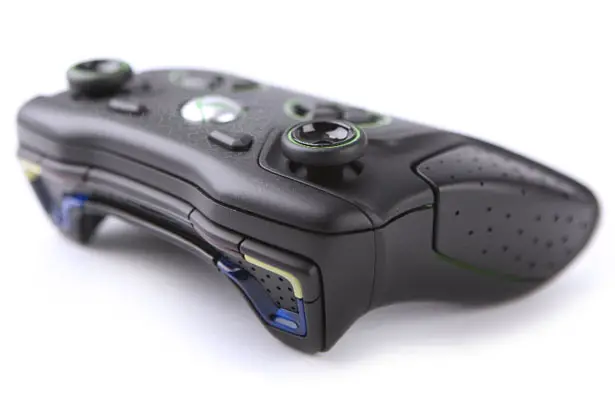 Tech Specs of FPS Gaming Controller
Customizable buttons and trigger sensitivity, up to rapid fire hair triggers.
Map the 8 multi-functional highly responsive buttons via PC
Rear rocker switches for multi-function control.
Alter the in-game sensitivity in real time by squeezing the side panels.
8 control setup configurations, allows controls to remain constant across games.
3D rumble effect, with varying strength and direction for a more immersive experience.
Dual analogue stick resistance control.
Ventilation holes at contact points to prevent perspiration.
Adjustable panels for optimum ergonomics.
Customizable lighting to show button layout, to match clan colors or your existing gaming set up.
Precision D-Pad and configuration controls.
Non-slip rubber on all contact surfaces.
Contoured analogue sticks provide constant grip and have minimal 'dead zone' for high precision.
Detachable braided wired cable, stopping wireless interference at tournaments or LAN matches.
Zero latency 2.4GHz wireless technology (1ms response), with built in rechargeable batteries for casual play.
2.5 mm microphone / headphone jack.
Wireless headset compatibility.
Tuvie has received "FPS Gaming Controller" project from our 'Submit A Design' feature, where we welcome our readers to submit their design/concept for publication.
---
The new Phoenix concept designed by Sergio Loureiro, a Royal College of Art student in London, is some piece of work. This aerodynamic beauty is a sports car which runs on electricity with the overall concept being of reducing energy consumption. This is achieved as the vehicle adopts the alternate energy regeneration system inspired by technology used in dance floors. Here car has a central kinetic axis which with the movement of the vehicle generates power. The car is a complete beauty not just design wise but in motion as it puts to use the kinetic laws of physics for its basic functioning. So, one can say that it's one piece of art.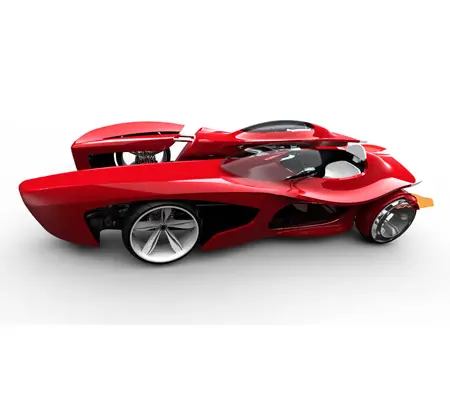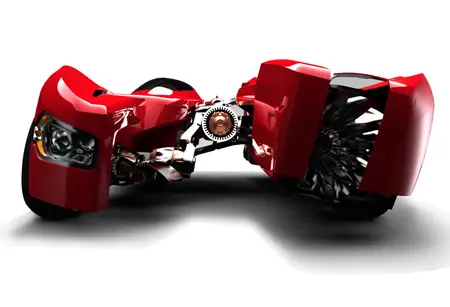 Sergio says "Outside the car industry technologies have been developed in order to regenerate power, like kinetic watches, wind turbine, geothermic energy absorption even a sustainable dance floor is developed that regenerates the energy from the bouncing of the floor.
Around those ideas I designed a car with a central kinetic axis that generates the power of the movement as the vehicle turns like two attached motorbikes.
Second, I thought electrical cars should be designed aiming for sensations and not for speed in order to preserve the batteries longer. At high speed the battery range drop considerably, so this vehicle would provide sensations at lower speeds.
Drivers that have lived in a virtual computer game word that want to drive a vehicle closer to a spaceship, something that can provide them with different sensations."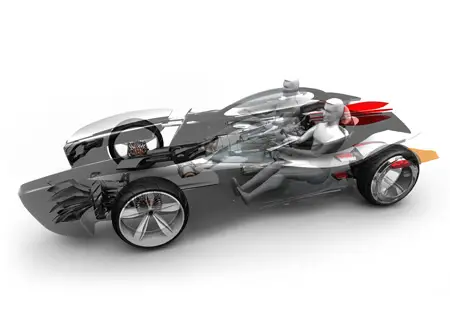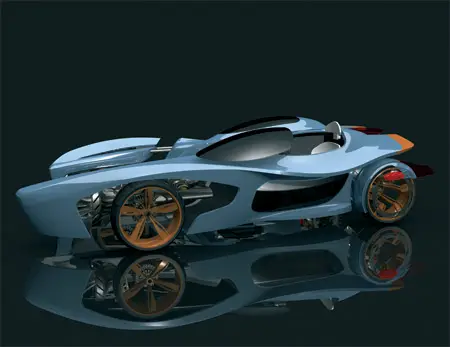 Designer : Sergio Loureiro
---