Swimming Pool Table, as its name suggests, it looks like a miniature of swimming pool in your living room. Designed by Rain design studio, this table looks really cool as the inspiration came from dreamlike images of leisure and good times when you see a swimming pool. Rain releases a set of collection composed of low tables with different heights that can be used together or separately. Each table is made of matte powder-coated steel with a glass top, the ladder accessory can be placed in different positions, allowing you to create your own swimming pool story.
Designer : Ricardo Innecco and Mariana Ramos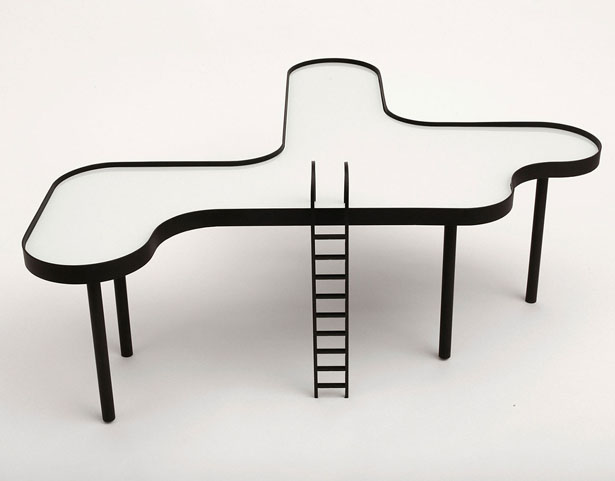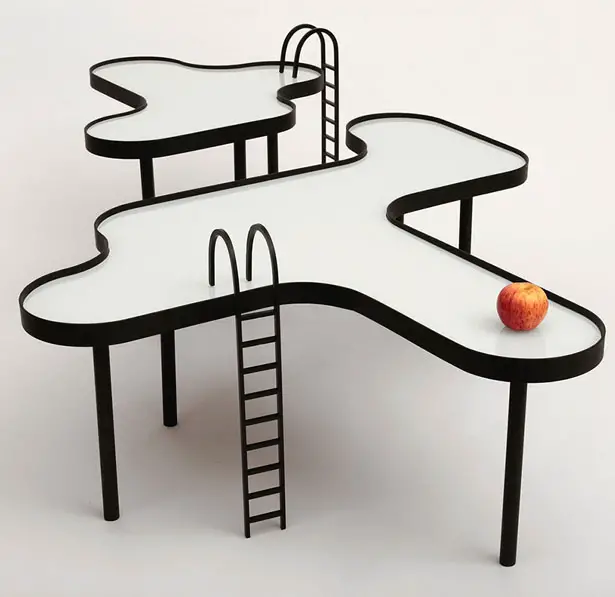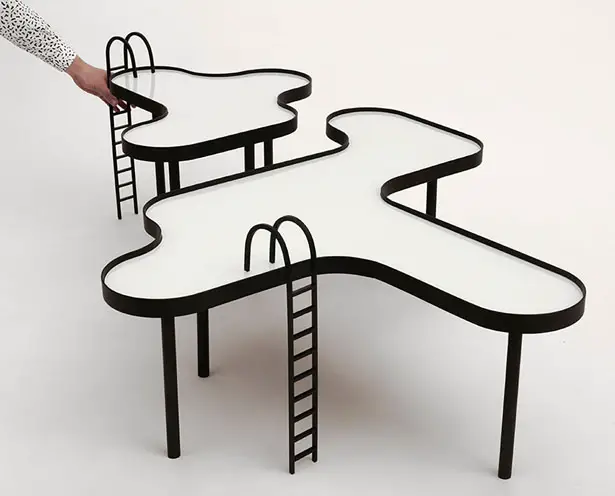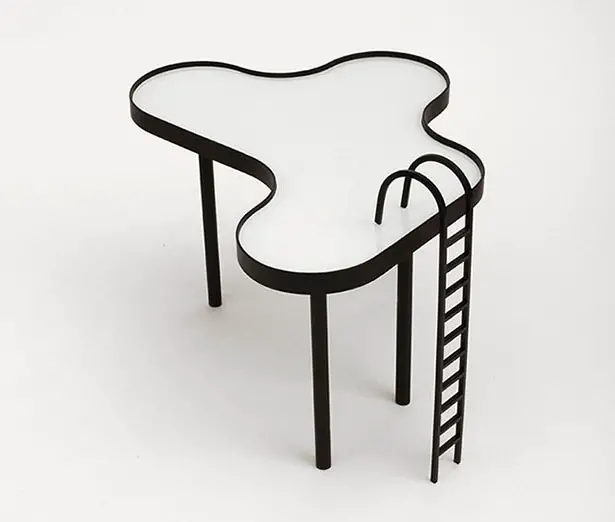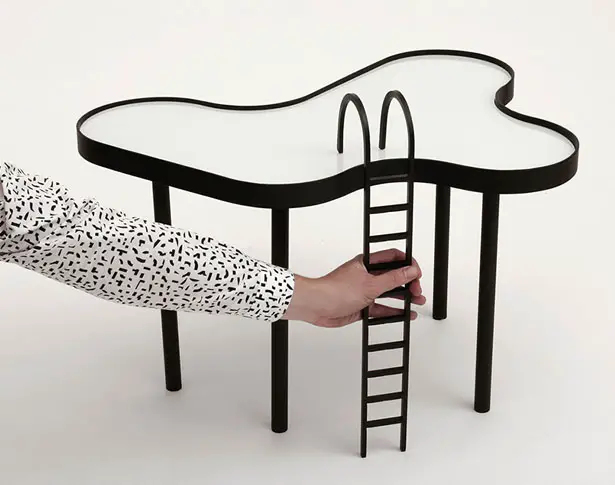 ---
The new technologies of digital cameras have become more and more complex, which leads to creating more sophisticated parts and more complex disposable waste. Based on that issue, Bryn Seymour and Jon Rothapfel tried to help creating self powered eco friendly camera. Inspired by other contemporary self powered devices such as radios and lamps, the Twist Camera is a small portable digital camera that uses a winding mechanism for power and would be capable of taking several photographs per cycle of the mechanism.
The Twist Cameras features are minimal with the view finder being a simple hole in the body for the user to look through, a knob to wind for energy, one button for shooting a photograph and a multi colored L.E.D. (Light Emitting Diode) for the user interface.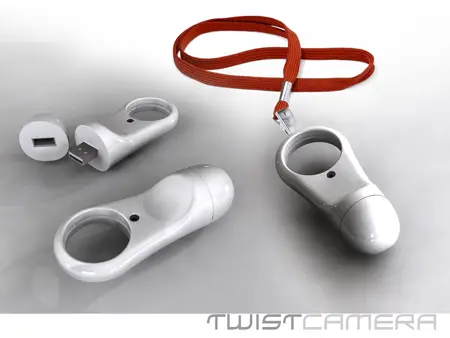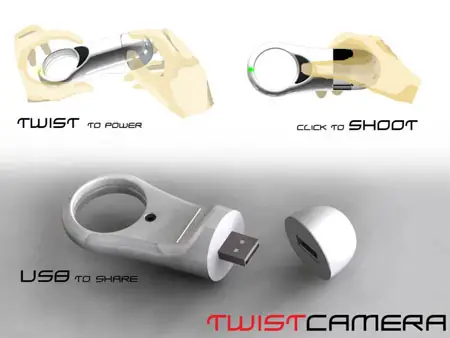 Photographs can be uploaded from the camera via a USB (Universal Serial Bus) plug that is hidden under the winding cap to a computer for further distribution and viewing.
It is intended that such a device could support resolution of up to 5MP with current technologies and find use in a range of diverse areas such as recreation, children's products and third world use.
The self winding mechanism is also intended to highlight how the latest technologies can live in a more harmonious way with us in our society and hopefully make people aware that energy does not just only come from a power point.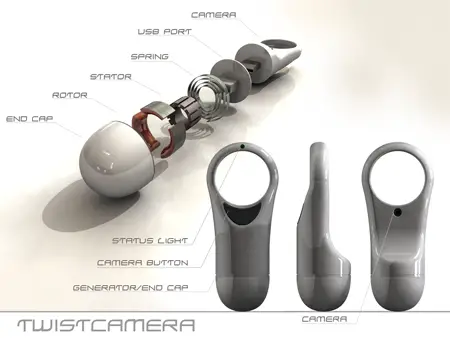 Designer : Bryn Seymour and Jon Rothapfel
---
Rinspeed microMAX concept car is a visionary Swiss car to revolutionize urban traffic. The intention is pretty unique, this vehicle tries to merge personal and public transportation in clever fashion, yes, Swiss is not only famous for its watches and chocolate but also innovative transportation concepts. Frank M. Rinderknecht, the boss of Rinspeed explains that modern ride share centers nowadays are web-based or Smartphone-based, they operate in real time where you need to go to work on regular basis or go somewhere right now, you'll find a ride in no time at all. Rinspeed microMAX offers unique upright seats which are perfect for short-distance transfers, a car that goes with the app.
This concept car defines a new class of vehicle, with 3.6m length, it's similar to the length of BMW Mini, except that microMAX offers plenty of space for driver, 3 passengers and a stroller or shopping cart. The height is 2.2m to offer comfort for space-saving upright seats equipped with safety belts. Inside passengers would also find a coffee maker, a fridge, and unlimited connectivity for entertainment purposes or work while on-the-move. Overall, it's all-electric vehicle with various equipment modules, it can be your taxi or bus, smart.
Designer : Rinspeed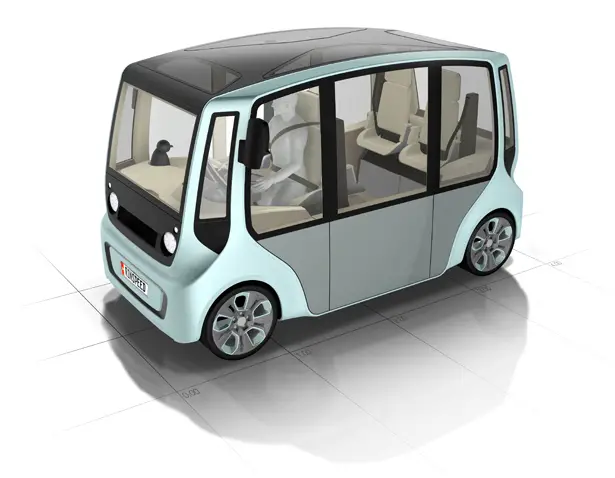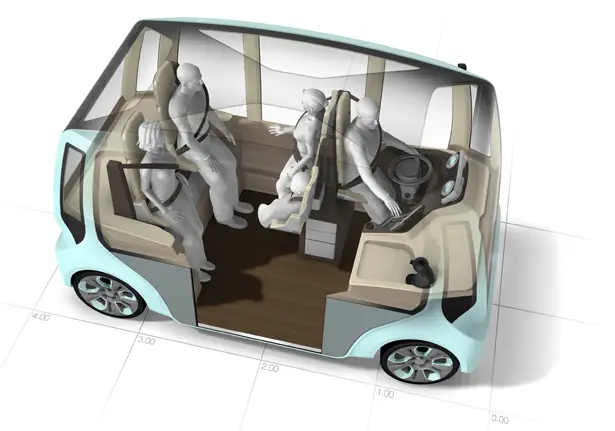 ---