Francisco Lindoro designed this childbirth assistant to improve the life of those women who cannot have their babies at hospital. The inspiration came from the statistics, in just Mexico, over 500,000 pregnant women don't have access to social security and therefore, they can't get the proper attention that is required during the childbirth. The major concerned service providers are Midwives and the biggest problem with them is they do not have proper instruments that are required to perform trouble free childbirth. This design provides the midwives with proper instruments to ensure the well of babies.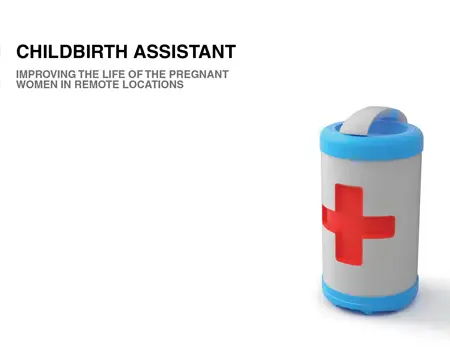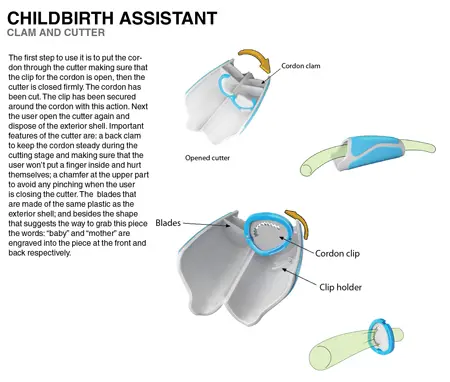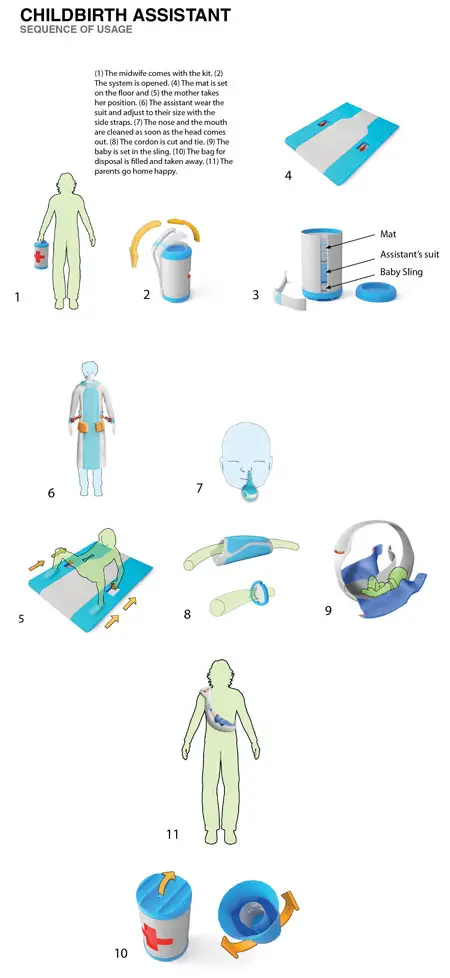 Designer : Francisco Lindoro
---
Color picker pen by Jinsun Park has gained a lot of fans since the day the concept was featured on our site. Unfortunately, there's no real product that we can buy, it's only a fascinating idea until now. Scribble has announced that it will bring the same idea to reality, an accurate color picker pen that picks any color you choose and duplicate it so that you can draw/write in the same exact color. If the product as good as its promises, then it opens up the entire world of color opportunities for everyone, especially designers.
Basically the idea here you can pick any color around you and Scribble pen will duplicate it instantly so that you can draw using that same color on paper or on your mobile device (using Scribble stylus). The pen holds more than 100,000 unique colors in its internal memory which means, it is able to reproduce over 16 million unique colors. Thanks to its color sensor and microprocessor, this pen detects the color you choose and automatically mixes the required ink to re-create the same color. The pen looks like just ordinary pen, you can carry it in your pocket or purse, it's really easy to use.
Designers : Mark Barker and Robert Hoffman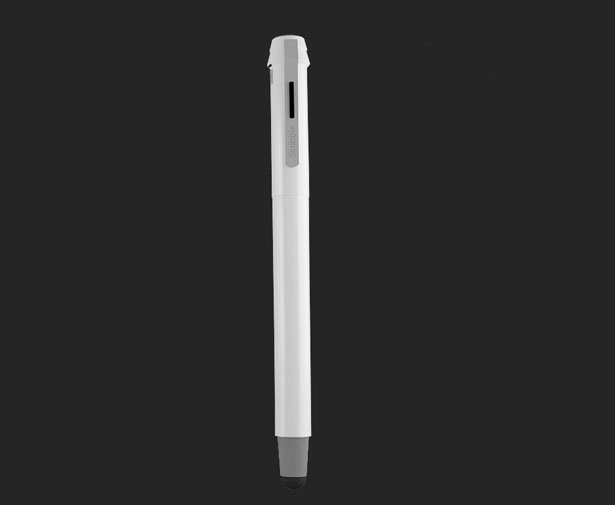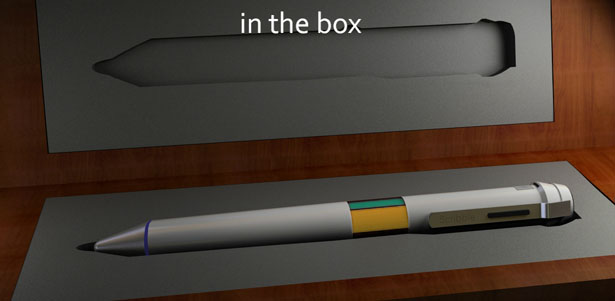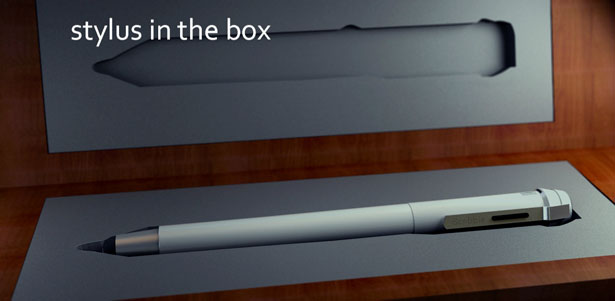 ---
Due Kettle has been designed according to Design for All principles and is suitable for general usage while it includes elderly and disabled users. With its contemporary and simplistic lines, it fits to modern kitchens. The design offers flexibility and ease of use with its twin handles used together or split. Unlike conventional kettles that hardens wrists while carrying and pouring, two handed usage enables a better use. Besides, instead of spring-mechanism lids that require finger dexterity, press-open lid is used with a decline on surface to use tactile senses as well.
Kettle, one of the most used kitchen appliances, creates difficulty for elderly or weak-wrist users while holding and pouring with its full weight. Due Kettle solves this problem by split handles that can be turned around to enable dual hand use. It is a user friendly design with a push-open lid.
Metal and plastics are intended to be used, suitable materials can be preferred such as stainless steel, inox, PP or ABS. Product is shaped using metal processing techniques such as spinning or pressing and for plastic parts injection molding can be used.
Designer : Nur Yıldırım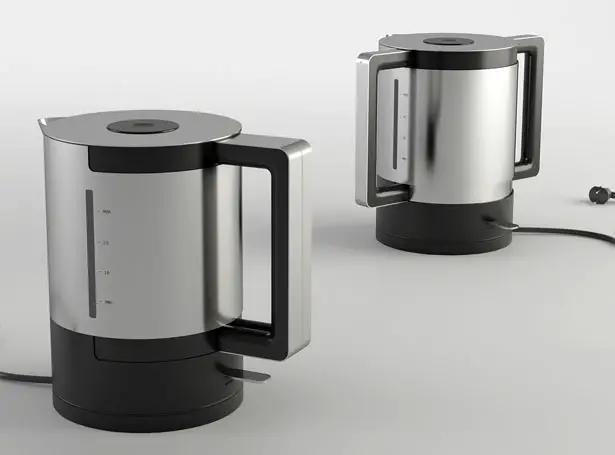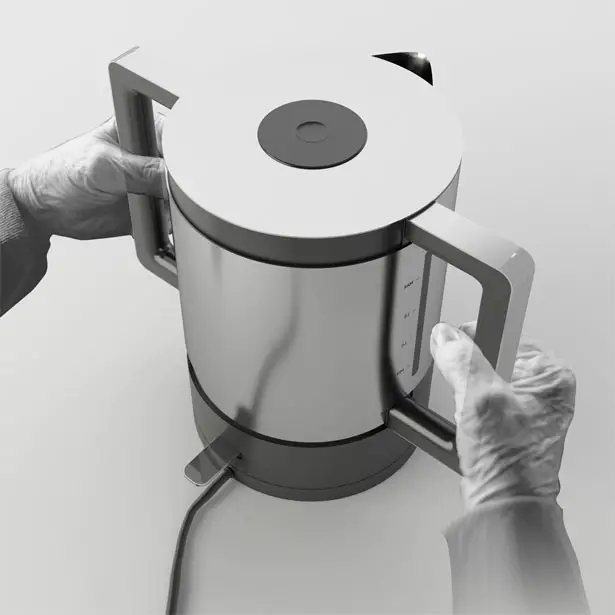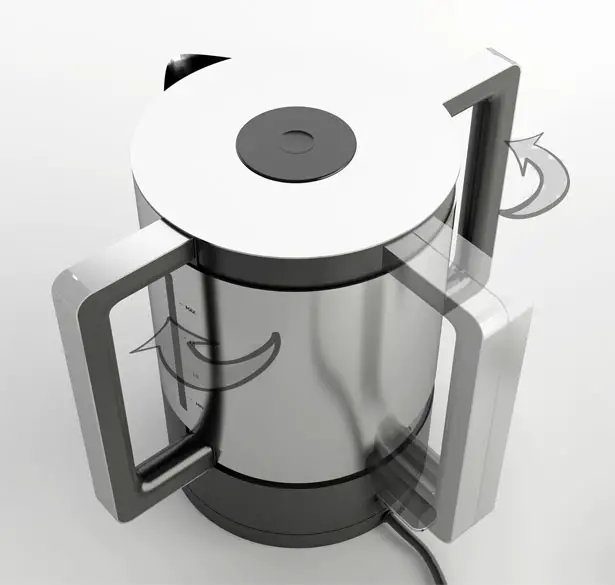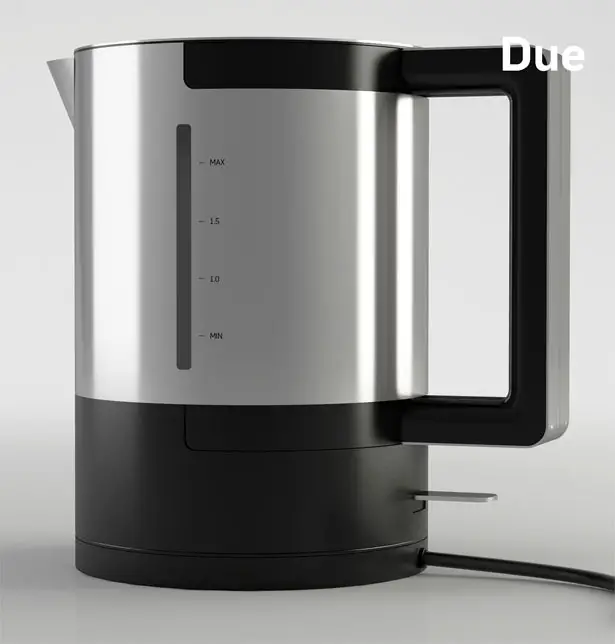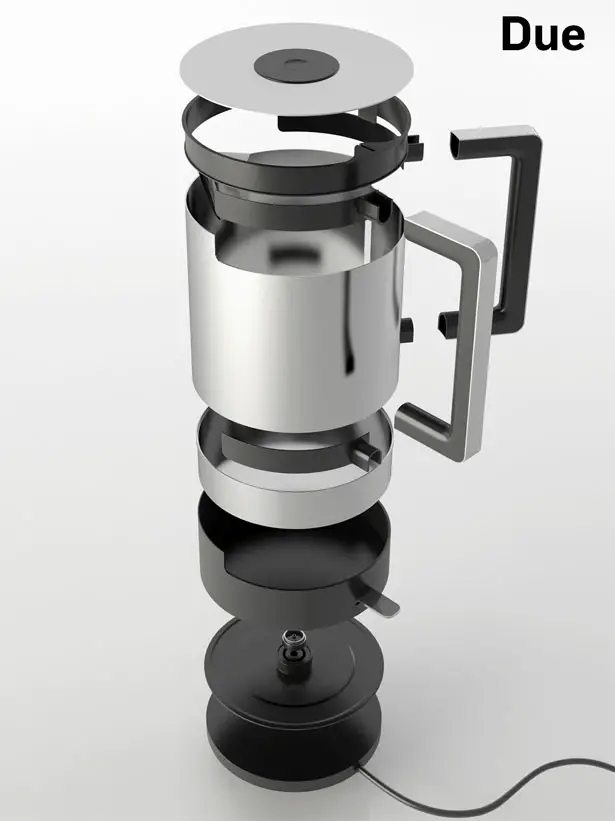 Tuvie has received "Due Kettle" project from our 'Submit A Design' feature, where we welcome our readers to submit their design/concept for publication.
---