Do you love enjoying the warmth of the sun while driving? Well, you would love Neue Klasse concept car that boasts semi-transparent roof and body. Designed by Ying Hern Pow, Singaporean industrial designer, this concept car features unique characteristics and radical proportions by combining elements of a coupe and shooting brake. The main objective from this radical design is not only to suggest a new concept of cabin setup but also a new segment concept that can be adopted by a wide variety of car body styles such as a premium sedan or a city car to enhance your driving experience.
Neue Klasse concept car has less than 1.6-meters height but offers generous length and width of 5.14-meter and 2-meter respectively. The wheelbase is 3.9-meter long and in order to balance the proportion and minimize the horizontality of the car, the designer has fitted big wheels like those used by Rolls Royce Phantom. Combined together with thick A-pillar in silver satin, this creates a better vertical visual flow to the side profile.
Designer : Ying Hern Pow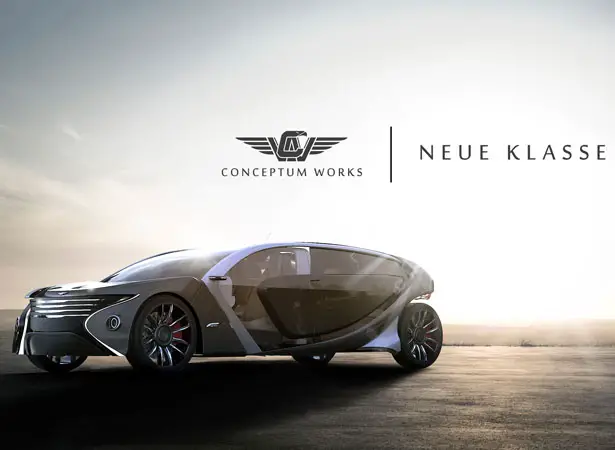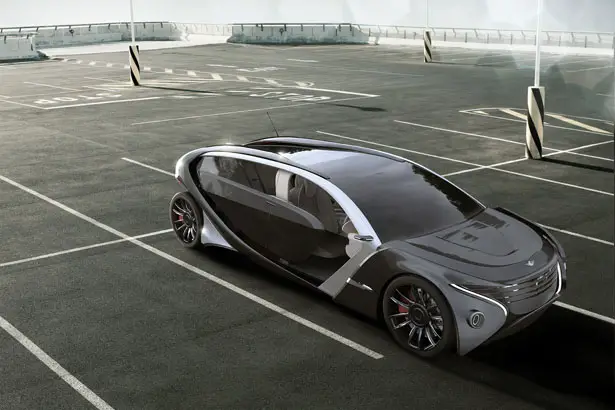 The flowing, dynamic profile of driving is defined by the hood and by the sweeping, accelerating curve that gives form to the windscreen and roofline silhouette, ending with a long, well integrated rear claddings, which reinforces the fastback effect.
Neue Klasse concept car side profile has an imposing 'D' bulge that defines the character of the car, this 'D' design cue can be felt in the interior of the car too. A unique triangular rear side skirt adds dynamism and the sculpted looks to the car, complemented by a chrome side fender located by the front wheels.
The styling was repeatedly hampered by Rhino's inability to sculpt more sophisticated form and surfaces. The repercussion was a good two months gone for trial and errors to achieve the desired looks and styling. Color choice was deemed to be challenging because it is crucial in getting the right feel. Gun metal grey is the mainstay of the color scheme as I believe that this color is what makes a car look futuristic and bring out its metallic surfaces.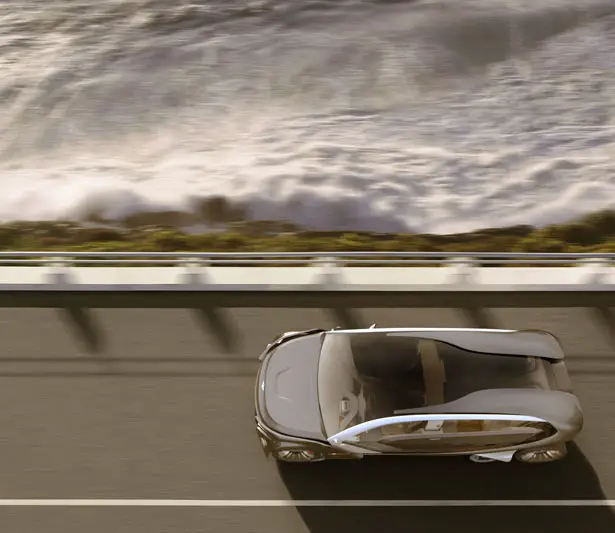 The main highlight of Neue Klasse concept car project is the interior. The interior has been designed to enhance social interaction between passengers, they will also find stress-free operating environment. Beautiful beige color scheme coupled with rosewood trims and burgundy accent definitely create luxurious cabin environment. Passengers are spoiled with good ergonomics seat and comfort, the "D" design language can be observed within the cabin of Neue Klasse.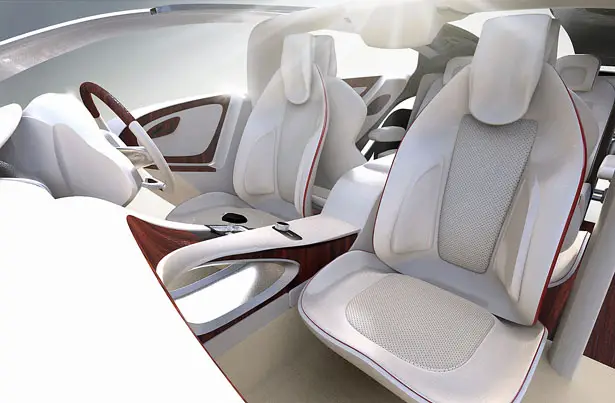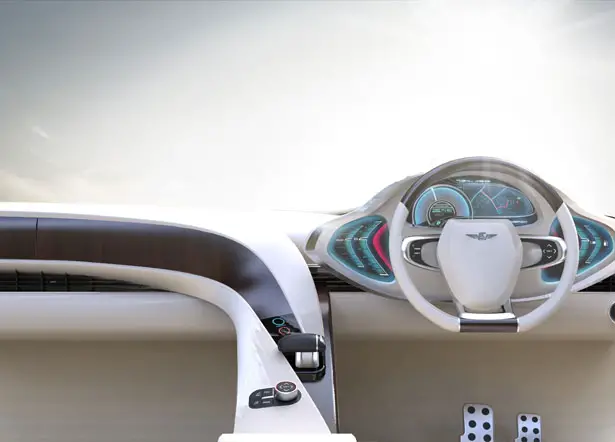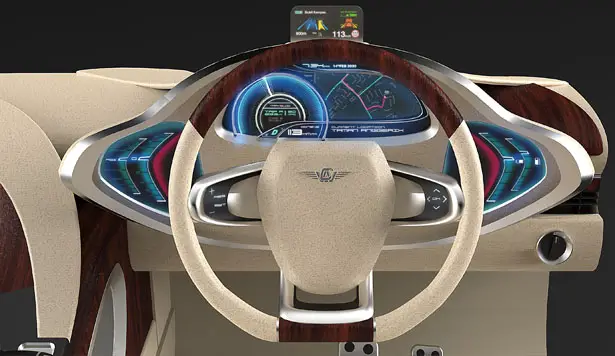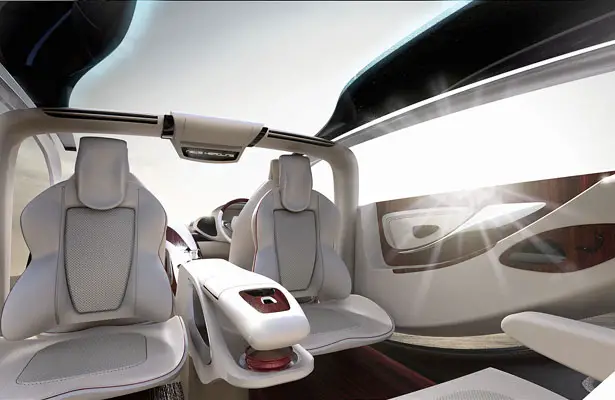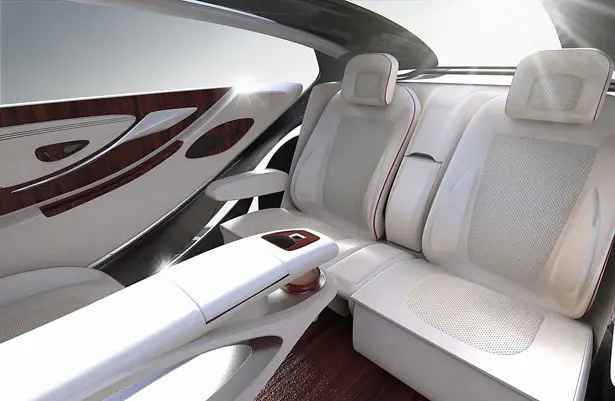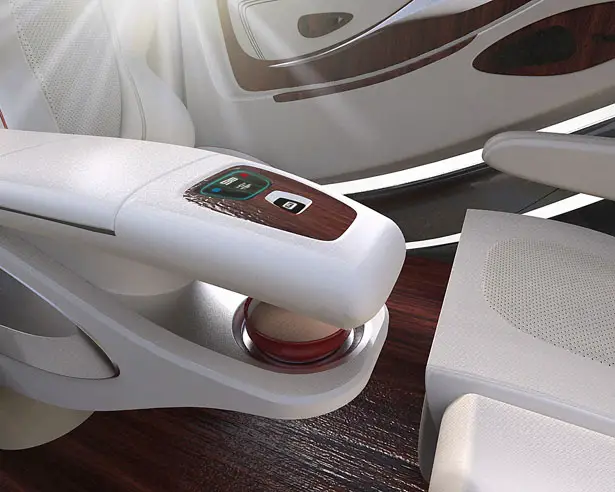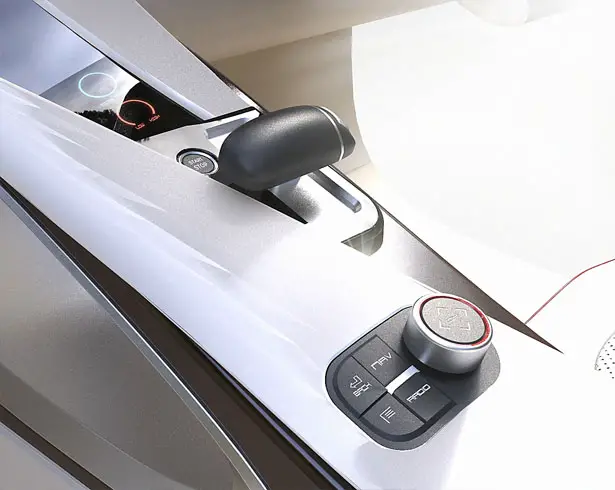 The area that took really long researches was the knee and legroom for both the second and third row of passengers, because the main objective was to avoid "knee-to-knee" experience within the cabin. The result was a good 500mm of legroom that can be shared among passengers, enough even for male occupants.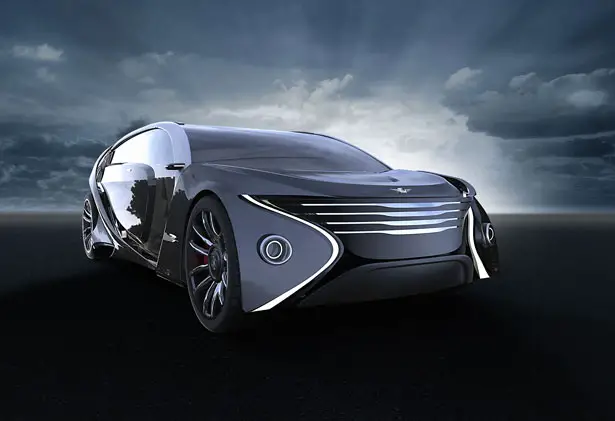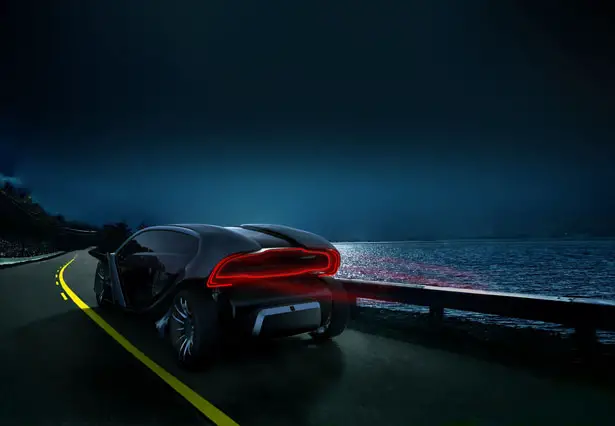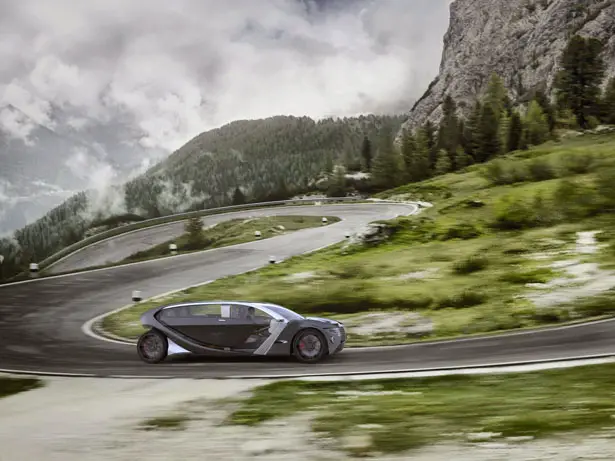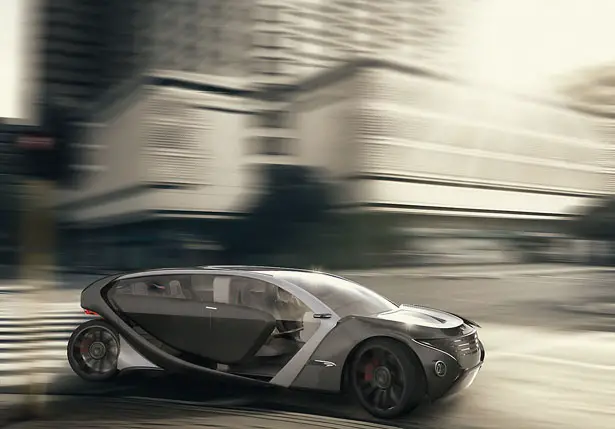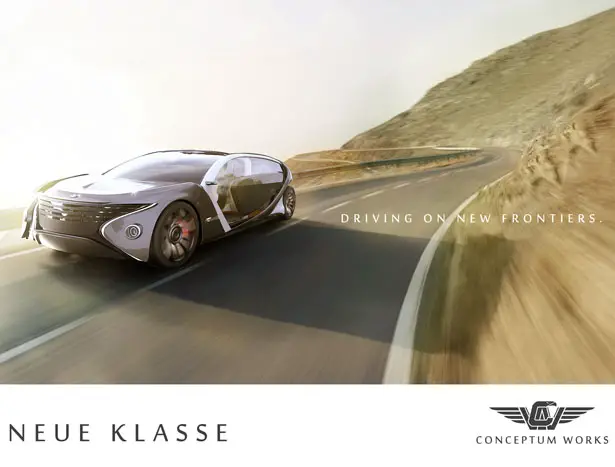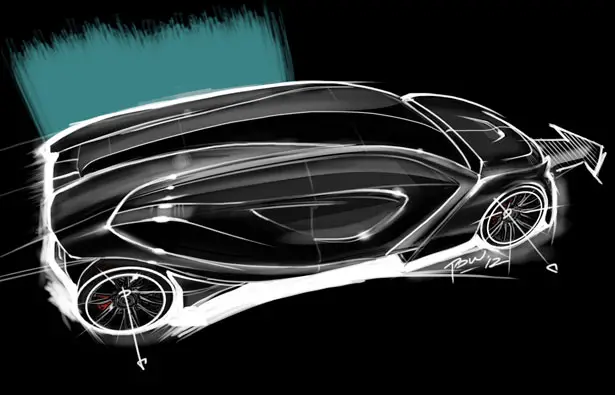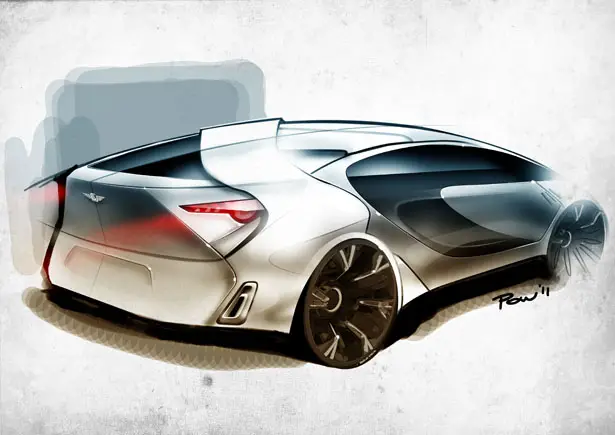 ---
Have you ever been tired when coming home from shopping? Have you ever cursed in the shopping mall because you didn't have enough room in your cart for everything you wanted to buy? Cry no more, the Z-Cart enables you to shop easy, calm and bring a smile on your face. The Z-Cart has been designed by Mete Mordag and he thought if you make a cart with different storage rooms, for different items it would make life easier for you. He also fitted a rechargeable scooter in the cart, which can be optionally integrated into the main body. This scooter allows you to drive the cart in the supermarket.
This scooter is equipped with stopping lights, brakes, a small digital display to show battery level and an accelerator fitted into the handle bars, just like on a real scooter. For a safe ride, the Z-Cart is fitted with infrared distance detectors in front and rear. The electric cart is intended for relaxed and rapid use, is designed this way, so the user is carried in a standing position. The supple design of the Z-Cart, has been carefully planned to fit different items. The main body, which can hold removable baskets and bags in different sizes, can be expanded when needed. If you don't use baskets on the basket hanger,which is fitted on the top part of the cart, you can use it to hang plastic or paper bags. The features and multiple possibilities of expanding the cart, make the Z-Cart a reliable friend when going shopping.
Designer : Mete A. Mordag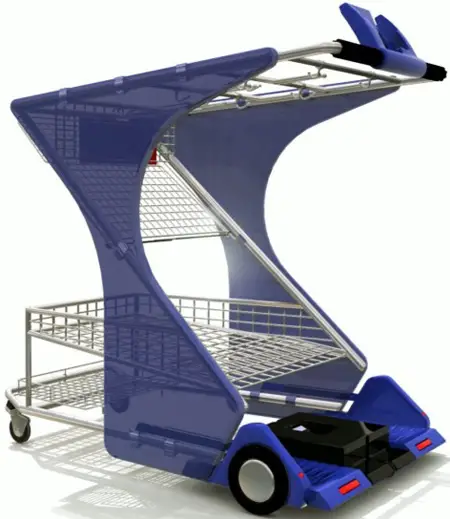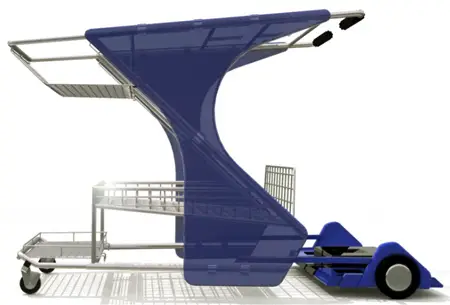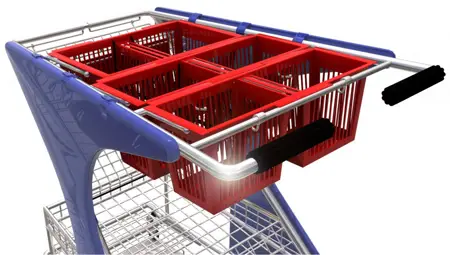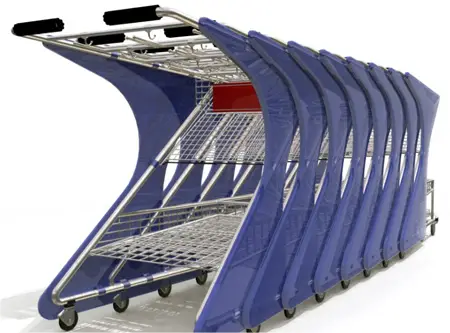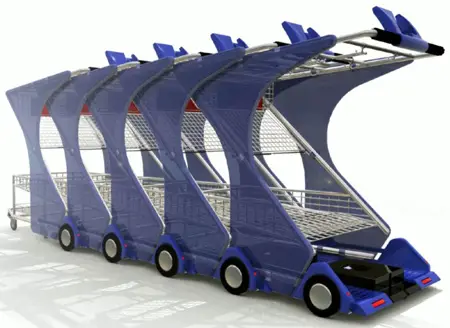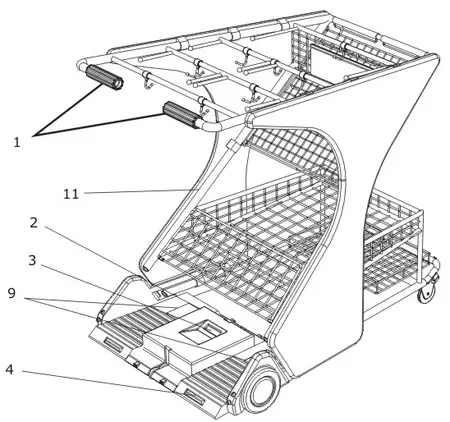 ---
Limited Edition LeDIX Origine is the ultimate expression of contemporary elegance. LeDix Origine combines a pocket watch and mobile phone into a luxurious object that pushes the boundaries of imagination. It is made from polished and brushed grade 5 titanium discreetly enhanced by solid ebony wood inserts.
The classic dial features polished and brushed-finish Black Gold and proudly bears the °C of Celsius X VI II. It also has a visual "optical illusion" type surprise in store for observers, since when viewed from a different angle, the 0-3-9 indexes reveal three-dimensional numerals.
The timeless keypad is made of 21 keys and one single sapphire crystal plate. It is available in Latin, Arabic, Chinese or Cyrillic.
Designer : Celcius X VI II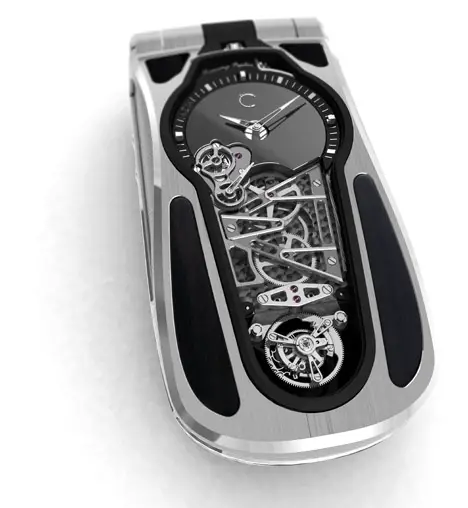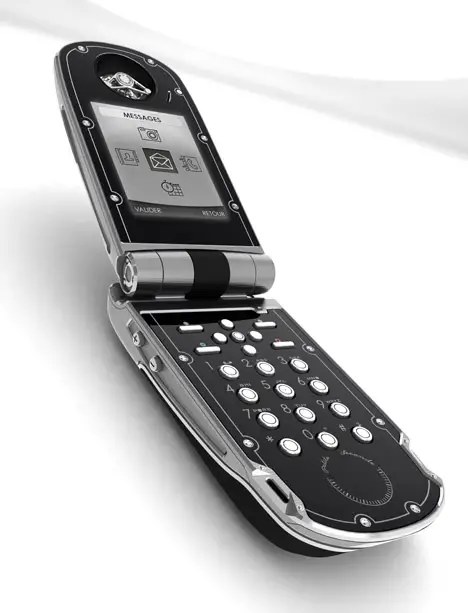 [Press Release]
Whilst communicating has become a detached commodity induced by the transformation of the traditional pen and paper into disposable computers and phones, Celsius X VI II innovates to create functional "Objets d'Art" that bring emotions back to communication.
Like a butterfly spreading its wings, LeDIX, the first creation from Celsius X VI II, has taken flight after four years of research and development. Is it a pocketphone-watch or a watch cell phone? It is above all a resolutely novel nomadic object that pushes the boundaries of imagination.
At first glance, LeDIX is a clamshell cell phone with an integrated tourbillon watch. As streamlined as a sports car, this aerodynamic creation is made from polished and brushed grade 5 titanium discreetly enhanced by inserts. It is the ultimate expression of contemporary elegance. The exclusive mechanical movement, developed under the technical supervision of Celsius X VI II, has what it takes to appeal to the most demanding watchmaking connoisseurs: a flying tourbillon equipped with exclusive shock-absorbers and more offset than any existing model; a modern design focusing on transparency; as well as fine watch finishing and decoration. The stage setting chosen for this movement ensures peerless visibility and aesthetic elegance.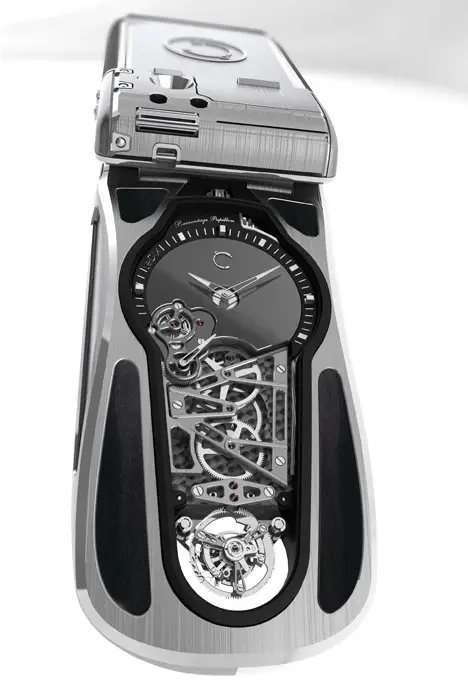 When LeDIX opens its wings, an attentive listener perceives a gentle noise that micromechanical devotees are sure to appreciate. It comes from the patented winding system of its horological component. Housed within the hinge, this Remontage Papillon (Butterfly Winding) is activated with each opening, thereby adding three hours of power reserve to the total 100 hours – a major innovation that elevates this nomadic object to an extraordinary, fusional dimension. This state-of-the-art communication device comprises a range of features that take micromechanics well beyond its usual boundaries, including: a mechanical battery-ejection system; a main connector protected by a mechanical-locking flap; and screen-flap closing cushioned by a set of spring-mounted ball bearings.
The electronic communication platform combines high performance with extreme reliability. Designed in collaboration with renowned French company, recognised as a global benchmark in the field of customised connected lifestyle devices, it embodies the most demanding quality standards. Its interface, which deliberately focuses on the essential mobile functions, makes LeDIX the ultimate personal phone, specifically designed for the pleasure of escaping from daily routine. This approach targeting durability, quality and simplicity involved a number of challenges, such as handling interferences with the moving watch components, or with the metal casing – itself a token of nobility and superior resistance. The fusion of haute horologerie with the world of mobile technology led to some innovative features, such as the mechanical whisper of time constantly accompanying every communication.
This revolutionary object comes complete with its very own ecosystem of accessories. "LeKit": the no-hands kit secured by a tie-pin style clip, "LaBase": the docking station. "LaChaîne", the innovative chain system, and "LeCoffret": the presentation box. They've been all devised and designed by Celsius X VI II. They are crafted in noble materials and equipped with mechanical components reflecting the brand's fundamental concept. Leather items, such as "LeHolster": the holster-type pouch, are made from top-quality hand-sewn hides. LeDix and its ecosystem herald a new and prestigious mechanical world…
LeDIX is available in two limited editions:
LeDIX Origine, limited edition of 18 in grade 5 titanium with ebony inserts
LeDIX Véloce, limited edition of 28 in black PVD-treated titanium with carbon fibre inserts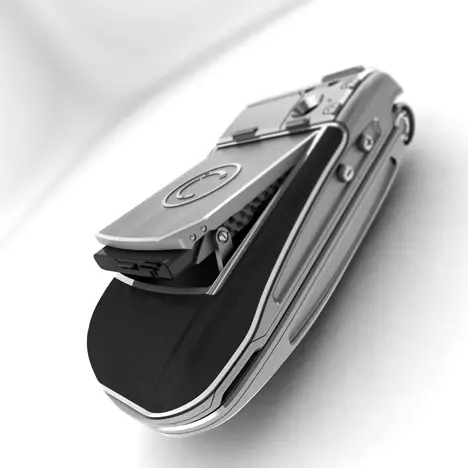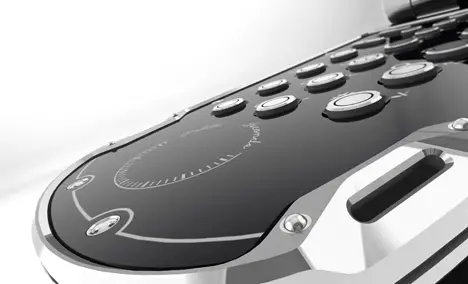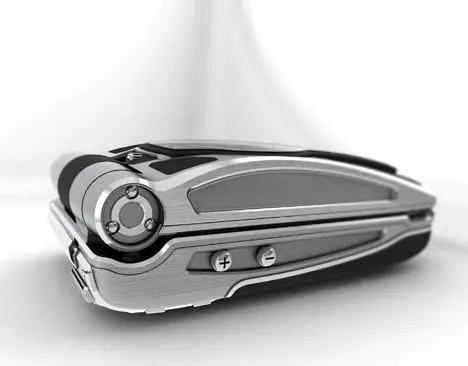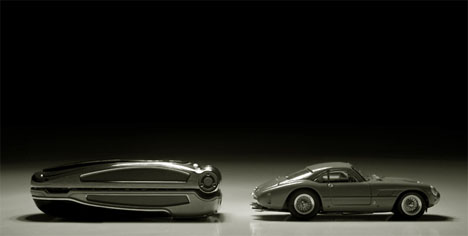 ---