Do you like taking selfies? Duo camera concept would take natural portrait of you, it's engaging and it offers new self photo-taking experience. Basically this project consists of 2 detachable camera with synchronized triggers, so when one of the triggers is pushed by either party, both cameras would take pictures simultaneously and the result can be seen at the bottom the screens. In this way, other people can also engage in these self-images, this is a great idea as some people don't feel comfortable being photographed or taking self images. At the same time, you can be both the photographer and the subject, documenting and being documented would be much more fun. Everyone can be included in the picture here, there's no need to exclude anyone just because this person is the one who takes the photo in an event.
Designer : Chin-Wei Liao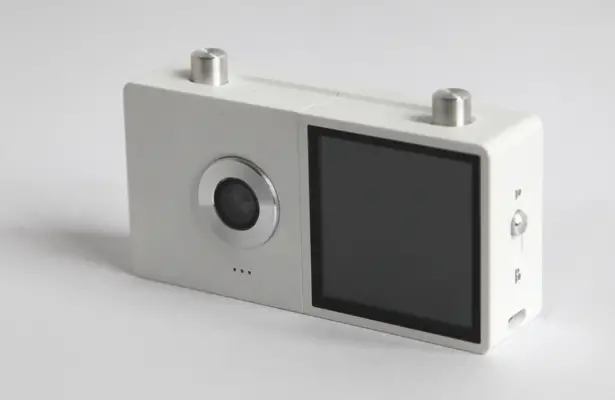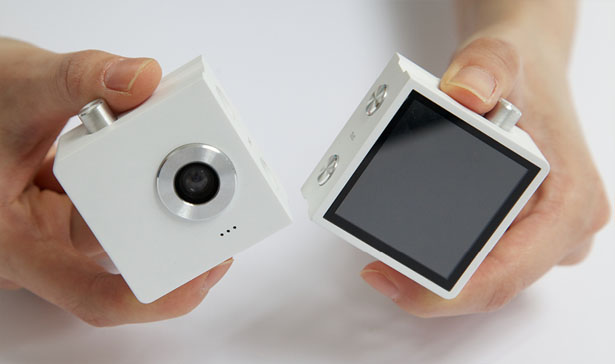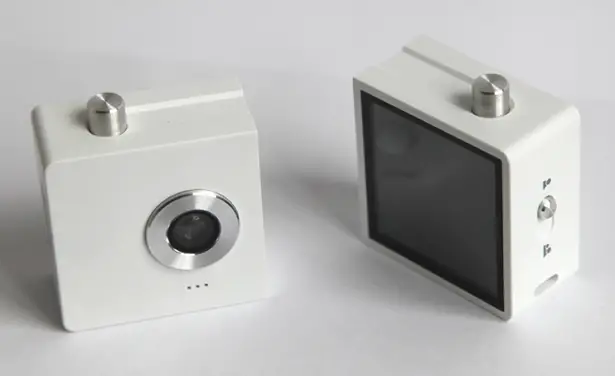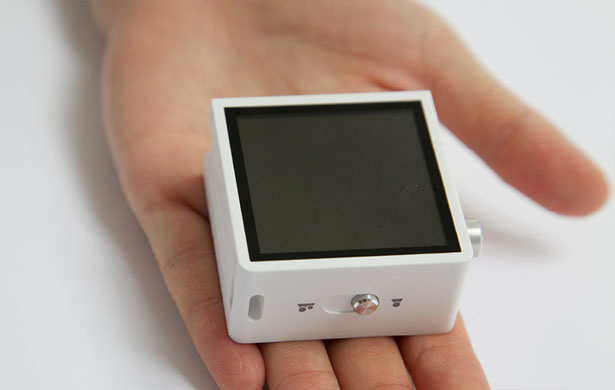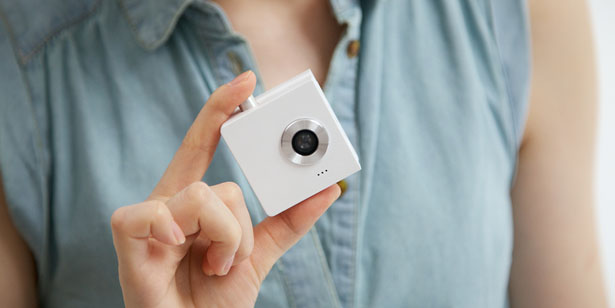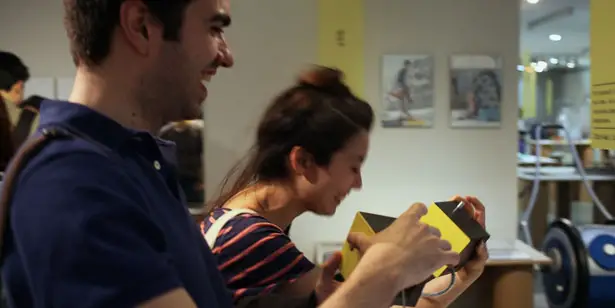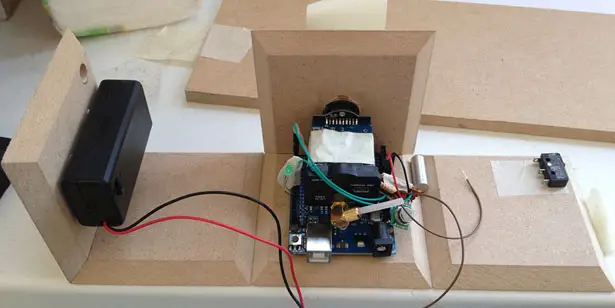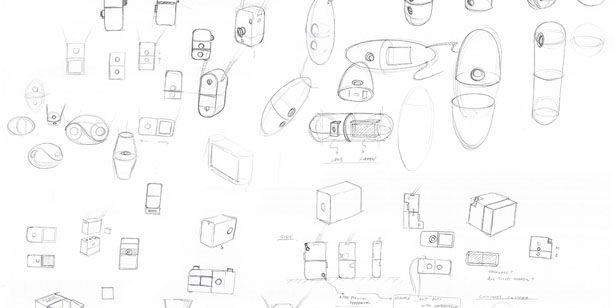 ---
Who wouldn't agree, that the increased use of digital media hasn't contributed at all to a visible reduction in daily paper consumption? To the contrary, the increased use of personal computers and printers from the 1970s up to today's heavy use of PCs, smartphones and tablets linked to printers has caused a sevenfold paper consumption. Take alone Germany, where during 2004 in the range of up to 800.000 tons of paper for administrative purposes were used. This piles up to a 16,000 km paper tower, assuming 80g/m² paper weight. Imagine, the international space station ISS would pass by such a paper tower at a base level of 400 km during its orbital journey.
When does the paperless era start?
In order to introduce the paperless era, we need first a simple and intuitive means to translate analog papers easily into digital formats. Current available solutions for digitizing are associated with a rather complex and painful experience for the user. As a result, handling of a physical folder is still more intuitive and faster than the user experience in current digital systems. Although, filing, storage and retrieval of paper documents within folders has proven to be effective, it has to be said, that this paper-based process does require an underlying process of discipline and self-structuring.
So, the problem is not the availability of fit-for-purpose technology, but rather the fact, that the needs of consumers are not fully understood. Traditional suppliers of products serving the transition of analog to digital document formats are looking first of all for stepwise incremental technological improvements. They neither question the general product concept nor do they focus on a basic redesign of the customer's product handling experience.
Based on this assessment, industrial designer Christoph Ptok and Entwurfreich initiated a cooperation to explore, how an innovative process for digitizing and maintaining print media could look like.
How to simplify the process of digitizing?
How to support optimally the transition from analog to digital media?
Introducing : INBOX
INBOX is a concept for the 21st century impacting the transition from analog to digital universe. The combination of scanner, storage box and app-based interface enables a simple process of document management.
Designer : Christoph Ptok
In cooperation with ENTWURFREICH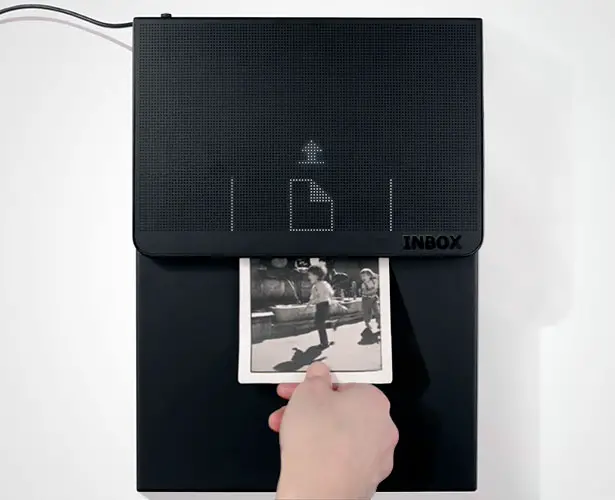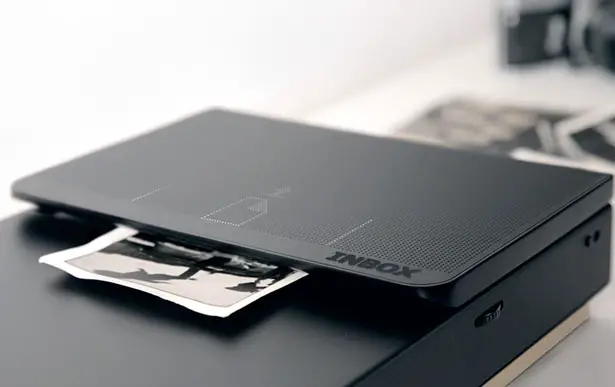 Filing
Documents of different formats are scanned in – within seconds, without involving a separate PC and without paying attention to all possible settings in a complex software.
Storage
An integrated and exchangeable box serves as an immediate storage for all scanned paper documents. A digital copy passes an optical character recognition delivering a searchable document that is saved on a protected server.
Organizing
A tailor-made app allows for automated filtering and thereby provides easy retrieval and maintenance of all scanned documents.
INBOX gives evidence to the fact that innovation is possible in static and stagnating markets. A thorough analysis of the application scenario, questioning of existing product concepts and reduction to key customer needs allows for a new stimulus in a product category, being on the process side without major innovation for years.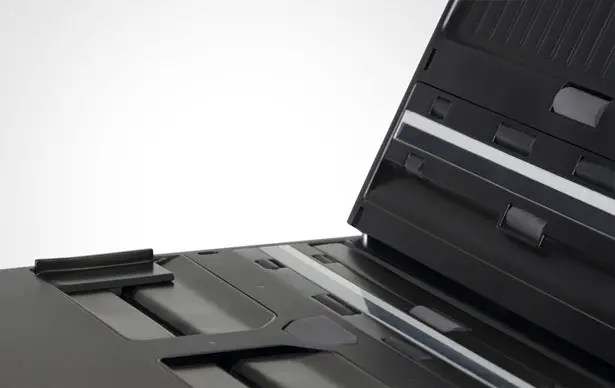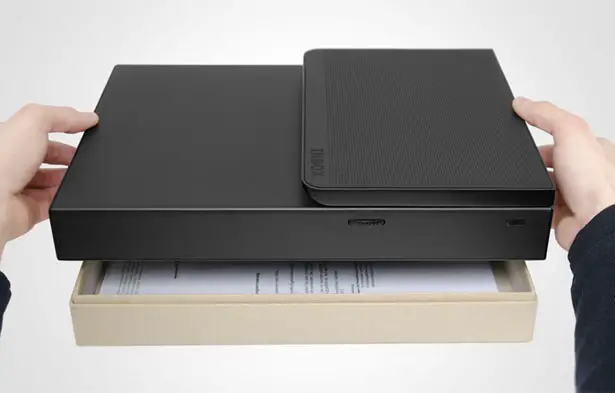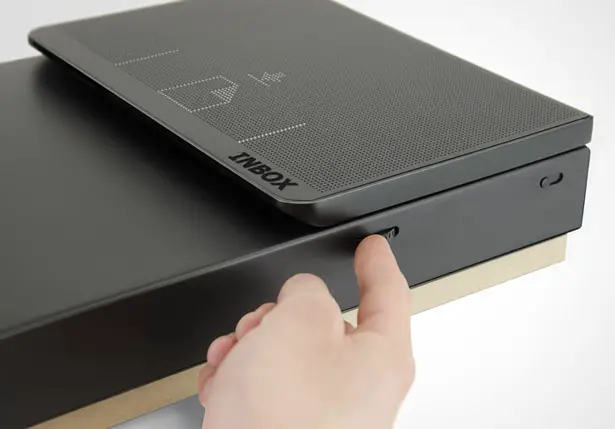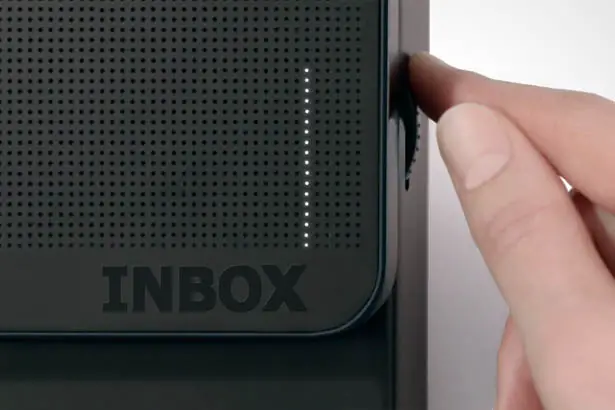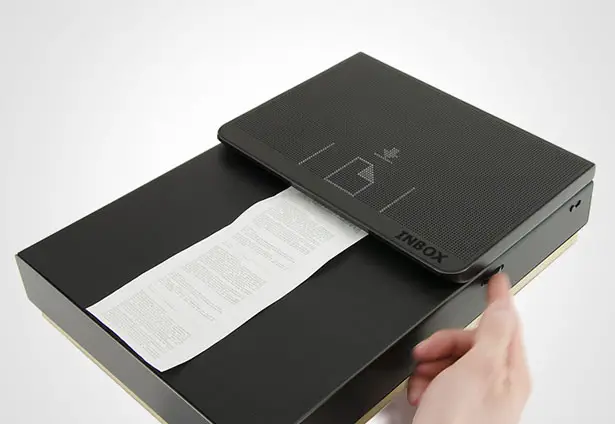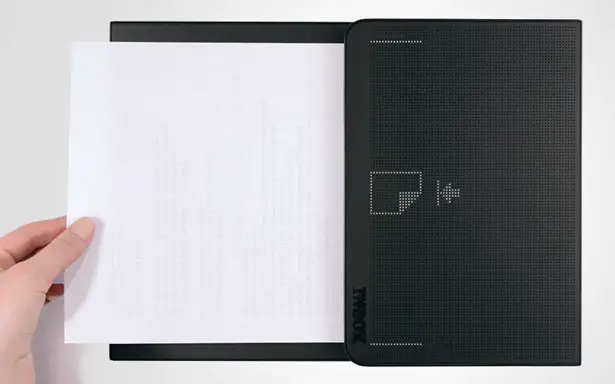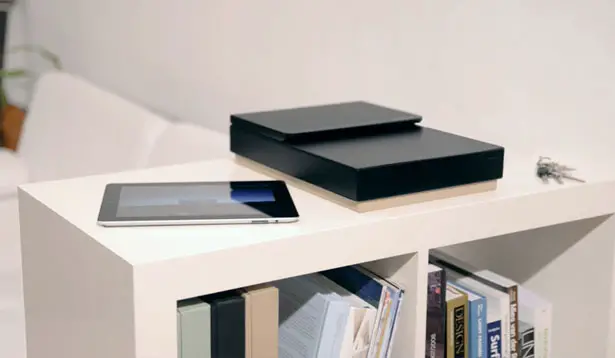 Tuvie has received "INBOX Digitize and Manage Paper Documents" project from our 'Submit A Design' feature, where we welcome our readers to submit their design/concept for publication.
---
Avery Holleman has developed a PC design that can turn out to be a very useful tool on your conference tables. Named as Napkin PC, the design resembles a Napkin holder, which combines multiple touch screen devices within a collaborative network. The digital pens which are a part of the device allow the users to draw on the touch screens what you would do with a pen on a napkin. As per the designer, the reason for creating the concept was to enable users to interact with any number of interfaces connected in the same network. Of course this is one napkin wherein one won't feel embarrassed keeping notes. We already discussed some of Next Gen PC Design finalists, such as : Siafu PC Design, Zen PC, Yuno, Momenta Neck PC, The Cup, CLEF and TRVL, and the winner goes to Napkin PC Concept, congratulation Avery!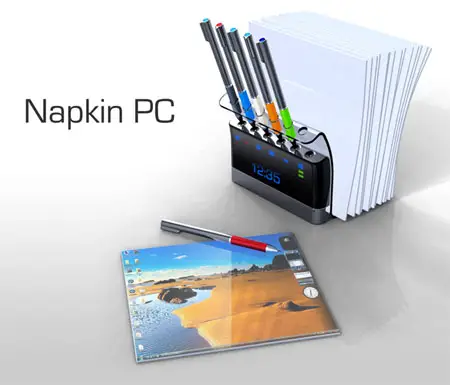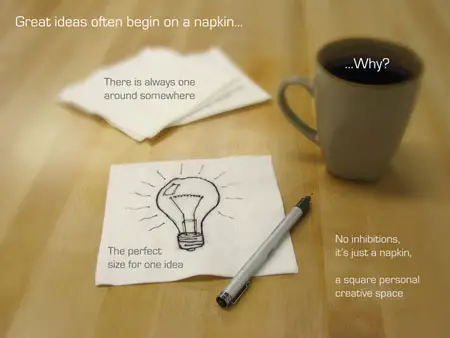 From the website :
Passion
The Napkin PC aims to bring out the creative passion of the user both individually and in group sessions. It encourages spreading out and allows for multiple creative workflows that can interact or just as easily stay independent. It encourages group interaction and collaboration by allowing any number of interfaces that can be passed around or pinned up, but which all communicate with a central network.
Users' Culture & Lifestyle
The primary users are creative professionals including those in any field of design, but also expanding to include business and marketing professionals who use creative thinking to come up with business plans or marketing campaigns.
Their primary need is to have a simple system to help keep their creativity moving and maintain good collaborative communication. They want to drink a cup of coffee, pick up a pen and let their creativity flow, without having to sit down later to actually document and organize the information later.
The Napkin PC is a continuously additive system, where each new idea is already documented and organized with references and connections to related ideas. In addition each Napkin interface is an instant portal to the entire network giving quick and easy access and sharing of ideas and reference material.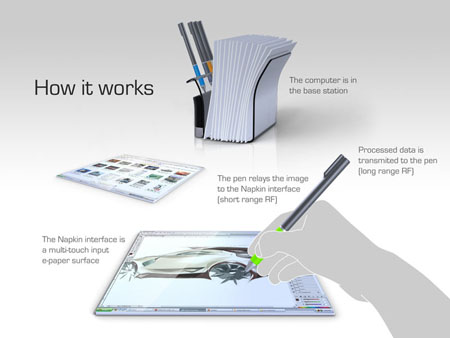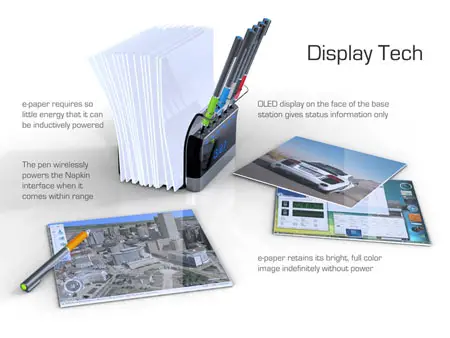 Market Viability
The design appeals to business professionals. It is ideal for work groups of around 6 people (a typical brainstorming meeting) although the system is easily expandable for larger business.
The viable markets are any business that works with creative professionals. Any company that relies on brainstorming and group collaboration would benefit from using a Napkin PC.
A secondary market is creative professionals who work alone or in smaller groups, but who want the same ability to spread out and use multiple workflows.
Size
See page titled "Dimensions"
Napkin interface: 180mm x 180mm x 2mm
Pen stylus: 140mm x 9mm x 10mm
Base station: 160mm x 150mm x 150mm
Mobile station: 45mm x 36mm x 15 mm
Overview of Design
The Napkin PC is innovative because of its multi-flexibility. It can have multiple users, multiple interfaces, and multiple configurations. It breaks the PC down to only the interface— a pen and a space— and then gives you a multitude of both so you can let your creativity run wild.
User & Context
The users are creative professionals who work in collaborative groups. The PC is designed to be used for brainstorming, ideation, meetings, think tanks, etc. — anywhere where creativity is the driving force.
Scenarios of Use
There are two new usage scenarios delivered by the PC. First is the brainstorming workflow. Creativity that normally starts on paper and whiteboards goes instead directly into the PC without the user changing their behavior. This creativity is richer because of the innumerable software tools and resources available on every Napkin interface. It can also be shared, compiled, and compared instantly for a smooth, speedy workflow.
The second scenario is a replacement for printing. Instead of ever putting ink on paper, the interfaces themselves instantly become "prints" when power is removed. They would then be used just like a print, pinned up, handed around, reviewed, etc. When the print is no longer needed the interface is simply returned to the base station as a fresh Napkin.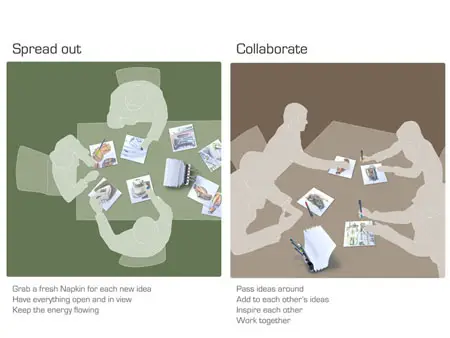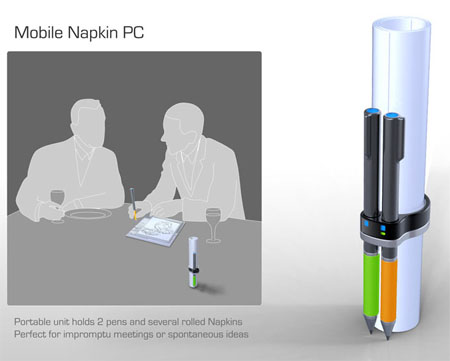 User Interface
The interface consists of any number of Napkins and one of the Pens. When powered by the Pen, the Napkin is a multi-touch input display which responds to human touch as well as the Pen. The intuitive use of a pen and paper is exploited by the design, making it very easy to use. Also the ability to work on multiple interfaces in parallel, instead of shuffling through windows on a single interface, makes multitasking much easier.
Aesthetics
The Base station is designed to interact like a napkin holder. The user can grab an interface from the stack in the middle of the table. The computer itself is somewhat hidden in the Napkin holder, its only reminder being the OLED status display on the front. The user only really interacts with the Napkins and the Pens. This helps them maintain hands-on, creative freedom. The square Napkin form is used because it is modular, but also because it conveys the idea of being one of many. This helps the user stay relaxed and open minded because less importance is put on a single interface.
Technical Aspects
The key technologies are full color e-Paper, multi-touch input, Inductive power circuits, and high speed RF wireless connections. The e-Paper is key because of its low power consumption, thinness and flexibility, and ability to retain an image without power. Multi-touch is simply the future of intuitive input that makes the PC fun, fast, and easy to use. The inductive power circuits are crucial because they allow wireless power transfer and make the interface Napkin simple and inexpensive enough to be used in large numbers. High speed RF continues to keep everything wireless and intuitively seamless.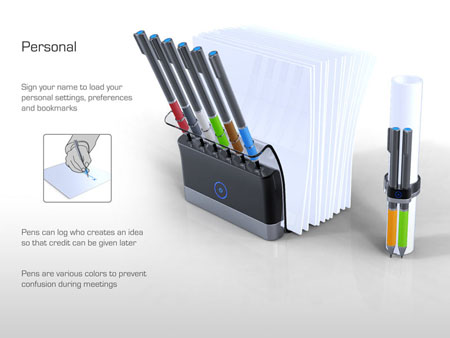 Ecology
The environmental sustainability of the PC is most innovative with the Napkin interface. It is the most numerous component and the one most likely to need replacing due to wear over a few years. Therefore it is beneficial to make it easy to recycle which is accomplished by powering it with an inductive circuit. This eliminates a hard-to-recycle internal battery.
The second, and likely more impactful, innovation is the use of the interface as an instant "print." This eliminates the need for printers, paper, and ink, which are used in large amounts during the creative process.
Manufacturability
The focus of the design is really in the interface – the Napkin and the Pen. Both have very limited actual function because they only relay information between the user and the base station. The Napkins are manufactured by adhering the layers of touch input, display, and power/communication circuit, between a protective plastic cover. The pens have a similar induction circuit and communication antenna set up along with a rechargeable battery to send power to the interface. The Base Station holds the actual PC, which is compact but powerful enough to handle multiple users.
Source : Next-Gen PC Design
---