The innovative wind and solar powered hybrid street lamp concept can not only produce light by using renewable energy, also it's a boost to an everyday object that can operate completely off-grid. This concept was derived from the effort of designers to create a more sustainable future that integrates a range of reusable energy technologies into everyday life objects. These lamps comprise a solar array connected with a wind turbine, and can produce up to 380W of power.
These wind/solar powered street lamps are fitted to locally made, usual galvanized steel poles and can be easily swapped with previous street lamps. The turbines can be either a horizontal axis wind turbine or a 2nd generation 300W vertical axis wind turbine. Two solar panels are mounted on the side of the pole that is capable of producing up to 80W of power.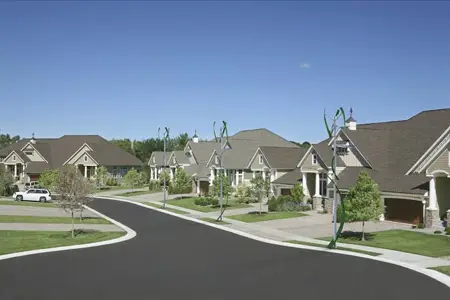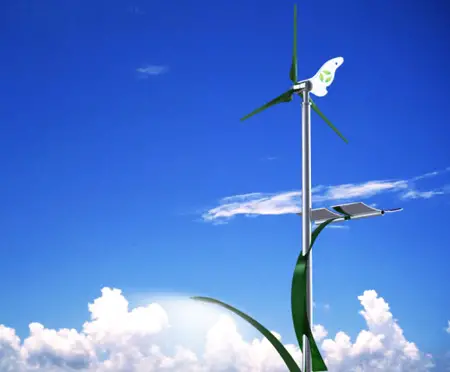 The lamps are able to produce the maximum power of 380W if the sun is shining and at the same time the wind are blowing as well. It will save the excess generated energy in a battery that will supply the required power to lighten the high efficient LEDs all through the night. Since not every location and project is not the same, the designers have focused on the components – the LED lights, wind turbine, solar panels, battery storage and tower height are all can be easily balanced to fit best in a particular project.
The hybrid LED lamps looks like a commissioned art piece instead of the traditional industrial looking street lamps and the decorations on the pole can be customized as per the buyer's requirement. This project surely will help the streets becoming self sufficient with street lamps that can generate the power they require.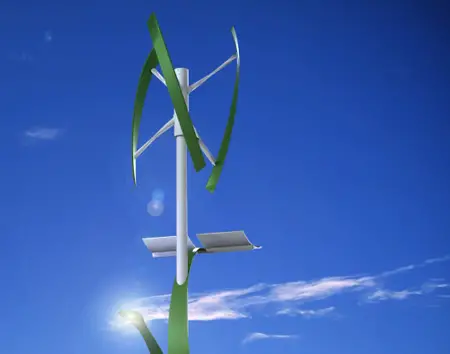 Designer : Urban Energy via Inhabitat
*Some of our stories include affiliate links. If you buy something through one of these links, we may earn an affiliate commission.