Wacaco sent us their latest portable espresso machine for a review, it's Picopresso. At first sight, the packaging black box looked elegant, the weight felt just right, not too light or too heavy. The exterior design features a photograph of an overly-tattooed arm holding Picopresso that's dripping the espresso. There's also Wacaco's brand named and the word "Picopresso" in metallic silver. It sends a message that this is a premium product crafted to satisfy your need of a delicious espresso wherever you are. Wacaco promises travel-friendly espresso machine with a double-shot filter basket and integrated coffee tools, therefore, it allows you to make two single-shot drinks at once.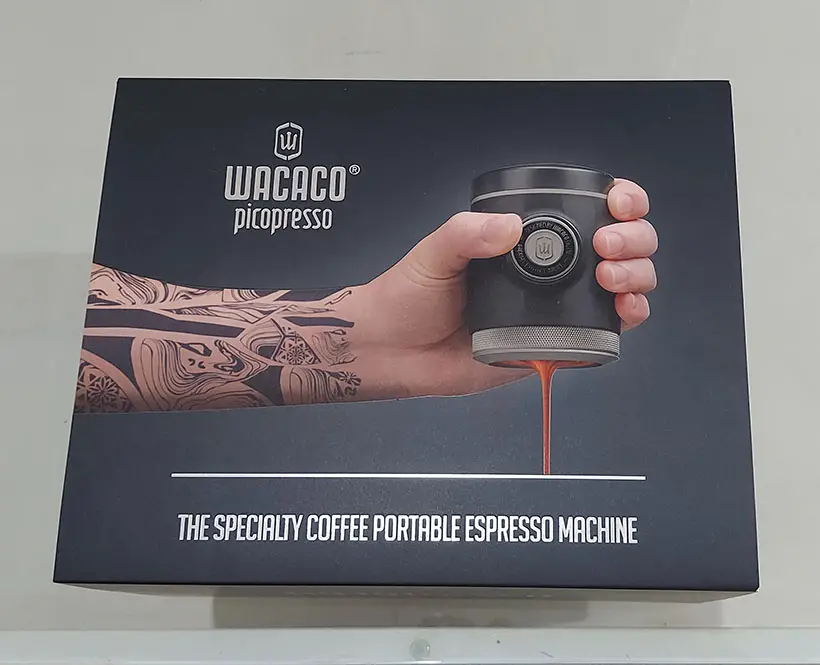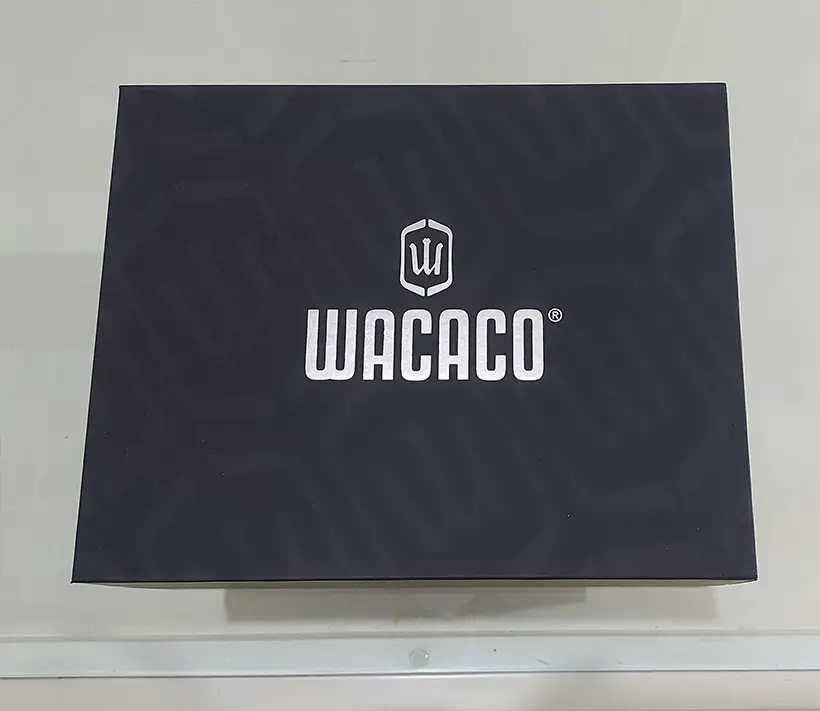 Claimed to be the most travel-friendly espresso machine, we could see why upon opening the box. After removing the top part of the box, we saw an instruction booklet, Picopresso, tamper, a distribution pin, a funnel ring, and a black faux leather carrying case. Everything's nestled perfectly inside its polyurethane foam box.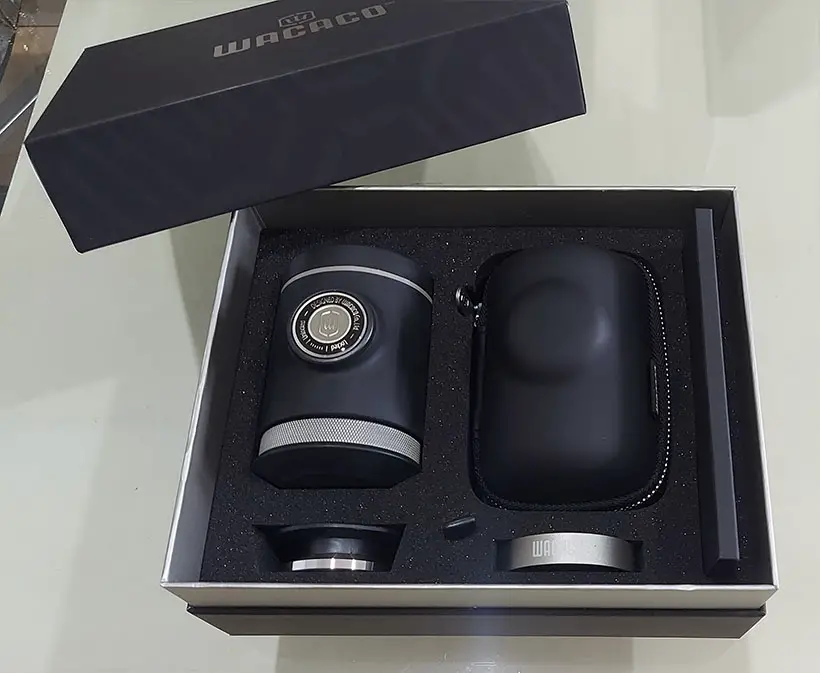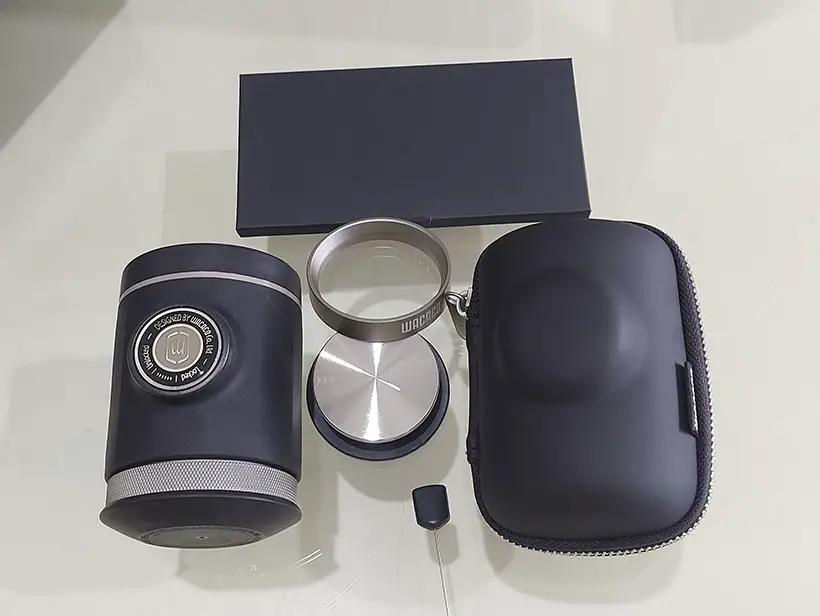 Upon checking each item for this set, there's a little rattle inside Picopresso. We started to disassemble it by removing water reservoir lid on the top, portafilter chamber on the bottom. We found a cleaning brush inside the water reservoir and found a folding, black plastic scoop inside portafilter chamber.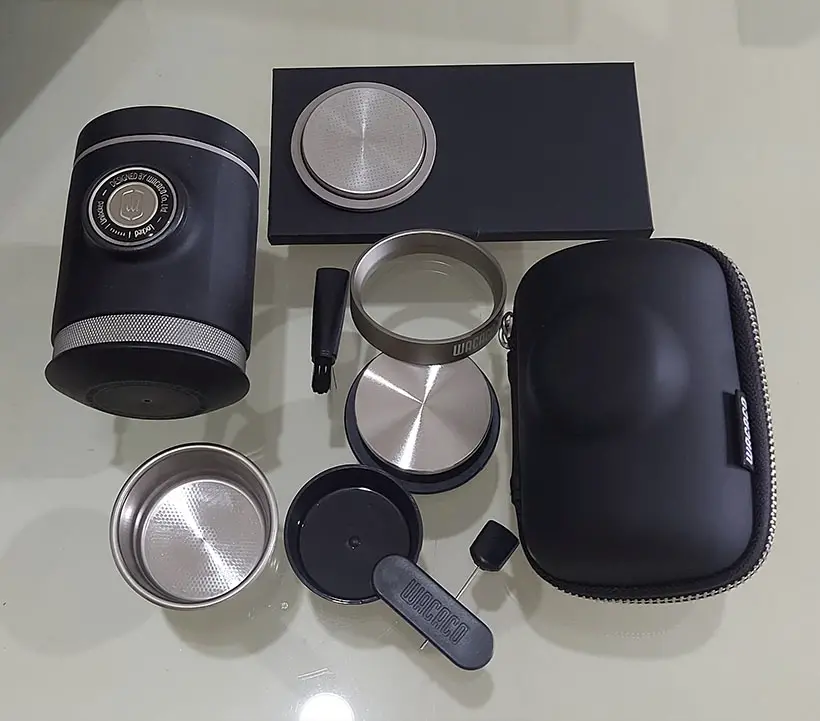 Tiny yet surprising, Wacaco Picopresso wants you to go back to basic when making espresso through ground coffee powder. At first, you might need to do some trials and errors to find the ideal espresso grind that works with Picopresso, but once you find it, this espresso maker is able to deliver amazing full-bodied espresso with a rich crema. Ultra-find grind would make it hard to push the hand-powered piston, yet too course would just make water flow through and result in weak espresso shot. So it can be a bit tricky to get the result that Wacaco promises you, but the moment you find the perfect formula, forcing that hot water through ground coffee powder creates dark shot swirled with a caramel-colored foam or crema. Your coffee will be bold and full with intense aroma.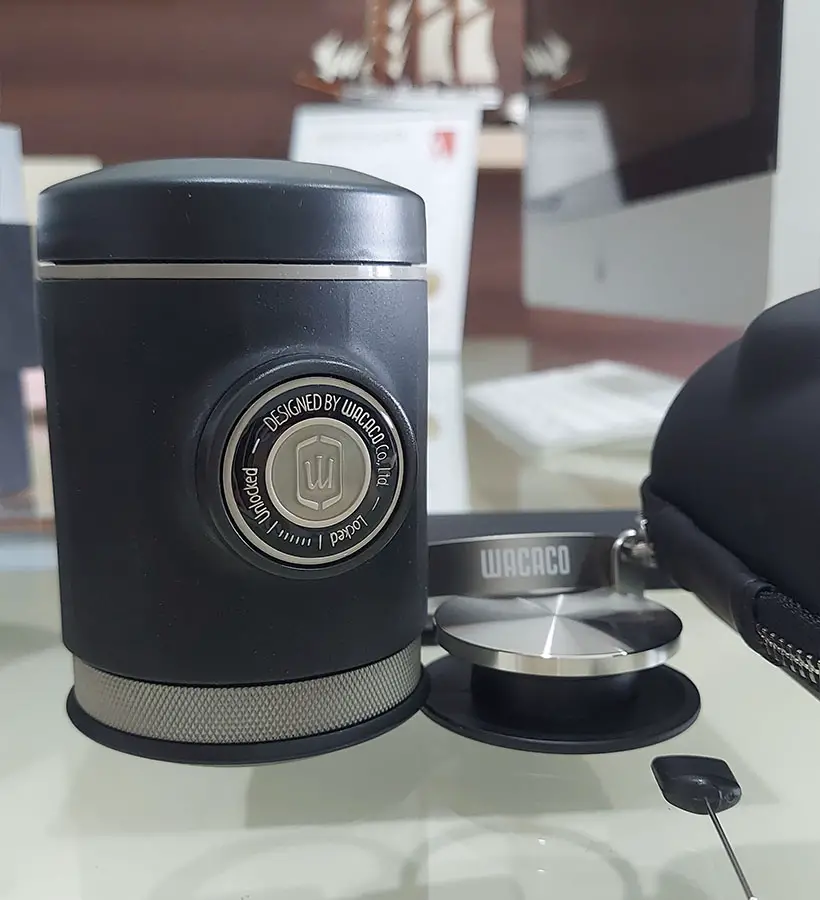 Each tool has been designed to allow you replicate commercial coffee-making process but on a smaller scale. In case you don't have a clue what to do, the instruction booklet housed in an all black envelope would tell you what to do through a friendly diagram.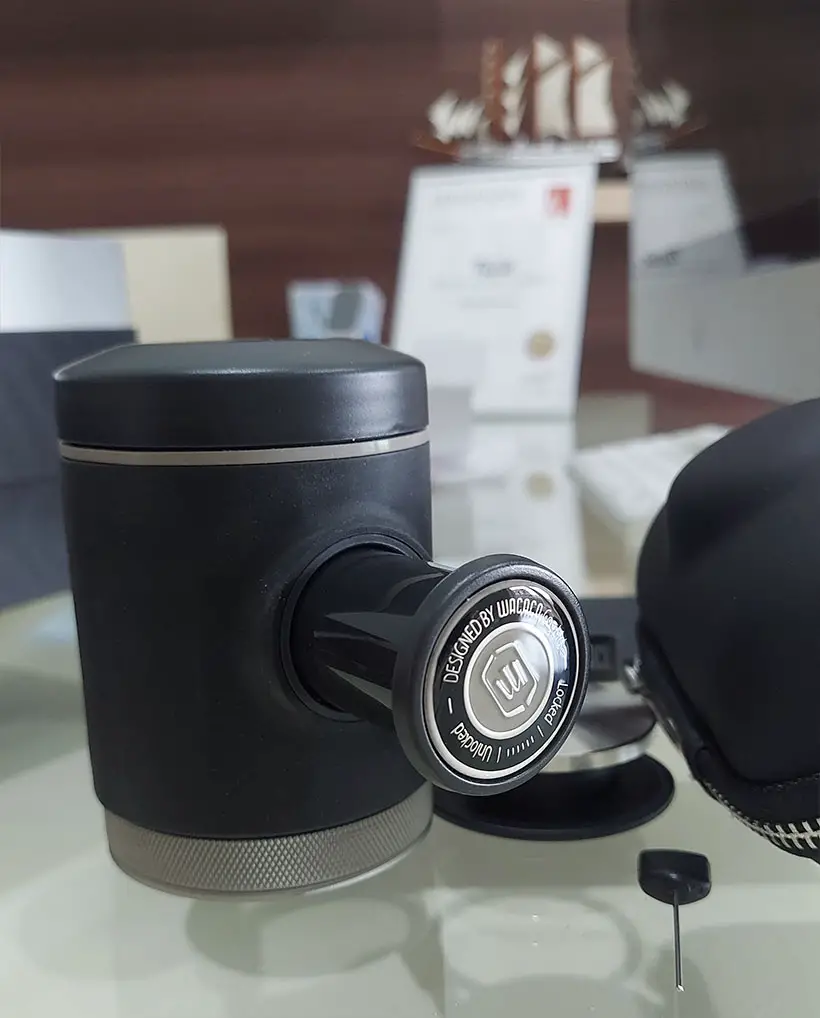 You will be guided through step-by-step instructions for brewing including information of grind-size guide for ultra-fine beans. The instructions in the booklet suggests you to use output ratio of 1:2 or 18g of grind to 36g of espresso. Some people find it hard to fit 18g of coffee grounds into the basket, use the tamper to press them in the portafilter to even out the grinds, please leave the funnel ring on while tamping for less mess, the pin also helps in dispersing them. The manual piston can be twisted to unlock, Wacaco promises that Picopresso is capable of producing a maximum of 18 bars in pressure.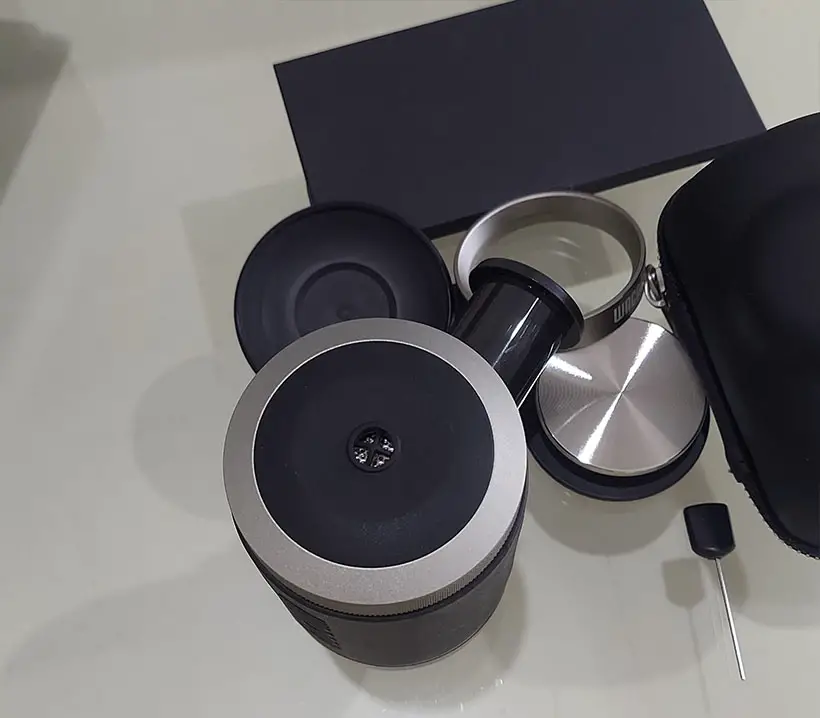 What we like about Wacaco Picopresso
Compared to Minipresso/Nanopresso, Picopresso has more metal parts, making it more sturdy and durable than the rest. Picopresso produces surprisingly great espresso for a small machine. You'll get smooth and rich espresso from 350g espresso maker that doesn't take much space in your backpack. It's also an ideal espresso maker for those with small kitchen yet wanting to get started in the world of brewing espresso.
What can be improved from Wacaco Picopresso?
The process of making your espresso might not as fast as you imagine, it'll probably take more than 5 minutes to create your coffee. Furthermore, it has so many parts which makes Picopresso not practical when you need to have your espresso in a hurry. It's a personal coffee maker for one or two people, so when you have multiple friends around, they should bring their own Picopresso and pull their own shots.
If you are an espresso lover and always on-the-go, we highly recommend that you consider purchasing Wacaco Picopresso as addition to your portable coffee maker collection. It's a quality product at affordable price, in fact, it delivers more tasty espresso than expensive home espresso maker.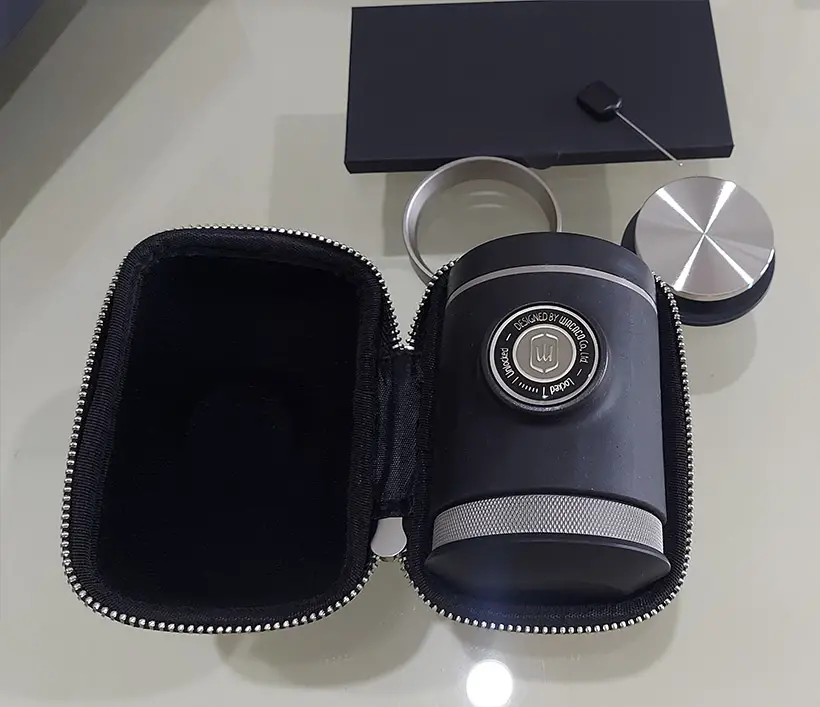 Tuvie has received "Wacaco Picopresso" from our 'Ask for A Review' feature, where we receive test unit/product sample for a review.
*Some of our stories include affiliate links. If you buy something through one of these links, we may earn an affiliate commission.