Uber Shelter is an amazing concept for a portable housing unit that would help people in meeting their immediate shelter requirements created by disastrous events. This great concept is designed by Rafael Smith. This shelter can be very quickly transported and reassembled with just few necessary tools and offer victims with individual living space. The best thing about Uber shelter is that it is made from recyclable and reusable materials. Around two to three personal rooms can be created in this shelter. I believe these types of concepts are very useful for unpredictable disasters.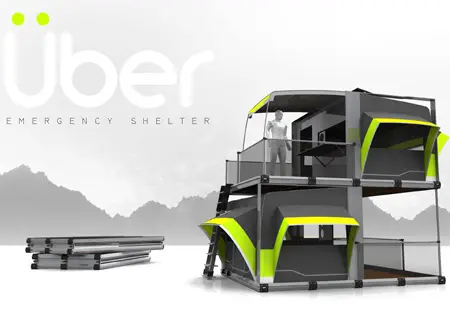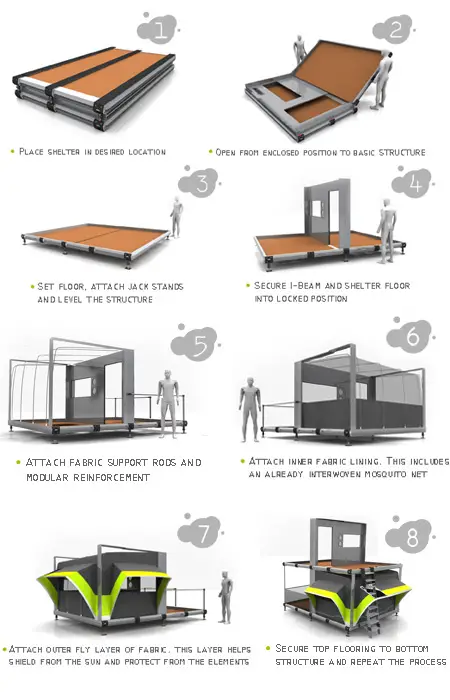 Text from designer :
My goal is to create more than an emergency shelter. This project is a shelter solution that meets the needs of emergency response but also provides victims with a more personal place to live; a base unit that can serve as a very basic shelter but also have the capabilities to upgrade and implement modern infrastructure. This shelter is also stackable. Many alternative housing solutions deal with small scale but can't cope with large scale displaced populations. There are 5 points that have been the focus during the design of this shelter. The shelter must be:
1) Easily transportable, collapsible and able to be shipped flat.
2) Built of recyclable materials and have the ability to be reused.
3) Easy to erect and assembled with few or no tools.
4) Amenable to infrastructure?can be used as a basic structure, but have the capabilities to upgrade and implement modern conveniences.
5) Stackable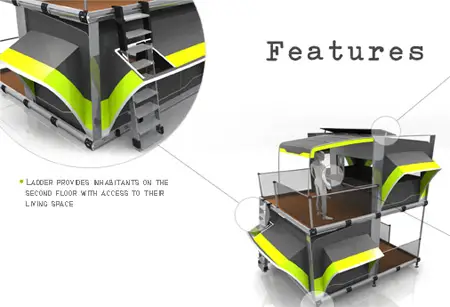 Über is shipped flat to allow for transport via air sea and land. All components that create the modular living unit are stored inside the shelter in its collapsed position during transport. It is then taken apart and assembled on location. When it is no longer needed, it can be dismantled, packed flat again, and moved to the next disaster area. The aim has been to design a shelter that is compatible with the current system used in refugee camps and emergencies by organizations such as the UNHCR (United Nations High Commissioner for Refugees).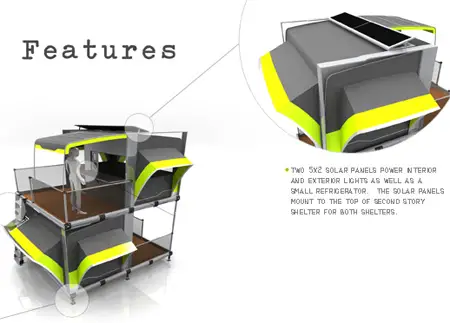 Every camp is different since every situation is different. In some cases proper design of a camp is not possible because refugees have already settled on a site. Uber has been designed to adapt to different situations, terrains, and climates. Camp needs are addressed in phases. Phase one is to meet the basic needs of the people, providing them with the bare essentials.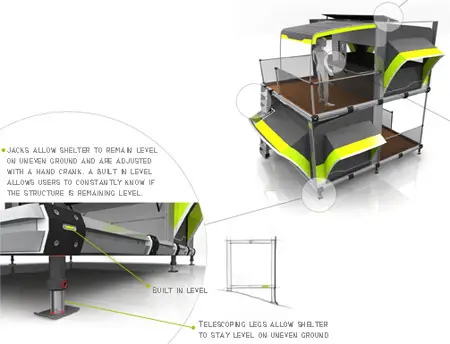 When there is more time, funding, and personnel, phase two provides camp residents with more pleasant solutions and conveniences. For example, phase two would include building an outhouse, rather than having a defecation field or trench. This shelter is delivered in the same fashion. When the initial crisis occurs, Über is shipped as a base unit to meet the initial need for shelter. When the camp is ready for phase two, a separate upgrade package is shipped and added into the shelters units to provide conveniences (electricity for light, compact stove and refrigerator).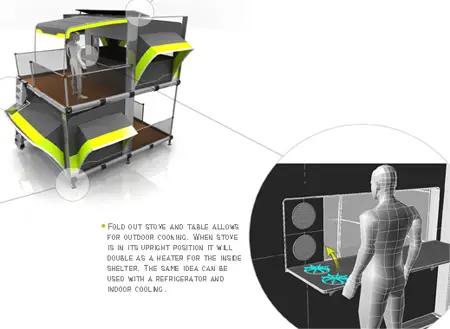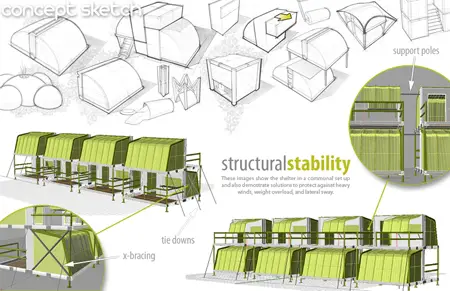 Designer : Rafael Smith
*Some of our stories include affiliate links. If you buy something through one of these links, we may earn an affiliate commission.