Treepac eco friendly packaging concept has won a Silver International Design Excellence Award (IDEA) in EcoDesign category. With its structure made entirely of sustainable materials, a great effort towards greener earth, I think they do deserve the award. Read their press release after the jump to get clear understanding about their design.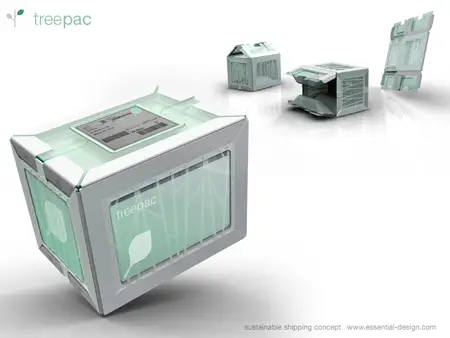 Treepac story after the jump …

Scenario 1 : Green Shipping Option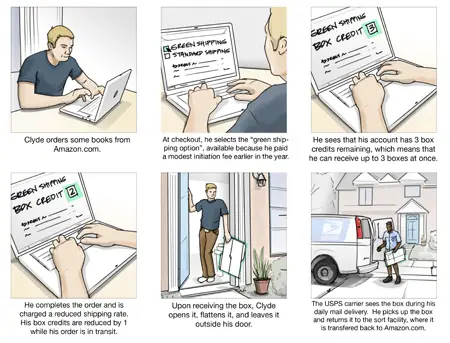 Scenario 2 : shared-Use Drop Point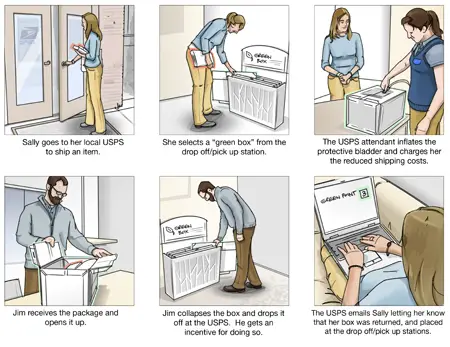 Press Release :
According to the Environmental Protection Agency, paper products are the biggest single component of community waste, with 85 million tons generated in 2006. Though much of this is recycled, the sheer volume compelled the team at product development consultancy Essential to examine their own consumption habits. Frustrated by their findings, the team devised a solution—the Treepac. Industrial Designers Society of America (IDSA) judges took notice and honored the concept with a Silver International Design Excellence Award (IDEA) in the Ecodesign category.
Treepac is a reusable shipping container intended to replace cardboard boxes. The structure is made entirely of sustainable wood-based polymer cellulose acetate, Treepac is used like cardboard packaging but is designed to enable and encourage people and companies to improve their environmental footprint. The more times each pack is used, the greater its positive effect on the environment.
"When we examined our everyday use of cardboard, we became aware of the quantity of packaging materials we should recycle, appalled at the amount of material we couldn't, and frustrated by an inability to reuse most of it," said Design Researcher Dave Siedzik. "We were disheartened that recycling cardboard is a completely inefficient process."
The Treepac concept mirrors the good features of cardboard boxes while adding new attributes that lower the overall environmental impact of packaging. Essential researchers, designers and engineers estimate that a recycled cardboard box can have up to eight uses but must be reconstituted in an energy-draining production facility each time. The Treepac, on the other hand, can be reused again and again.
Developing the Treepac is one way the Essential team aspires to create a positive environmental and social impact through their work. "By thinking of new opportunities to reduce overall energy consumption while not fundamentally changing the current shipping and delivery infrastructure, the Treepac concept has the potential to both improve the industry and help the environment," said Founding Partner Scott Stropkay.
Designer : Essential Design
*Some of our stories include affiliate links. If you buy something through one of these links, we may earn an affiliate commission.