Transport Efficient 2020 is a concept vehicle that offers two different modes for driving as per requirement. First one is City Loader, a stylish and compact vehicle that can be employed for short distance city use to effectively drive through busy traffic. This vehicle is powered by electric engines and gear hub drive and the energy is stored in metal air hybrid batteries that can charge via plug and ride. On the other hand, the AirLiner mode offers long distance transportation and comprises several superconductive magnets that produce frictionless levitation to allow the vehicle hover above the street. An embedded rail in the street produces an electromagnetic field for this operation.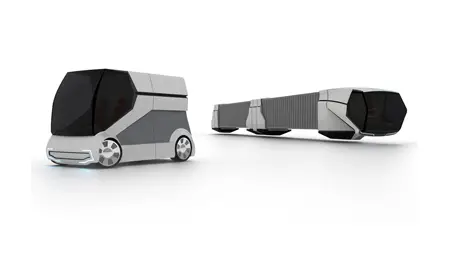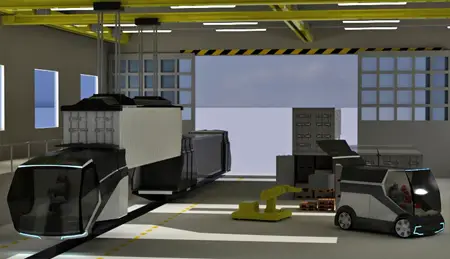 Text from designer :
Airliner
This long distance transport vehicle is actuated by superconductive magnets. Superconductors produce frictionless levitation avoiding any mechanic resistance. The vehicle hover above the street. The superconductor is cooled down by electric condensers so the particles of the material nearly stop moving. A rail embedded in the street creates a magnetic field which will be written in the superconductors, positioned at a set distance from the magnetic rail. No mechanic fixation between rail an vehicle will be required. The electromagnetic field generated by the rail also speed up the vehicle. The magnetic field is only generated under the moving vehicle and wont be of any danger for other moving vehicles crossing the rail.
The airliner consists of a drivers cab and several modules which float autonomously, so the shipping volume is expandable. If no cargo is carried the drivers cab ally with the closing module to reduce the volume. At a logistic centre close by a freeway and a city, the cargo gets unload, stored and upload to the cityloader.
Cityloader
This compact transport vehicle is designed for distances up to 400 km and the city traffic. It is powered by electric engines and wheel hubs which can be recharged via plug`n`ride concept at the logistic centre or city stations. A modifiable loading space allows a wide spectrum of use.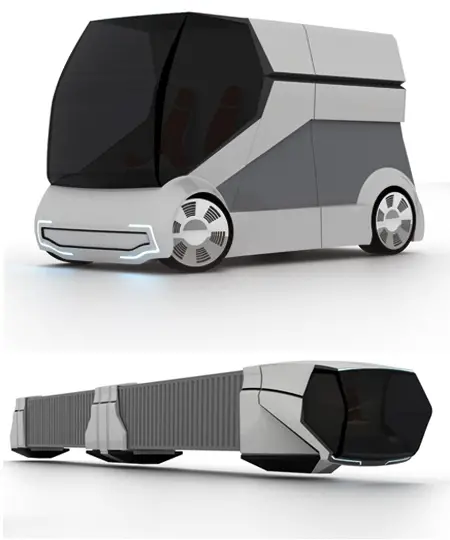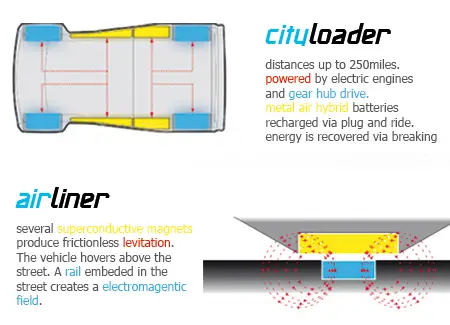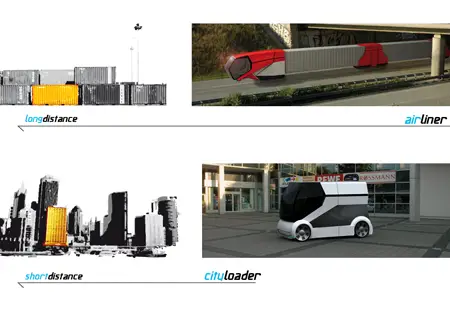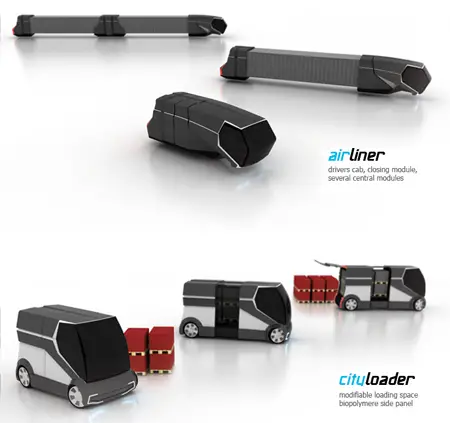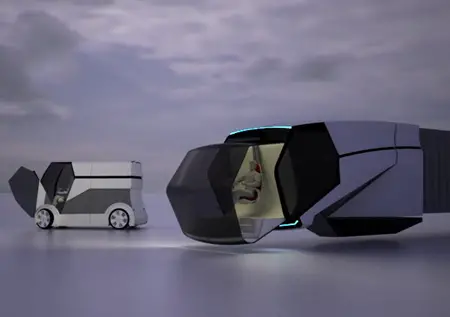 Designer : Tobias Förtsch
*Some of our stories include affiliate links. If you buy something through one of these links, we may earn an affiliate commission.