A' Design Award and Competition focuses on promoting good designs from all over the world, it highlights, advertises, and advocates designs, designers, and design oriented companies. It's a competition that truly believes our future will be shaped by arts, design, and technology, that's why to have a better future, we also need good designs.
It's a competitive platform that uses fair and ethical assessments for designers, innovators, and companies in different design disciplines and experience levels. This is not just another design award, this competition provides indicator of quality and perfection in design, it brings together designers, companies, and the press to highlight best of the best in great products and services. You can submit your best project to this competition here: https://competition.adesignaward.com/submityourwork.html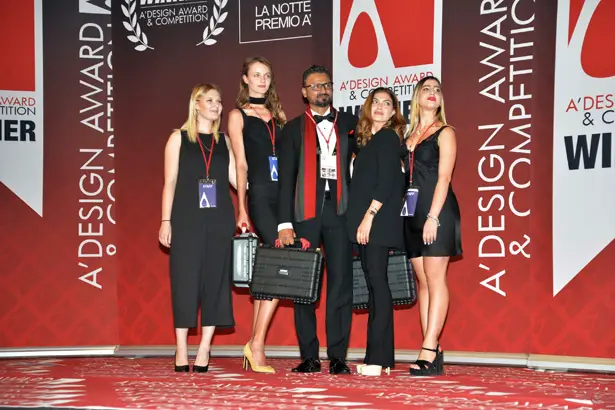 To ensure you about fair evaluation and judging, you can checkout the methodology from this page: https://competition.adesignaward.com/methodology.html. The grand jury panel consists of experts and strong professional jury that would offer you their invaluable knowledge base and insight for each submitted entry. These insights are valuable for participants in form of feedbacks, votes, and suggestions. The jury panels come from multidisciplinary and comprised of experienced international designers, entrepreneurs, journalists, and publishers who will evaluate your submission based on their experience, wisdom, and specialization.
What's the benefit of this competition for the winners? Well, instant fame is a certain point, winners would get instant recognition for their skills. Good publicity and international awareness of your work can be a bit overwhelming, but don't worry, it's actually a good thing especially for a newly graduated designer who wants to find a good job in the industry. All winners would get winners' kit, it contains everything you need to celebrate success of winning A' Design Award. The kit contains a cool 3D printed metal A' Design Award trophy in black luxury box, annual yearbook (digital and hardcopy), award winners manual, and many more, including a free gala-night invitation for two people to the award ceremony.
Through this article, we highly support A' Design Award and Competition, we want you to realize the quality of this competition and how it would benefit you as a designer.
This time we want to highlight 20 great projects in Architecture industry that won A' Design Award, you might get inspired from reading about it.
1. Waving Ribbon Sales Center by Kris Lin and Jiayu Yang
The architecture of this sales center looks like a floating light box, it has become the visual focus of the building. This place is aimed for business purpose so the owner wanted to have eye-catching shape and style through the use of materials and lights. The exterior uses simple and free curve lines while the interior features waving ribbon as boundary as well as decoration.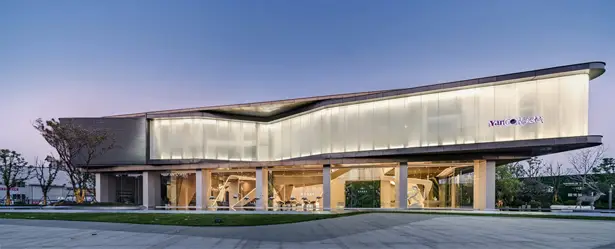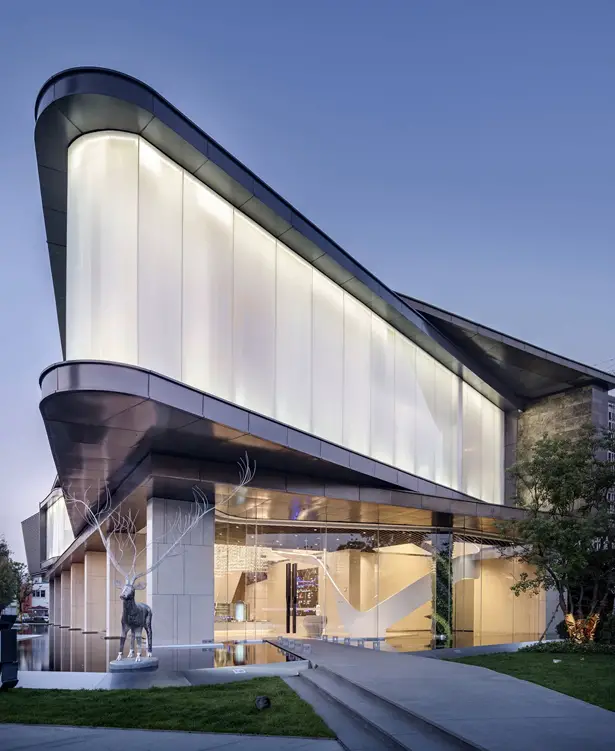 2. The Future of Us Exhibition Pavilion by SUTD Advanced Architecture Laboratory
This pavilion design wants to explore a new dialogue between architecture and nature through the use of advanced design and fabrication. It's a special building that offers multi-sensory experience, this is a glimpse into futuristic building where Singaporeans can live, work, play, care, and even learn. From light-filtering effect to building skin, every detail has been carefully considered to make sure that visitors can dream, hope, and steer Singapore towards better future.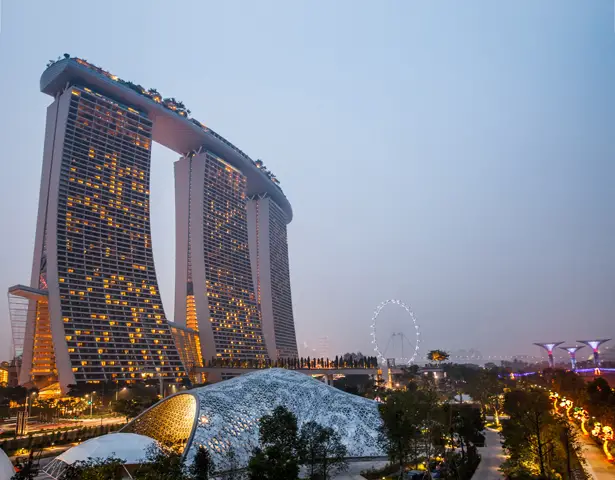 3. Grotto Sauna Freestanding Residential Sauna by PARTISANS
Located in Georgian Bay, Canada, this sauna was inspired by its unique and rugged landscape site. The design team was also inspired by notion of a Grotto, a secret internal world, internally carved by natural forces. The result is an architecture that evolves around its surroundings, at first glance, this sauna looks like a structure embedded into its landscape while inside, it's another world of wonder and delight.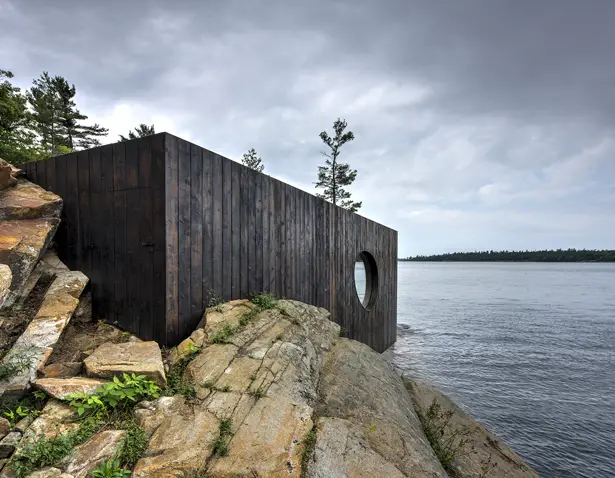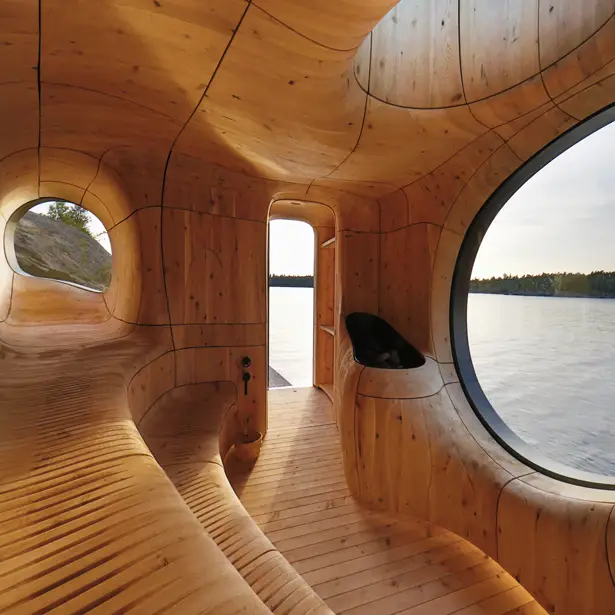 4. Solar Egg Sauna by Futurniture and Bigert & Bergström
This beautiful egg shaped sauna was inspired by Kiruna's arctic climate where light conditions change with the seasons. It can be 24-hour winter darkness to round the clock midsummer sun. This solar egg has become a social sculpture where local people and visitors can meet and discuss social topics. The unique egg shape aims to symbolize rebirth and new opportunities of Kiruna's urban transformation. Covered in stainless steel mirrors with titanium, gold-color coating, this sauna certainly stands out wherever it is located.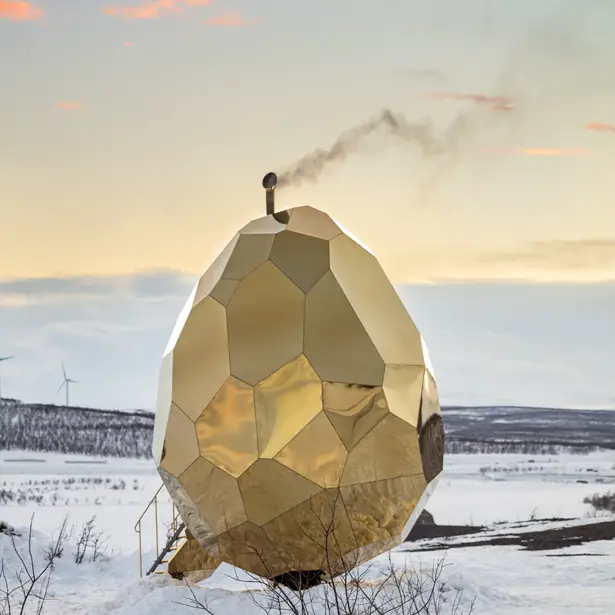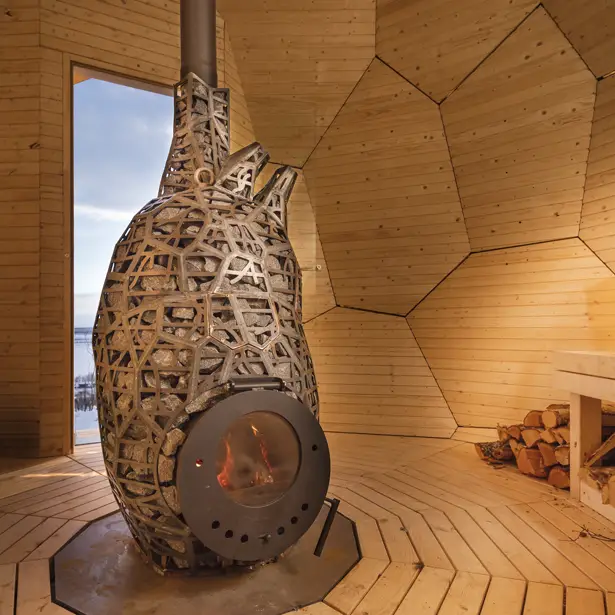 5. Lè Architecture Office by Aedas
Taipei Lè Architecture represents the idea of softness and elegance as well as strength and character. Its main shape was inspired by the shape of river pebbles. This building is located near Jilong River, the architects wanted to create a building that redefine the skyline of this rapidly developing district.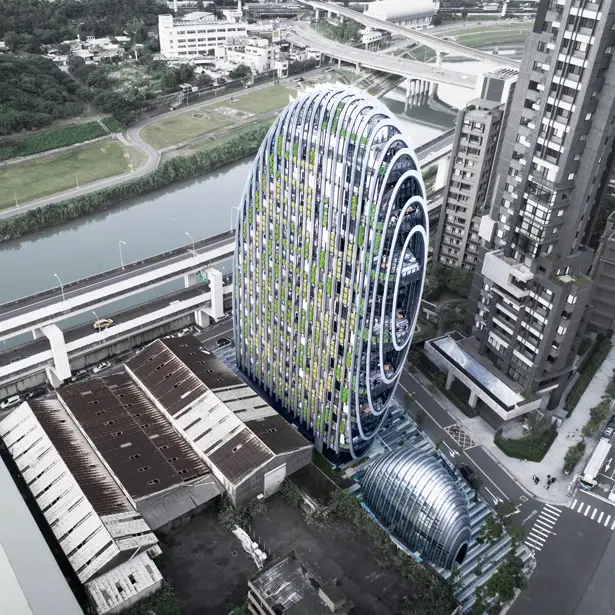 6. Rising Moon Pavilion by Daydreamers Design
This pavilion is actually a temporary building designed to serve as the main attraction during 2013 Hong Kong Mid-Autumn Festival. It is Chinese's tradition to celebrate Mid-Autumn Festival where for once a year, family and friends gather together as a symbol of reunion. Of course, the moon has always been the main focus as it becomes brighter and bigger in size to form a perfect circle. The idea here is to bring that distanced Moon closer to us through the use of sustainable materials that are recyclable after deconstruction. This pavilion is constructed of polycarbonate water bottles, creating a Synthetic Moon for visitors while promoting the message of environmental protection.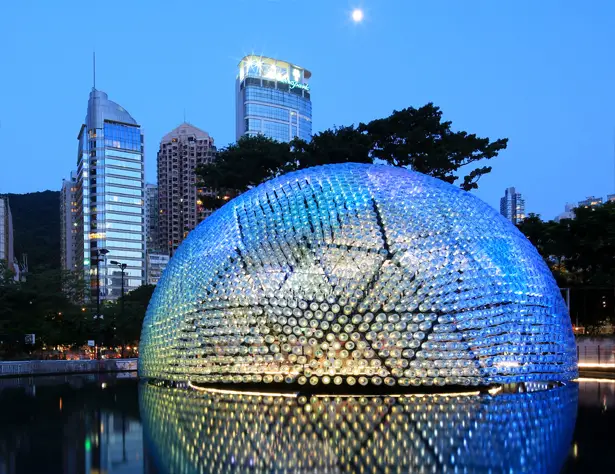 7. The Curtain Sales Office by Larry Wen – Aoe
This building is an office by day and a kindergarten in the afternoon. The challenge of this project was to design two different functions of a building with different requirements for space, form, and appearance. Therefore, the architect team adopted unique strategy by adding another layer of removable green skin, metal mesh, outside of the building for sustainable as well as imagery purpose. This extra layer serves a unique façade for the sales office, it is conveyed by the core concept of Chinese architecture from artistic conception of the expression. The internal and external space are visually and spatially linked in an elegant transition. Even though the architectural form and materials are modern, but the core concept is still taken from Chinese architecture philosophy, Tao Nature, where formless is the ultimate sophistication.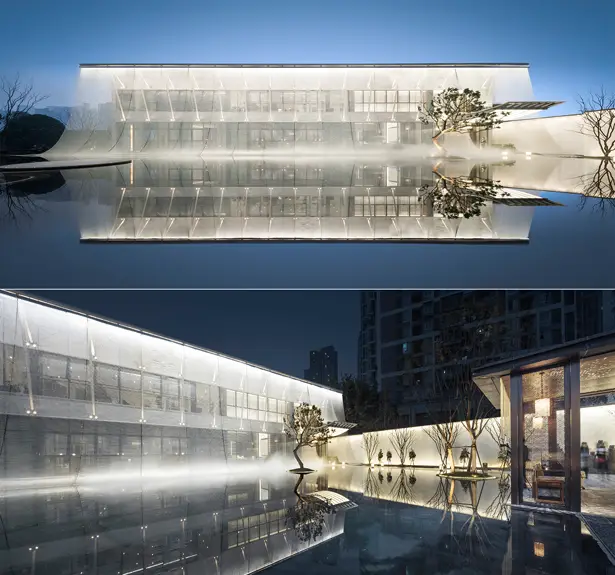 8. The Ring House & Atelier by MZ Architects
Designed for a young Saudi Jewelry artist, the ring house – atelier offers a private living and working space that express her soul and creations. This building features a cylindrical volume embracing the main rectangular, the living space. This cylinder acts as protective closed wall with only a single narrow opening that serves as the entrance.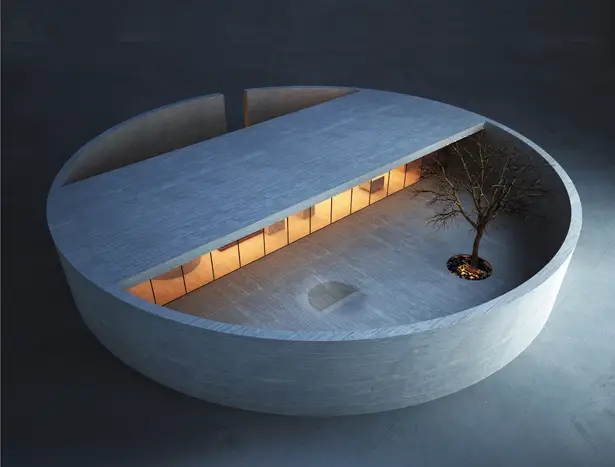 9. ALDAR Headquarters Office headquarters by MZ Architects
A futuristic building indeed, this office headquarters features distinctive and innovative design by using a semispherical shape consists of two circular convex shaped facades linked together by a narrow band of indented glazing. It is certainly an impressive architecture from close and afar, that geometry demonstrates the concept of infinity, perfection, and stability.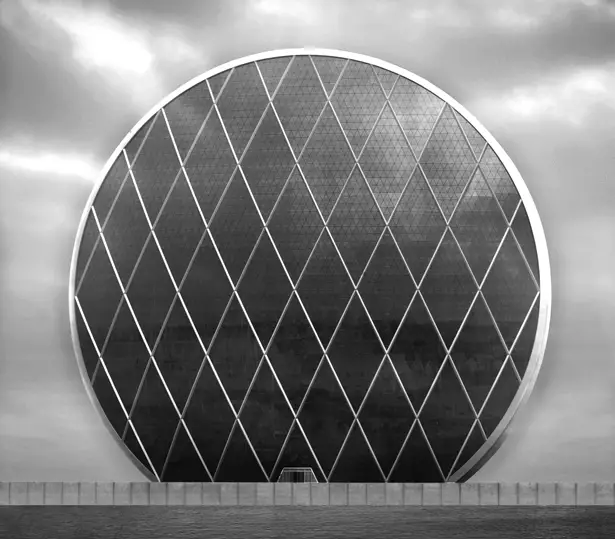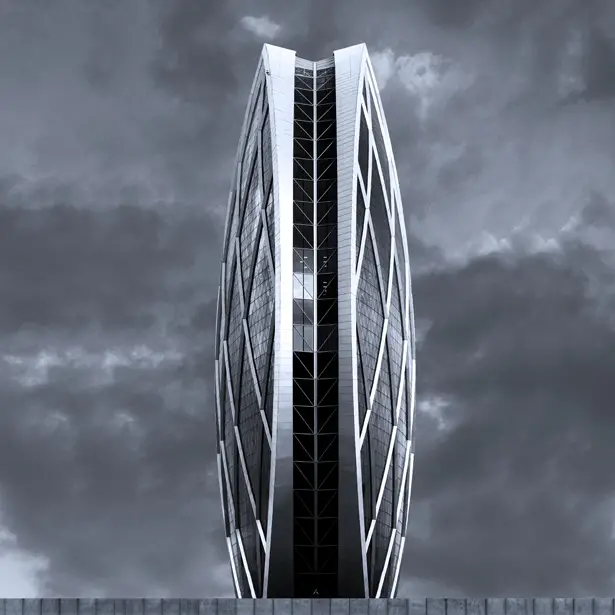 10. Xixi Center Office and Business Building by Meng Fanhao
Located on the north side to Xixi National Wetland Park, this building stands out from the crowd. This region has been under rapid developing due to the push of the local government, you can tell that high-rise buildings and residences are being developed next to the nature park. This building brings the concept of openness, that four L-shaped buildings have large openings to encircling the site due to the landscape cross. The internal volume is modeled based on traditional wetland settlement pattern to ensure optimum utilization of landscape resources while strengthening the sense of place as an understated elegance park.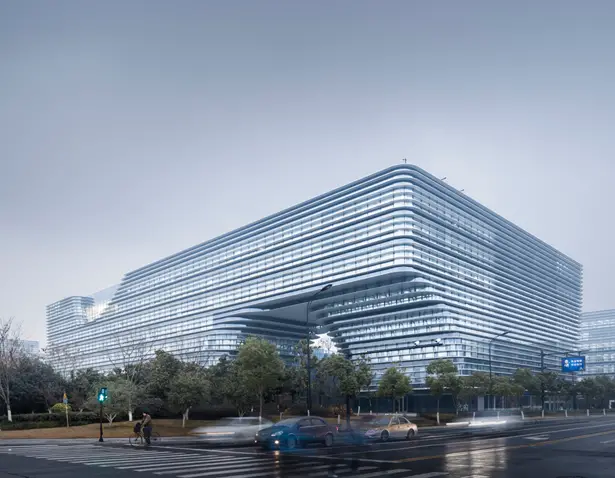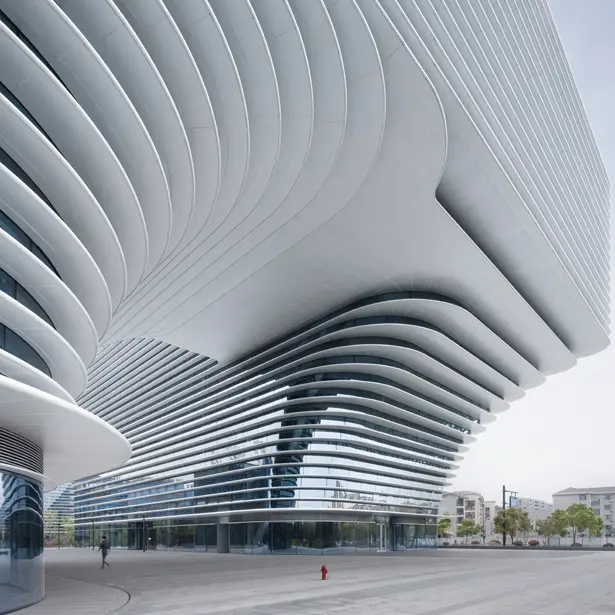 11. The Float Real Estate Agency by Kris Lin
It's a building designed for "Sky Villa" real estate agency, the design was inspired by the name itself as a starting point. Located in Xiamen downtown, the condition around the base is unfavorable, there's no landscape, many old apartments, a school, and a construction site. In the end, "Float" pulls the sales center to a height of 2F to create its own landscape, a stack-level pool, it makes the sales center looks like floating above the water.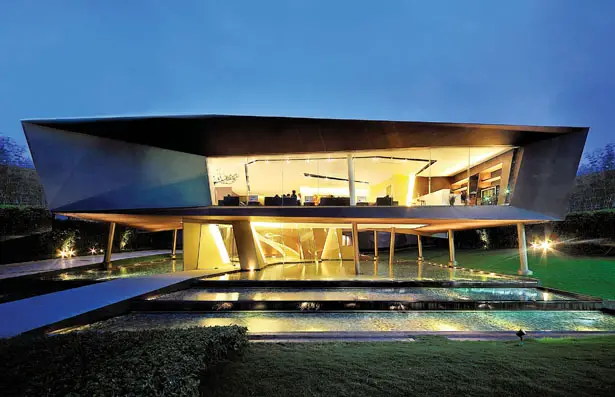 12. Seehof: a garden architecture Hotel by Noa
This hotel features wooden façade and rough surface to relate to the environment, it's been built by incorporating regional materials. This hotel wants to emphasize its unique location, it is located in the middle of mountains and near a beautiful lake. The main building has been designed to reminiscent the residence in countryside, the open spaces visually enlarge the suites and intensify the special connection with nature.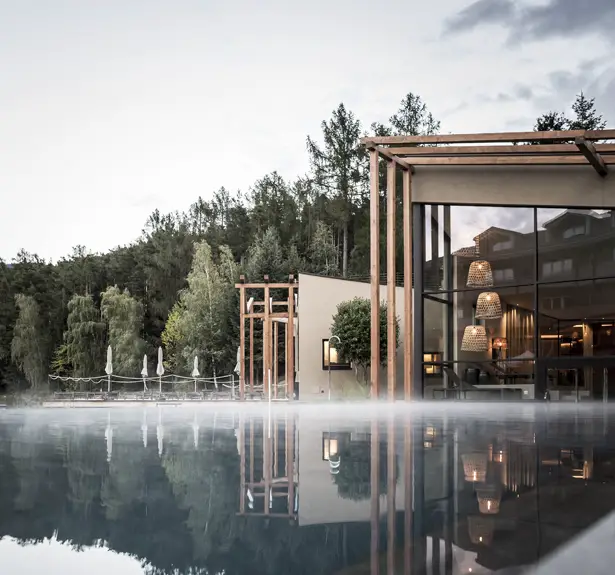 13. Black Eagle Residential House by Perathoner Architects
The main goal of this house was to blend this building with its surrounding natural alpine landscape. Located at the foot beautiful landscape of UNESCO World Heritage Dolomites, this house features a distinctive architecture style. The main front that faces south side features large windows overlooking jaw-dropping view of mountains while the back of the house presents smaller front that faces north side. The entire building has been designed with modern architecture style, clean lines yet carries a touch of architectural traditions such as the use of local materials.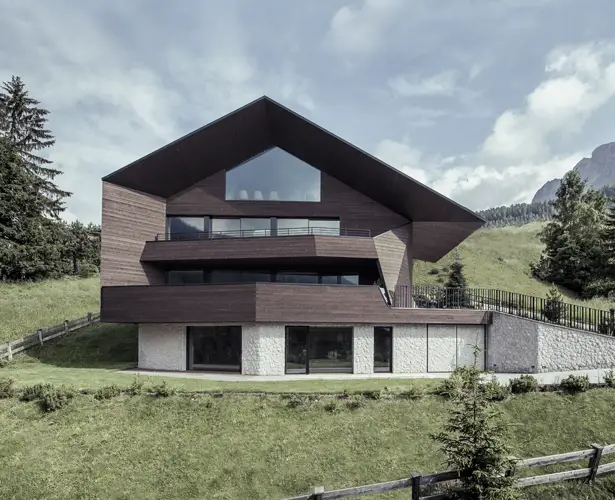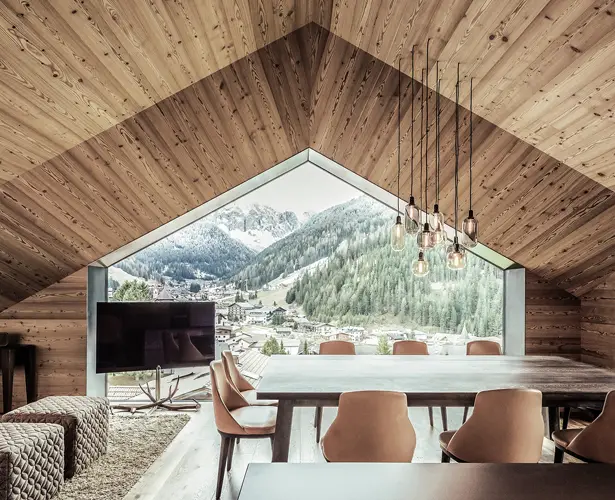 14. Tai Chi Sales Center by Kris Lin
Just like its name suggests, this building was designed based on the philosophical thinking of "Tai Chi", Chinese traditional culture. It's a sales center for a large community and located in front of a park. The design idea was to elevate the beautiful natural environment of the community, it had to stand out to attract customers, thus, resulting to good sales.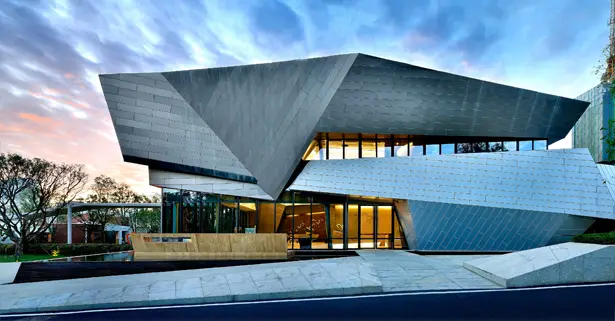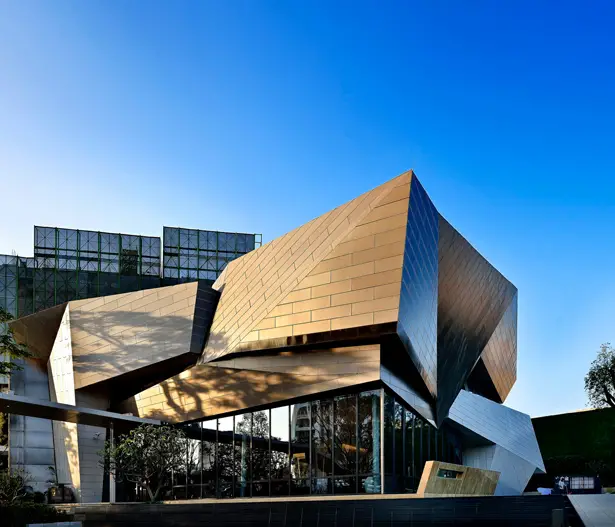 15. ICE Krakow Congress Centre Concert and congress centre by Ingarden & Ewý + Arata Isozaki & Assoc.
This is a building center dedicated to culture, from theater, music, to congress. It's been designed at highest standards of acoustics and mechanics with three main halls and a multifunctional conference space. The design features spectacular glass façade, multi-storey foyer, and fantastic staircase to offer awesome views of historic Krakow.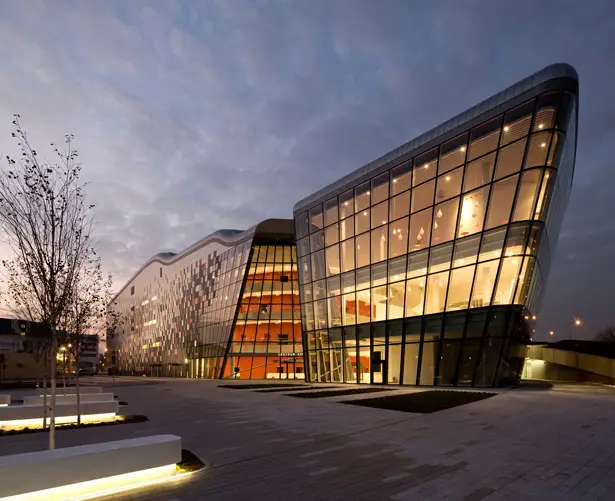 16. Hotel Indigo Hong Kong Island by Aedas
This hotel building represents the vibrant nature of Asia, particularly Hong Kong. The shading on the façade resembles a dragon while the glass bottomed cantilevered pool represents a pearl that is also often associated with dragons. The installation of burnished bronze solar fins to the façade makes it as if there's a dragon wrapping around this building, further rooting the design into the culture and traditions of Asia.
17. Malangen Retreat Family Retreat by Snorre Stinessen
Inspired by the beautiful landscape, this family retreat is designed to emphasize the closeness to nature while comfortably staying indoors. It also underlines transition between spaces and activities that we usually are too busy to appreciate. Each building is separated into a volume for each room where several activities can be done at the same time or in-between spaces.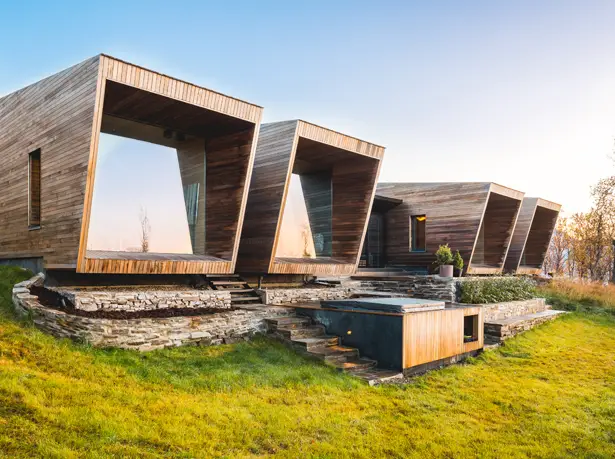 18. Manshausen Island Resort by Snorre Stinessen
By considering the Island's topography, this resort is designed with position and orientation to offer individual panoramic views and privacy. These cabins would offer guests shelter and comfort while providing unique experience of the elements outside such as the sea, landscape, light changing, weather in different seasons.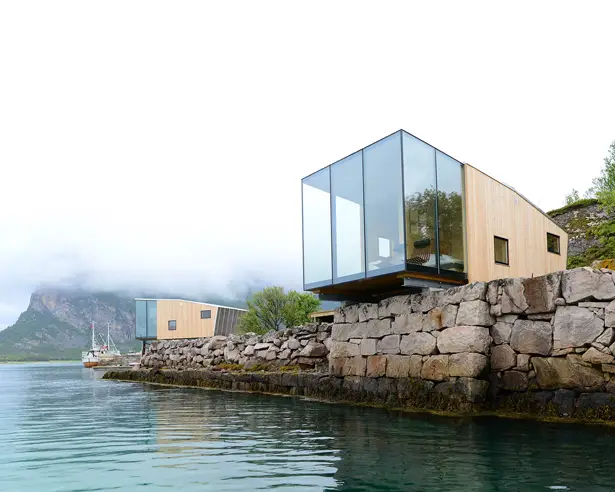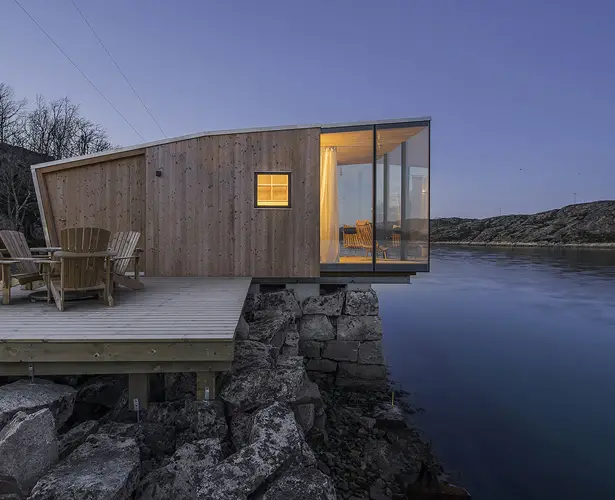 19. Xinhua Bookstore Group Mixed-use Project by Aedas
Taking the idea based on an ancient Chines prose "Knowledge Brings Weath", Aedas has done a good job in integrating cultural and natural elements of Chongqing in interactive Cultural Innovation Oriented Development. This building offers a dynamic complex at the central business district, it contains a sky cultural plaza, apartments, offices, retails, and a boutique hotel.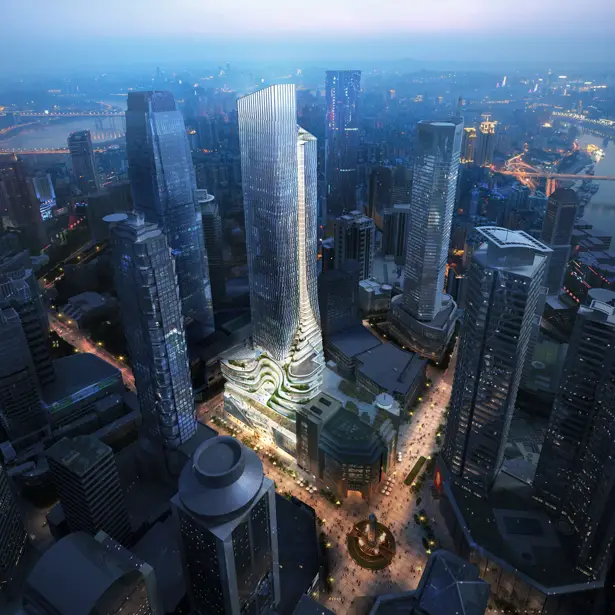 20. Heavenly Water Service Center Service Center by Zhenfei Wang
Inspired by nature and environment, this building was designed in a way to merge into the nature. The architects aimed to maximize the lake and mountain view, making people feel close to water and nature. This building features a 3-armed junction system to generate architecture and landscape while the multiple routes system offers visitors optimum experience and accessibility.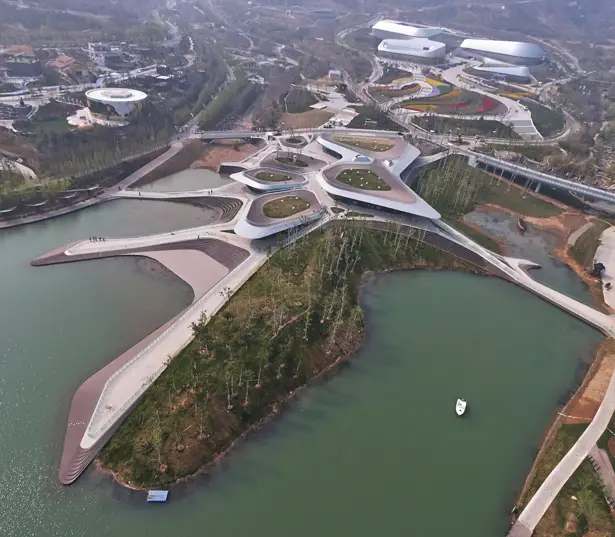 You would want to submit your design now, because there's going to be a prejudging procedure a.k.a preliminary evaluation and checking, this procedure would help you, participants, to get insights about your project before you participate in the design competition finals. Start your registration process here: https://competition.adesignaward.com/registration.php.
*Some of our stories include affiliate links. If you buy something through one of these links, we may earn an affiliate commission.