Toggle multimode touch remote concept will bring your TV viewing experience to the next level. Designed by renowned product development consultancy Carbon Design Group, this gadget combines an innovative application with inexpensive touchpad technology. The result is an amazing future remote control for your TV viewing pleasure. We look forward to seeing this innovative Toggle concept goes into production.
Designer : Carbon Design Group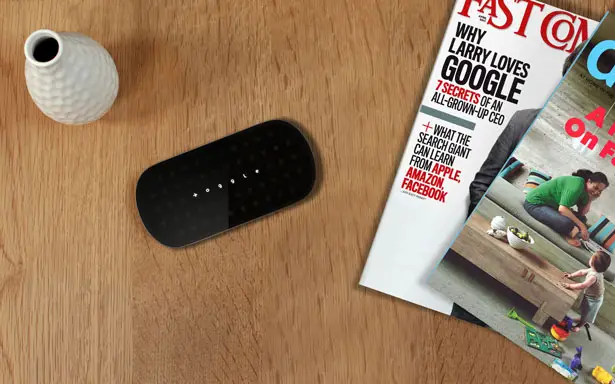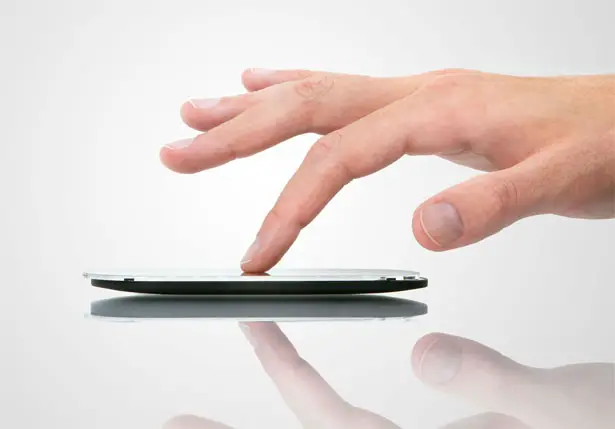 [Press Release]
Seattle, WA. August 24th
—World-recognized product development consultancy Carbon Design Group introduces Toggle multimode touch remote concept for today's connected TV viewing experiences. Toggle uses an innovative application of inexpensive touchpad technology to create a rich, touch experience without a display screen.
TV is Evolving. Today's HD flat screens hold little in common with the grainy tube TV experience we once knew. But the real evolution is the content. Beautifully thin flat screens with streaming internet are making television viewing increasingly personal. What had been an unsatisfying "push" experience ("57 channels with nothing on") is becoming a rich "pull" experience with viewers able to pull content from the internet and the old standbys of broadcast, cable, and satellite.
But the challenge of having all this content to choose from is how to harness it. You need a remote for the TV, a keyboard and mouse for the internet, and a controller for gaming. "There are lots of people trying to solve this," explains Peter Bristol, industrial designer at Carbon Design Group. "Some are trying to solve it mechanically with touch in one spot, a little mini-screen, and 5000 buttons." This "more is more" approach is rarely satisfying. And most of the technology in these devices is decades behind the touch experience we've become so accustomed to through smart phones and tablets. A true touch-screen remote with a $400 cost of goods isn't financially feasible. "You can give someone a remote app, but that doesn't make it a communal interaction device that lives at home next to the media, and it means they can't easily use their smart phones while watching TV."
An Affordable, Flexible Solution. Through an innovative application of the very basic capacitive touch technologies typically found in touchpads, Toggle multimode touch remote concept delivers a touch experience without a touch screen. Points on the remote's surface are mapped to specific keys and functions. But here's the twist. To tame all the content piped into a connected TV, Toggle puts you in control with four modes. You shift (or toggle) between modes by sliding the top slice of the device left, right, up, or down. In the center or off position, the Toggle wordmark peeks through. While holding the device horizontally, shift up for a qwerty keyboard. Shift down to a touchpad primed for two-thumbed or multi-finger use. Shift right for casual gaming. Shift left and spin 90 degrees for a kicked-back, one-handed surfing experience. Type, Surf, Move, or Play, with Toggle, the mode you need is just a quick shift away.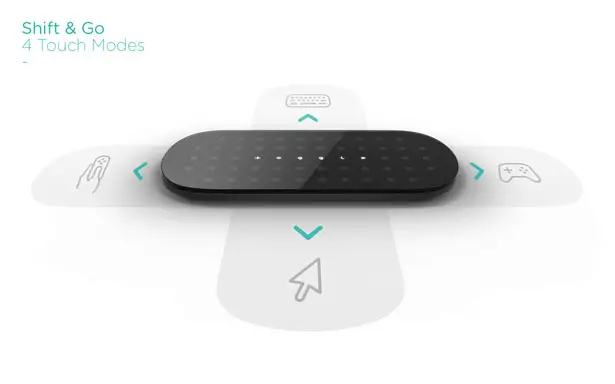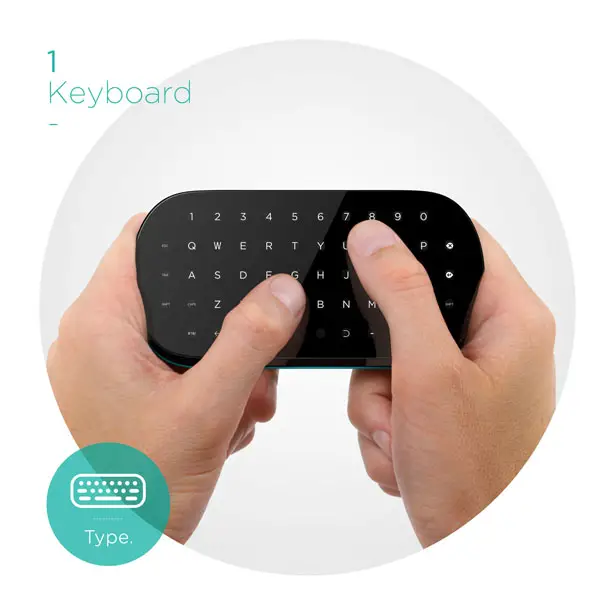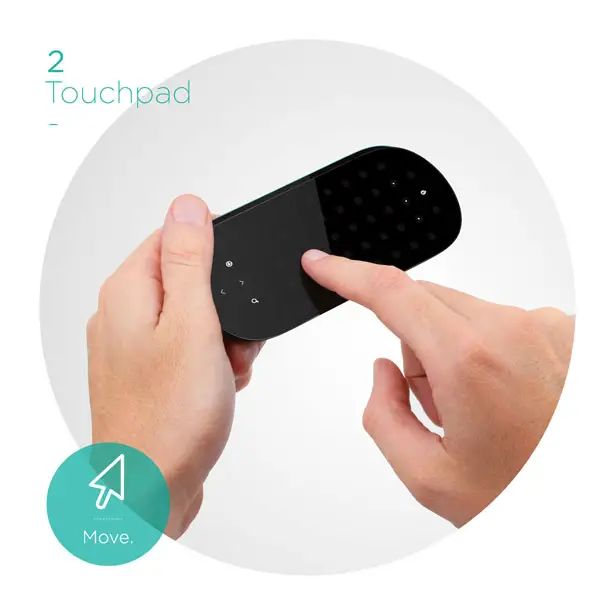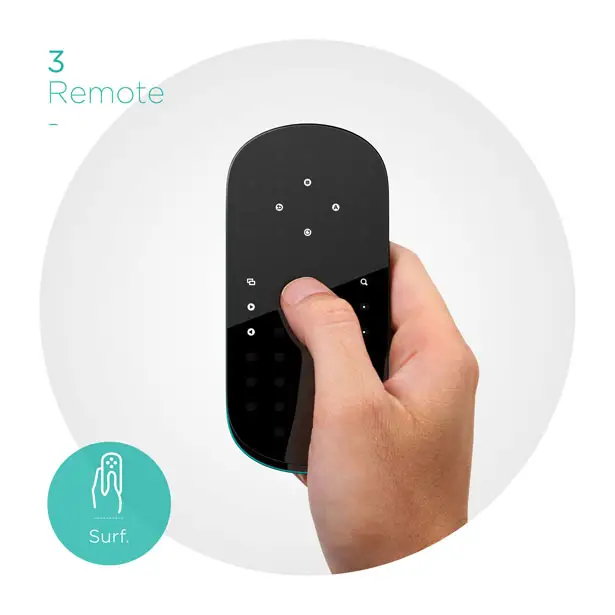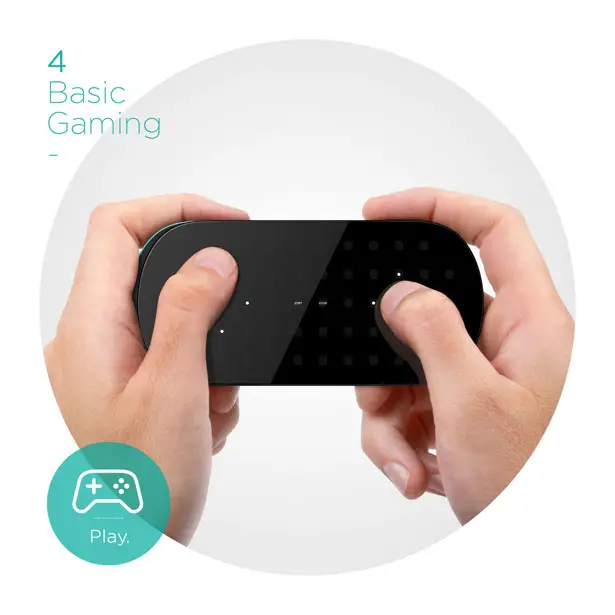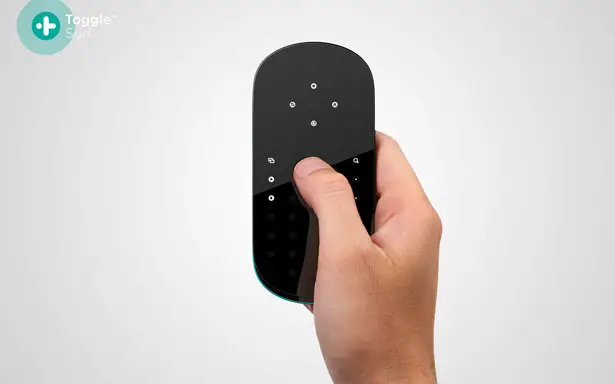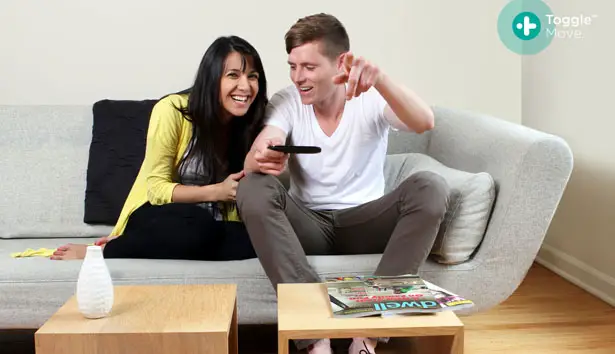 How it Works. The top half of Toggle includes a masked grid which reveals different interfaces when shifted into the different positions. Shifts are accomplished via sliding tracks in the four corners of the bottom half. Each mode is only a four millimeter shift from the home position. "The motion is based on how you hold it, so it's very natural," says Bristol. "There's an appealing fiddle-factor, but there's also something nice about having this combination of physical interaction with a familiar touch interface."
The keyboard and touchpad are paired to make it easy to shift back-and-forth between text entry and navigation. The exposed graphics are backlit with side-firing LEDs for use in dim lighting.
The circuit board, with the capacitive touch technology built-in, is the main structure for the device. The battery is extremely thin, the radio is just a chip on the board, and the back surface is a rubber part, so Toggle multimode touch remote concept naturally lends itself to be light and extremely thin. "We didn't need to play tricks visually because the architecture itself is naturally thin," Bristol explains.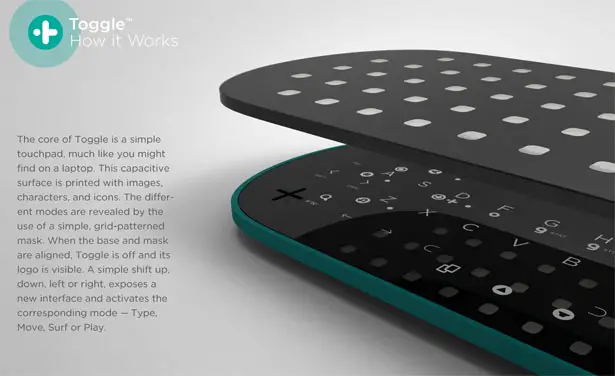 Simply Versatile. The Toggle application of capacitive touch technology could be applied to a wide array of devices beyond entertainment systems. "Right now, Toggle is a really neat glimpse into what we think could be a very affordable and flexible solution for navigation on a lot of different systems," explains Bristol. "It's a bit of a window into a potential future for navigation devices, and something that brings the cost of touch down to where touch remotes can be batched with devices." For example, a cable company might want one mode optimized for channel-changing and DVR use. For use with a streaming video device, a one-handed mode with a natural user interface (NUI) could allow people to easily do the basics of video control and quick searches that don't require extensive keyboard input. Toggle could also be sold as a third party remote. The technical beauty of Toggle is that custom-built controllers could be made simply by changing a piece of firmware and a screen print—an incredibly simple and cost-effective shift.
Looking toward the Future. The Toggle multimode touch remote concept was developed through Carbon's Passion Project program in which team members are allowed to explore promising ideas. "Toggle offers an incredibly innovative way to create multi-mode interactions without a lot of cost or effort incurred," says Dan Blase, Carbon's president. "We'd love to discuss opportunities to develop Toggle further."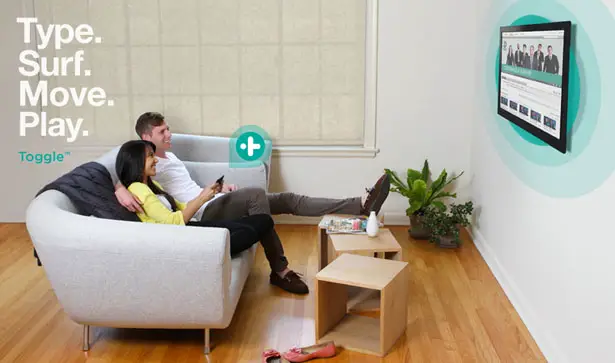 Tuvie has received "Toggle multimode touch remote concept" from our 'Submit A Design' feature, where we welcome our readers to submit their design/concept for publication.
*Some of our stories include affiliate links. If you buy something through one of these links, we may earn an affiliate commission.