The new rain water harvesting and sports stadium storage design by Australian designer Chris Buerckner can be said to be innovative product in all respects. He has named it as Watree which looks like an umbrella placed upside down also acts as a shade in the rain. The rain water gets accumulated and is stored in it tank underground as these can be placed on areas away from the playing surface, the water stored can be used to sustain the stadium during the summer months through series of underground pipes. A practical and a self sufficient solution in these crunching times!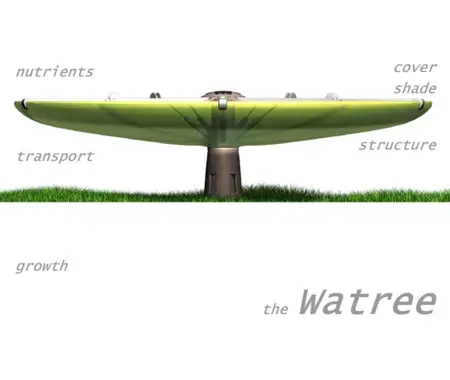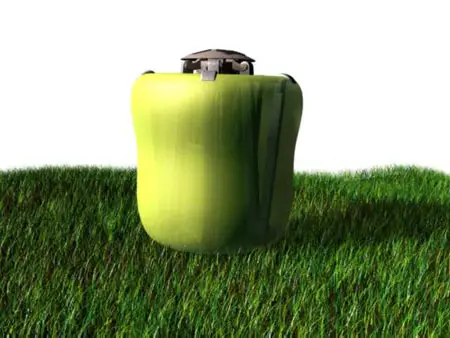 Text from Chris :
Over the last few years it has become more apparent just how susceptible our country is to the ever changing climate. Throughout each of the eastern states of Australia we have seen continual diminishing rainfalls which have in turn brought on increasing water restrictions with the thinning water storage levels. The consequences of these climate changes are only just beginning to be felt by the general public. One of these areas is grass roots level sporting communities. This research/design based project explores the challenges these sporting communities face and how certain strategies may be used to combat these climate changes. The aim of this project was to further develop water conservation strategies within the sporting environment and design a device and system that would be used in the collection and storage of rain water.
The Watree concept is for urban sporting grounds, and based around the idea that almost all of these reserves have buffer zones around them. A buffer zone is more common around ovals due to their shape, but can be found around tennis clubs and soccer pitches as well.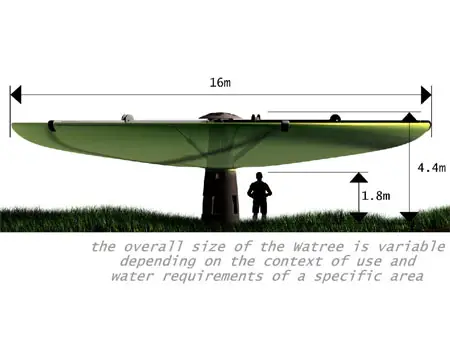 A buffer zone is essentially an area of land around these sporting reserves, unused. Often they are just grassed areas or areas dotted with a few unsightly shrubs, sometimes used as car parks. These buffer zones do not provide any particular use to these sporting organizations and when rain falls, its seeps straight into the ground. I propose using these buffer areas as location points for open air rain water collection.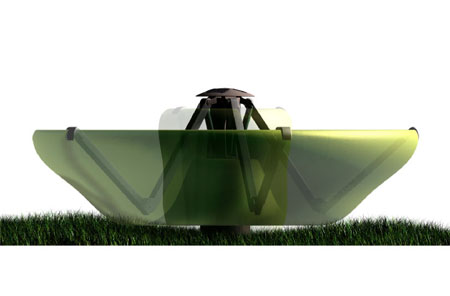 The Watree concept is to have a number of these points around an oval, with the collection unit to be in the centre of these buffer zone areas. The idea is for these devices to open up when it rains and create a large surface area that would then collect and funnel the rain either into storage directly beneath it, or along a pipeline to a central tank storage for the ground. The water would pass through a filter accessible from outside of the Watree structure on its way to storage. This water, previously wasted, would be stored and used during summer periods to keep the sports surface in a playable condition. Combined with a playing surface converted to warm season grasses, a large storage tank would be a suitable amount of storage for weekly watering of the field over summer. In the case of a tennis club for example, smaller tanks and water collection would be required dependent on the number of grassed and clay courts.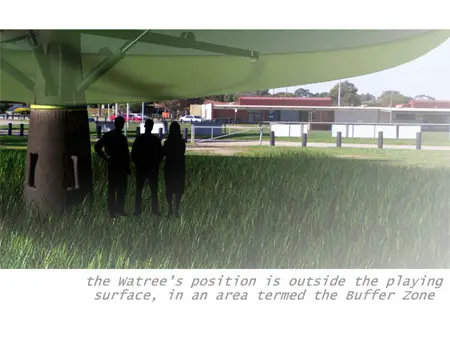 The watering system to be utilized is KISSS (http://www.kisss.com.au/). KISSS has been developed, and is manufactured by, an Australian company called Irrigation & Water Technologies Pty Ltd (IWT) at Rouse Hill, NSW. There are parts of the project still to be refined as well as the development of a community water donation system. Currently I'm assessing the project and the possibility of Government grants from the Smart Water Fund (http://www.smartwaterfund.com.au) for further development.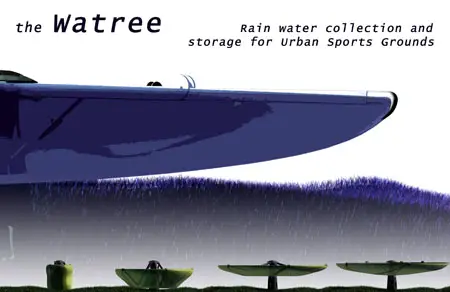 Designer : Chris Buerckner
*Some of our stories include affiliate links. If you buy something through one of these links, we may earn an affiliate commission.