To stand and to walk for some people that could be just a dream. ReWalk exoskeleton is trying to make that dream come true, paraplegics will be able to stand, walk, even climb the stairs The challenge here is to design something that imitates a human walking, including universal fit for a broad range of user height and weight measurements, as well as a low profile that is both contemporary and user friendly. ReWalk exoskeleton is a light, wearable brace support suit featuring DC motors at the joints, rechargeable batteries, an array of sensors, and a computer-based control system. Users wear a backpack device and braces on their legs, and select the activity they want from a remote control. A sensor on the chest determines the torso's angle and guides the legs to move forward or backward to maintain balance. You can expect to see ReWalk Exoskeleton on sale in 2009.
PS : Finally, U.S. Food and Drug Administration has cleared the company's ReWalk Personal System for use at home and in the community.
Designer : Argo Medical Technologies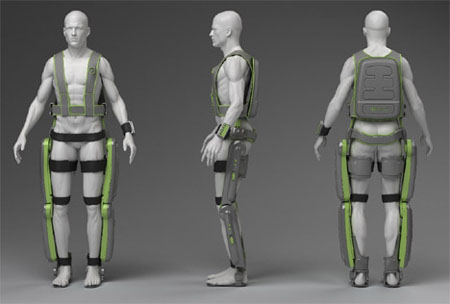 *Some of our stories include affiliate links. If you buy something through one of these links, we may earn an affiliate commission.