Wireless charging? Electricity can't be transmitted through Bluetooth or Wi-Fi for sure. Then how an iPhone can be charged without connecting it to a power source or by using the connecting cable? When Powermat sent us information about their new gadget, we finally have our answer. Powermat is the solution of letting your iPhone free from charging cords. It features innovative technology to make your life easier. This sleek, slim and smart package contains a 1XA wireless charging mat where the iPhone will be placed followed by attaching the Powermat receiver case. Finally, an internationally acceptable power adaptor with a wide range of voltage support (100-240VAC) and built-in wire management mechanism is attached with the mat. With Powermat wireless iPhone charger, you can eliminate the hassle of plugging and unplugging your phone with the charger cable, rather, you can enjoy the simplicity of drop and charge convenience. To make it energy efficient, the internal system will stop flowing as soon as the battery is full, which in terms protects the battery as well.
From : PowerMat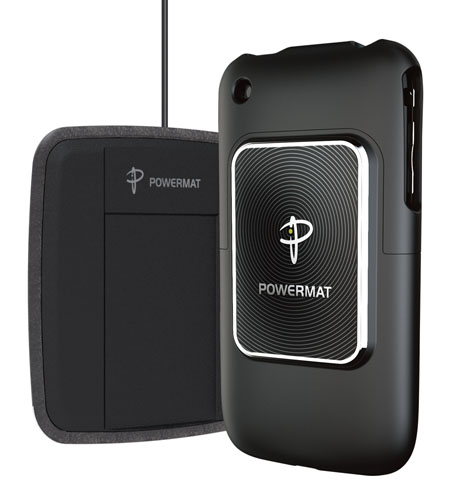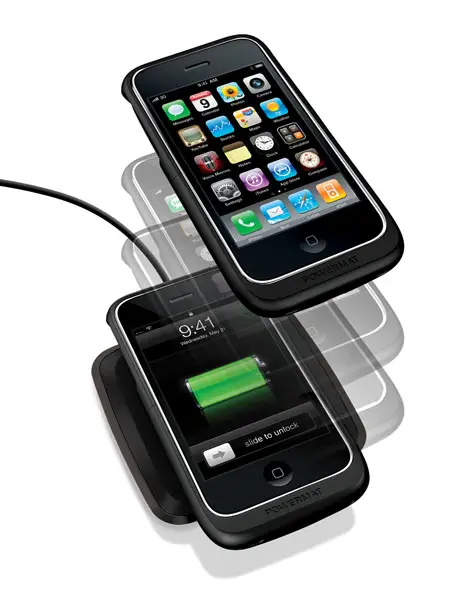 More info from the source:
1XA MAT
• Charging Positions: 1
• Dimensions: 0.4375" x 3.75" x 3.75" (HxWxD)
• Input Voltage: 100-240V AC, 50-60Hz Universal
• Output Voltage: 18VDC
• Output Current: 0.83A
• Standby Current: 0.011A
• Adapter Power: 15 Watts
CASE FOR IPHONE 3GS AND IPHONE 3G
• Style: Case
• Output Voltage: 5V
• Max Output Current: 1A
• Operating Temperature Range: 0-40°C
*Some of our stories include affiliate links. If you buy something through one of these links, we may earn an affiliate commission.