The Pi electric bicycle uses a semi-automatic 8-speed transmission to downshift into a lower gear for climbing hills, then up shift for rapid acceleration to a maximum of 20 mph on flats and allows you to pedal normally because the motor automatically disengages when not in use. Powered by a 750-watt electric motor housed in the horizontal chain and motor assembly, the Pi electric bicycle is capable of three modes of operation: electric motor power, human power, or the human-electric hybrid power combination. The electric motor and rider utilize the same 8 speed semi-automatic transmission making rapid acceleration from a stop or lower gears available for steep inclines possible (but with slower acceleration.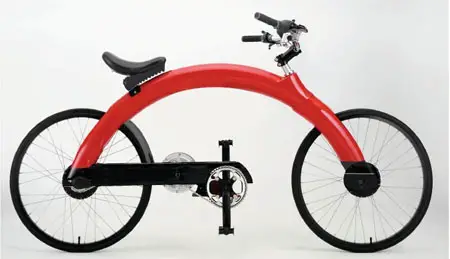 The motor automatically disengages from the pedals when desired so as to preserve battery life. Construction begins with a 12' foot straight piece of 3⁄8-gauge, aircraft aluminum 6061 alloy that is roll-formed and annealed for uniform wall thickness into a complete 6′ diameter circular tube with a 4″ exterior diameter (the NiMH batteries reside within the tube from the front fork to the seat), which is then bisected to make a 6′ long arc for the bicycle's frame. The sturdy frame supports riders up to 300 lbs.
The top of the arc provides a 26″ stand over height, allowing you to place both feet on the ground. The padded ergonomic gel seat provides for comfortable, relaxed riding. It attaches to the frame via a gas strut assembly that raises and lowers like a pneumatic office chair, accommodating riders between 5-7′ tall in a semi-recumbent position for ideal pedaling or powered coasting. A dynamo in the front wheel's hub provides power for auxiliary lighting.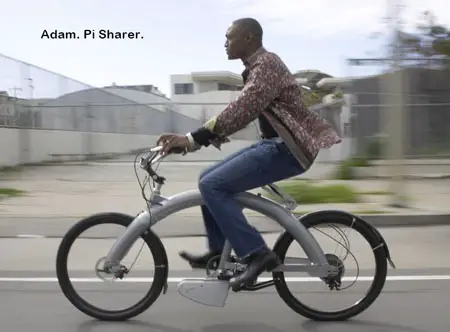 The bicycle has a range of up to 30 miles at 20 mph before requiring a five-hour re-charge from its AC adapter. Precisely tuned hydraulic disc brakes provide sure stops, and the wheels are made of dual-walled aluminum alloy and stainless-steel spokes; the 26″ semi-slick tires are ideal for roads or paved trails and use Presta valves. The bicycle is wet-painted in Rossa Corsa red using the same PPG color specification as high performance sports cars and treated with a clear coat finish for a luster that will last.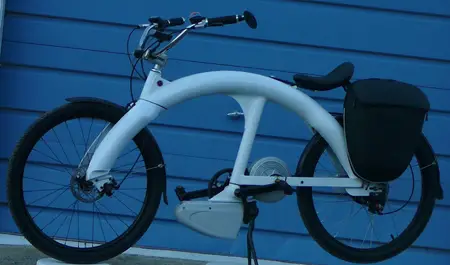 Designer : Marcu Hayes
*Some of our stories include affiliate links. If you buy something through one of these links, we may earn an affiliate commission.