On the 7th of July 2010, in London, Orange unveils the Orange Power Wellies, a groundbreaking and innovative eco-mobile phone charging prototype created to keep Glastonbury Festival goers connected with their friends across the weekend.The Orange Power Wellies, created in collaboration with renewable energy experts GotWind, use a unique 'power generating sole' that converts heat from your feet into an electrical current. This 'welectricity' can then be used to recharge your mobile phone. Orange, Official Communications Partner for the Glastonbury Festival, will be showcasing the Orange Power Wellies prototype onsite. Twelve hours of stomping in your Orange Power Wellies will give you enough power to charge a mobile phone for one hour. The hotter your feet get, the more energy they will produce, so in order to charge your phone faster and for the battery to last longer, simply dance or run.
Designer : Orange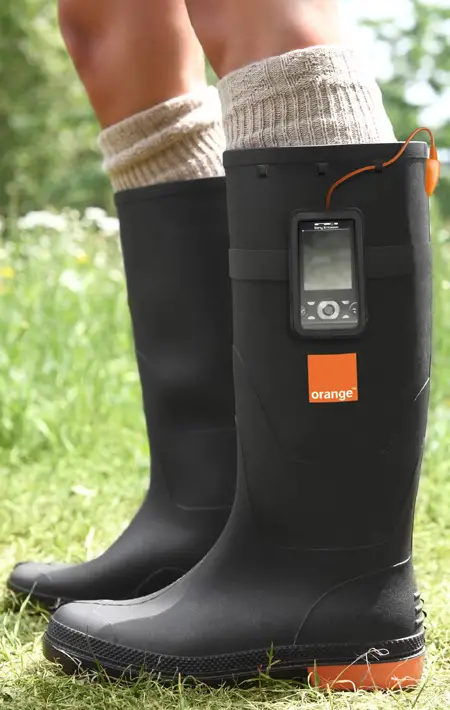 How the system works: After a full day, you can plug your phone into the power output at the top of the welly and use the energy that has been generated throughout the day to charge your phone. The power collected in the 'power generating sole' is collected via a process known as the 'Seebeck' effect. Inside the power generating sole there are thermoelectric modules constructed of pairs of p-type and n-type semiconductor materials forming a thermocouple. These thermocouples are connected electrically, forming an array of multiple thermocouples (thermopile). They are then sandwiched between two thin ceramic wafers. When the heat from the foot is applied on the top side of the ceramic wafer and cold is applied on the opposite side, from the cold of the ground, electricity is generated.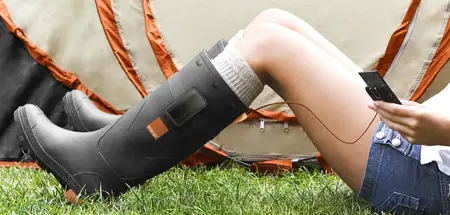 Dave Pain, Managing Director at GotWind said "GotWind are excited to be working with Orange for a fourth year to create an invaluable charging prototype for festival goers. Wellies are now the staple festival footwear, the Orange Power Wellies not only keep you dry but they also provide a crucial eco electricity source."
Andrew Pearcey, Head of Sponsorship at Orange UK said "Orange remain loyal to the green ethos of the Glastonbury Festival and are committed to researching exciting new energy sources that can be used on site to ensure people can stay in touch with their nearest and dearest. The Orange Power Wellies use clean and renewable energy to create valuable electricity ensuring festival goers can text and phone their mates for the duration of the weekend".
The Orange Power Wellies are the latest innovation in the company's bid to find alternative sustainable and eco-friendly mobile phone charging technologies that can be used at the Glastonbury Festival.

*Some of our stories include affiliate links. If you buy something through one of these links, we may earn an affiliate commission.