Nissan Pitch-R Robot draws soccer fields autonomously wherever there is space for UEFA Champion's League Final Kyiv 2018. Inspired by Nissan's advanced ProPILOT driver assistance technology, hence the name Pitch-R. Just in case you don't know, ProPILOT is actually available on 100% electric new Nissan LEAF and Nissan Qashqai, Europe's best-selling crossover. This proven technology is main part of Nissan Intelligent Mobility, a future vision of Nissan how cars would be driven, powered, and integrated into society.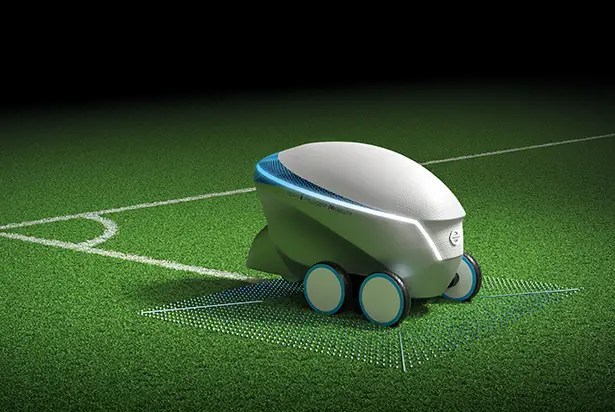 Nissan Pitch-R Robot is equipped with a four-camera vision system, GPS location tracking, and collision avoidance systems. It'll draw white lines on grass, gravel, or tarmac with eco-friendly dissolvable paint. Powered by rechargeable battery pack, once this robot is activated, it'll autonomously move around to analyze its surroundings in real time, it wills can to find a perfect place. This robot is good around obstacles, so uneven surfaces shouldn't be a problem.
Nissan Pitch-R can create fields for five-a-side, seven-a-side or 11-a-side teams. The whole process can take less than 20 minutes. This robot delivers perfect result, it paints professional-standard soccer field that would pass a UEFA inspection if Real Madrid C.F. or Liverpool F.C. were turn up.
*Some of our stories include affiliate links. If you buy something through one of these links, we may earn an affiliate commission.