The Public, West Bromwich, England is a new arts building designed by architect Will Alsop. As per the architect, the building is born out of the thought that for renewing a generation, architecture can act as a catalyst. It inspires new ideas from the creative users and in itself the building signifies the creators' belief in art. It has five levels and the building caters to various creative heads to explore their creativity. It's intended to be a center for people to take part in art projects, and also engaging in learning wide range of skills and subjects, with special emphasis being given to IT and digital arts.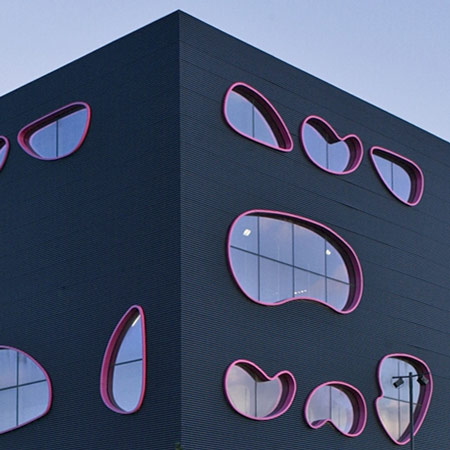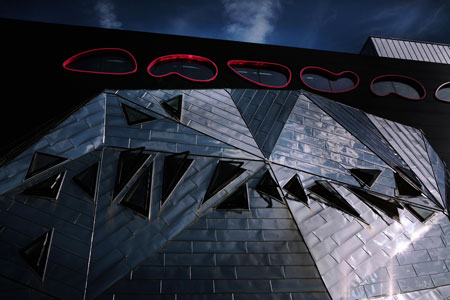 The Public represents a radical gesture for community architecture, born from the conviction that art and architecture can be catalysts for regeneration and renewal. On five principal levels, the building is intended to give great scope to exhibition designers, artists, educators and users of all kinds, while encouraging and challenging all users to work in innovative ways. The Public is intended to inspire new ideas from its creative users rather than simply make way for them. The building itself is a statement of its creators' belief in art, in the broadest sense, as a means to empower communities and individuals, and to permeate lives in surprising and beneficial ways.
Among its many functions, The Public will host exhibitions of local and international interest, exploring new kinds of visual art, by new kinds of artists, for diverse audiences. It will be a centre for people in the community to take part in art projects, and to engage in lifelong learning in a wide range of skills and subjects, with IT and digital arts given special prominence. There will be events, performances, art, dance and drama workshops, conferences, seminars and meetings, with spaces specially designed to accommodate them.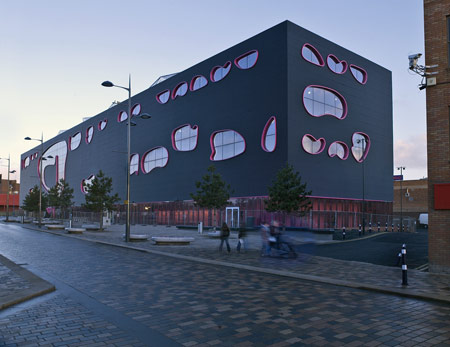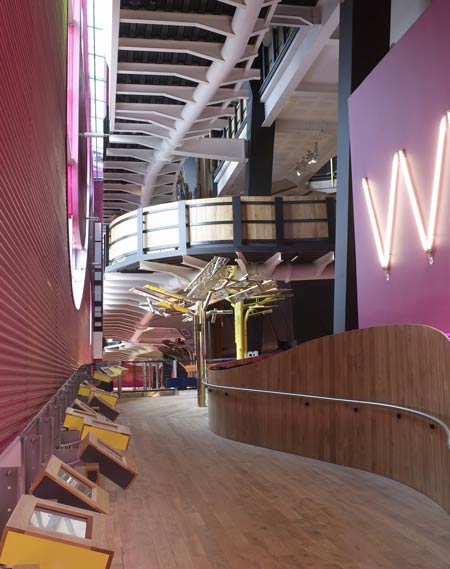 Contained within a simple rectilinear form, The Public was conceived as a 'Box of Delights' offering a wide variety of spaces, forms, angles, curves, surfaces, vistas and atmospheres.
The 113m x 21m x 22m box envelope of the building is punctured by a scattering of 'jelly-bean' shaped windows that pierce the sides of the aluminium cladding. Those approaching the building are able to glimpse its interior through these openings and through a glazed 'skirt' at ground level on which the rectangular form sits.
Inside, simplicity of form gives way to complexity: rugged, multi-faceted or curved forms appear to balloon into the space at random, sitting on, or suspended from a table structure — a wandering, large-scale ramp links the spaces. These forms are containers for the many different functions in the building. There are, for example, 'pods' for displaying art, as well as a huge 'sock' containing two large galleries; a 'ramp' contains a major proportion of the displays; an events space 'rock'; and a WC 'pebble'. At the top of the building, suspended from the roof, a series of 'lily-pads' — dish-shaped floors with brightly colored interiors — house lettable workspaces.
Designer : Will Alsop via Dezeen
*Some of our stories include affiliate links. If you buy something through one of these links, we may earn an affiliate commission.