The innovative conceptual product by Laura Sink of The Art Institute of Pittsburg is an interesting one. Natura Levo, is a small, vertical-axis wind turbine whose primary purpose is to catch wind from any direction. The beautifully shaped stationary shape is the center axis for the design, which can be mounted to any existing structure like a telephone pole or even the usual backyard and once mounted the device, is used to catch wind. It's a nice and simple way to make us aware of the need to coexist within the natural surrounding. So it is a nice, sleek and practical educational tool for today's generation.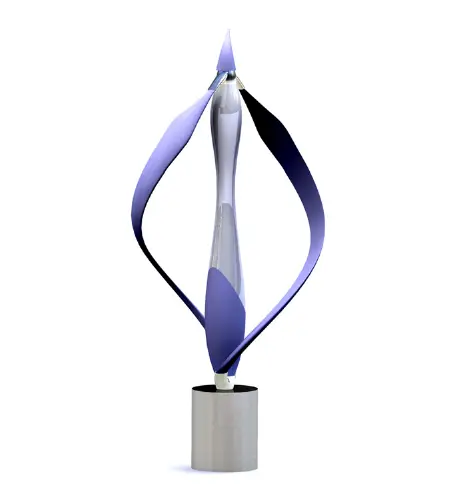 Text from the designer :
Natura Levo is a small wind, vertical axis wind turbine. It is a 66″ tall turbine that contains two non-traditional blades that can catch wind from any direction. These blades are fastened within a unique steel component which also houses the tapered bearings allowing the blades to spin with little friction. The center axis is a beautifully formed stationary shape that mounts to existing architecture. The intended architecture can be anything ranging from a telephone pole, to an old chimney mount, to a flag pole in a residential back yard. Natura Levo is intended to harness energy from a renewable energy source while co-existing with its natural surroundings. Natura Levo should be so beautiful that it raises awareness of natural energy by admiration of its design.

Natura Levo is made primarily of Novomer plastic, with necessary steel bearings, adjustable cylinder mount, and small housings. The steel components are machined, and with the exception of the housings, these are standard forms. The remaining steel pieces would be machined in 3 separate entities and welded together. The axis is Novomer and injection blow molded; the blades are a bit more involved. They would be formed in 4 pieces and snapped together. The nature of the rotation would strengthen the fastened segments by using the natural force. These 4 pieces would be injection molded.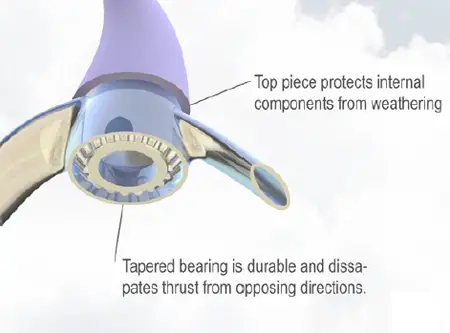 Designer : Laura Sink
*Some of our stories include affiliate links. If you buy something through one of these links, we may earn an affiliate commission.