Usage of green energy is the top most priority for people who are conscious about their responsibility towards the nature and environment. Keeping this in mind the mPower system has been developed which generates huge energy at minimal effort. The slender body of the device and leaf like tip resembles the structure of a large leaf. The color is green to enhance its organic nature. The steppers at the bottom are also shaped like leaves with the similar designs. Using this unique product you can save the natural resources and a large amount of money spent on electricity at the same time.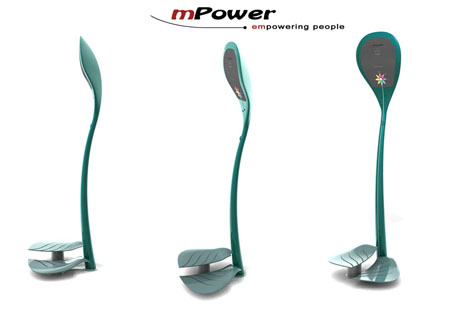 mPower consists of 2 units: Generation and Collection.
mPower Generation is a plant-shaped human-powered unit that produces electricity for immediate and future use. Users access their account using fingerprint recognition, stand on two pads at the base of the unit, and shift their weight from one pad to the other every ten seconds. The system, developed to take up the least amount of a user's time and effort, can be adapted for the handicapped. A small portion of the electricity generated is used to power the interactive touch-screen at the top of the unit, which offers a broad range of informational services pre-customised by each user. The remaining majority of the electricity generated is sent to the city's main power plant, to be used or stored. At their convenience, users receive payment for the electricity they generated by accessing their account at mPower Collection.
mPower Collection is a unit that, using the same fingerprint recognition technology, distributes payment and allows for account customisation to users of mPower Generation.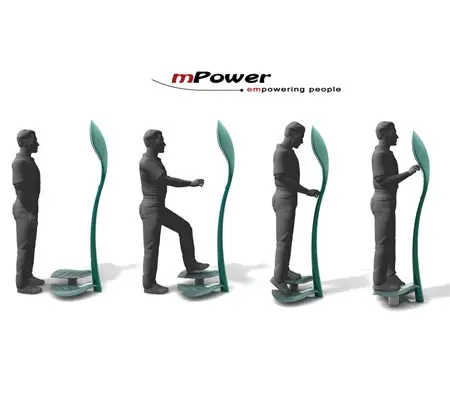 mPower taps into our greatest natural resource: people. Rather than expending energy to create more, mPower harnesses the excess energy we generate by providing a platform for individuals and companies to create electricity, make money, and improve lives. By offering payment to individuals, including those that are homeless, in exchange for a few minutes of minimal movement via a free-to-use system available to everyone, economic and environmental sustainability and empowerment is made available by involving citizens in generating what has become one of our most essential needs: electricity.
mPower units are established by electric companies. Businesses pay electric companies to advertise on mPower Generation touch-screens; these ads are geared to individuals who previously expressed interest in particular products/services as per information entered upon account set-up, thus negating . This negates the need for expensive market research, PR and advertising campaigns. Electric companies pay consumers for generating electricity via mPower; these payments are competitive with fees paid by consumers for power provided by the same electric companies.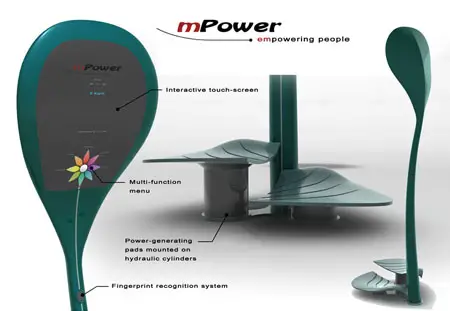 The base of the unit consists of two pads, each mounted on a hydraulic cylinder. The cylinders are connected by a micro-hydro turbine. When a person steps onto one of the pads, the resulting pressure forces fluid from one cylinder into the other, causing it to rise. The more a person repeats the movement of shifting his/her weight from one pad to the other, the more electricity is generated. This system can be replaced with piezoelectric pads or other technologies as appropriate.
In addition to the exercise users get while generating electricity, they can also benefit from services available on Generation's interactive network, including news, community events, traffic information, public transportation information, calendar, time, date, music, weather, radio, product and service information, mobile device charging, internet, widgets, city maps, games, phone calling services.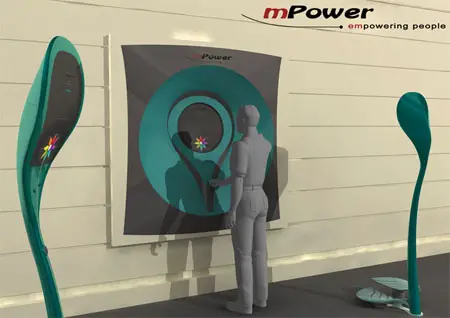 mPower fits into our daily activities and ways of life without disrupting them. Generation and Collection units can be placed on, in, or near streets and pavements, public transportation waiting areas, airports and other areas where waiting is involved, parks and community areas, schools and universities, libraries, common areas in apartment blocks, and countless other places.
The concept of mPower can be modified to fit into homes, casinos, gyms, phone booths, internet cafes, and wherever generated energy can be used as direct power or in exchange for services and products such as climate control, public lighting, charging mobile phones and other devices. Other generation methods can also be implemented, such as walking, pedaling and running, see-sawing, swinging, and using body weight/heat. The possibilities are endless, sustainable, and empowering.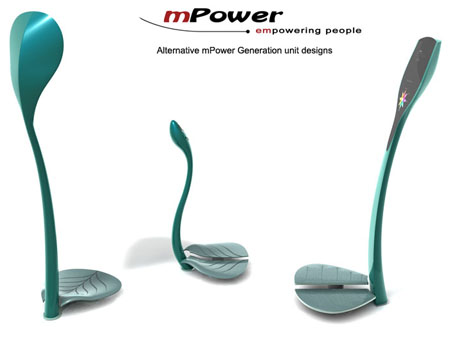 Designer : Sofian Tallal
*Some of our stories include affiliate links. If you buy something through one of these links, we may earn an affiliate commission.