Rescue team should have Mountain Rescue Splint Pack when they have to evacuate a victim from mountainous areas. It is a set of integrated rescue equipment that features lighter weight, maximum portability and better efficiency compared to our conventional rescue equipment. As you know, to perform rescues in mountainous terrain, rescue teams need to climb or walk on difficult terrain. Heavy or bulky equipment can be in the way instead of helping the process, in fact, the rescue team might injure themselves before having the chance to save the victim.
Mountain Rescue Splint Pack offers a set of equipment that is easy to use during rough terrain rescues. Both designers have done extensive research with doctors as well as professional rescue teams to come up with this new equipment design and techniques.
Designers : Kao Cheng-Wei and Liao Yu-Kai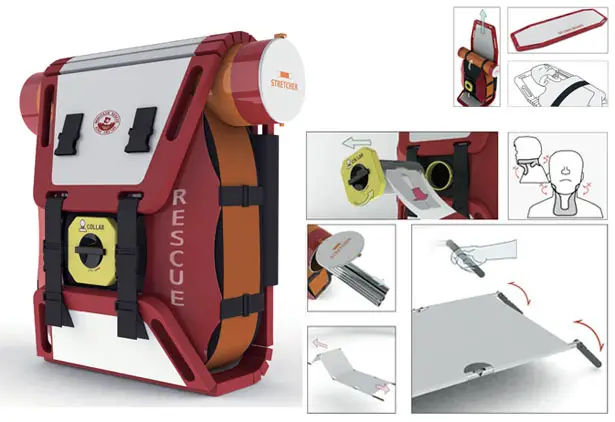 This pack offers high portability with its compact backpack form, therefore, rescue team can easily carry it on their shoulder. Rescuer can also choose which equipment to carry instead of having to carry all of them, this will drastically improve the efficiency as well as the flexibility of rescue operations. Mountain Rescue Splint Pack consists of 4 essential components: a bandage collar, a unidirectional folding spinal board, a stretcher with adjustable handles and of course the backpack.
The bandage collar hardens automatically when its anti-water film is removed, it's a great plaster bandage for application to the victim's neck. The spinal board folds in one side only to provide steady form of support for the victim. The adjustable stretcher enables user to adjust to the right angle to suit the terrain being traversed. The backpack of Mountain Rescue Splint Pack can be filled with any other tools such as climbing equipment, first aid kid or rapid hardening plaster splint tool.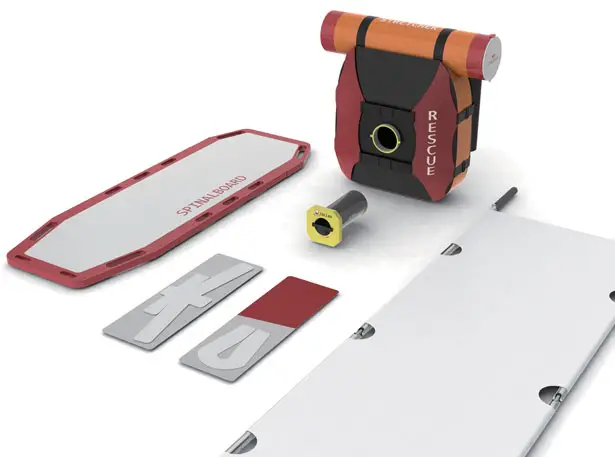 *Some of our stories include affiliate links. If you buy something through one of these links, we may earn an affiliate commission.