There's nothing like mother's cooking, right? If you love your mom's cooking as much as I do, then no matter what and where you eat, you would still think "hey .. my mom's cooking is better than this." . Motherspoon is a unique device that enables us to duplicate the exact recipe that our mom's using. It collects detail information with its sensors and keeps all the data to be synced later with your own Motherspoon. This concept device has been designed as part of Electrolux design challenge. You can read details explanation from the designer's own words below.
Our mother's meals are our first taste experiences after their milk and we are looking for familiar tastes to eat and enjoy in whole our lives. Motherspoon is designed to experience these tastes of our mothers meals, as well as, well known chefs recipes and share the experiences that we have in our temples, kitchens.
In today's world, we are far away from our families for education, work or independency purposes and need very simple and enjoyable equipments that will get ease our workload in our homes. The spoon is constantly used in kitchen especially while cooking the meal. Mothers and their children (whenever we are in any old, we are child in their eyes) will purchase Motherspoons at the same time and get defined this Motherspoons to special Electrolux internet platform. While mother is cooking the meal with mother spoon, spoon collects whole the information with it sensors and stores all the data to "Electrolux Motherspoon" internet program. In this program, they will synchronize with the child's motherspoon and access to each others' Motherspoons database. These recipes also can be shared with the friends and other people who we wish to share. So you can download each meal which you would like to experience or you missed a lot, to your Motherspoon.
Designer : Okan Akgöl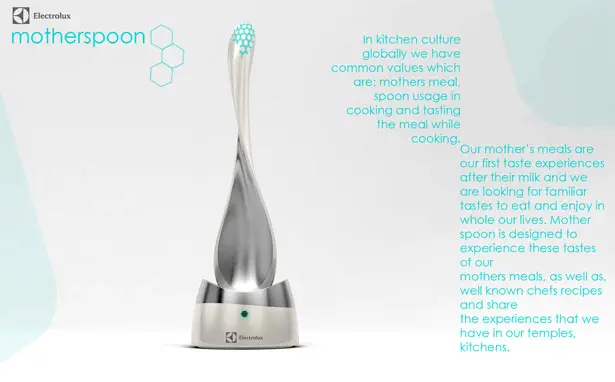 These information will be transmitted to the stand projection touchscreen which we can watch all the details and if we want, we can even listen the recipe with our mothers voice, we do not have to use scale for the ingredients. It is classic measurement ways like one glass of water or one pinch salt. Motherspoon consists of two main parts: first one is the spoon which we use constantly and multi-functionally and second part is the spoon stand, this part keeps spoon stand alone as well as internet connection, information storage, projection touchscreen, voice of the images features. It is possible to use touch screen through projection, in all areas in the kitchen whether it is dry or not like on the cutting board or bench.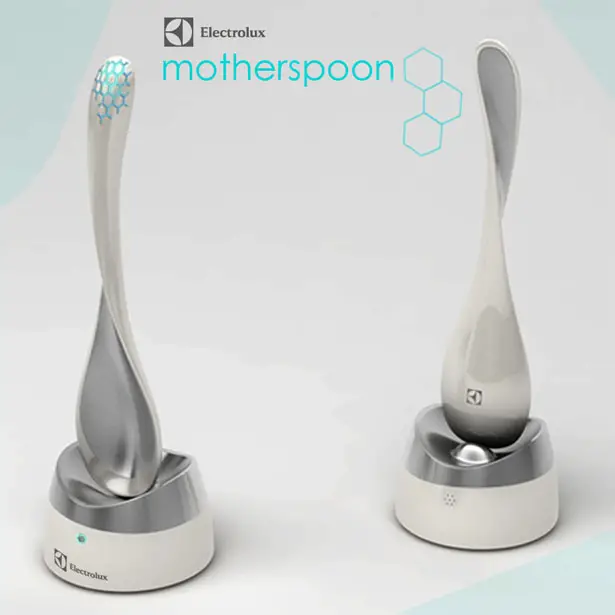 The spoon stand consists of two parts which are projection screen and spoon slot. Projection screen is in hexagon shape, front side is touch screen where videos or images can be watched through while the back side provides those images with sound. It does not slide because of its base material. Spoon slot is made from metal material, there's a magnetic field to keep the spoon stands still. The food will only touch the tip of spoon, in this way, no where else becomes dirty to allow this spoon to be washed easily in the dishwasher or by hand.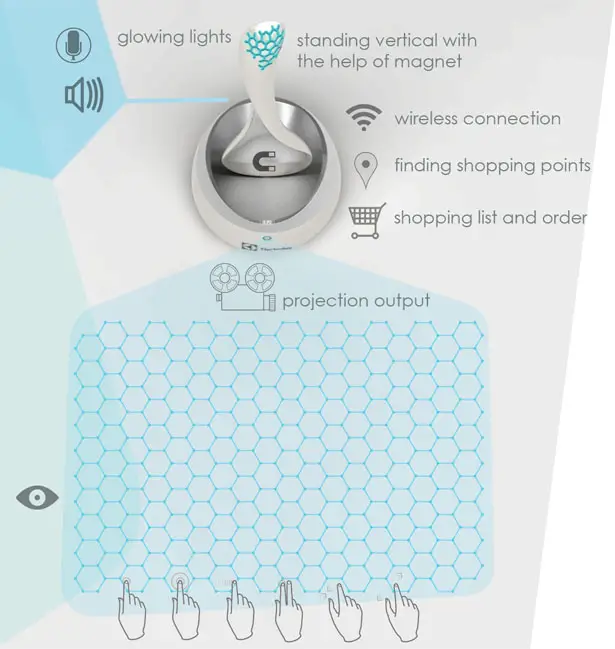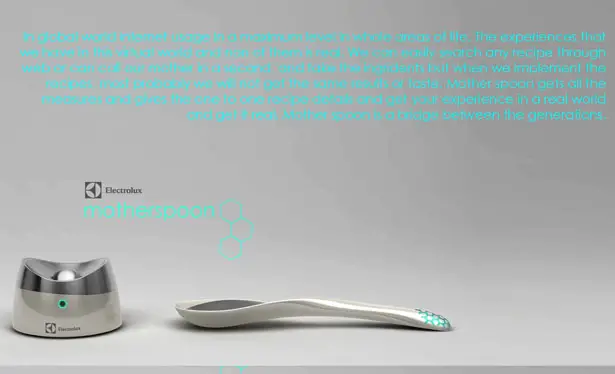 After the meal is cooked, we come to the most important moment, tasting… We taste the meal and we get back to our childhood like in Ratatouille movie and experience exactly the same taste as our mother's meals. We feel the same emotion and we have the same experience from only a recipe in the internet program. Motherspoon is a conceptual product that gives us the opportunity to live this wonderful and valuable experience and to share with the ones we love.
Mothers generally want to try different recipes and improve themselves. Motherspoon is not only a design to teach a child how to cook, it is also a product to experience well known chefs recipes and local or universal using the same method. Electrolux motherspoon internet program is a pool of recipes with the different prices based on the recipe's owners. If a recipe belonged to world famous chef, the price will be higher than those standard ones.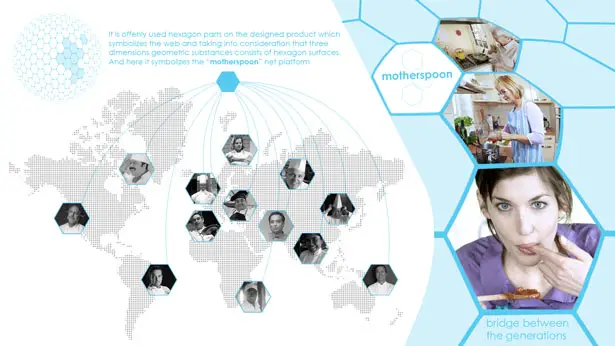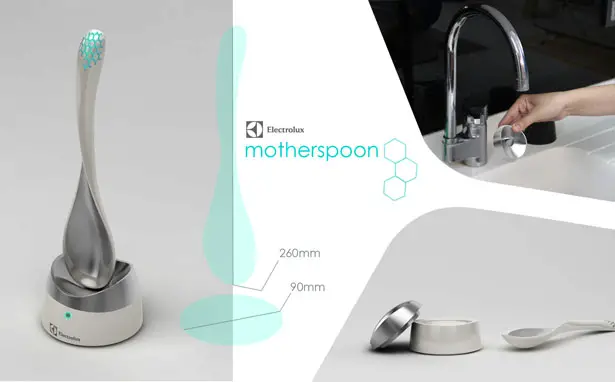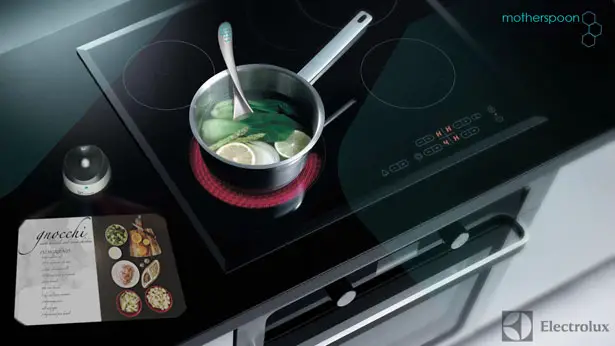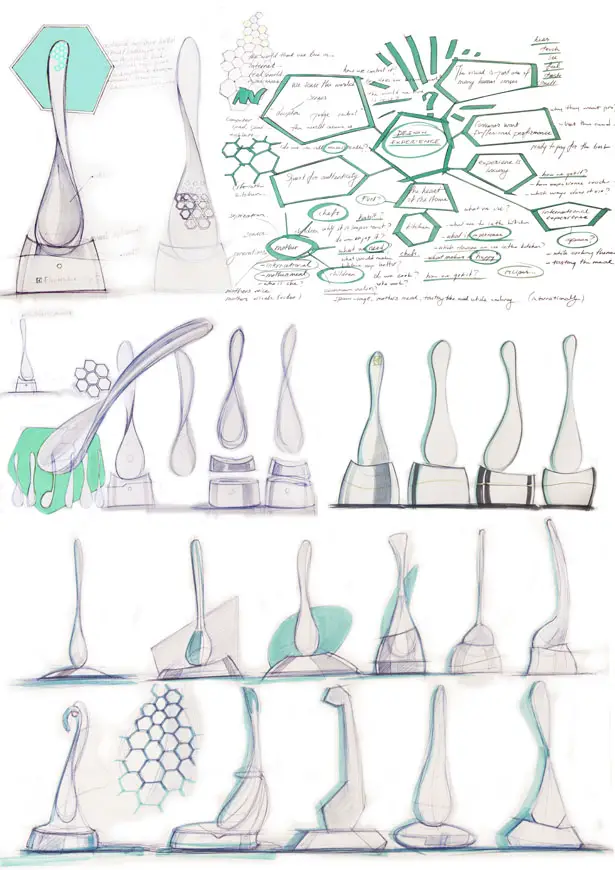 Tuvie has received "Motherspoon" project from our 'Submit A Design' feature, where we welcome our readers to submit their design/concept for publication.
*Some of our stories include affiliate links. If you buy something through one of these links, we may earn an affiliate commission.