The mobile hospital is an innovative concept hospital design that incorporates 58 fully functional trailers, making place for 48 fully mobile beds along with other aspects like surgical suits, pharmacies, labs and gift shops. This futuristic health care design caters different medical requirements in different fully equipped trailers and the entire clinic can be moved from one place to another in about 2 to 3 days only to make health services available in any part of the country. The hospital system not only features almost every sector of medical services, also a helipad is there to support air transport for emergency patients.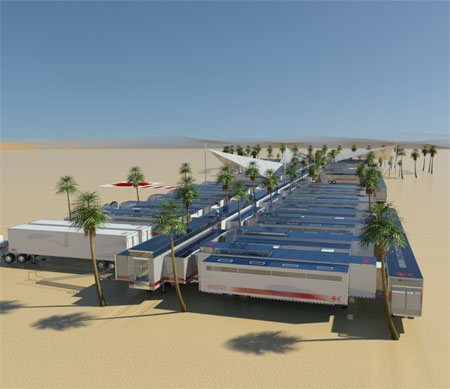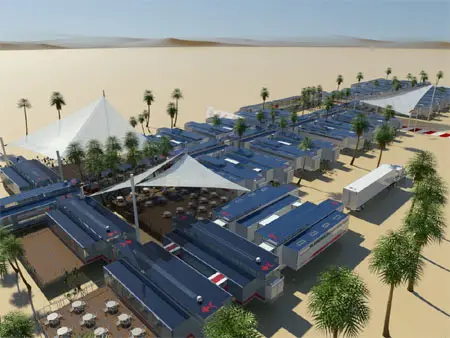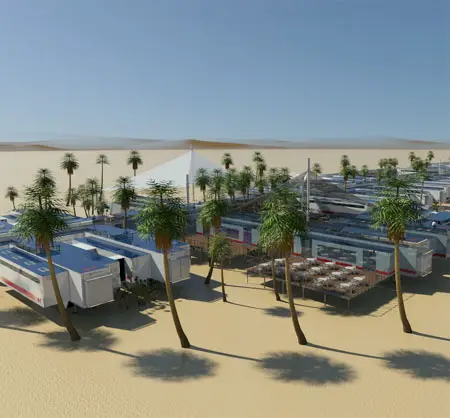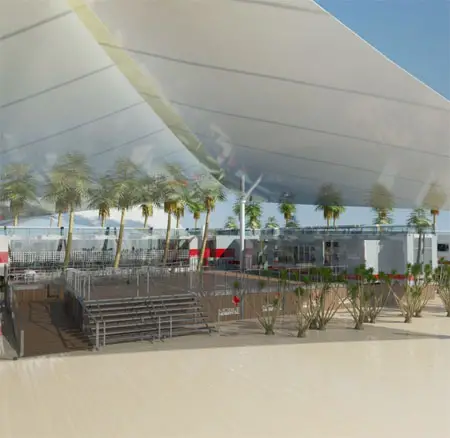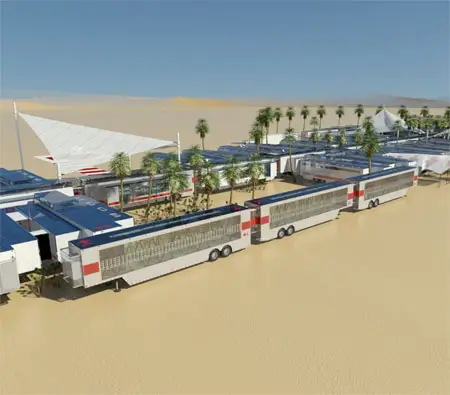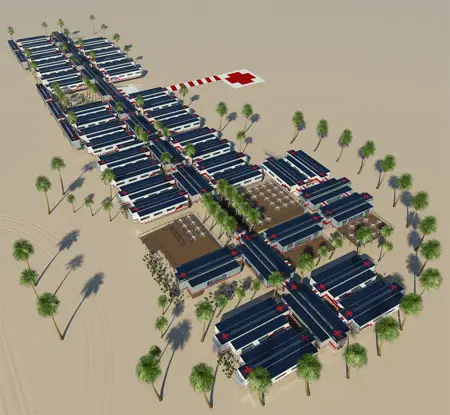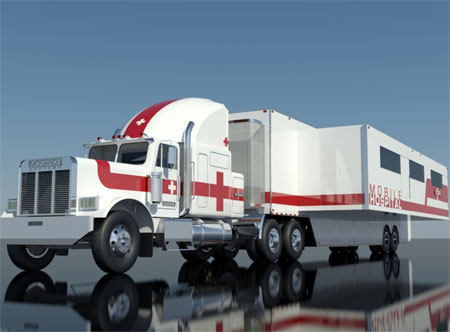 Additional Information from the designers:
Statistics:
Overall Healthcare Facility: 55,380 SF
Entry Lobby, Waiting, Gift Shop: 3,015 SF
On-Call Suite: 5,025 SF
– includes mens and womens shower units, mens and womens on-call rooms, and a doctor's lounge.
Cafeteria, Kitchen and Servery: 4,020 SF
– does not include 2,190 SF dining patio.
Acute Care In-Patient Services: 10,050 SF
– services 48 patient beds.
Emergency Department: 5,025 SF
– includes two trauma bays, and 8 urgent care beds.
Pharmacy: 1,005 SF
Administration/Admitting: 2,010 SF
Labs/Phlebotomy: 2,010 SF
ICU Suite: 3,015 SF
– includes 8 patient beds.
Imaging Suite: 5,025 SF
– includes an MRI, CT Scan, Mammo., and X-Ray (Radiology).
Surgical Suite: 7,035 SF
– includes 4 O.R.s, 4 Pre-Op beds and 4 Recovery beds.
Materials Mgmt / Central Sterile: 3,845 SF
Ambulance Entry: 725 SF
Restricted Corridor: 1,245 SF
Public Corridors: 2,330 SF
TOTAL UNIT COUNT:
50 double expandable units
1 single expandable unit
7 linkage corridors.
MOBILE UNIT:
The building block of advanced mobile healthcare –
Shipping Dimensions: 8′-0″W x 52′-0″L
Shipping Volume: 3,385 cubic feet
Expanded Dimensions: 22′-0″W x 52′-0″L
Expanded Volume: 7,480 cubic feet
5-unit suite Shipping Volume: 16,925 cubic feet
5-unit suite Expanded Volume: 37,400 cubic feet
5-unit suite square footage: 4,738 square feet
Designer : Hord Coplan Macht and Spevco via [Archdaily]
*Some of our stories include affiliate links. If you buy something through one of these links, we may earn an affiliate commission.